March 7, 2015
NYC Premiere

On Tuesday the upcoming Netflix series, BLOODLINE, had its NYC premiere at SVA Theater. As you can see from the photo, Sam did not attend but those who did make the effort included Katie Finneran, Ben Mendelsohn, Todd Kessler, Glenn Kessler, Daniel Zilman, Cindy Holland, Sissy Spacek, Jacinda Barrett and Kyle Chandler. Todd Kessler, co-author of the drama discussed the casting of Spacey and Shepard who play the Rayburn parents - sweetly vague Sally and guitar-strumming Robert. Kessler says, "When we set out to sell the show, we were describing the characters and we'd get to Robert and Sally and always say 'think Sissy Spacek and Sam Shepard.' So to then get them is just extraordinary." Sissy plays a no-nonsense businesswoman who softens around her children. In the patriarch role, Sam looms as a cold presence. Yes, well cast!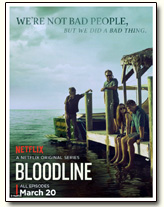 February 2, 2015
Magic Realism at the Magic
In 1975 Sam joined San Francisco's Magic Theatre as a Playwright in Residence. Three years later "Buried Child" received its world premiere at the Magic and was honored with the Pultizer Prize for Drama. That same year Sam and Joseph Chaikin's award-winning collaboration, "Tongues", premiered. More premieres followed - "True West" in 1980, "Fool for Love" in 1983 and "The Late Henry Moss" in 2000. Through the years several revivals were staged, the latest being "A Lie of the Mind" which opened last Wednesday.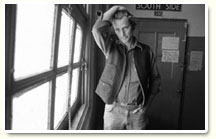 And on the NYC Stage

The White Horse Theater Company is set to present Sam's rarely seen play, "Eyes For Consuela", from February 6-21 at the Gene Frankel Theatre (24 Bond Street). The four-person drama surrounding the nature of love, loss and separation in a dreamlike Mexican landscape will be directed by Artistic Director Cyndy A. Marion. Based on the short story. "The Blue Bouquet" by Mexican writer and Nobel Prize-winner Octavio Paz, the play depicts the mid-life crisis of Henry, a lost American soul, as he wanders the dreamlike world of a remote Mexican jungle. Estranged from his wife, Henry escapes to Mexico to "find himself" instead encountering Amado, a Mexican bandit who wants to cut out his eyes. According to Amado, blue eyes are the only thing that will make his lover Consuela smile. In a fierce battle of wills, Henry and Amado come eye to eye with their inner demons, the true nature of sacrifice and what separates them from the women they love.
Back in 1998 when the play premiered at the Manhattan Theatre Club, John Heilpern of the New York Observer wrote, "This is such a slack little play from the author of True West, Fool for Love and Buried Child that one wonders what's got into him" and the review concludes with "Eyes for Consuela is dispiritingly earthbound, and Mr. Shepard's notion of magic realism is merely neurotic." Mr. Heilpern obviously was not enchanted with the play but neither were Ben Brantley or Vincent Canby of the NY Times.
However, to each its own. Fintan O'Toole of the NY Daily News is charmed. He writes, "As so often in Shepard's brilliant 35-year mostly Off-Broadway career, reality and fantasy, the mythic and the mundane, seep into each other. The feel of the play can be imagined from the short cryptic story by the Mexican writer Octavio Paz that Shepard uses as his springboard... Instead of explaining an enigma, Shepard deepens the mystery. He takes us into a feverish sweat-soaked atmosphere where the borders between past and present, the physical and the imagined, dissolve. In lesser hands, the play could easily be a ridiculous collision of cliches. It follows the familiar pattern of a rich, jaded U... The action is made to move with the dreamy, enraptured serenity of an ancient tale re-told. With such delicate telling, this very tall story is utterly enthralling."
Flashback - Patti Smith & Sam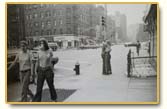 January 8, 2015
"Bloodline" premieres March 20th
Yesterday the production team of BLOODLINE, Netflix's new series, took part in the TCA Press Tour at Langham Hotel in Pasadena, CA. The panel, as pictured below, included (L-R) Sam, Ben Mendelsohn, Kyle Crawford, Todd A. Kessler, Daniel Zelman, Glenn Kessler, Sissy Spacek, Linda Cardellini and Norbert Leo Butz.
All 13-episodes will premiere on Friday, March 20th. The producers say the show's origins stem from their own large families, and how siblings' roles in them are often pre-ordained in childhood and difficult to shed. The combination family drama and psychological thriller is about a divided family of innkeepers (Sissy Spacek & Sam)whose four kids are torn apart when the black sheep son (Ben Mendelsohn) returns home to the Florida Keys, dredging up memories of a long-ago tragedy and inciting new ones. Linda Cardellini plays the youngest, Norbert Leo Butz is a hotheaded middle child who carries a grudge, and Kyle Chandler is the level-headed town sheriff.
Coming to the Magic
San Francisco's Magic Theatre continues its "Sheparding America" celebration with the revival of A LIE OF THE MIND. The family drama of spousal abuse was described by the New York Times as "A 20th century masterwork... to be compared with O'Neill's 'Long Day's Journey into Night' and Pinter's 'Homecoming'." The play will be staged by Magic's Producing Artistic Director Loretta Greco and will run From January 28 through February 22, 2015.
The first production was staged at the off-Broadway Promenade Theater on December 5, 1985. It was directed by Sam and had a noteworthy cast with Harvey Keitel as Jake, Amanda Plummer as Beth, Aidan Quinn as Frankie, Geraldine Page as Lorraine, and Will Patton as Mike.
When the play was revived in a 2010 Off-Broadway production directed by Ethan Hawke, Sam shared his thoughts - "I've come to see it as a bit of an awkward play. If you were to talk about it in terms of cars, it's like an old, broken-down Buick that you kind of hold together to just get down the road. All of the characters are in a fractured place, broken into pieces, and the pieces don't really fit together. So it feels kind of rickety to me now."
Mystery woman
More photos from that November 23, 2014 sighting of Sam walking in Soho with that mystery woman. In true fashion, Sam flashes his middle finger as he passes by.

December 4, 2014
Headed to Broadway
One of my favorite Shepard plays, FOOL FOR LOVE, will be coming to Broadway next year. The production staged at the Williamstown Theatre Festival in MA this summer was such a success that it will move to the Manhattan Theatre Club's Samuel J. Friedman Theatre. Directed by Daniel Aukin, the leads will again be played by Sam Rockwell and Nina Arianda. Performances will begin September 15, 2015 with opening night set for October 8. The story goes like this - "Holed up in a seedy motel on the edge of the Mojave Desert, two former lovers unpack the deep secrets and dark desires of their tangled relationship, passionately tearing each other apart. Beaten down by ill-fated love and a ruthless struggle for identity, can they ultimately live with, or without, each other?"
Sam says that his own experience of love inspired this play, which was written shortly after breaking up with his wife O-Lan and falling in love with Jessica Lange.
Photo additions
Here are a couple more photos taken on November 11th. In the first one, Sam strolls the sidewalks of New York with Stephen Rea and Derry journalist Mary-Louise Muir. The second was taken in the evening at the play's opening with another Irishman - yes, Liam Neeson.
November 24, 2014
What they're saying about "A Particle of Dread"
Theater critics are beginning to share their thoughts on this enigmatic play. Read the review excerpts. No one sounds too excited about the playwright's latest efforts but the reviews are speckled with positive comments, specifically about the cast and production. Most critics agree that:
It helps to brush up on your Sophocles.

It feels like one has been dropped into a CSI episode.

The word "riff" comes to mind - a rapid energetic often improvised verbal outpouring; especially one that is part of a comic performance.

It is frustratingly oblique rather than illuminating.

George Santayana's quote is true - "Those who cannot remember the past are condemned to repeat it.

It meets Signature's goal of presenting works that might otherwise not be seen in major productions and may satisfy die-hard fans of Shepard's canon.
Opening night saw some familiar faces, those of Liam Neeson, Bill Pullman, Olympia Dukakis, Donald Moffat and Salman Rushdie. Here's a photo of Sam last night with lead actor Stephen Rea and Artistic Director Jim Houghton.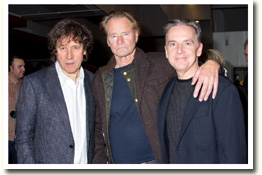 On the sidewalks of New York...
The paparazzi caught up with Sam as he attempted to hail a taxi on October 26th.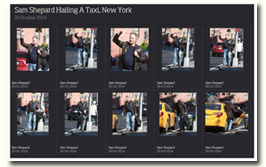 But the more interesting photos were taken in Soho yesterday showing Sam with a mystery woman. Aha!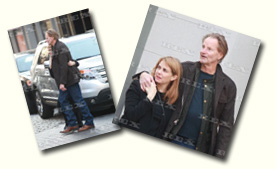 If they were walking with their arms around each other, I wouldn't deem it so serious but the fact is their fingers are entwined. You may remember back in May, I posted a photo of another mystery woman. He seems to favor short women!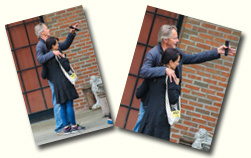 Just published

This month Michigan's Mavick Press published a strangely titled 53-page poetry collection called "I dreamt about Sam Shepard last night". This work of Swedish poet Ingela Strandberg has been translated into English by Göran Malmqvist. The photo cover comes from a scene in Sam's 2005 film, "Stealth". Strandberg has been characterized as "a fusion of Sylvia Plath and Elisabeth Bishop, but with a Swedish sensibility transported half a century forward." I was able to find this partial image of her Shepard poem. Interesting trivia... But you know what (laughing...), dreaming about Sam Shepard happens to be a very common occurrence among older women!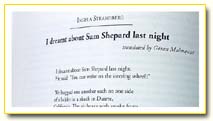 November 23, 2014
"A Particle of Dread" officially opens!
After two weeks of previews, the first reviews are trickling in. Here are some excerpts:
Linda Winer, Newsweek:
Mythic, mysterious and obscure... The 90-minute drama, another transfer from actor Stephen Rea's Field Day company in Northern Ireland, is one of the more sober and obscure collages among Shepard's 50-odd, deeply scary, weirdly primal, often amusing works. In many ways, this feels like a return to the playwright's experimental off Off-Broadway beginnings... Ancient myth mingles with Irish accents and desert-rat Americana in a play that is both compelling and pretty ponderous. Still, nobody but Shepard could have written it.
Matthew Murray, Talking Broadway:
If not for Shepard's other tension-packing device, of intricately disrupting the timeline so that, at certain moments, you're not sure who's involved in the event you're watching or when exactly it's happening, there would be no notable deviations from the source at all. This doesn't exactly kill the evening, but it also doesn't help it — you're going to take away very little, if anything, from A Particle of Dread that you wouldn't from a solid version of Oedipus Rex...

For her part, director Nancy Meckler has kept the pacing sharp and the actors focused, though she's not able to conjure surprise when Shepard doesn't give her enough cues to do so. Nor has she made convincing use of Frank Conway's portentous but head-scratching abattoir set or the live musicians who oversell the spooky factor through Martin's banshee-noir compositions. Too often, the production seems to be trying to say too much, in too many different ways. The script suffers from the opposite problem - Shepard's message would come through more distinctly and more powerfully if we could see how it's evolved across the last few thousand years. Resetting the action in the America of today only takes him so far, and the play feels as though it wants to go further than he allows it.
Frank Scheck, The Hollywood Reporter:
This oblique intellectual exercise is likely to prove off-putting to all but the most adventurous audiences, although Shepard completists will no doubt want to catch the latest offering from the playwright's ever-restless imagination... Audience members will find themselves baffled at times by the juxtaposition of characters and situations, which seem to have been tossed into a blender and randomly reassembled.... Filled with comic digressions, the piece is frustratingly oblique rather than illuminating... Shepard's willful self-indulgence smacks more of an overeager university drama student than a seasoned playwright.
November 19, 2014
Photos from November 17 event
On Monday Sam and Stephen Rea appeared on stage at New Jersey's Centenary Community College for a public interview. Here are some snapshots from that evening though their clarity is poor.
November 14, 2014
NJ event
A public interview with Stephen Rea and Sam Shepard will take place at 7 p.m. on Monday, Nov. 17, in the Sitnik Theatre in the David and Carol Lackland Center, 715 Grand Ave., Hackettstown, NJ. The event is free and open to the public. "This is an amazing opportunity for members of the Centenary community and beyond to meet Stephen Rea and Sam Shepard," says Dr. James Patterson, Centenary College Provost and Chief Academic Officer. "It is a privilege to have them conduct a public interview here on our campus. This is an event that you won't want to miss." For more information, call 908-852-1400, ext. 2238.
November 9, 2014
First shot of Sam in "Bloodline"
It seems rather crazy that publicity photos for Netflix's new drama series, BLOODLINE, would be found on web sites in Norway and Argentina and not the good old USA. Go figure...
From the playwright on his Oedipus Variations
"If you strip it away in a certain way, it's very American. It's very much about murder and rape and pillage - it's not a pretty play - but it certainly speaks to the horror of contemporary life."
November 7, 2014
Yes, we love our movie stars (which includes Sam!)

In a telephone interview last month with Signature Theatre, Sam was quoted as saying, "I'm very disappointed in the current state of theatre, especially in New York, about this whole business of not being able to move a play. You know, you have to have a movie star in your play in order to be able to sell tickets. People don't come to see plays, they come to see movie stars. And as a writer, it kind of turns your stomach." Wait a minute here. Actor Stephen Rea, who will appear in the upcoming A PARTICLE OF DREAD, is counted among the top 10 Irish actors according to Hollywood.com and having appeared in more than 75 films, he certainly qualifies as a movie star! I just saw him once more in Graham Greene's End of the Affair, and he never fails to impress me. I think our movie star did right to hook up with Mr. Rea. Here's how they met according to Sam.
"I left New York in the early '70s... I went to London because the fringe theatre was happening at that time. It was very eclectic and every exciting in the way that the original off-off Broadway was, and that's exactly what I was looking for. Stephen and I met at the Hampstead Theatre, which is also where Nancy [Meckler] originated, and she happens to be directing, so the whole thing was incredible, almost accidental. I'm very grateful."
Here are more rehearsal photos:
November 4, 2014
Nine more days!
We're days away from the NYC opening of A PARTICLE OF DREAD at the Signature Theatre. Here are a couple of photos of Sam mingling with his cast and crew plus a new poster.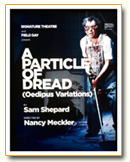 FYI, here's a little history of Sam's presence at Signature Theatre. He began his collaboration with the theatre in 1996 as Signature's sixth Playwright-in-Residence. That season saw productions of When the World was Green, a collaboration with director Joseph Chaikin, The Tooth of Crime, Curse of the Starving Class, and four of Sam's earlier one-acts: Chicago, The Sad Lament of Pecos Bill on the Eve of Killing his Wife, Killer's Head and Action.. Sam returned to Signature for the 2001-02 Tenth Anniversary Season for the New York premiere of The Late Henry Moss, and in 2012 helped usher in the first year in The Pershing Square Signature Center with his play Heartless.
Previous News:
July-October 2014
January - June 2014
July-December 2013
January-June 2013
July-December 2012
January-June 2012
July-December 2011
January - June 2011
July - December 2010
January - June 2010
July - December 2009
January - June 2009
July - December 2008
January - June 2008
July-December 2007
January-June 2007
November 2005 - December 2006