April 15, 2015
New film

It appears that our playwright took on a bit part in James Franco's film, IN DUBIOUS BATTLE. Filming took place in the Atlanta, GA area, specifically Bostwick and Senoia, during March and April. Published in 1936, "In Dubious Battle" is considered John Steinbeck's first major work. Set in a fictionalized valley in California, the story explores themes Steinbeck continued to develop: group behavior, social injustice, man's inhumanity to man - all themes which continue to be relevant today. A labor conflict between migrant apple pickers and the local growers' association is the backdrop against which Jim Nolan (played by Franco) becomes involved in the labor movement and rapidly matures as he learns what it means to do organizational fieldwork. Writer Matt Rager adapted the feature screenplay based on the novel. Directed by Franco as well, the cast also includes Vincent D'Onofrio, Bryan Cranston, Selena Gomez, Josh Hutcherson, Robert Duvall, Ed Harris and Nat Wolff.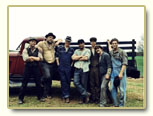 April 1, 2015
Bloodline
Netflix has just announced that there will be a Season 2 in 2016 for BLOODLINE. Alas, since patriarch Robert Rayburn died around the fifth episode, we will not be seeing Sam Shepard next season. Personally, I don't plan to tap into it because I wasn't thoroughly engaged in this new Netflix series. Rob Owen of the Pittsburgh Post Gazette writes, "Bloodline is one of those murky slow starters that doesn't draw viewers in as much as it strings them along, providing just enough clues to maybe keep folks around for the next episode. There's little urgency to the storytelling, which is as slow-paced and easy-breezy as lying in a hammock strung between two palm trees on a Key West beach." Yes, exactly!
What was troubling and weird was that the death of the patriarch had little or no effect on the Rayburn family. It was almost embarrassing to watch the funeral. No one seemed to be emotionally connected though there was an air of solemnity. Even while Robert is hospitalized, visitors come and go but there is no devastation, no anxiety, no tears, not even by his wife (Sissy Spacek) when she finds him dead. Go figure.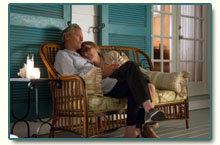 As for the characters, this is a family you will not like. Absolutely dysfunctional. They are an immoral bunch soaking up drugs and booze as much as the sun. I enjoy gritty dark family dramas but this one lacked anyone to root for. (Not even that ghost which should have been edited out). So disappointed. On the bright side though, it was fun to watch Sam play his ukulele and he did have one powerful scene with his son Danny as seen below. Danny is played by Ben Mendelsohn and he is one awesome Aussie actor!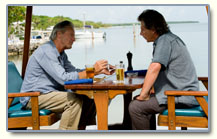 In an interview, cast member Kyle Chandler shared, "There was a scene where I was opposite Sam. He's slower, older than he was. Now, my father passed when I was 14. In that moment, talking to Sam, it was like I was communicating to someone I haven't seen in 30 years. Those are just great moments. As an actor, that's what you want. Of course, you have to be working with great people — you can't just put the guy from the hot-dog stand in there. You need to be working with someone of absolutely the best calibre."
When in New York....
Every few months when Sam returns to the Big Apple, he's spotted with a new woman. The media has not indicated who any of these women are. They apparently come and go so on March 30th, there was another sighting outside the Bowery Hotel The gal accompanying him spotted the paparazzi and began packing on the PDA for the camera. Sam looks a bit reluctant at first if you look at his body language. Who, when and why will remain a mystery.

In Tinseltown
Actress Shirley MacLaine recently participated in a Q&A with Leonard Maltin as part of the TCM Classic Film Festival. Highlights included her comments about various Hollywood celebs. For example: Jessica Lange (her co-star in the upcoming comedy, Wild Oats): "The last one I worked with, Jessica Lange, really, really touched me. And can cry on cue. That bothered me: I said, 'How do you do that, Jessica?' She said, 'I have a life that's just been a well of loneliness.' I thought, okay, so tell us about Misha, tell us about Sam."
Shirley would know what a loner Sam is because when they were both starring in "Steel Magnolias", she complained how he would go off by himself to eat in his own little corner rather than dine with the rest of the cast.
March 7, 2015
NYC Premiere

On Tuesday the upcoming Netflix series, BLOODLINE, had its NYC premiere at SVA Theater. As you can see from the photo, Sam did not attend but those who did make the effort included Katie Finneran, Ben Mendelsohn, Todd Kessler, Glenn Kessler, Daniel Zilman, Cindy Holland, Sissy Spacek, Jacinda Barrett and Kyle Chandler. Todd Kessler, co-author of the drama discussed the casting of Spacey and Shepard who play the Rayburn parents - sweetly vague Sally and guitar-strumming Robert. Kessler says, "When we set out to sell the show, we were describing the characters and we'd get to Robert and Sally and always say 'think Sissy Spacek and Sam Shepard.' So to then get them is just extraordinary." Sissy plays a no-nonsense businesswoman who softens around her children. In the patriarch role, Sam looms as a cold presence. Yes, well cast!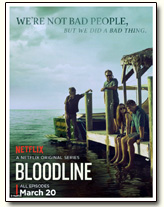 February 2, 2015
Magic Realism at the Magic
In 1975 Sam joined San Francisco's Magic Theatre as a Playwright in Residence. Three years later "Buried Child" received its world premiere at the Magic and was honored with the Pultizer Prize for Drama. That same year Sam and Joseph Chaikin's award-winning collaboration, "Tongues", premiered. More premieres followed - "True West" in 1980, "Fool for Love" in 1983 and "The Late Henry Moss" in 2000. Through the years several revivals were staged, the latest being "A Lie of the Mind" which opened last Wednesday.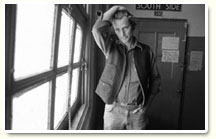 And on the NYC Stage

The White Horse Theater Company is set to present Sam's rarely seen play, "Eyes For Consuela", from February 6-21 at the Gene Frankel Theatre (24 Bond Street). The four-person drama surrounding the nature of love, loss and separation in a dreamlike Mexican landscape will be directed by Artistic Director Cyndy A. Marion. Based on the short story. "The Blue Bouquet" by Mexican writer and Nobel Prize-winner Octavio Paz, the play depicts the mid-life crisis of Henry, a lost American soul, as he wanders the dreamlike world of a remote Mexican jungle. Estranged from his wife, Henry escapes to Mexico to "find himself" instead encountering Amado, a Mexican bandit who wants to cut out his eyes. According to Amado, blue eyes are the only thing that will make his lover Consuela smile. In a fierce battle of wills, Henry and Amado come eye to eye with their inner demons, the true nature of sacrifice and what separates them from the women they love.
Back in 1998 when the play premiered at the Manhattan Theatre Club, John Heilpern of the New York Observer wrote, "This is such a slack little play from the author of True West, Fool for Love and Buried Child that one wonders what's got into him" and the review concludes with "Eyes for Consuela is dispiritingly earthbound, and Mr. Shepard's notion of magic realism is merely neurotic." Mr. Heilpern obviously was not enchanted with the play but neither were Ben Brantley or Vincent Canby of the NY Times.
However, to each its own. Fintan O'Toole of the NY Daily News is charmed. He writes, "As so often in Shepard's brilliant 35-year mostly Off-Broadway career, reality and fantasy, the mythic and the mundane, seep into each other. The feel of the play can be imagined from the short cryptic story by the Mexican writer Octavio Paz that Shepard uses as his springboard... Instead of explaining an enigma, Shepard deepens the mystery. He takes us into a feverish sweat-soaked atmosphere where the borders between past and present, the physical and the imagined, dissolve. In lesser hands, the play could easily be a ridiculous collision of cliches. It follows the familiar pattern of a rich, jaded U... The action is made to move with the dreamy, enraptured serenity of an ancient tale re-told. With such delicate telling, this very tall story is utterly enthralling."
Flashback - Patti Smith & Sam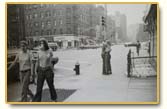 January 8, 2015
"Bloodline" premieres March 20th
Yesterday the production team of BLOODLINE, Netflix's new series, took part in the TCA Press Tour at Langham Hotel in Pasadena, CA. The panel, as pictured below, included (L-R) Sam, Ben Mendelsohn, Kyle Crawford, Todd A. Kessler, Daniel Zelman, Glenn Kessler, Sissy Spacek, Linda Cardellini and Norbert Leo Butz.
All 13-episodes will premiere on Friday, March 20th. The producers say the show's origins stem from their own large families, and how siblings' roles in them are often pre-ordained in childhood and difficult to shed. The combination family drama and psychological thriller is about a divided family of innkeepers (Sissy Spacek & Sam)whose four kids are torn apart when the black sheep son (Ben Mendelsohn) returns home to the Florida Keys, dredging up memories of a long-ago tragedy and inciting new ones. Linda Cardellini plays the youngest, Norbert Leo Butz is a hotheaded middle child who carries a grudge, and Kyle Chandler is the level-headed town sheriff.
Coming to the Magic
San Francisco's Magic Theatre continues its "Sheparding America" celebration with the revival of A LIE OF THE MIND. The family drama of spousal abuse was described by the New York Times as "A 20th century masterwork... to be compared with O'Neill's 'Long Day's Journey into Night' and Pinter's 'Homecoming'." The play will be staged by Magic's Producing Artistic Director Loretta Greco and will run From January 28 through February 22, 2015.
The first production was staged at the off-Broadway Promenade Theater on December 5, 1985. It was directed by Sam and had a noteworthy cast with Harvey Keitel as Jake, Amanda Plummer as Beth, Aidan Quinn as Frankie, Geraldine Page as Lorraine, and Will Patton as Mike.
When the play was revived in a 2010 Off-Broadway production directed by Ethan Hawke, Sam shared his thoughts - "I've come to see it as a bit of an awkward play. If you were to talk about it in terms of cars, it's like an old, broken-down Buick that you kind of hold together to just get down the road. All of the characters are in a fractured place, broken into pieces, and the pieces don't really fit together. So it feels kind of rickety to me now."
Mystery woman
More photos from that November 23, 2014 sighting of Sam walking in Soho with that mystery woman. In true fashion, Sam flashes his middle finger as he passes by.

Previous News:
July-December 2014
January - June 2014
July-December 2013
January-June 2013
July-December 2012
January-June 2012
July-December 2011
January - June 2011
July - December 2010
January - June 2010
July - December 2009
January - June 2009
July - December 2008
January - June 2008
July-December 2007
January-June 2007
November 2005 - December 2006