September 11, 2016
Limited release

There's no doubt Meg Ryan's directorial debut disappoints. ITHACA had a limited theatrical release this weekend and based on reaction from various film festivals over the past year, it's not surprising that it received dreadful reviews. Looking over Sam's film career, this adaptation of William Saroyan's "The Human Comedy" has to one of his worst films though his performance was notable. Film critic Joe Leydon of Variety writes, "Sam Shepard is so wonderfully engaging as the crusty Willie Grogan, an avuncular alcoholic who spouts wisdom while sporting Harold Lloyd-type glasses, you can't help thinking that, in almost any other context, his performance might generate award-season consideration." The movie is presently being rated at 13% on the Rotten Tomatometer.
Claudia Puig of The Wrap sums it up with, "Meg Ryan's choice of literary adaptation for her directorial debut may have been too ambitious: The overall effect, while earnest, is disjointed, dreary and oddly structured. Seemingly pointless scenes drag. The characters feel like cardboard cutouts, and the story is so deliberately paced as to feel tedious... Generally, scenes don't flow smoothly, and the pacing and rhythm suffers. It feels like key swaths have been edited out. The ending comes abruptly and awkwardly." For more reviews, check out the film page.
The poster seen above is the third one released and what's so inane about it is Sam is not portrayed as his character with his Harold Lloyd glasses. They just took a photograph of him from some other film, maybe "August: Osage County". Here's what he should look like.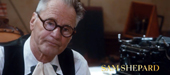 On the London Stage
BURIED CHILD will open in the West End at Trafalgar Studios in November. It will feature husband and wife Ed Harris and Amy Madigan, who starred in an off-Broadway revival of the play earlier this year. It will open on November 24 with previews beginning on November 14, and will run until February 18, 2017. It transfers from the Pershing Square Signature Center in New York, where it was staged by The New Group. Artistic director Scott Elliott said, "'Buried Child' is Sam's masterpiece and I can't wait to get another crack at it with Shepard's masters, Ed Harris and Amy Madigan, along with some fresh British artists." The play was published in 1978 and won the 1979 Pulitzer Prize for Drama. It opened on Broadway in 1996 and received five Tony Award nominations, including Best Play.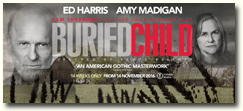 Sam and Ed first hooked up in the 1983 film, "The Right Stuff", and our playwright wrote the role of Eddie in his play, Fool for Love, for Ed's stage debut. Following that partnership, "Buried Child" is now the fifth of Sam's plays that Ed has performed in, including "Cowboy Mouth", "True West" and "Simpatico". Personally, I've seen over 30 Ed Harris films and though I can't pick my favorite because there are so many top-notch performances, it's hard to believe he's never taken home an Oscar! He should have won for "Pollock". He was awesome!
Le Cinéma de Franco
And speaking of Harris/Shepard connections, over the past week, James Franco's IN DUBIOUS BATTLE has made the film festival circuit, premiering in Venice on September 3 followed by a screening at the Deauville American Film Festival two days later. On Monday, it will have its North American debut at the Toronto International Film Festival (TIFF).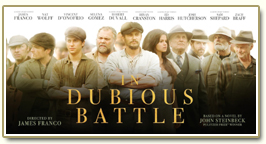 The handful of reviews thus far have been favorable and there's much agreement among the critics. Gabriele Niola of Positive Magazine writes, "'In Dubious Battle', whose title comes from John Milton's 'Paradise Lost', is everything but a perfect work, but it represents the highest peak of Franco's career as a director and is also a crucial point to reach a poetic maturation, characterized by a sincere attention for social matters. If he will manage to get rid of that annoying intellectualism that at times still emerges from the rifts of his works, we can hope well for his future as a film-maker."
And Owen Gleiberman of Variety - "'In Dubious Battle' has to be acknowledged as a major growth ring in Le Cinéma de Franco. He has learned by doing, and he has acquired skills that are beginning to fuse with the best side of his instincts, which is to look at subjects with a candor that mainstream movies too often avoid." He also mentions Sam's role - "Sam Shepard plays a rival farmer who agrees to house the workers in tents on his land in exchange for their picking his crop for free. Shepard, who has always looked like he came from the '30s, makes this farmer a compelling contradiction, a hard case with a soft spot."
Sam & his Hermes 3000
Those who haven't adjusted ecstatically to all the wonders of modern technology will revel in the unorthodox and delightful documentary "California Typewriter", recently screened at the Telluride Film Festival. The film features an array of typewriter enthusiasts, including our playwright as well as Tom Hanks, biographer David McCullough and singer-songwriter John Mayer. In his interview, Sam states succinctly, "I never got along with the computer screen," and he adds that he gets a rush from seeing the ink flying on to the paper in front of him as he types and retypes a new play.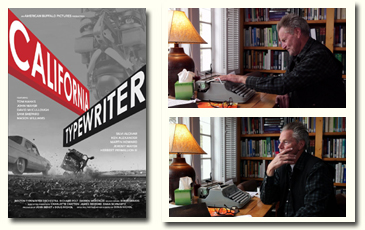 August 17, 2016
International premiere
Director James Franco's IN DUBIOUS BATTLE will receive its international premiere at the Venice Film Festival on September 3, 2016. Production took place last year in March and April and was mostly shot in the Atlanta area. This adaptation of John Steinbeck's Depression-era novel has an impressive cast, including Franco himself. It stars Nat Wolff, Selena Gomez, Vincent D'Onofrio, Robert Duvall, Ed Harris, Sam Shepard, Josh Hutcherson, John Savage, Ashley Greene, Zach Braff and Bryan Cranston.
The story takes place in the California apple country where 800 migratory workers rise up against the landowners after getting paid a fraction of the wages they were promised. The group takes on a life of its own - stronger than its individual members and more frightening. Led by the doomed Jim Nolan, the strike is founded on his tragic idealism - on the "courage never to submit or yield." The film will also be screened in the "Special Presentation" category at the Toronto International Film Festival (TIFF), which runs from September 8-18.
Here are a couple more production photos. The right one shows director James Franco with Ed Harris.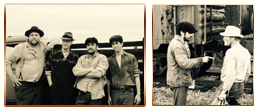 August 4, 2016
New trailer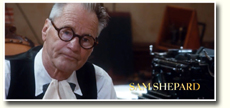 Finally there's a trailer for Meg Ryan's ITHACA. Check it out at this link. This month the marketing strategy for the film is aimed at focusing on the cameo appearance of Tom Hanks trying to promote positive memories of the duo in films such as "Sleepless in Seattle" and "You've Got Mail". To date the film has only been screened at film festivals, but it appears that it will have a limited theatrical release (usually NY & LA) on September 9th. The latest review comes from Alistair Harkness of The Scotsman: "Ryan has no real sense of how to craft a story from behind the camera. She also switches point-of-view and introduces dream sequences and hallucinatory images at odd moments. The stylistic mishmash is jarring to say the least. Even the performances – usually a strong point for actors-turned-directors – are leaden, with only Sam Shepherd's turn as the town's drunken chief telegraph operator coming close to conveying the gravitas this wannabe prestige picture is desperately striving to achieve.
DVD release

On June 21 MIDNIGHT SPECIAL was released on DVD and Blu-Ray. I'm not a sci-fi fan but I have admired films in that genre, such as "Starman" and "ET." Those particular films were enriched with those heart words - lightheartedness and heartwarming. You might even have laughed. Let me assure you there are no laughs in "Midnight Special". It is dour and dark, serious and intense. Michael Shannon, who plays the boy's father, has a constant scowl on his face from beginning to end. Personally, I think the director should have done more of a follow-up on cult leader Calvin Meyer, played awesomely by Sam. But hey, the critics loved this film so what do I know?
The play's the thing...
FOOL FOR LOVE is being staged through August 14 at Princeton Summer Theater, performing at Hamilton Murray Theater on the campus of Princeton University in Princeton, NJ.
The Catastrophic Theatre of Houston, TX, will present BURIED CHILD from September 9 to October 1.
TRUE WEST will be presented by Shattered Globe Theatre, Chicago, IL, from September 8 to October 22.
Letter to the editor of the Hartford Courant
"Our democracy was hard-earned but could be very easily lost. Playwright Sam Shepard once said that 'democracy's a very fragile thing. ... As soon as you stop being responsible to it and allow it to turn into scare tactics, it's no longer democracy, is it? It's something else. It may be an inch away from totalitarianism.'

Trump's scare tactics threaten to turn our democracy into 'something else' and we all must take the responsibility to ensure this does not happen. Trump must be soundly defeated. He is wholly unworthy of your vote."
...Christopher A. Bird, Glastonbury
July 9, 2016
New Archival Collection
Off-Off-Broadway's La MaMa Experimental Theatre Club has launched its new Archival Digital Collections website, which features a treasure trove of photographs, production stills, key art, scripts, videos and press clippings. Here is a 1991 photograph of Sam during a run of his "Melodrama Play" at La MaMa.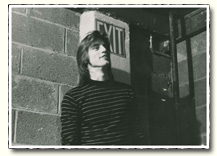 Ithaca at EIFF

2016 doesn't appear to be a good year for Meg Ryan. Besides disastrous reviews for her ITHACA directorial debut, she received even more disastrous reviews for her plastic surgery after she took to the stage at the Tony Awards. Anyway, her film was screened at the Edinburgh International Film Festival last month and, not surprisingly, continued to receive bad press. I'm curious as to why there has not been one video clip or trailer released to this date even though the film was shot two years ago. The story comes from William Saroyan's 1943 novel, "The Human Comedy". It was previously filmed that same year with Mickey Rooney.
Steven Armour, Serving Cinema: "Scarcely seen on screen in the past decade, Meg Ryan has joined the ranks of A-list stars trying their hand at directing with her feature film debut Ithaca, a period drama set in 1942 in the wake of the attack on Pearl Harbor and America's subsequent decision to join the allies in the Second World War. Though dutiful in its treatment of the subject at hand, Ithaca is ultimately devoid of any authorial stamp or stylistic flare, proving a pedestrian first foray behind the camera by Ryan that may also be her last... Sam Shepard is the only character of much note in the film, and even then the role isn't much of a stretch for an actor of his caliber."
Matthew Anderson, CineVue: "Foremost in Ithaca's problems is a woeful script. Never wont to unduly criticize a fellow writer, it's nevertheless very difficult to find any positive comment to make about the dialogue offered to the big hitters on the bill here. In letters received from Marcus, the phrase 'I wish there was no war' sums up the very obvious anti-conflict sentiment though none of his suffering is shown. Through other eye-rollingly bad moments we finally hit rock bottom with 'There will always be pain in this world.' Looks of indignation on the faces of a cast loathe to enunciate such drivel beg the question as to how the project proceeded without going back to the drawing board. Despite having only a marginal role herself, in trying so hard to be thought-provoking and profound, Ryan forgets to develop character past the planning stages, resulting in no emotional involvement at all."
Allan Brown, Movie Review World: "Despite its whimsical nature, stilted dialogue and continual bombardment of oversentimentality, there are some notable performances throughout. Willie (Sam Shepard) and Tom (Hamish Linkletater) both shine as Homer's new bosses at the local telegraph post. Their presence in the film adds a much needed injection of life and humor into the proceedings... Despite the actors being plagued with stiff dialogue exchanges from a screenplay that's almost impenetrable, Neustaedter and the whole cast salvage what they can from it, and at times, even manage to evoke a spark of emotion, in this overwise drab and confused drama."
June 12, 2016
At the Tonys
Sam's daughter Hannah accompanied her mother to the Tony Awards tonight and watched as her mother accepted her "Best Actress in a Play" award for her role as Mary Tyrone in "Long Day's Journey into Night". Jessica Lange can now take her place among the prestigious Triple Crown winners. Congratulations! The young girl in the photo is Adah, Jessica's granddaughter, whose mother is Shura Baryshnikov.

June 6, 2016
Jones & Shepard
In lieu of the fact that Sam hasn't taken on any new film roles in over a year nor published any new works, there isn't a lot of news to report. Thus, the hiatus. However, I will share with you an interesting thread I recently came across about the 2014 film, "The Homesman" that received positive reviews beginning with its debut at the Cannes Film Festival. The project sprang to life in Sante Fe during a lunch meeting at the Santa Cafe. Taos resident and film producer Michael Fitzgerald asked Sam if he knew of a good Western story that was suited to Tommy Lee Jones. In 2005, Fitzgerald had made "The Three Burials of Melquiades Estrada" with Jones, and he was eager to work with him again. Sam suggested Glendon Swarthout's novel "The Homesman", the tale of a spinster schoolteacher and a dodgy claim jumper who team up against the odds to transport three mentally unhinged female settlers from Nebraska to parts east. Sam, being a screenwriter partial to Westerns, had failed to wrest rights to the story from Sony Pictures, which had owned them ever since Paul Newman tried to make it in 1988. "Sam thought it would be right up Tommy's alley," says Fitzgerald, and he concurred as soon as he read the book. Three years later after Fitzgerald and Shepard's fortuitous lunch, "The Homesman" opened. Jones both directed and starred in the film with Hilary Swank.
Some of you may remember that Shepard and Jones teamed up for a 1995 TV western called "The Good Old Boys", in which Jones stars and makes his directorial debut. Jones plays Hewey Calloway, a 20th-century cowboy who talks to his horse and prides himself on his steer-roping skill. Sam plays Hewey's old buddy Snort Yarnell and, according to Ken Tucker of Entertainment Weekly, "does an excellent, snaggle-toothed Walter Brennan impersonation during much of his brief screen time."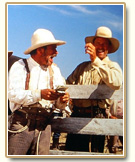 Encore performance
With the death of patriarch Robert Rayburn, played by Sam, in the first season of Netflix's BLOODLINE series, we didn't expect to see him in the second season. However, in the finale episode, we get a new scene between Danny and his father as a flashback.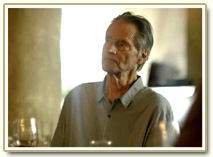 Milan Event
The Italians will be celebrating an event celebrating the work of Sam Shepard at Zig Zag in San Donato Milanese. Describing him as actor, playwright, writer, musician and, most of all, refined narrator, the retrospective will be held Saturday, June 11th at 5 pm and will provide a wide dissertation with the aid of a selected soundtrack through scripts, stories, fragments and anecdotes. This opportunity is offered by the recent reprint of "Motel Chronicles" and "Day out of Days", two books that represent the evolution of Shepard's narrative. The stories take place mostly in the American West and tell an odyssey of thirty years.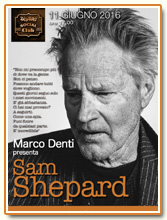 In March of this year, an Italian edition of "Motel Chronicles" was published by Il Saggiatore in a Kindle format. Love the cover! (From "Don't Come Knocking")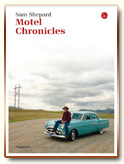 On display
The second edition of Photo London 2016 has opened at the Somerset House. The first edition of the fair last year was such a success in terms of attendance and sales that this year's edition is hosting more exhibitors. In the section of rock and roll legends and cult celebrities, you can find iconic portraits of Bob Dylan, Andy Warhol, The Velvet Underground, David Bowie, as well as the one below. This portrait is called "Patti Smith and Sam Shepard after brunch in Knightsbridge, London (1972).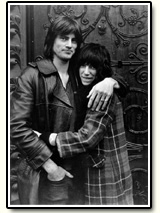 You go, girl!
Here's a new photo of Sam and Jessica taken at Wynn Handman's 85th birthday party on May 21, 2007. Coming up this Sunday, let's hope we watch Jessica capture the Triple Crown at the Tony Awards! She has thus far won two Oscars and three Emmys and is now up for a Tony for her latest performance in "Long Day's Journey Into Night". To date, there are 21 Triple Crown winners. Miss Lange is among my favorite actresses and I'll be rooting for her.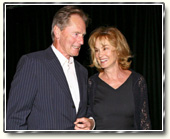 Awaiting release date

Filmed about a year ago, IN DUBIOUS BATTLE has yet to receive a release date. Directed by James Franco, the film is based on the book by John Steinbeck, published in 1936 and considered his first major work. The synopsis reads - In the California apple country, nine hundred migratory workers rise up "in dubious battle" against the landowners. The group takes on a life of its own—stronger than its individual members and more frightening. Led by the doomed Jim Nolan, the strike is founded on his tragic idealism—on the "courage never to submit or yield." Sam has a minor role as a migrant worker called "Mr. Anderson". In the photo below, that's him on the right in the bib overalls.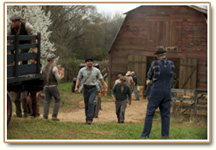 April 27, 2016
"Fool for Love" returning to its roots
San Francisco's Magic Theatre celebrates its forthcoming golden anniversary with a 2016-17 season that mixes now-classic works by two major writers associated with the theater — Sam Shepard and Paula Vogel — and premieres of new plays by other artists with the Magic on their resumes. The theater will toast its 50th birthday in 2017 with a "legacy revival" of Sam's fierce and darkly comic "Fool For Love," which premiered at the Magic in 1983. Artistic Director Loretta Greco, who will direct the play, explained, "We wanted to look back at the foundation of the Magic and those writers who changed the face of American theater. That piece is inextricably linked to the Magic. Because it was made in that intimate space of ours, there are so many things from the rehearsals with Kathy Baker and Ed Harris (for the 1983 production) that are baked into the text. There was no way we could do the 50th without celebrating that muscular, super-sexy piece of writing."
New translation

For Italian fans of Shepard's work, Sara Antonelli has now translated "Day out of Days", which was originally published in January 2010. "Diario di lavorazione" was released on March 24th by Playground. The book is a collection of stories set mainly in the fertile imaginative landscape of the American West, written with the terse lyricism, cinematic detail, and wry humor that have become Sam's trademarks. Ms. Antonelli previously translated "The Rolling Thunder Logbook" in 2005.
Waiting for a DVD release
Aussie brand Blundstone, known for its signature Chelsea boots, became the official sponsor for Meg Ryan's ITHACA at the Sonoma International Film Festival last month. The film was screened on March 31 followed by a Q&A session with the director. Here are a few new movie stills. For unknown reasons, only photos with actor Alex Neustaedter have been issued thus far with none of Jack Quaid, Sam, Meg herself or even Tom Hanks!
With the movie making a handful of appearances at film festivals over the past year with continued bad reviews, I guess you can probably ditch the idea of a theatrical release but perhaps the DVD will come out later this year. At the Middleburg Film Festival (VA) last fall, Ryan related this interesting tidbit. One day on the set, she asked Sam, "What am I, as a woman, doing here making a story about boys?" He replied that she shouldn't worry because women make men after all. Tell me he didn't say that...
I did appreciate these welcomed comments about Sam's performance from Duane Byrge of The Hollywood Reporter:
One of the few moments the film actually entertains comes when the elderly alcoholic telegrapher imparts sage, crusty wisdom to eager-beaver Homer. On this plus side, not only have the filmmakers used the historical back-road sites of Virginia for their filming, they have picked up the formidable talents of local-yokel Sam Shepard. Costumed in Harold Lloyd-type period glasses and swiveling around in his telegrapher's chair, Shepard infuses the proceedings with some comic relief and perspective. His bits stand out: Shepard's soft, creaky voice, mixed with intermittent high-pitched punctuation, give you the feeling that this guy could do a helluva W.C. Fields. Unfortunately, those kinds of attention drifts are unintended but necessary to endure the rest of what's onscreen.
Back in February 2015 Richmond magazine interviewed Ryan and asked her about working with Sam. She claims he was her first choice going into the project and she was amazed he accepted the role.
"He is everything you'd hope Sam Shepard would be. He is such a refined and powerful actor. He's an intelligent man but he's so funny and he's really fun, and when you sit next to him between takes, he's talking about the play he's writing. He's to be admired for so many things and rightfully so. He's one of our great American playwrights. And he's a blast to talk to. He's deep and funny and kind."
April 19, 2016
Patti Smith on Sam

The Tribeca Film Festival's "Storytellers" series got underway Thursday afternoon with Ethan Hawke and Patti Smith. They quickly found common ground discussing fame, rock music and theater. As many of you know, when they were young and out of their minds, Patti and Sam Shepard had a fiery affair that resulted in the collaborative rock/theater piece "Cowboy Mouth". The following is what Patti shared with Ethan:
Sam and I wrote this play because we had a relationship, which truthfully we shouldn't have had because he had a family. But we were young, and we knew we had to end our relationship. So we write this play as sort of our swan song. I said, I don't know how to write a play. And he said, you're the girl, I'm the guy, just do what I say. He writes a little set up and he says something and hands me the typewriter, so I just answer him and we write out a whole play that way. And then he decided that we should perform it.

There was a part in the play where Sam wanted us to have a battle of language. So he said this is where Slim, his character, he improvises his language and then Cavale, my character, improvises back. And I said, how do we do that? What will I say? And he said, I'll say stuff and you just say stuff back at me. And I said, what if I make a mistake? And he said, Patti Lee, it's improvising—you can't make a mistake. If you miss a beat, then you invent another beat and that made perfect sense to me. And [with] that little instruction, I learned how to improvise, which has served me my whole life in everything I do. It's one of the greatest lessons I got from Sam.
The above poster comes from the April 2013 off-off Broadway run at the Paul Robeson Theatre.
New book release
A new book is being published this week called "The Late Work of Sam Shepard" by Shannon Blake Shelton. It will be available in both hardcover and kindle editions. The description follows:
Hailed by critics during the 1980s as the decade's 'Great American Playwright', Sam Shepard has since continued to produce work in a wide array of media including short prose, films, plays, performances and screenplays. Like Samuel Beckett and Tennessee Williams in their autumnal years, Shepard relentlessly presses the potentialities and possibilities of theatre. This is the first volume to consider Shepard's later work and career in detail and ranges across his work produced since the late 1980s.

Shepard's motion picture directorial debut Far North (1988) served as the beginning of a new cycle of work. He returned to the stage with the politically engaged States of Shock (1991) which resembled neither his earlier plays nor his family cycle. With both Far North and States of Shock, Shepard signaled a transition into a phase in which he would experiment in form, subject and media for the next two decades. Skelton's comprehensive study includes consideration of his work in films such as Hamlet (2000), Black Hawk Down (2001), The Assassination of Jesse James by the Coward Robert Ford (2007) and Brothers (2009); issues of authenticity in the film and screenplay Don't Come Knocking (2005) and the play Kicking a Dead Horse (2007); of memory and trauma in Simpatico, The Late Henry Moss and When the World was Green, and of masculine and conservative narratives in States of Shock and The God of Hell.
March 18, 2016
In theaters
This weekend the long-awaited MIDNIGHT SPECIAL opened in theaters across the country garnering much praise from the film critics. Scott Mendelson of Forbes had this to say - "'Midnight Special' is the real deal. It's a genuine sci-fi thriller, sown by hand, created out of love and respect for its elders yet still creating its own identity as an original work of art. Jeff Nichols has crafted a modern-day fable, one rich in character and subtext, and one that in its best moments qualifies as haunting. It operates in the shadows, dropping us into the middle of the story and slowly offering information and confirmation while using its relative ambiguity as a means of tension and suspense. Like the best of Stephen King and the earliest M. Night Shyamalan films, it presents an authentic bit of real-world humanity, where its moments of wonder and fantasy are all the more dynamic.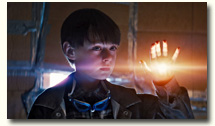 I can't resist sharing what BBC's Nicholas Barber pointed out - "There aren't many films that pack so much intrigue into their early scenes. The later scenes, unfortunately, aren't quite so gripping. First, Nichols makes the mistake of leaving Calvin and The Ranch behind, thus neglecting one of cinema's cast-iron rules: 'Any film with Sam Shepard in it will seem a lot worse once Sam Shepard is no longer in it.'" Oh, yes...
Here is a link to Sam's interview in which he discusses the film.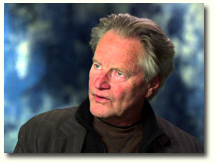 The less you know about the film, the better your experience so avoid reading reviews. Typically, they're full of spoilers and give no warning. A review should never give away the plot! Grrr....
February 15, 2016
Sorry about that...
Rarely do I post misinformation but it happened and I'm going to point the blame in the direction of the Arthur Miller Foundation. At the end of November they announced a fundraiser for January 25 by celebrating 100 years since the birth of Arthur Miller. Among the celebs invited to be guest readers of Miller's work was Sam and the media spread the word around for weeks. That is, until January 13, 2016 and then the name "Scott Shepherd" appears. Did Sam back out or was somone in the Miller organization irresponsible? In any event, the confusion should have been cleared up with an apology.
February 12, 2016
Berlinale premiere

Jeff Nichols' long-awaited film, MIDNIGHT SPECIAL, was screened at the 66th International Film Festival in Berlin today competing for the prestigious Golden Bear. Actors Kirsten Dunst, Joel Edgerton, Michael Shannon and Jaeden Lieberher joined their director for the film's press conference and premiere. I don't think anyone expected Sam to show up. Reviews for the sci-fi indie are drawing favorable comparisons to everything from Speilberg's "E.T." and "Close Encounters of the Third Kind" to John Carpenter's "Starman" and James Cameron's "Abyss". Yes, "Starman!" Loved, loved that film! Who can forget that line - "Define little bit jumpy."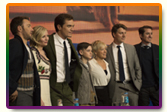 UK's Telegraph gives praise with "the sci-fi chase movie mixes super-powers, religion and an offbeat cast to dazzling, Spielbergian effect... Sam Shepard plays another interested party, as Calvin Meyer, the head of a chillingly businesslike religious sect, who have been stockpiling guns and will stop at nothing to get eight-year-old Alton back in their clutches."
January 28, 2016
Lights, curtain, action
The upcoming New Group production of Sam Shepard's Pulitzer Prize-winning play BURIED CHILD has extended its run through March 27. Previews at the Pershing Square Signature Center begin on February 2, 2016, in advance of its February 17 opening. It's been 20 years since its last major New York production and Sam is in town still fiddling with the script according to today's NY Times.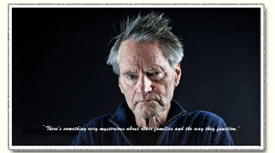 When asked about being the greatest living American playwright, he responds to whether or not he feels he's achieved something substantial. His answer: "Yes and no. If you include the short stories and all the other books and you mash them up with some plays and stuff, then, yes, I've come at least close to what I'm shooting for. In one individual piece, I'd say no. There are certainly some plays I like better than others, but none that measure up.
January 17, 2016
North American Premiere
After screening at the BIFF, sci-fi thriller MIDNIGHT SPECIAL will be headed to Austin, Texas for its North American premiere at the SXSW Film Festival, which runs from March 11-19.
Opening soon
Tickets are now on sale to see husband-and-wife team Ed Harris and Amy Madigan in BURIED CHILD. The off-Broadway production by the New Group is directed by Scott Elliott and will begin previews on February 2 at the Pershing Square Signature Center's Alice Griffin Jewel Box Theatre. Opening night is scheduled for February 17, with the limited engagement set to run through March 13. The second photo is from the Wittliff Collection displaying artifacts regarding the Pulitzer Prize-winning play.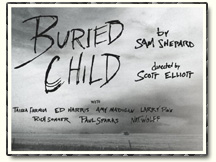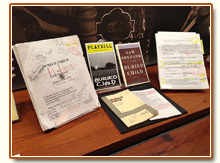 The Big Easy
The photo below was captured last week in New Orleans. Jessica was identified but not Sam. What's your guess? It appears that they've rented some bicycles from A Musing Bikes for the day and were spotted at the corner of St. Peter and Royal Street. With the city as the location shoot for the "American Horror Story" TV series, perhaps Jessica became smitten with the city's bohemian aethetic. Back in 2013, she was quoted as saying, "I'm so thrilled to be in New Orleans. It's one of my favorite places." About a year ago, she purchased an apartment. She also owns a cabin in Minnesota and an apartment at One Fifth Avenue in NY.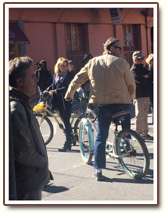 Previous News:
July-December 2015
January-June 2015
July-December 2014
January - June 2014
July-December 2013
January-June 2013
July-December 2012
January-June 2012
July-December 2011
January - June 2011
July - December 2010
January - June 2010
July - December 2009
January - June 2009
July - December 2008
January - June 2008
July-December 2007
January-June 2007
November 2005 - December 2006