January 28, 2016
Lights, curtain, action
The upcoming New Group production of Sam Shepard's Pulitzer Prize-winning play BURIED CHILD has extended its run through March 27. Previews at the Pershing Square Signature Center begin on February 2, 2016, in advance of its February 17 opening. It's been 20 years since its last major New York production and Sam is in town still fiddling with the script according to today's NY Times.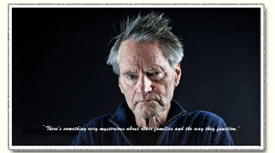 When asked about being the greatest living American playwright, he responds to whether or not he feels he's achieved something substantial. His answer: "Yes and no. If you include the short stories and all the other books and you mash them up with some plays and stuff, then, yes, I've come at least close to what I'm shooting for. In one individual piece, I'd say no. There are certainly some plays I like better than others, but none that measure up.
January 17, 2016
North American Premiere
After screening at the BIFF, sci-fi thriller MIDNIGHT SPECIAL will be headed to Austin, Texas for its North American premiere at the SXSW Film Festival, which runs from March 11-19.
Opening soon
Tickets are now on sale to see husband-and-wife team Ed Harris and Amy Madigan in BURIED CHILD. The off-Broadway production by the New Group is directed by Scott Elliott and will begin previews on February 2 at the Pershing Square Signature Center's Alice Griffin Jewel Box Theatre. Opening night is scheduled for February 17, with the limited engagement set to run through March 13. The second photo is from the Wittliff Collection displaying artifacts regarding the Pulitzer Prize-winning play.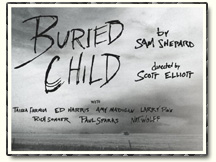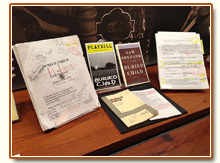 The Big Easy
The photo below was captured last week in New Orleans. Jessica was identified but not Sam. What's your guess? It appears that they've rented some bicycles from A Musing Bikes for the day and were spotted at the corner of St. Peter and Royal Street. With the city as the location shoot for the "American Horror Story" TV series, perhaps Jessica became smitten with the city's bohemian aethetic. Back in 2013, she was quoted as saying, "I'm so thrilled to be in New Orleans. It's one of my favorite places." About a year ago, she purchased an apartment. She also owns a cabin in Minnesota and an apartment at One Fifth Avenue in NY.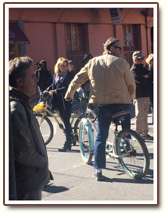 December 14, 2015
International Premiere
The 66th Berlin International Film Festival will be held for ten days beginning February 11, 2016 and among the films in competition will be MIDNIGHT SPECIAL, directed by Jeff Nichols.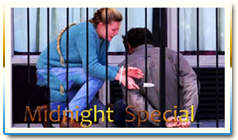 Starstruck
With the closing of FOOL FOR LOVE yesterday after a successful run on Broadway since early October, star Nina Arianda was asked, "What's the most memorable interaction you've had with Sam Shepard? She responded, "I'm so starstruck every time that I am around him…I passed out in my head every like five minutes…But one of the coolest moments I had with him, there's a moment before I kiss Sam [Rockwell] that I take his hat off and I put it down on the stool. And I had been putting it down the wrong way and he [Shepard] corrected me and said that you always have to keep the brim up because it's bad luck for cowboys if you put it down the other way. And it's not even written in the play. It's just another really wonderful detail that I wouldn't have known otherwise."
Yup, he's a real cowboy. Love this old photo by Annie Liebowitz!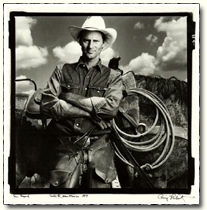 November 25, 2015
Benefit event coming up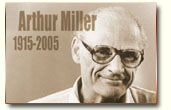 The Arthur Miller Foundation will celebrate the centennial of the playwright's birth with a starry benefit on Monday, January 25, 2016. The one-night gathering to raise funds for the Foundation's theater and film education programs will feature performances by several actors and will include Sam, Laurence Fishburne and Alec Baldwin. The performers will read excerpts from Miller's autobiography and his unpublished works as well as scenes from Death of a Salesman, The Crucible, All My Sons and more. The event will take place on the set of Miller's A View From The Bridge, being revived at the Lyceum Theatre.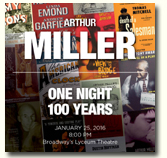 November 20, 2015
In theaters on March 18, 2016

Jeff Nichols' MIDNIGHT SPECIAL has had almost no publicity since being shot in New Orleans almost two years ago. Distributor Warner Bros. pulled its November 25, 2015 release date and moved it to March 18, 2016. This week we finally get a look at this secretive production with a poster, one movie still and a trailer. This is what we know. Inspired by "Close Encounters of the Third Kind, "E.T." and "Starman", the film stars Michael Shannon as Roy, a father desperate to protect his uniquely gifted, eight-year-old son Alton. When the nature of those gifts is publicly revealed, the family is forced to go on the run from religious extremists and local law enforcement. Apparently, Sam plays one of these religious nuts. The cast also includes Kirsten Dunst, Joel Edgerton, Adam Driver, Jaeden Lieberher, Bill Camp, Scott Haze and Paul Sparks. You'd have to say that the poster gives off a very E.T.-ish feel.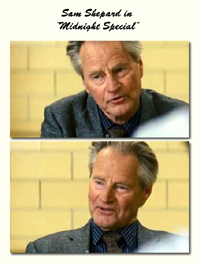 October 30, 2015
No thumbs up here

I assumed that Meg Ryan's directorial debut film ITHACA was having its premiere at the Virginia Film Festival next week but instead it received its world premiere at the Middleburg Film Festival (VA) a week ago. It was also screened at the Savannah Film Festival last night. With all of its dreadful reviews popping up, perhaps the film should be canned to save Ryan from further embarrassment. The critics appear to agree on the basics - too slow-paced, unfocused script, drab, lacks tension and clarity, shot too quickly (23 day-shoot), and weak performances. Perhaps her decision to also star in the film led to her biting off more than she could chew on her first time in the director's chair. The film still has no distributor.
That cowpoke unmasked
Patti Smith's new book, "M Train", is dedicated to our playwright, her friend of 45 years and the man who gave Patti her first guitar in 1971. It was a 1931 Gibson acoustic. "It's not so easy writing about nothing," says the cowpoke that visits Patti Smith during a dream in the opening pages of her new memoir. Some reviewers assumed that cowpoke is Sam Shepard and they were right. In an interview in Harper's Bazaar, Patti tells us, "One could say it's oneself talking to oneself. Or Sam Shepard. Because I've known Sam since I was 24 - like 45 years. Sam and I talk about books all the time. Some of these conversations with the cowpoke cross into conversations I've had with Sam. The cowpoke is sort of a voice of conscience."
October 14, 2015
"Fool for Love" extended
It has just been announced that the limited engagement of FOOL FOR LOVE will be extended for another week closing on Sunday, December 13, 2015.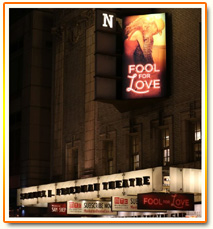 The response to this Broadway offering was somewhat divided as you can see from the reviews below. While some thought the two leads exuded chemistry, others disagreed. The overwhelming praise certainly was heaped upon Sam Rockwell and I have long perceived his gifts on screen. Performances went the whole gambit from electrifying to sluggish.
October 13, 2015
Broadway news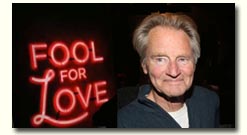 Theater critic Hilton Als has written an article called "My Guy" for the New Yorker this week. He covers familiar territory on Sam but I appreciated the following points he makes:
For good or for ill, Sam Shepard is the most objectified male writer of his generation. People who have little interest in theatre have found themselves drawn to it, and to him, in part because of his looks, especially during the height of his fame as a screen actor.

Tall, slightly snaggletoothed, and eagle-eyed, Shepard always looked like America, or a movie version of America: one could easily imagine him playing Tom Joad or Abraham Lincoln. His Western drawl was an additional attraction.

Writing "Fool for Love," during a time of emotional turmoil—Shepard's marriage to [O-lan] Jones was dissolving, and he was falling for another actress, Jessica Lange, with whom he would be involved for almost thirty years—made him jumpy and suspicious of his work. "The play came out of falling in love," he said, in The Paris Review. "It's such a dumbfounding experience. In one way you wouldn't trade it for the world. In another way it's absolute hell."

[Shepard admits] "I love the opening, in the sense that I couldn't get enough of this thing between Eddie and May, I just wanted that to go on and on and on. But I knew that was impossible. . . . I had mixed feelings about it when I finished. Part of me looks at 'Fool for Love' and says, This is great, and part of me says, this is really corny. This is a quasirealistic melodrama. It's still not satisfying; I don't think the play really found itself."
And from Michael Giltz of Huffington Post:
I've spent my entire adult life watching the stock of playwright Sam Shepard fall. He was at his peak in the 1980s, with that iconic trade paperback of seven plays sporting his handsome mug on the cover.

That compilation was just a blip on the radar for Shepard. He starred in the landmark film "Days of Heaven" in 1978. He won the Pulitzer Prize for his play "Buried Child" in 1979. He received an Oscar nomination for his great work in 1983's "The Right Stuff", a masterpiece by any measure. He co-wrote the Palme d'Or winner "Paris, Texas" in 1984, the same year that collection of plays became a fixture in bookstores around the world. No wonder he made the cover of Newsweek in 1985.

The plays kept coming: about one every three years since Seven Plays was published 31 years ago. But cruelly for someone so acclaimed and clearly devoted to his craft, they haven't become part of the repertory yet, not really. "Buried Child" played Broadway for two months in 1996. A praised revival of arguably his best play "True West" had a five month run in 2000 and received three Tony nominations. And now this revival of "Fool For Love" with Nina Arianda and Sam Rockwell. One play on Broadway in 1996, another in 2000 and now (finally) another in 2015. Shepard's new work has been seen at various venues Off Broadway to little success.

Shepard is a terrific actor, an admirable artist and devoted to theater. I want to be a fool for his work... I just wish I had more chances to judge his work where it belongs: on stage. Surely this showcase for four actors is proof he's worthy of more attention. It may reveal flaws but that's better than not being seen at all.
Overall, the reviews on this newest production were positive though the Village Voice criticized the casting of Nina Arianda - "As May, a bruised femme fatale chafing against the curse of a lifelong passion, Arianda rants and raves to little effect. Her wavering accent and showy tantrums don't express hard-bitten Western desperation so much as a drunken East Village Friday night."
Personally, I think Ms. Arianda's professionalism as a respectable actress needs to be polished. Oh, that trashy mouth in interviews!
Previous News:
July-December 2015
January-June 2015
July-December 2014
January - June 2014
July-December 2013
January-June 2013
July-December 2012
January-June 2012
July-December 2011
January - June 2011
July - December 2010
January - June 2010
July - December 2009
January - June 2009
July - December 2008
January - June 2008
July-December 2007
January-June 2007
November 2005 - December 2006