April 17, 2014
A devilishly handsome cowboy
American Theatre magazine celebrates its 30th anniversary this month. Sam graced the cover of its very first issue in April 1984. It featured an interview with the interview-shy playwright by a 19-year-old Amy Lippman, representing Harvard University's student magazine. The photograph was taken by Melinda Wickman.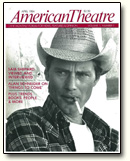 You might blame some of Sam's responses on his being a young man but he was actually 41 years old at the time. He had won the Pulitzer Prize for "Buried Child" five years before. Surprisingly, but in hindsight, not surprisingly, he commented, "I've been in a few rodeos, and the first team roping that I won gave me more of a feeling of accomplishment and pride of achievement than I ever got winning the Pulitzer Prize."
I suppose it was simply Sam being Sam.
Check out the trailer
The trailer for Jim Mickle's COLD IN JULY can now be seen online. The thriller is set for release across the UK on June 27th and will be available through VOD in the USA on May 23. Here's the newest poster.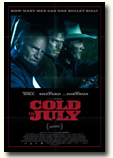 April 3, 2014
Netflix drama
More information was released this week regarding the yet unnamed Netflix series, which will partner Sam with Sissy Spacek once more. Filming will be done in the Florida Keys in the town of Islamorada where the story takes place. The production team has applied for permits for six months which takes them through mid-October. The advantage of this location is that it gives that tropical, isolated feel without being far away from the mainland and the resources of Miami. A couple years back I visited Islamorada and I have a feeling this will be a location Sam will thoroughly enjoy.
Coming out next month
Here are some new screen shots from COLD IN JULY from IFC Films, which will be released on VOD and in limited theaters on May 23. Great trio - Sam, Michael C. Hall and Don Johnson.
DVD release date
Discovery Channel has announced that KLONDIKE will be available on DVD on June 10. The six-part mini-series at 429 minutes aired in January and includes some major talent, beginning with Sam Shepard in his awesome role as a Catholic priest. Also bringing their respected older artistry to the Gold Rush drama is Tim Roth, Marton Csokas and Ian Hart. This adventure about the ruthless and cut-throat quest for gold in turn-of-the-century America takes its inspiration from Charlotte Gray's book "Gold Diggers: Striking it Rich in the Klondike".
The series debuted in the UK this past week. Hugh David of Cult TV Times wrote, "Brit director Simon Cellan Jones does a fine job in clearly difficult terrain, as do the crew and cast. The locations clearly push everyone to a level of realism that it would be easy to waste, and he doesn't. It helps though when the cast is this good. Fans of westerns and classic American historicals should give this a go, without hesitation." The Evening Standard describes Sam as a "feisty priest with startled hair." Love it!
I thought all the promotional artwork was fantastic and captured the essence and time period of the story. Photographer Kevin Lynch discussed the publicity shoot saying, "We had sometimes 15-20 minutes to get the shots with people like Sam Shepard and Tim Roth. I wanted to get the actors to be in character, and to comprehend what we were trying to convey. They have to look like they're in character without overacting." For some of the posters, under-lighting in gold hues was used to add further drama to the images and it works as seen below.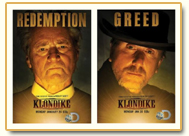 Three Wacko Sisters
A new movie page has been added. It's CRIMES OF THE HEART, based on the Pulitzer Prize-winning comedy by Beth Henley. Back in 1986, critics lauded Diane Keaton, Sissy Spacek and Jessica Lange for providing strong, unabashed performances. Whatever criticism there was of the film was blamed on director Bruce Beresford, who was cited for using dewy lighting and mournful music while laboring comic moments and denying the audience the intimacy of the play through his heavy-handed camera work. Nevertheless, the film grossed $22 million and garnered three Academy Award nominations - Beth Henley for Best Adapted Screenplay, Sissy Spacek for Best Actress and Tess Harper for Best Supporting Actress.
Personally, it's not one of my favorite films. I have no penchant for Mississippi tales of strong-headed quirky women. "Cookie's Fortune" was another female saga that just about gave me a wicked migraine. With "Crimes", I particularly disliked the casting of Ms. Lange, who always loomed too large in each film frame. I've always admired her appearance but, in this instance, the word "horsey" comes to mind.

March 20, 2014
Fall U.S. Premiere

NY's Signature Theatre has just announced its 2014-15 season, which will include the U.S. premiere of A PARTICLE OF DREAD as part of its Legacy Program, which features works of past Signature Playwrights-in-Residence. The play will be staged by Field Day Theatre Company with its original director, Nancy Meckler, and its lead, Stephen Rea, at the Alice Griffin Jewel Box Theatre in November. Simon Fallaha of Sight and Sound described the Oedipus play as "a patchwork thunderbolt of human fear and emotionalism in the guise of an unsophisticated plot. Call it 'collaborative chaotic collective'".
Encore for "Peer Gynt"

It was in Paris in April 2012 when Sam worked with Irina Brooks on her production of Ibsen's "Peer Gynt" for the 2012 Salzburg Festival, which took place that summer. Two years later, the play will again be performed at London's Barbican Theatre this fall. Contributors to the play included rock artist Iggy Pop, who wrote two punk songs about the rise and fall of a rock star while Sam wrote twelve poems which were delivered in monologues by the play's lead, Icelandic actor Ingvar E. Sigurdsson. Produced by the Théâtre National de Nice, where Irina Brooks works as artistic director, there will be four performances from October 8-11. Here is one of Sam's poems:
First light
Miracle of morning
Peeling back night
Like a page in a book

Snails peek at the doors of their shells
Gold in their mouth
Shining
Astonishing light

Courage pounding at the cage of ribs
Yet stillness rides
The steaming backs of grazing bulls
Quicksilver lizards
Snapping through
their thoughtless heads

A toad stone still
Peering out through the window
Of what he is

Indelible character
Obeying itself
Innocence
Watching

Blast from the Past
An Ed Fisher cartoon in the January 6, 1986 edition of The New Yorker indicates how extensive Sam's popularity had become by that date.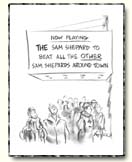 March 20, 2014
"Brownsville Girl" gets resurrected
Bob Dylan's '80s output doesn't get a lot of love, but he was plenty busy during the decade, and some of his best recordings from that era are getting the tribute treatment from a diverse array of younger artists.



Titled 'Bob Dylan in the '80s: Volume One,' the new collection is due March 25 and, according to the press release issued by ATO Records, aims to shed new light on a large cache of Bob Dylan songs that have long gone ignored. Featured is comedian Reggie Watts, who offers a dancehall reprise of "Brownsville Girl," an 11-minute epic, co-written by Sam, that originally appeared on Dylan's 1986 LP, "Knocked Out Loaded". The song is a rerecorded version of an outtake from the Empire Burlesque sessions and was originally called "New Danville Girl". Click here for the lyrics.
In a 1987 interview with Rolling Stone magazine, Sam described "Brownsville Girl" in the following way: "It has to do with a guy standing on line and waiting to see an old Gregory Peck movie that he can't quite remember – only pieces of it, and then this whole memory thing happens, unfolding before his very eyes. He starts speaking internally to a woman he'd been hanging out with, recalling their meetings and reliving the whole journey they'd gone on – and then it returns to the guy, who's still standing on line in the rain."
FYI, the "Rolling Thunder Logbook" page has just been posted with these photos of Dylan and Shepard in Massachusetts back in 1975. Up in my attic you'll find one of my first LP's - "The Freewheelin' Bob Dylan", his second album released in 1963. Oh, what great songs!
Cold in July

IFC Films has announced that COLD IN JULY will have a limited theatrical release and become available on VOD on May 23. The movie premiered at Sundance in January with The Hollywood Reporter commenting, "Michael C. Hall's stunned intensity, flanked by wildly enjoyable character turns from Sam Shepard and Don Johnson, should lure a small but appreciative audience with a taste for unconventional action". J.R. Lansdale, the author of the crime noir novel the film is based on, has a small part in the movie and helped coach the actors in their East Texas accents. The film was shot last summer near my Woodstock, NY home. The photo below shows Michael C. Hall being photographed by fans while filming on North Front Street in uptown Kingston.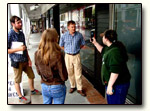 New Netflix drama from the creators of "Damages"
A 13-episode drama series, yet unnamed, produced by Sony Pictures Television, will be premiering on Netflix. Sam will play Robert, the patriarch of the family, with Sissy Spacek in the role of his wife. This will be their fourth collaboration having previously starred together in "Raggedy Man", "Crimes of the Heart", "The Good Old Boys" and "Streets of Laredo."
The series centers on a family with four children whose secrets are revealed when the estranged eldest son returns home. This black sheep of the family will be played by Ben Mendelsohn. Norbert Leo Butz will play the youngest son, who considers himself the unofficial mayor of the family's small hometown. Kyle Chandler and Linda Cardelinni have been cast as the other two children.
"Out of the Furnace" out on DVD and VOD this week
I checked out this film myself yesterday and I was definitely underwhelmed considering how much I admired Scott Cooper's previous film, "Crazy Heart". Many reviewers have compared the film to Michael Cimino's "Deer Hunter" but it sure lacks the gravitas to come anywhere close to that 1978 classic. The one glaring question I have is what was the purpose of Sam's character? He plays Christian Bale's Uncle Red, who has barely any dialogue and absolutely no purpose to move the story forward. Well, we all know he's easy on the eyes so it wasn't a wasted two hours. I will give praise for Masanobu Takayanagi's stark cinematography and Dickon Hinchliffe's evocative score. And the outstanding performances as well. Bale, Affleck, Dafoe, Whitaker, Harrelson and Shepard have either won an Oscar or been nominated and they confirm their artistic talent here. Casey Affleck blew me away. Wish we could see more of him.
FYI, another lawsuit has been filed against the filmmakers as well as the New York Post. The plaintiffs are eight Ramapough people who say the movie casts them in a "false light" and that it intentionally inflicted emotional distress. The defendants include producer Leonardo DiCaprio, director Scott Cooper and writer Brad Inglesby, of The New York Post, who wrote a review describing the hoodlums as "New Jersey hillbillies". This lawsuit comes weeks after a previous one was filed in December seeking $50 million from the makers of the film. The 17 Ramapough who filed the December lawsuit say they suffered ridicule and hatred after "Out of the Furnace" was released.
It appears that Premiere Props is trying to sell Sam's wardrobe for the film. Do you have $400? The Amazon.com description reads: "Tan oilskin with dark brown brushed collar 'Levis Strauss' jacket, burgundy heavy cotton long sleeve button front 'St. John's Bay' shirt, (size XL) and light blue denim 'Wranglers' jeans. (size 34)."

March 4, 2014
Independent Spirit Awards
On Saturday evening, the Independent Spirit Awards were held in Santa Monica. The Robert Altman Award was presented to director Jeff Nichols and his cast. Sam was not in attendance.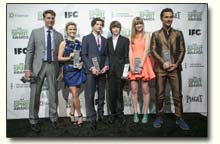 Mother of his children
The glamorous Jessica Lange has been named the new face of Marc Jacobs Beauty and was introduced by the luxury brand at a star-studded party in Paris last Wednesday. Ms. Lange will be featured in the company's summer and fall ad campaigns, which were shot by legendary photographer David Sims.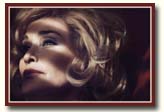 The first campaign picture features the actress with smoldering dark eye makeup and fierce eyebrows. In addition to her print ads for the cosmetic brand, she will also star in a Jacobs-directed short campaign film, which will be streamed online beginning May 5.

Father & Son
On January 9th, Sam was caught by the paparazzi with son Walker as they left La Scala restaurant in Beverly Hills.
February 17, 2014
On the Shepard Stage

A Lie of the Mind: Prescott Center for the Arts, Phoeniz, AZ - from March 6-16.
"This play needs music. Live music. Music with an American backbone. All I ask is that there be music. 'A Lie of the Mind' is a play not so much to be understood, as it is a play to be felt." ...Sam Shepard
Fool for Love: Alter Theater, San Rafael, CA - thru March 9
"Sharp dialogue pours dizzyingly from Shepard's pen, making this reviewer wish the 90-minute play could tumble around longer." ...Cari Lynn Pace, Marinscope.com
True West: Theatre Exile, Philadelphia, PA- thru February 23
"The greatness in Shepard's play lies in its dark side. Beneath the surface comedy is a play full of mournfulness and violence." ...David Anthony Fox, Philadelphia City Paper

Ages of the Moon: Henry Clay Theatre, Louisville, KY - thru February 23
"Despite all the drinking, stewing and trash talking, this play reveals a kinder, gentler side of Shepard to those expecting the ferocity of earlier work like 'True West' or 'Buried Child'" ...Erin Keane, WFLP News
New addition to the B&W Photo Gallery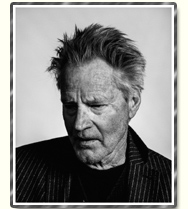 Excerpt from UK's Independent (2/13/14)
Julie Delpy has twice been nominated for the Academy Award for Best Adapted Screenplay (including this year for "Before Midnight"), and has directed four films. The actress says that an early run-in with celebrated playwright Sam Shepard almost made her give up writing.



"I was working with Sam Shepard on a movie when I was 20, and I kind of translated a line of one of my films and he laughed and said 'Julie, you're very pretty, please don't do that to yourself' ", she says. "Listen, he's a great writer, he's a much better writer than me… It's very funny. But it kind of blocked me for years, thinking 'Ok, so I'm not a writer'. When I wrote 'Before Sunrise', it felt so good and then I started writing again. So I had a block for like two years because a great American playwright thinks I shouldn't write, so why should I write? But it came back pretty quickly, luckily it wasn't forever a trauma."

While it's not the only measure of success, she has one more Oscar nod than he does.
February 14, 2014
Shepard Sighting
Valentine's Day and our playwright is spotted having breakfast at the Counter Culture Cafe in Santa Fe, NM.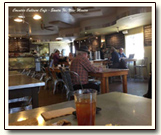 The above photo was not taken today but it's funny that there is a man who resembles Sam but we know it's definitely not him because of the laptop. Here's a pic of Sam's desk at the Santa Fe Institute.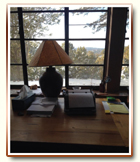 A man and his truck
I found this b&w photo posted online and it was tagged "Out of the Furnace". I'm not sure it's actually a movie still (de-colorized) or was taken during filming. In any event, it's a cool picture.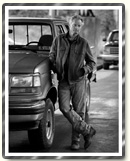 February 13, 2014
Inspired by Shepard

An Israeli cartoonist has scored his first cover for The New Yorker, wowing the editors with his submission, "Perfect Storm," which captures the romance of a snowy Manhattan morning. Cartoonist Tomer Hanuka's drawing appears on the cover of the February 10, 2014 edition of the magazine. Hanuka actually conceived of this drawing a few years ago when he read Sam's short story, "Indianapolis (Highway 74)", that ran in the New Yorker. The story is about a middle-aged man stumbling into a former lover in a hotel lobby during a snow storm. Personally, I think the man in the drawing appears more youthful and resembles the Sam Shepard who hung out with Patti Smith at the Chelsea Hotel during the '70s.
Exhibition is extended
Originally scheduled to run through February 14, The Wittliff Collections have extended the exhibition, "The Writer's Road: Selections from the Sam Shepard Papers", through February 23, 2014.
New additions
Here are two new movie stills from OUT OF THE FURNACE:

Those Pearly Whites
Excerpt from "Motel Chronicles" by Sam:
"I remember trying to imitate Burt Lancaster's smile after I saw him and Gary Cooper in 'Vera Cruz'. For days, I practiced in the backyard. Weaving through the tomato plants. Sneering. Grinning that grin. Sliding my upper lip up over my teeth. After a few days of practice, I tried it out on the girls at school. They didn't seem to notice. I broadened my interpretation until I started getting strange reactions from the other kids. They would look straight at my teeth and a fear would creep into their eyes. I'd forgotten how bad my teeth were. How one of the front ones was dead and brown and overlapped the broken one right next to it. I'd actually come to believe I was in possession of a full head of perfectly pearly Burt Lancaster-type of teeth. I didn't want to scare anyone so I stopped grinning after that. I only did it in private."
February 6, 2014
Soooo cool!

A photographic exhibition is opening tomorrow at the National Portrait Gallery in Washington. It's called "American Cool". What is cool? According to its creators, Joel Dinerstein and Frank Goodyear III, to be cool means to exude the aura of something new and uncontainable. Cool is the opposite of innocence or virtue. Someone cool has a charismatic edge and a dark side. Cool is an earned form of individuality. Each generation has certain individuals who bring innovation and style to a field of endeavor while projecting a certain charismatic self-possession. They are the figures selected for this exhibition: the successful rebels of American culture. From hundreds of actors, actresses, artists, musicians and writers, 100 were chosen. Can you guess some of their names? If you said Kerouac or Andy Warhol or James Dean, you're right. What about Sam Shepard? Yes, he's on the list! No surprise. Friend Patti Smith made the list as well.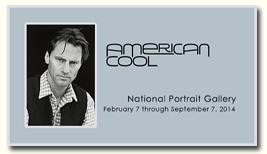 Among the photographers featured in the show are Diane Arbus, Annie Leibovitz and Robert Mapplethorpe. The photo chosen for Sam is by Brigette Lacombe. It was taken in 1983 and the following two photos were also taken during Ms. Lacombe's shoot.
January 29, 2014
Coming in 2014
News reports from Berlin indicate that Sam will be starring in ITHACA, from a screenplay by Erik Jendresen based on William Saroyan's novel, "The Human Comedy". Production is set to begin this summer with Meg Ryan making her directorial debut. Yes, you read that right. She will also don her acting hat alongside son Jack Quaid and Melanie Griffith. I'm surprised. Both ladies have not made any noteworthy films in over a decade. The film will be executive produced by Tom Hanks and his partner Gary Goetzman. The story is set in 1942 in a small town in California's San Joaquin Valley, where 14-year-old Homer Macauley is determined to be the best and fastest bicycle telegraph messenger anyone has ever seen. His brother has gone to war, leaving Homer to look after his widowed mother, his older sister and his four-year-old brother. As spring turns to summer, Homer delivers messages of love, hope pain and death to the good people of Ithaca. He'll also struggle with one message that will change him forever.
Previous News:
January 2014
July-December 2013
January-June 2013
July-December 2012
January-June 2012
July-December 2011
January - June 2011
July - December 2010
January - June 2010
July - December 2009
January - June 2009
July - December 2008
January - June 2008
July-December 2007
January-June 2007
November 2005 - December 2006