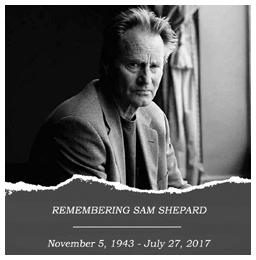 July 27, 2023
It's been six years since he left our world. His plays continue to be staged and his films continue to be watched and folks continue to discuss who exactly was Sam Shepard. Most likely his children knew him best but they're going to keep their memories private. Scholars and writers are still trying to analyze his works and his life. I came across another biography this year, one written by veteran music journalist Robert Greenfield, who doesn't appear to have any special connection to our playwright. In Ethan Hawke's book review, he best summarizes my feelings - "The man remains essentially inscrutable, as if we are cross-examining him from the distance of a drone ó we learn where and when he went, but we have no idea why. And that is probably the way Sam Shepard would have liked it."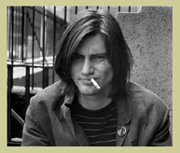 Chicago journalist Nancy Bishop wrote, "Three other biographies of Shepard have been published so one could argue that thereís no need for a fourth, although Shepard is clearly an entrancing subject." Certainly, that's been the case for me for the past 40 years - yes, an entrancing subject.
* * * * *
Last November Patti Smith published another book. It's called "A Book of Days", a collection of 366 photos - some digital, some Polaroid, some old and some new - one for each day of the year, accompanied by sparse text. In a Vanity Fair interview, the punk icon was asked about her spread on the two Sam's - Beckett and Shepard. She included one of Beckett's quotes - "I can't go on. I'll go on." She explained:
I spent a lot of time with him at the end of his life because he was suffering from ALS. He was always Sam. It never affected his aptitude, his thought processes, but he was tremendously afflicted physically. And so I just assisted him in any way I could, and sometimes it was frustrating for him. Or sometimes it would take a long time to get through a certain page because he couldn't write and wrote in longhand his whole life. He never used a computer. He had to really go over everything in his mind. At times, it would just get difficult. Either one of us would evoke those words of Beckett. And Sam knew whole swatches of Beckett by heart. Why it was funny was sometimes I'm sure he felt like he couldn't go on and heíd say, "Patti Lee, I can't go on." And I'd look at him, almost alarmed, and he'd say, "Iíll go on."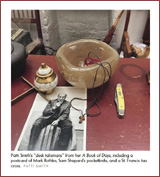 We laughed a lot. And he was a really hard worker right to the end of his life. He did love Beckett. In fact, when I first met him, I was readingÖ What was it? I can't remember. But I was reading something by Beckett, and he was happy about that. It was a common ground that we shared for 50 years.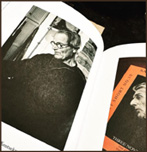 That Polaroid I took of Sam, he was reading Beckett and I took that Polaroid, and it's a really nice picture of Sam, I think, at his kitchen table.
* * * * *
Last fall, filmmaker Treva Wurmfeld, who directed the documentary, SHEPARD & DARK, revisited that film's outtakes and published the results in "Tangents: From the Making of Shepard & Dark". In the book's introduction, she writes, "In these dialogues, Sam tells stories, talks about his ideas, and references many interests including writing, theater, film, family, Greek mythology, astrology, animal husbandry, women, mortality and alcoholóall while on the road in New Mexico, Texas and Kentucky". She adds, "Filming with Sam was complicated; even though my camera did its job of capturing the present moment, no amount of filming could truly capture all the layers at play that existed somewhere in the space between his work, his character, me and the tension that comes from having head-to-head creative agendas. At a certain point I had to ask the question, was he my subject or was I his?"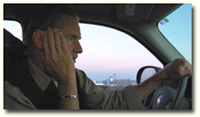 Below is an edited excerpt of one of the "tangents" included in the book, where Sam discusses the roots of his newfound appreciation for Sophocles and Greek tragedy, which led to one of his final theatrical works, "A Particle of Dread: Oedipus Variations."
I stayed away from Oedipus, stayed away from the Greeks entirely for a long time, because I didnít think I was bright enough to get it. I was intimidated by it. But finally my friend Joe Chaiken told me that I should try it, just for the heck of it. So, I did, and I was kind of stunned by how simple, how direct and to the bone it wasóthe language, the ideas and the audacity of it, itís quite incredible.

Anyway, I thought for a long time I would try and adapt it, but it didnít seem possible, because nobody knows what that religious culture was like back then and it seemed stupid to try and imitate it. And then to try and adapt it to a modern audience where everybody wears suits and ties and dark glassesó[that] seems even more stupid, like the Blues Brothers doing the Greeks, you know?

So, I gave up on it, actually, and then recently when I was in Utah I started thinking about it again, and I came across this translation by Robert Fitzgerald, whoís better known for his translations of "The Iliad" and "The Odyssey". His translation of Sophoclesís whole trilogy is astounding. So I started taking things out and putting them on the board [looks up at whiteboard in office]. That top line comes from Antigone: "It is the dead, not the living, that make the longest demands."

At the same time I was starting to write variations on it, I got a call from my friend Stephen Rea in Ireland saying that he was putting back together his theater company, Field Day, which evidently he had going in the í70s. It broke up, and now heís putting it back together in Derry in the North. When the Protestants took over Derry they called it Londonderry, and when the Catholics took it over they called it Free Derry. Itís the last walled city in Europe really, partitioned, you know, so I thought this would be a perfect place to do variations on Oedipus.

And then my musician friend Bill Frisell came along and wanted to do music to it, so everything started to fall into place. Weíre shooting for 2013, and now Iím just kind of tracking it and traveling with it, using some of the original characters and then some invented characters, but the themes and the situations are all from the original.
July 27, 2022
Today marks the 5th anniversary of Sam's death.
"I shall not look upon his like again"
...Hamlet, Shakespeare
* * * * *
Next month AGES OF THE MOON will be staged by Beth Kelly of New Jersey's Side of the Road Theater Company. The play has two old men, who have been friends for 50 years, reassessing their lives. Show times at the Milford Theater are August 13 and 20 at 7 p.m. and Aug. 14 and 21 at 2 p.m. Kelly describes the play as "funny, beautiful, and quirky" and "unique among Shepard's works for its touching story." Actor John Klemeyer says, "It's a gorgeous piece of theater. If you only hone in on the sad moments, you miss the point of the play. Shepard injects a level of sophistication into these characters."
"Ages" premiered in 2009 at the Abbey Theatre in Dublin and starred Stephen Rea and Sean McGinley.

The play will also be performed in August by the Clifton Players, Cincinnati Artists Theatre & Creative Asylum at Liberty Exhibition Hall. Show times are:
Fri-Sun, Aug. 5-7 at 7:30pm
Mon, Aug. 8 at 7:30pm
Fri-Sun, Aug. 12-14 at 7:30pm
Mon, Aug. 15 at 7:30pm
Fri-Sun, Aug. 19-21 at 7:30pm
Mon, Aug. 22 at 7:30pm
July 4, 2022
Here are some interesting old photos from the UTSA digital collection showing Sam and wife O-lan in their early theatre days.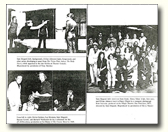 June 30, 2022
Upon Sam's death in 2017, film critic Brian Marks wrote the following;
"In recent years, he was best known as a reliable supporting player, the go-to actor for noble lawmen, stubborn soldiers, and bitter patriarchs. His skill on screen almost overshadowed the fact that his career started behind the scenes and on the page. Shepard was the rare playwright and actor, a category strangely uncommon in the history of cinema."

"Sam Shepard was not a commercial figure Ė his plays were done off-Broadway and his best work on screen is more recognized by lovers of film than the average moviegoer."
I very much consider myself a passionate cinephile and I absolutely agree with that last statement.

June 17, 2022
Plays to be staged this summer -
At London's Royal Academy of Dramatic Art - "Curse of the Starving Class". From June 30 to July 9.
In Wellfleet, MA, the Harbor Stage Company offers "Buried Child" from June 16 thru July 9.
In California, the San Jose Stage company will present "The Tooth of Crime" from August 3 thru August 22.
April 6, 2022
For those who wish to inquire about permission to use any of Sam's works for future book publications or plays, you might try writing to this address:
Knopf Doubleday, 1745 Broadway, New York, NY 10019
February 18, 2022
In November Valarie Smith of the Oregon Artwatch Organization posted an interview with author Willy Vlautin and together they had some very perceptive opinions of our playwright.
Smith:
"Nobody I know reads Sam Shepard. Nobody... It might be hard for women to relate to him. Also, his prose is deceptive ó heís working on so many levels. And when you look at his body of work, thatís what tells the story. I bought a biography of his, but I canít think of a biography that Iím less interested in reading Ė itís already there, on the pages of all his books."

"It seemed like it got worse for Shepard over the years, like he became unmoored somehow... Iím reading a book of letters he exchanged with Joseph Chaikin, a theater producer he worked with in the early years. Even then, you can see the cracks: how he canít reconcile these opposing sides of himself. I wonder if he was afraid to lose something creatively if he tried to come to terms with it all."
Vlautin:
"You wonder with stuff like that, like his problems with his dad. If you keep making a lot of mistakes throughout your life, maybe you just keep leaning on that idea that it all started because of that. I donít know if he kept that wound open so he could keep mining it, like it was a wound that never healed, so he had to write about it."

"I think thereís a loneliness in [Shepardís writing] that a lot of people have. Family doesnít bring him comfort, religion doesnít give him comfort. Alcohol gives him comfort and then beats him on the side of the head for getting comfort from it. And his past wonít ever let him go or he wonít let it go."
January 7, 2022
On January 13 at 1:30 pm, Manhattan's MoMA will screen the documentary ME AND MY BROTHER (1965-1968). Written by director/cinematographer Robert Frank and Sam Shepard, this film shows the relationship between Allen Ginsberg, Peter Orlovsky and Peter's brother Julius, who was diagnosed with schizophrenia. This 4k digital restoration of the original version was done by The Museum of Modern Art and this screening will mark its North American premiere. It is a record of bohemian artist life in 1960s New York and was first featured at the 1968 Venice Film Festival.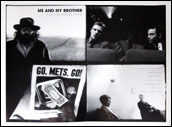 January 5, 2022
When "Travellin' Man" Bob Dylan began his Rolling Thunder Revue tour (1975-76), he enlisted Sam to write a screenplay of the event. He imagined his troop of artists, which included Joni Mitchell, Allen Ginsberg, Arlo Guthrie and Joan Baez, would create an on-the-road Kerouac-style story. The task ended up being too difficult for Sam so the film never developed but his log of the tour's experience was published a couple years later.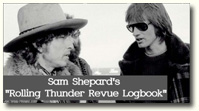 Among his impressions, Sam noted, "MYTH is a powerful medium because it talks to the emotions and not to the head. It moves us into an area of mystery. Some myths are poisonous to believe in, but others have the capacity for changing something inside us, even if itís only for a minute or two. Dylan creates a mythic atmosphere out of the land around us. The land we walk on every day and never see until someone shows it to us."
Sam continues, "Dylan has invented himself. Heís made himself up from scratch. That is, from the things he had around him and inside him. Dylan is an invention of his own mind. The point isnít to figure him out but to take him in. He gets into you anyway, so why not just take him in? Heís not the first one to have invented himself, but heís the first one to have invented Dylan."
Myth also became part of Sam's persona. Upon his death in 2017, the LA Times wrote, "Despite dozens of blatantly personal plays to his name, movie stardom and the spotlight of celebrity and acclaim, Shepard remained throughout his life an inscrutable figure, an American myth in plain sight."
It has just come to my attention that on the back of the Viking Press edition of the logbook is a photo taken by Johnny Dark, of Sam and wife O-lan.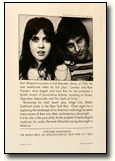 January 1, 2022
In the January 2022 issue of "True West" magazine, Mark Broadman writes, "Sam Shepardís 1980 play True West is one of his best known efforts. It examines the relationship of two brothers, previously estranged, as they come to grips with their relationship through writing a screenplay about the 'true West.' Shepard had to get the okay from True West magazine to use that title for his play. It wasnít the first time that happened. The 1965 album 'Johnny Cash Sings the Ballads of the True West' was reportedly inspired by The Man in Blackís love of the publication."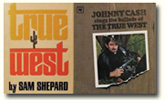 Previous News:
2021
July-December 2020
January-June 2020
July-December 2019
January-June 2019
July-December 2018
May/June 2018
April 2018
March 2018
February 2018
January 2018
December 2017
November 2017
October 2017
September 2017
July-August 31, 2017
January-June 2017
July-December 2016
January-June 2016
July-December 2015
January-June 2015
July-December 2014
January - June 2014
July-December 2013
January-June 2013
July-December 2012
January-June 2012
July-December 2011
January - June 2011
July - December 2010
January - June 2010
July - December 2009
January - June 2009
July - December 2008
January - June 2008
July-December 2007
January-June 2007
November 2005 - December 2006