July 5, 2014
Six months from now
Here is a bit more info on the upcoming NYC premiere of A PARTICLE OF DREAD, staged by the Signature Theatre Company.

It will be produced with Field Day Theater Company, directed by Nancy Meckler, and will once again feature Stephen Rea as Oedipus. Rehearsals will begin October 14, 2014 with the play running from November 11 thru December 21 at The Alice Griffin Jewel Box Theatre.
The description of the characters is as follows:
Oedipus/Otto: plays multiple roles including Oedipus, King of Thebes. When told as a young man that he was destined to kill his father and marry his mother, he left his home and came to Thebes. There he solved the riddle of the sphinx and married Queen Jocasta without realizing she was his real mother. Now Thebes has been attacked by plague. Oedipus is a strong, proud leader, determined to rescue his city from the plague by finding out who killed its former king. Short of temper. Also plays Otto, in a wheelchair, possibly a retired teacher. Mild mannered and curious, he is plagued by dreams in which he seems to have murdered someone. He becomes fascinated by newspaper reports of a crime on the highway, as if somehow this crime is related to him or his dreams. He has a close loving relationship with his daughter Annalee.

Antigone/Annalee: plays multiple roles including Antigone, daughter of Oedipus. Strong, determined, passionate about how she lives her life. Uncompromising, loving. Also plays Annalee, daughter of Otto. Married to a violent man who has killed their babysitter. Terrified it will affect her baby son's future because of what he has seen. Blunt, outspoken, determined, loves her father.
Jocasta/Jocelyn: Jocasta is the Queen of Thebes. Attractive, sensual, high status, proud, a strong match for her husband Oedipus. He is in fact her son. Perhaps she has always known or suspected this and does not want the truth to come out. Mild Northern Irish accent. Jocelyn is the wife of Otto. A Southwestern housewife. Otto is an anxious man, but she is the calm one, unruffled, wants a peaceful life, avoids conflict. A gently warm personality.

Uncle Del/Traveler/Tiresias/Maniac Of The Outskirts: with a strong comic sense, irony, sense of detachment from society's madness. Plays multiple roles, including Uncle Del, based on the Oracle at Delphi. Reads signs, throws the bones, and sacrifices animals to read their intestines; Traveler. blind, lives in the hills and can see the future; Tiresias, a blind seer called to Oedipus to reveal what he knows about why the city is ridden with plague; and Maniac of the Outskirts, an anonymous madman who lives on the outskirts of society and gets blamed for everything. Bitter, pissed off, sarcastic, comic. Think Ratso Ritzo in "Midnight Cowboy."

Laius/Larry/Langos: powerful presence, good-looking, sexy, threatening, simmering, high status. Plays multiple roles including Laius, a king who ruled Thebes years before the Oedipus story. When his wife Queen Jocasta gave birth to their son, Oedipus, the child was destined to kill his father and marry his mother. Laius took the child to the hills to be left to die. Years later he was killed at a crossroads in an altercation with Oedipus; Larry, a young, modern version of Laius, consulting a healer because his wife cannot conceive; and Langos, a gangster casino boss who denies at first that he ever had a son but then admits that he did abandon the child in the hills.

Randolph: an American detective who is very keen on the forensic aspect of the work. He is so obsessive about what one can glean about a crime from the evidence that he gets carried away and begins to picture the crime and the people and fantasize about them. Must have a strong comic sense.

Harrington: from the American Southwest. A highway policeman, he is laid back and feels very cynical about forensic experts. He sees the crime in a very straightforward way and simply assumes it is Mexican gang warfare. Bemused by Randolph's fanciful ideas gleaned from the evidence. Must have a strong comic sense.
A somber photo from 2008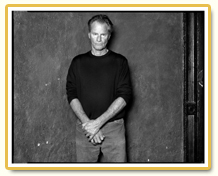 June 20, 2014
A quickie Q&A
When a reputable British media outlet publishes a list of dumb questions posed for Sam Shepard with his less-than-truthful answers, it's a bit puzzling. When, how and where this opportunity arose is anybody's guess. If you know Mr. I-don't-like-to-answer-questions, you'll be able to quickly pick up the silly responses, such as "I am always relaxed". Echoes of James Lipton here...
When were you happiest?
Before I was born.

Which living person do you most admire, and why?
That's a hard one. All of the great writers whom I admire have died. I guess the most recent one would be Márquez.

Property aside, what's the most expensive thing you've bought?
A horse.

What is your most treasured possession?
A horse.

What makes you unhappy?
The rain.

What do you most dislike about your appearance?
My shoes.

What is your most unappealing habit?
Picking my nose.

What would be your fancy dress costume of choice?
I don't attend costume parties.

What is your favorite smell?
Magnolias.

What is your favorite word?
"Extemporaneous".

If you could bring something extinct back to life, what would you choose?
Mastodons.

Cat or dog?
Dogs.

What do you owe your parents?
Nothing.

Have you said 'I love you' and not meant it?
No.

Who would you invite to your dream dinner party?
Kate Moss.

Which words or phrases do you most overuse?
The words I overuse are all adverbs.

What is the worst job you've done?
Cleaning horse piss. I keep my horses out in the open, but when I was working the ranches, I had to clean the stalls. It was a horrible job.

If you could edit your past, what would you change?
Nothing.

If you could go back in time, where would you go?
To the 1400s. Historically, I think it would be interesting – it was a transitional time, like we have now.

How do you relax?
I am always relaxed.

What is the closest you've come to death?
I was shot in the wrist when I was a kid. Deliberately. I am not telling [by whom].

What single thing would improve the quality of your life?
Maybe Kate Moss.

What keeps you awake at night?
Mosquitoes.

Where would you most like to be right now?
Where I am – in the Florida Keys, fishing for tarpon.
Now that's the truth. Filming for the unnamed Netflix drama series has begun in the village of Islamorada, the sportsfishing capital of the world!

New portrait from this year's Sundance Film Festival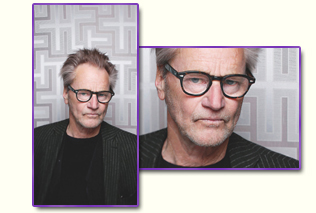 Another summer project
Sam will also be spending some time in Virginia this summer taking on a role in the film, ITHACA, to be directed by Meg Ryan. Filming will take place in the Richmond-Petersburg area. The story is set in 1942 in a small town in California's San Joaquin Valley, where 14-year-old Homer Macauley is determined to be the best and fastest bicycle telegraph messenger anyone has ever seen. His brother has gone to war, leaving Homer to look after his widowed mother, his older sister and his four-year-old brother. As spring turns to summer, Homer delivers messages of love, hope pain and death to the good people of Ithaca. He'll also struggle with one message that will change him forever.
May 29, 2014
Available on VOD
In the past week COLD IN JULY has garnered some great reviews since it was released on May 23rd.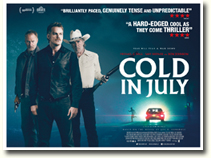 Bob Grimm of the Tuscon Weekly writes, "Who knew Sam Shepard could be so damn scary? As a deranged father recently released from prison and seeking revenge, Shepard is just one of the many reasons to see 'Cold in July', a first rate Texas thriller from director Jim Mickle that stands as one of the better films of 2014 thus far... Killing Them Softly, Mud, Out of the Furnace, and a short but haunting appearance in August: Osage County reveal that the man with the golden typewriter has a whole lot of powerhouse acting left in him."
Though the film is presently showing a 90% rating on the Tomatometer, I have to disgree with the critics. After viewing it last night, I'm still having trouble swallowing its multitude of implausible plot developments and twists.
Since the screenplay was based on a novel, I had higher expectations but the script lacks cohesion as well as any sense of reality. I have a penchant for this genre - love "Blood Simple", "Red Rock West" and HBO's "True Detective" series. The audience is introduced to family man Richard Dane, played by Michael C. Hall, and he comes across as a rather sweet and somewhat timid man. He's a loving husband and father and law-abiding citizen. His becoming Rambo with the decision to risk losing his family for a bunch of low lifes does not fly unless he's suffering from some kind of Jekyl and Hyde disorder. Sam was terribly miscast and barely exudes any danger or menacing presence. Throw in Don Johnson with that laughable boyish grin and you've gotten rid of all suspense. Such a disappointment!
On a personal aside, I previously mentioned that this movie was filmed in my backyard in upstate NY. It was once a strong IBM community with as many as 7100 employees back in its heyday. Upon reaching 25 years of service, an employee received a pendulum clock with a gold plated inscription. My husband's gift still has a prominent place in our living room. Obviously, the filmmakers took over an IBMer's home because the clock shows up in the film as seen in the photo below.

On the Bowery
Here are some paparazzi shots taken in NYC this month. The strange thing is they were all taken on Bowery Street. The first photo shows Sam's daughter Hannah out shopping with her mom.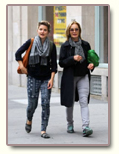 The second set shows Sam with an unnamed woman. Since they're standing with the arms around each other while he gives directions, my guess is these two may be more than friends.
Avant garde theater

When San Francisco theatrical group Word for Word wanted to stage Sam's prose verbatim, he said he considered short stories a unique literary genre and when he wants to write a play, he writes a play. "Why should I let you do this?" he asked. Creator Amy Kossow admitted, "He liked the narrative voice of his prose and didn't want to lose it." Eventually Sam caved in with his blessing for the challenging project. "36 Stories by Sam Shepard" opened May 21st and will run through June 22. Kossow selected material from five Shepard books - "Hawk Moon", "Motel Chronicles", Day out of Days", "Great Dream of Heaven" and "Cruising Paradise". Personally, I love his short stories, especially when he reads them. My audiotape of "Cruising Paradise" is almost worn out! IMHO, to take bits of his prose and scramble them into something anew certainly dilutes the flavor and magic of each delightful story weakening its strength and continuity.
Robert Hurwitt, theater critic for The San Francisco Chronicle, agrees. He writes, "The pieces never cohere into a whole, narratively or tonally - which isn't surprising given the wide range of Kossow's sources. As engrossing as the actors make it in the moment, '36' leaves you not only without much of a story but with only a vague sense of Shepard's voice."
Perhaps Miss Kossow's rainy day project should have been shelved before gathering momentum. Personally, I dislike piggybacking.
Praise for Shepard, the actor
Film critic Nick Schager (5/27/14): "Shepard's 2013 work with Matthew McConaughey in Mud and Christian Bale in Out of the Furnace provided additional confirmation that the actor is still one of cinema's most formidable presences. In film after film, he comes across as a man's man who's lived through wars (personal, familial, national) and has come out the other side with an understanding of both his strengths and weaknesses. That ability to naturally meld cocksure charisma and irreconcilable bitterness and remorse — a marriage that bleeds into so much of his writing, be it for the stage or the screen — continues to make Shepard one of the movies' most unsung stars."
April 23, 2014
Cannes screening!
Variety is reporting today that COLD IN JULY will be among the 19 features set to screen next month in the 46th annual Directors' Fortnight sidebar at Cannes. It'll be the second time director Jim Mickle has bounced from Park City to Directors' Fortnight, as he did with his 2013 arthouse film, "We Are What We Are." Delegate general Edouard Waintrop says this latest Mickle thriller "plays with three subgenres of the cop movie — it's a crazy and galvanizing movie."
The film has also been selected to screen at this summer's Rooftop Film Series, which begins in Brooklyn on May 16. I particularly dislike seeing movies outdoors but this outfit specializes in showing films atop various NYC buildings! The series will have 45 screenings for its 18th edition, which wraps mid-August.
Actors workshop on Shepard in NYC
There will be a master workshop on our playwright at the John Wills Martin Workshop at 4th Street, East Village, starting May 15. Martin is a long-time acting coach and has acted and directed for both film and stage. The workshop will be held on Thursday nights from 6 to 10 pm from May 15 to June 19. Martin is looking for eight experienced actors. His description reads, "This is an intensive workshop, which focuses on the singular writing of Sam Shepard. Rarely do actors get the opportunity to delve deeply into the great writers' works. Immersion in the specific world of Shepard, attending to his unique voice and vocabulary, and exploring his point of view provide the best of workouts. Actors are assigned monologues and scenes from a range of his work, which are workshopped in class. The goal of this class is to explore his 'junk magic' American West and bring the page to physical life. It will be a challenging and fun six weeks!"
The "Black Sheep" series
Keys News has posted a few more details on the filming of the upcoming Netflix series, yet unnamed. Since the creators have not been able to come up with a title, we will presently refer to it as the "Black Sheep" series. As previously mentioned, Sam plays the family patriarch, Robert, whose 'black sheep" son returns home causing dark secrets from the past to surface.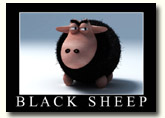 Production has begun in Islamorada on the Keys with The Moorings Village and Spa designated as the base filming location. The Moorings is one of the town's most luxurious resorts. Its 18 cottages sit along an idyllic, man-made beach lined with coconut palms. Rita Troxel, the Monroe County Tourist Development Council film commissioner, told the press most of the filming is expected to be in Islamorada, but scenes will be shot throughout the Keys. A crew of between 75 and 125 people will be on site during the seven months of production. Location manager Maria Chavez provided a bit of depth on the plot line saying that the essential conflict lies around the question of who killed a young girl who was found in a swimming pool many years ago. "It's like a who-done-it," Chavez said.
April 17, 2014
A devilishly handsome cowboy
American Theatre magazine celebrates its 30th anniversary this month. Sam graced the cover of its very first issue in April 1984. It featured an interview with the interview-shy playwright by a 19-year-old Amy Lippman, representing Harvard University's student magazine. The photograph was taken by Melinda Wickman.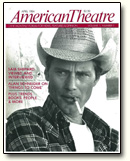 You might blame some of Sam's responses on his being a young man but he was actually 41 years old at the time. He had won the Pulitzer Prize for "Buried Child" five years before. Surprisingly, but in hindsight, not surprisingly, he commented, "I've been in a few rodeos, and the first team roping that I won gave me more of a feeling of accomplishment and pride of achievement than I ever got winning the Pulitzer Prize."
I suppose it was simply Sam being Sam.
Check out the trailer
The trailer for Jim Mickle's COLD IN JULY can now be seen online. The thriller is set for release across the UK on June 27th and will be available through VOD in the USA on May 23. Here's the newest poster.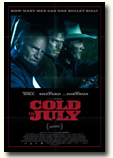 April 3, 2014
Netflix drama
More information was released this week regarding the yet unnamed Netflix series, which will partner Sam with Sissy Spacek once more. Filming will be done in the Florida Keys in the town of Islamorada where the story takes place. The production team has applied for permits for six months which takes them through mid-October. The advantage of this location is that it gives that tropical, isolated feel without being far away from the mainland and the resources of Miami. A couple years back I visited Islamorada and I have a feeling this will be a location Sam will thoroughly enjoy.
Coming out next month
Here are some new screen shots from COLD IN JULY from IFC Films, which will be released on VOD and in limited theaters on May 23. Great trio - Sam, Michael C. Hall and Don Johnson.
DVD release date
Discovery Channel has announced that KLONDIKE will be available on DVD on June 10. The six-part mini-series at 429 minutes aired in January and includes some major talent, beginning with Sam Shepard in his awesome role as a Catholic priest. Also bringing their respected older artistry to the Gold Rush drama is Tim Roth, Marton Csokas and Ian Hart. This adventure about the ruthless and cut-throat quest for gold in turn-of-the-century America takes its inspiration from Charlotte Gray's book "Gold Diggers: Striking it Rich in the Klondike".
The series debuted in the UK this past week. Hugh David of Cult TV Times wrote, "Brit director Simon Cellan Jones does a fine job in clearly difficult terrain, as do the crew and cast. The locations clearly push everyone to a level of realism that it would be easy to waste, and he doesn't. It helps though when the cast is this good. Fans of westerns and classic American historicals should give this a go, without hesitation." The Evening Standard describes Sam as a "feisty priest with startled hair." Love it!
I thought all the promotional artwork was fantastic and captured the essence and time period of the story. Photographer Kevin Lynch discussed the publicity shoot saying, "We had sometimes 15-20 minutes to get the shots with people like Sam Shepard and Tim Roth. I wanted to get the actors to be in character, and to comprehend what we were trying to convey. They have to look like they're in character without overacting." For some of the posters, under-lighting in gold hues was used to add further drama to the images and it works as seen below.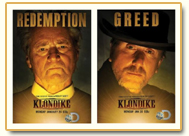 Three Wacko Sisters
A new movie page has been added. It's CRIMES OF THE HEART, based on the Pulitzer Prize-winning comedy by Beth Henley. Back in 1986, critics lauded Diane Keaton, Sissy Spacek and Jessica Lange for providing strong, unabashed performances. Whatever criticism there was of the film was blamed on director Bruce Beresford, who was cited for using dewy lighting and mournful music while laboring comic moments and denying the audience the intimacy of the play through his heavy-handed camera work. Nevertheless, the film grossed $22 million and garnered three Academy Award nominations - Beth Henley for Best Adapted Screenplay, Sissy Spacek for Best Actress and Tess Harper for Best Supporting Actress.
Personally, it's not one of my favorite films. I have no penchant for Mississippi tales of strong-headed quirky women. "Cookie's Fortune" was another female saga that just about gave me a wicked migraine. With "Crimes", I particularly disliked the casting of Ms. Lange, who always loomed too large in each film frame. I've always admired her appearance but, in this instance, the word "horsey" comes to mind.

Previous News:
January/March 2014
July-December 2013
January-June 2013
July-December 2012
January-June 2012
July-December 2011
January - June 2011
July - December 2010
January - June 2010
July - December 2009
January - June 2009
July - December 2008
January - June 2008
July-December 2007
January-June 2007
November 2005 - December 2006