October 17, 2014
Extended!
According to Broadway.com, the US premiere of A PARTICLE OF DREAD has extended its run at Off-Broadway's Signature Theatre after the initial run sold out in less than 24 hours. Performances will begin November 11 prior to an official opening on November 23. The run will continue through January 4, 2015 at The Alice Griffin Jewel Box Theatre. It had previously been scheduled to continue through December 21. Tickets during the extension weeks start at $75 each.
In an interview a year ago, Sam commented on this Oedipus story. His words might be useful to those interested in purchasing tickets especially since his plays are often unstructured.
"I'm a great believer in chaos. I don't believe that you start with a formula and then you fulfill the formula. Chaos is a much better instigator, because we live in chaos – we don't live in a rigorous form. This play has been miraculously pulled together by a really talented director, Nancy Meckler. Oddly, I worked with her 35 years ago and she's made some kind of sense of it. That seems to be the thing everybody wants – sense... I don't believe in adaptation. I tried and I thought, eugh, I don't want to do an adaptation. I want to do a variation on. I want to do something with the emotions that the play is calling up. I want to take off on the feelings that the thing produces. If it doesn't produce those feelings, it's worthless, as far as I'm concerned. So in the case of Sophocles, he definitely calls up feelings. That's what you're adapting: the feelings, not form – the instincts and all the incredible things that are called up."
New posters
In conjunction with its home entertainment release, director Jim Mickle's noir thriller, COLD IN JULY, has several new quad posters.
New film project
Sam's next role on the big screen will be in the thriller, YOU WERE NEVER HERE, which marks the narrative feature film debut of former performance artist and documentarian Camille Thoman, who is directing from her own script. Mireille Enox will star. She will portray an artist who follows and photographs strangers when disturbing events lead her to suspect she's being watched - blurring the lines between real and imaginary. Filming begins October 20th in Brooklyn and Manhattan.
October 2, 2014
Opening next month
As previously reported, Signature Theatre will be presenting Sam's most recent play, A PARTICLE OF DREAD, his harrowing rendering of the story of Oedipus, the mythical King whose tragic tale was first dramatized by Sophocles two thousand years ago. This Ancient Greek classis is re-imagined as a modern thriller set in the desert of the American West. Tickets go on sale on October 15th. This NY production will feature some of last year's original participants when in premiered across the Atlantic. The production will again feature Stephen Rea, Judith Roddy, Lloyd Hutchinson, Brid Brennan, composer and cellist Neil Martin and director Nancy Meckler.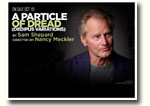 Stephen Rea said, "It's exciting that Field Day is traveling to America for the first time with a new work by the great American playwright Sam Shepard, and a real honor to be working with New York's Signature Theatre to bring this production to an international audience. The play was specifically written for Derry, where Sam walked the walls every day of rehearsals. Derry is alive and embedded in this highly original conversation with the Greeks, offering us, I believe, a very special moment in English-speaking theatre."
September 19, 2014
On the London stage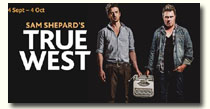 A revival of Sam Shepard's 1980 play TRUE WEST opened at the Tricycle Theatre in London earlier this month. Director Phillip Breen's production, starring Alex Ferns and Eugene O'Hare, was first staged at Glasgow's Citizens' Theatre last year. Breen explained, "When we did it in Glasgow Sam came over and really liked it, and he asked whether we wanted to transfer it to London. I said yes, but explained that we didn't have the rights. So he said 'let me sort that out' and then on the following Monday morning, I got a call from his agent in New York saying he had been knocked out by the production and was enabling it to come to London. That was obviously amazing, and he's been a great support to us ever since." The classic Shepard play runs through October 4.
On Hoffman & Williams

In a recent interview Sam spoke about the deaths of Philip Seymour Hoffman and Robin Williams. He had seen Hoffman just a week before he died when they attended the Sundance Film Festival in January. Sam's opinion was, "He was overweight, but he was overweight a lot. And he was pretty tired. He said he was going to go back and take a nap... See, I don't think he meant to kill himself. I think he had some bad heroin though I didn't realize he was that much of a junkie." He pauses. "I knew Robin pretty well and Robin knew he wanted out - he had Parkinson's. The two guys were very similar in that they were both overwhelmed by their own thing. I know a lot of people who've died... who've taken their own lives. But you know Patti [Smith], who's an old, old friend of mine, she wrote a review of the new Murakami book that appeared in the NY Times, and at the end of it, she said, 'I don't want to kill myself. I want to see what happens.' And what a statement. I believe her."
In the same interview, Sam shared more thoughts. About America, he says, "We're on our way out, as a culture." As others have pointed out, whether you agree or disagree with Sam depends on your definition of American culture. Perhaps his America may be on its way out but the America of others may be on its way in and he's going to be left in the dust suffering from Grumpy Old Man Syndrome. The fact is Sam Shepard is averse to change. BUT still so damn lovable...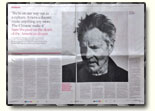 He tells us he's writing his first novel. "After six book collections, basically I thought, 'God, wouldn't it be so great to be able to sustain something?'" But he is hesitant to expand on plot or themes. "I don't know how to explain it. I really don't. Hopefully it's a novel, but I have the hardest time sustaining prose. I feel like I'm a natural-born playwright but the prose thing has always mystified me. How to keep it going? How do people do it, for years and years? I've been working on this for 10 years!"
He does his serious writing at the Santa Fe Institute because in Kentucky back at his horse farm, he would be easily distracted. Evidently the academic atmosphere is helpful. "It's a great discipline," he says. "So I'm very content for that reason. I mean I produce… pages. Pages! Whether they're any good or not…"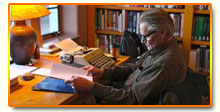 When it comes to the commercial aspect of movie-making, he says, "It's difficult. I know as an actor you have to negotiate but I can't handle the whole idea that art and commerce are synonymous. It drives me nuts. And then you get the reputation of being difficult to work with." There are, he adds, producers who "seem to really care" but he's skeptical of "the big studio guys" and Netflix, and those people who "don't think what the actor's going through, what the writer's going through, what the artistic essence is".
"Midnight Special" coming next year
Another film project has come to light that I wasn't aware of. Back in January MIDNIGHT SPECIAL was filmed in New Orleans. Having starred in MUD, its director, Jeff Nichols, once again cast Sam. The Warner Bros. film is a supernatural sci-fi thriller starring Michael Shannon, Jaeden Lieberher, Joel Edgerton, Kirsten Dunst and Adam Driver. Shannon plays Roy, a father desperate to protect his uniquely gifted eight-year-old son Alton. A race ensues to get Alton to a secret location all while being hunted by an extreme religious sect led by Sam's character and a government task force. Scripted by the director himself, the film will arrive on November 25, 2015.
August 28, 2014
Netflix series
For lack of any name, I had been referring to the new Netflix project slated for 2015 as the "Black Sheep" series. Still unable to come up with a name, the production at least is presently using THE UNTITLED KZK PROJECT. KZK is best known as the writing and production trio of Daniel Zelman and brothers Glenn and Todd A. Kessler (collectively known as KZK), who created the American legal thriller television series, "Damages". The description of this new series reads: "A family of adult siblings whose secrets and scars are revealed when their black sheep brother returns home." We now know some of the main character names. Sam, the patriarch, is called Robert Rayburn and his wife is Sally, played by Sissy Spacek. Several Rayburns are listed but they can't all be their children - John, Jane, Danny, Sarah, Meg, Ben, Kevin, Diana and Belle. I expect we will see our playwright in brief scenes. The photos below are location shots showing Gala Catering about to feed the cast and crew and the second one shows an abandoned array of director chairs including one for its star Kyle Chandler. They're certainly keeping this one under wraps.
Klondike portraits
Here are some wonderful portraits of Sam from his role as Father Judge in the Klondike mini-series that debuted in January on the Discovery Channel. Thanks to Magdelena for passing them along.
August 21, 2014
Coming next month
The acclaimed thriller, COLD IN JULY will be released on Blu-ray and DVD on September 30. The first image below shows the Blu-ray cover. The second is a new poster which is my favorite; however, it doesn't connect to the film noir atmosphere and its cinematography which is soaked in dark hues. The third image is from Mondo, the collectible art division of the Alamo Drafthouse. Not too crazy about it but I did love the Mud poster they created last year, which is the fourth image.
The photo below is one of my favorite scenes because it shows Sam sitting in one of my favorite diners in town. Shot a year ago July in upstate New York, specifically Kingston, Esopus and Woodstock, a local can spot so many familiar places, such as the Olympic Diner.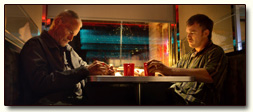 "Ithaca" - new film project
Filming began July 21 in Virginia for Sam's latest film, ITHACA. The film, executive produced by Tom Hanks, is Meg Ryan's directorial debut. Based on the book, "The Human Comedy", written by William Saroyan, "Ithaca" is a coming-of-age story set in the San Joaquin Valley in California during World War II.
Fourteen-year-old Homer Macauley is left to take care of his mother and family when his older brother goes to war. Homer's dream is to be the greatest and fastest bicycle telegraph messenger the world has ever known. The messages he carries all around his hometown are filled with love and pain that reflect how World War II has impacted the homefront. On top of his responsibilities as a messenger, Homer also has important duties at home. His father is dead, and his older brother has gone off to war, so he must help his mother in providing for his older sister and caring for his four-year-old brother, Ulysses.
Ms. Ryan will also play Mrs. Macauley with Alex Neustaedter as her son Homer. Meg's real-life son Jack Quaid will take on the role of older son Marcus. Sam plays a man named Willie Grogan.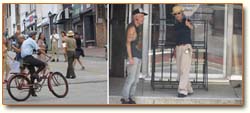 The producers transformed parts of Petersburg into a small World War II-era town through the use of storefront facades, a makeshift grocery store and a fleet of cars from antique collectors. Also used were The Brickhouse Run and the historic Tree Hill Farm. Most of the film was shot in Petersburg with some scenes shot at the former Robert Fulton School in the Fulton Hill area of Richmond and at a farm surrounding the city. Location manager Tom Trio said that part of the city's appeal was that not a lot of cosmetic changes had to be made to adapt the city to Ryan's vision or that of writer Erik Jendresen's.
July 5, 2014
Six months from now
Here is a bit more info on the upcoming NYC premiere of A PARTICLE OF DREAD, staged by the Signature Theatre Company.

It will be produced with Field Day Theater Company, directed by Nancy Meckler, and will once again feature Stephen Rea as Oedipus. Rehearsals will begin October 14, 2014 with the play running from November 11 thru December 21 at The Alice Griffin Jewel Box Theatre.
The description of the characters is as follows:
Oedipus/Otto: plays multiple roles including Oedipus, King of Thebes. When told as a young man that he was destined to kill his father and marry his mother, he left his home and came to Thebes. There he solved the riddle of the sphinx and married Queen Jocasta without realizing she was his real mother. Now Thebes has been attacked by plague. Oedipus is a strong, proud leader, determined to rescue his city from the plague by finding out who killed its former king. Short of temper. Also plays Otto, in a wheelchair, possibly a retired teacher. Mild mannered and curious, he is plagued by dreams in which he seems to have murdered someone. He becomes fascinated by newspaper reports of a crime on the highway, as if somehow this crime is related to him or his dreams. He has a close loving relationship with his daughter Annalee.

Antigone/Annalee: plays multiple roles including Antigone, daughter of Oedipus. Strong, determined, passionate about how she lives her life. Uncompromising, loving. Also plays Annalee, daughter of Otto. Married to a violent man who has killed their babysitter. Terrified it will affect her baby son's future because of what he has seen. Blunt, outspoken, determined, loves her father.
Jocasta/Jocelyn: Jocasta is the Queen of Thebes. Attractive, sensual, high status, proud, a strong match for her husband Oedipus. He is in fact her son. Perhaps she has always known or suspected this and does not want the truth to come out. Mild Northern Irish accent. Jocelyn is the wife of Otto. A Southwestern housewife. Otto is an anxious man, but she is the calm one, unruffled, wants a peaceful life, avoids conflict. A gently warm personality.

Uncle Del/Traveler/Tiresias/Maniac Of The Outskirts: with a strong comic sense, irony, sense of detachment from society's madness. Plays multiple roles, including Uncle Del, based on the Oracle at Delphi. Reads signs, throws the bones, and sacrifices animals to read their intestines; Traveler. blind, lives in the hills and can see the future; Tiresias, a blind seer called to Oedipus to reveal what he knows about why the city is ridden with plague; and Maniac of the Outskirts, an anonymous madman who lives on the outskirts of society and gets blamed for everything. Bitter, pissed off, sarcastic, comic. Think Ratso Ritzo in "Midnight Cowboy."

Laius/Larry/Langos: powerful presence, good-looking, sexy, threatening, simmering, high status. Plays multiple roles including Laius, a king who ruled Thebes years before the Oedipus story. When his wife Queen Jocasta gave birth to their son, Oedipus, the child was destined to kill his father and marry his mother. Laius took the child to the hills to be left to die. Years later he was killed at a crossroads in an altercation with Oedipus; Larry, a young, modern version of Laius, consulting a healer because his wife cannot conceive; and Langos, a gangster casino boss who denies at first that he ever had a son but then admits that he did abandon the child in the hills.

Randolph: an American detective who is very keen on the forensic aspect of the work. He is so obsessive about what one can glean about a crime from the evidence that he gets carried away and begins to picture the crime and the people and fantasize about them. Must have a strong comic sense.

Harrington: from the American Southwest. A highway policeman, he is laid back and feels very cynical about forensic experts. He sees the crime in a very straightforward way and simply assumes it is Mexican gang warfare. Bemused by Randolph's fanciful ideas gleaned from the evidence. Must have a strong comic sense.
A somber photo from 2008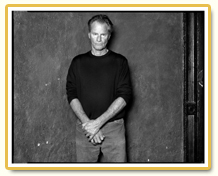 June 20, 2014
A quickie Q&A
When a reputable British media outlet publishes a list of dumb questions posed for Sam Shepard with his less-than-truthful answers, it's a bit puzzling. When, how and where this opportunity arose is anybody's guess. If you know Mr. I-don't-like-to-answer-questions, you'll be able to quickly pick up the silly responses, such as "I am always relaxed". Echoes of James Lipton here...
When were you happiest?
Before I was born.

Which living person do you most admire, and why?
That's a hard one. All of the great writers whom I admire have died. I guess the most recent one would be Márquez.

Property aside, what's the most expensive thing you've bought?
A horse.

What is your most treasured possession?
A horse.

What makes you unhappy?
The rain.

What do you most dislike about your appearance?
My shoes.

What is your most unappealing habit?
Picking my nose.

What would be your fancy dress costume of choice?
I don't attend costume parties.

What is your favorite smell?
Magnolias.

What is your favorite word?
"Extemporaneous".

If you could bring something extinct back to life, what would you choose?
Mastodons.

Cat or dog?
Dogs.

What do you owe your parents?
Nothing.

Have you said 'I love you' and not meant it?
No.

Who would you invite to your dream dinner party?
Kate Moss.

Which words or phrases do you most overuse?
The words I overuse are all adverbs.

What is the worst job you've done?
Cleaning horse piss. I keep my horses out in the open, but when I was working the ranches, I had to clean the stalls. It was a horrible job.

If you could edit your past, what would you change?
Nothing.

If you could go back in time, where would you go?
To the 1400s. Historically, I think it would be interesting – it was a transitional time, like we have now.

How do you relax?
I am always relaxed.

What is the closest you've come to death?
I was shot in the wrist when I was a kid. Deliberately. I am not telling [by whom].

What single thing would improve the quality of your life?
Maybe Kate Moss.

What keeps you awake at night?
Mosquitoes.

Where would you most like to be right now?
Where I am – in the Florida Keys, fishing for tarpon.
Now that's the truth. Filming for the unnamed Netflix drama series has begun in the village of Islamorada, the sportsfishing capital of the world!

New portrait from this year's Sundance Film Festival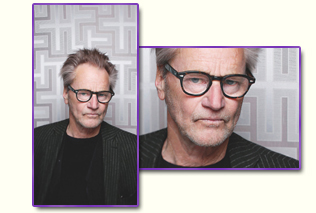 Another summer project
Sam will also be spending some time in Virginia this summer taking on a role in the film, ITHACA, to be directed by Meg Ryan. Filming will take place in the Richmond-Petersburg area. The story is set in 1942 in a small town in California's San Joaquin Valley, where 14-year-old Homer Macauley is determined to be the best and fastest bicycle telegraph messenger anyone has ever seen. His brother has gone to war, leaving Homer to look after his widowed mother, his older sister and his four-year-old brother. As spring turns to summer, Homer delivers messages of love, hope pain and death to the good people of Ithaca. He'll also struggle with one message that will change him forever.
Previous News:
January/May 2014
July-December 2013
January-June 2013
July-December 2012
January-June 2012
July-December 2011
January - June 2011
July - December 2010
January - June 2010
July - December 2009
January - June 2009
July - December 2008
January - June 2008
July-December 2007
January-June 2007
November 2005 - December 2006