June 6, 2016
Jones & Shepard
In lieu of the fact that Sam hasn't taken on any new film roles in over a year nor published any new works, there isn't a lot of news to report. Thus, the hiatus. However, I will share with you an interesting thread I recently came across about the 2014 film, "The Homesman" that received positive reviews beginning with its debut at the Cannes Film Festival. The project sprang to life in Sante Fe during a lunch meeting at the Santa Cafe. Taos resident and film producer Michael Fitzgerald asked Sam if he knew of a good Western story that was suited to Tommy Lee Jones. In 2005, Fitzgerald had made "The Three Burials of Melquiades Estrada" with Jones, and he was eager to work with him again. Sam suggested Glendon Swarthout's novel "The Homesman", the tale of a spinster schoolteacher and a dodgy claim jumper who team up against the odds to transport three mentally unhinged female settlers from Nebraska to parts east. Sam, being a screenwriter partial to Westerns, had failed to wrest rights to the story from Sony Pictures, which had owned them ever since Paul Newman tried to make it in 1988. "Sam thought it would be right up Tommy's alley," says Fitzgerald, and he concurred as soon as he read the book. Three years later after Fitzgerald and Shepard's fortuitous lunch, "The Homesman" opened. Jones both directed and starred in the film with Hilary Swank.
Some of you may remember that Shepard and Jones teamed up for a 1995 TV western called "The Good Old Boys", in which Jones stars and makes his directorial debut. Jones plays Hewey Calloway, a 20th-century cowboy who talks to his horse and prides himself on his steer-roping skill. Sam plays Hewey's old buddy Snort Yarnell and, according to Ken Tucker of Entertainment Weekly, "does an excellent, snaggle-toothed Walter Brennan impersonation during much of his brief screen time."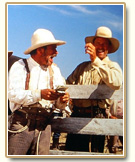 Encore performance
With the death of patriarch Robert Rayburn, played by Sam, in the first season of Netflix's BLOODLINE series, we didn't expect to see him in the second season. However, in the finale episode, we get a new scene between Danny and his father as a flashback.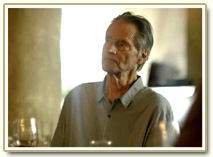 Milan Event
The Italians will be celebrating an event celebrating the work of Sam Shepard at Zig Zag in San Donato Milanese. Describing him as actor, playwright, writer, musician and, most of all, refined narrator, the retrospective will be held Saturday, June 11th at 5 pm and will provide a wide dissertation with the aid of a selected soundtrack through scripts, stories, fragments and anecdotes. This opportunity is offered by the recent reprint of "Motel Chronicles" and "Day out of Days", two books that represent the evolution of Shepard's narrative. The stories take place mostly in the American West and tell an odyssey of thirty years.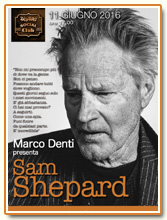 In March of this year, an Italian edition of "Motel Chronicles" was published by Il Saggiatore in a Kindle format. Love the cover! (From "Don't Come Knocking")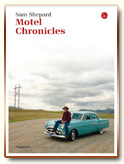 On display
The second edition of Photo London 2016 has opened at the Somerset House. The first edition of the fair last year was such a success in terms of attendance and sales that this year's edition is hosting more exhibitors. In the section of rock and roll legends and cult celebrities, you can find iconic portraits of Bob Dylan, Andy Warhol, The Velvet Underground, David Bowie, as well as the one below. This portrait is called "Patti Smith and Sam Shepard after brunch in Knightsbridge, London (1972).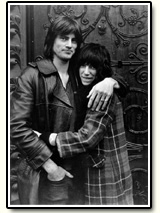 Awaiting release date

Filmed about a year ago, IN DUBIOUS BATTLE has yet to receive a release date. Directed by James Franco, the film is based on the book by John Steinbeck, published in 1936 and considered his first major work. The synopsis reads - In the California apple country, nine hundred migratory workers rise up "in dubious battle" against the landowners. The group takes on a life of its own—stronger than its individual members and more frightening. Led by the doomed Jim Nolan, the strike is founded on his tragic idealism—on the "courage never to submit or yield." Sam has a minor role as a migrant worker called "Mr. Anderson". In the photo below, that's him on the right in the bib overalls.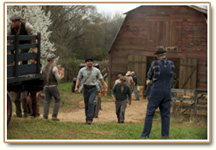 April 27, 2016
"Fool for Love" returning to its roots
San Francisco's Magic Theatre celebrates its forthcoming golden anniversary with a 2016-17 season that mixes now-classic works by two major writers associated with the theater — Sam Shepard and Paula Vogel — and premieres of new plays by other artists with the Magic on their resumes. The theater will toast its 50th birthday in 2017 with a "legacy revival" of Sam's fierce and darkly comic "Fool For Love," which premiered at the Magic in 1983. Artistic Director Loretta Greco, who will direct the play, explained, "We wanted to look back at the foundation of the Magic and those writers who changed the face of American theater. That piece is inextricably linked to the Magic. Because it was made in that intimate space of ours, there are so many things from the rehearsals with Kathy Baker and Ed Harris (for the 1983 production) that are baked into the text. There was no way we could do the 50th without celebrating that muscular, super-sexy piece of writing."
New translation

For Italian fans of Shepard's work, Sara Antonelli has now translated "Day out of Days", which was originally published in January 2010. "Diario di lavorazione" was released on March 24th by Playground. The book is a collection of stories set mainly in the fertile imaginative landscape of the American West, written with the terse lyricism, cinematic detail, and wry humor that have become Sam's trademarks. Ms. Antonelli previously translated "The Rolling Thunder Logbook" in 2005.
Waiting for a DVD release
Aussie brand Blundstone, known for its signature Chelsea boots, became the official sponsor for Meg Ryan's ITHACA at the Sonoma International Film Festival last month. The film was screened on March 31 followed by a Q&A session with the director. Here are a few new movie stills. For unknown reasons, only photos with actor Alex Neustaedter have been issued thus far with none of Jack Quaid, Sam, Meg herself or even Tom Hanks!
With the movie making a handful of appearances at film festivals over the past year with continued bad reviews, I guess you can probably ditch the idea of a theatrical release but perhaps the DVD will come out later this year. At the Middleburg Film Festival (VA) last fall, Ryan related this interesting tidbit. One day on the set, she asked Sam, "What am I, as a woman, doing here making a story about boys?" He replied that she shouldn't worry because women make men after all. Tell me he didn't say that...
I did appreciate these welcomed comments about Sam's performance from Duane Byrge of The Hollywood Reporter:
One of the few moments the film actually entertains comes when the elderly alcoholic telegrapher imparts sage, crusty wisdom to eager-beaver Homer. On this plus side, not only have the filmmakers used the historical back-road sites of Virginia for their filming, they have picked up the formidable talents of local-yokel Sam Shepard. Costumed in Harold Lloyd-type period glasses and swiveling around in his telegrapher's chair, Shepard infuses the proceedings with some comic relief and perspective. His bits stand out: Shepard's soft, creaky voice, mixed with intermittent high-pitched punctuation, give you the feeling that this guy could do a helluva W.C. Fields. Unfortunately, those kinds of attention drifts are unintended but necessary to endure the rest of what's onscreen.
Back in February 2015 Richmond magazine interviewed Ryan and asked her about working with Sam. She claims he was her first choice going into the project and she was amazed he accepted the role.
"He is everything you'd hope Sam Shepard would be. He is such a refined and powerful actor. He's an intelligent man but he's so funny and he's really fun, and when you sit next to him between takes, he's talking about the play he's writing. He's to be admired for so many things and rightfully so. He's one of our great American playwrights. And he's a blast to talk to. He's deep and funny and kind."
April 19, 2016
Patti Smith on Sam

The Tribeca Film Festival's "Storytellers" series got underway Thursday afternoon with Ethan Hawke and Patti Smith. They quickly found common ground discussing fame, rock music and theater. As many of you know, when they were young and out of their minds, Patti and Sam Shepard had a fiery affair that resulted in the collaborative rock/theater piece "Cowboy Mouth". The following is what Patti shared with Ethan:
Sam and I wrote this play because we had a relationship, which truthfully we shouldn't have had because he had a family. But we were young, and we knew we had to end our relationship. So we write this play as sort of our swan song. I said, I don't know how to write a play. And he said, you're the girl, I'm the guy, just do what I say. He writes a little set up and he says something and hands me the typewriter, so I just answer him and we write out a whole play that way. And then he decided that we should perform it.

There was a part in the play where Sam wanted us to have a battle of language. So he said this is where Slim, his character, he improvises his language and then Cavale, my character, improvises back. And I said, how do we do that? What will I say? And he said, I'll say stuff and you just say stuff back at me. And I said, what if I make a mistake? And he said, Patti Lee, it's improvising—you can't make a mistake. If you miss a beat, then you invent another beat and that made perfect sense to me. And [with] that little instruction, I learned how to improvise, which has served me my whole life in everything I do. It's one of the greatest lessons I got from Sam.
The above poster comes from the April 2013 off-off Broadway run at the Paul Robeson Theatre.
New book release
A new book is being published this week called "The Late Work of Sam Shepard" by Shannon Blake Shelton. It will be available in both hardcover and kindle editions. The description follows:
Hailed by critics during the 1980s as the decade's 'Great American Playwright', Sam Shepard has since continued to produce work in a wide array of media including short prose, films, plays, performances and screenplays. Like Samuel Beckett and Tennessee Williams in their autumnal years, Shepard relentlessly presses the potentialities and possibilities of theatre. This is the first volume to consider Shepard's later work and career in detail and ranges across his work produced since the late 1980s.

Shepard's motion picture directorial debut Far North (1988) served as the beginning of a new cycle of work. He returned to the stage with the politically engaged States of Shock (1991) which resembled neither his earlier plays nor his family cycle. With both Far North and States of Shock, Shepard signaled a transition into a phase in which he would experiment in form, subject and media for the next two decades. Skelton's comprehensive study includes consideration of his work in films such as Hamlet (2000), Black Hawk Down (2001), The Assassination of Jesse James by the Coward Robert Ford (2007) and Brothers (2009); issues of authenticity in the film and screenplay Don't Come Knocking (2005) and the play Kicking a Dead Horse (2007); of memory and trauma in Simpatico, The Late Henry Moss and When the World was Green, and of masculine and conservative narratives in States of Shock and The God of Hell.
March 18, 2016
In theaters
This weekend the long-awaited MIDNIGHT SPECIAL opened in theaters across the country garnering much praise from the film critics. Scott Mendelson of Forbes had this to say - "'Midnight Special' is the real deal. It's a genuine sci-fi thriller, sown by hand, created out of love and respect for its elders yet still creating its own identity as an original work of art. Jeff Nichols has crafted a modern-day fable, one rich in character and subtext, and one that in its best moments qualifies as haunting. It operates in the shadows, dropping us into the middle of the story and slowly offering information and confirmation while using its relative ambiguity as a means of tension and suspense. Like the best of Stephen King and the earliest M. Night Shyamalan films, it presents an authentic bit of real-world humanity, where its moments of wonder and fantasy are all the more dynamic.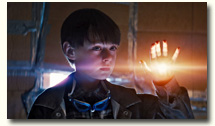 I can't resist sharing what BBC's Nicholas Barber pointed out - "There aren't many films that pack so much intrigue into their early scenes. The later scenes, unfortunately, aren't quite so gripping. First, Nichols makes the mistake of leaving Calvin and The Ranch behind, thus neglecting one of cinema's cast-iron rules: 'Any film with Sam Shepard in it will seem a lot worse once Sam Shepard is no longer in it.'" Oh, yes...
Here is a link to Sam's interview in which he discusses the film.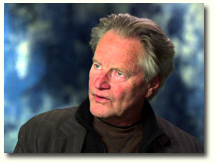 The less you know about the film, the better your experience so avoid reading reviews. Typically, they're full of spoilers and give no warning. A review should never give away the plot! Grrr....
February 15, 2016
Sorry about that...
Rarely do I post misinformation but it happened and I'm going to point the blame in the direction of the Arthur Miller Foundation. At the end of November they announced a fundraiser for January 25 by celebrating 100 years since the birth of Arthur Miller. Among the celebs invited to be guest readers of Miller's work was Sam and the media spread the word around for weeks. That is, until January 13, 2016 and then the name "Scott Shepherd" appears. Did Sam back out or was somone in the Miller organization irresponsible? In any event, the confusion should have been cleared up with an apology.
February 12, 2016
Berlinale premiere

Jeff Nichols' long-awaited film, MIDNIGHT SPECIAL, was screened at the 66th International Film Festival in Berlin today competing for the prestigious Golden Bear. Actors Kirsten Dunst, Joel Edgerton, Michael Shannon and Jaeden Lieberher joined their director for the film's press conference and premiere. I don't think anyone expected Sam to show up. Reviews for the sci-fi indie are drawing favorable comparisons to everything from Speilberg's "E.T." and "Close Encounters of the Third Kind" to John Carpenter's "Starman" and James Cameron's "Abyss". Yes, "Starman!" Loved, loved that film! Who can forget that line - "Define little bit jumpy."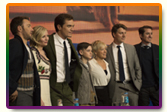 UK's Telegraph gives praise with "the sci-fi chase movie mixes super-powers, religion and an offbeat cast to dazzling, Spielbergian effect... Sam Shepard plays another interested party, as Calvin Meyer, the head of a chillingly businesslike religious sect, who have been stockpiling guns and will stop at nothing to get eight-year-old Alton back in their clutches."
January 28, 2016
Lights, curtain, action
The upcoming New Group production of Sam Shepard's Pulitzer Prize-winning play BURIED CHILD has extended its run through March 27. Previews at the Pershing Square Signature Center begin on February 2, 2016, in advance of its February 17 opening. It's been 20 years since its last major New York production and Sam is in town still fiddling with the script according to today's NY Times.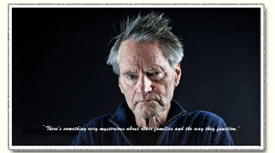 When asked about being the greatest living American playwright, he responds to whether or not he feels he's achieved something substantial. His answer: "Yes and no. If you include the short stories and all the other books and you mash them up with some plays and stuff, then, yes, I've come at least close to what I'm shooting for. In one individual piece, I'd say no. There are certainly some plays I like better than others, but none that measure up."
January 17, 2016
North American Premiere
After screening at the BIFF, sci-fi thriller MIDNIGHT SPECIAL will be headed to Austin, Texas for its North American premiere at the SXSW Film Festival, which runs from March 11-19.
Opening soon
Tickets are now on sale to see husband-and-wife team Ed Harris and Amy Madigan in BURIED CHILD. The off-Broadway production by the New Group is directed by Scott Elliott and will begin previews on February 2 at the Pershing Square Signature Center's Alice Griffin Jewel Box Theatre. Opening night is scheduled for February 17, with the limited engagement set to run through March 13. The second photo is from the Wittliff Collection displaying artifacts regarding the Pulitzer Prize-winning play.