NEWS: July 31, 2017 - August 31, 2017
August 30, 2017
Connecticut News: New Haven Free Public Library is spending the month of September paying tribute to Sam Shepard with a five-week series of his films.

Showtime is at 2 p.m. each day except for "The Right Stuff," which begins at 1 p.m. Admission is free. Here's the lineup:

Sept. 1: "Steel Magnolias," the 1989 comic drama about women who hang out at a beauty shop. Shepard plays the husband of Dolly Parton's character.

Sept. 8: "The Right Stuff," the 1983 historical drama about the early days of the NASA space program. Shepard plays legendary test pilot Chuck Yeager.

Sept. 15: "Mud," the 2012 drama starring Matthew McConaughey as a criminal on the lam. Shepard plays a mysterious neighbor.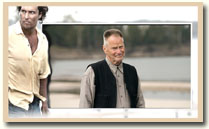 Sept. 22: "Midnight Special," the 2016 sci-fi mystery about a child targeted by a cult. Shepard plays the leader of the cult.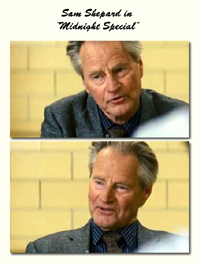 Sept. 29: "Fool for Love," the 1985 Kim Basinger drama about a woman and the two men she is involved with.
* * * * *
I thought I'd re-post Sam's list of awards over his career. His grandest was, of course, the Pulitzer Prize for "Buried Child" when he was 36 years old. Five years later, he remarked, "I've been in a few rodeos, and the first team roping that I won gave me more of a feeling of accomplishment and pride of achievement than I ever got winning the Pulitzer Prize." Who else but Sam would make a statement like that?
Awards List:
Won Obie Award for Best Distinguished Play(s): 1966 Chicago, Icarus's Mother, Red Cross; 1967 La Turista; 1968 Forensic and the Navigator, Melodrama Play; 1973 The Tooth of Crime
1975 Won Obie Award for Best Playwriting: Action
1977 Won Obie Award for Best New American Play: Curse of the Starving Class
1979 Won Obie Award for Best Playwriting: Buried Child
1979 Pulitzer Prize for Drama: Buried Child
1980 Won Obie Award for Lifetime Achievement
1984 Won Obie Award for Best New American Play: Fool for Love
1984 Won Obie Award for Best Direction: Fool for Love
1984 Nominated Academy Award for Best Supporting Actor: The Right Stuff
1986 Won Drama Desk Award for Outstanding Play: A Lie of the Mind
1986 Won New York Drama Critics' Circle for Best Play: A Lie of the Mind
1986 Won Outer Critics Circle Award for Outstanding Off-Broadway Play: A Lie of the Mind
1992 Won American Academy of Arts and Letters – Gold Medal for Drama
1994 Inducted American Theatre Hall of Fame
1996 Nominated Tony Award for Best Play: Buried Child
1999 Nominated Emmy Award for Outstanding Lead Actor in a Miniseries or a Movie: Dash and Lilly
1999 Nominated Golden Globe Award for Best Actor in a Miniseries or TV Film: Dash and Lilly
2000 Nominated Tony Award for Best Play: True West
2001 Nominated Phoenix Film Critics Society Award for Best Acting Ensemble: Black Hawk Down
2008 Nominated SAG Award for Outstanding Performance by a Male Actor – TV Movie or Miniseries: Ruffian
2014 Nominated SAG Award for Outstanding Performance by a cast in a Motion Picture: August: Osage County
* * * * *
Stanley Kauffmann, New Republic:

"The career of Sam Shepard is a romance, except that no one would dare write it. What? A man who is both one of the most valuable American playwrights and a magnetic film star? Other playwrights have acted and other actors have written, but none has excelled in both arts as Shepard has done. His plays have won the expected prizes and have been performed around the world: his performances, as in Days of Heaven and Fool for Love, are there to prove themselves."

August 28, 2017
Sam is gone, but Doug Nichol's documentary "California Typewriter" captures the playwright happy and in his element at work. The film has been screened at numerous film festivals around the country since it debuted at the Telluride Film Festival a year ago and was just released this month in theaters - August 18th in New York and August 25th in Los Angeles.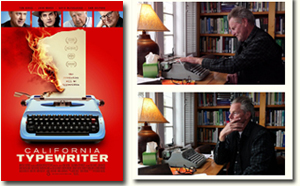 In the film, Sam shares how he never got along with the computer screen and disliked how removed it is from the tactile experience of writing. You can watch his clip by clicking on the photo below.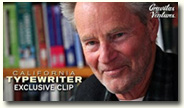 Looking relaxed and content in front of his typewriter in 2012 when his segment was filmed, Sam also describes how he believes that aloneness is a necessity to produce good writing. The 103-minute film also features typewriter enthusiasts Tom Hanks and David McCullough. It is available now for pre-order on iTunes.
August 25, 2017
The web site for the prestigious Juilliard School in NYC featured some new photos of Sam. The school indicated Sam had a long history with Juilliard, including major productions, such as True West and Buried Child. He received an honorary doctorate in 2007 and taught a master class in 2008.
* * * * *
From Joe Gross, Austin American-Statesman:
"If there is such a thing as the ultimate honorary Texan, well, we could all do a lot worse than Sam Shepard. Pulitzer Prize-winning playwright. Oscar-nominated actor. Author. Embodiment of a singular kind of American Western intellectual masculinity. Seriously, every MFA program west of the Mississippi should have their flags at half-staff and parade around a riderless horse. Shepard had one of those careers where it was almost hard to believe he was a real person."
August 23, 2017
Cowboy Mouth - straight from the mouth of Sam Shepard, here are a few Shepard quotes featured recently in Literary Hub. First, he explains what inspired him to become a writer:
"Long Day's Journey Into Night - I remember seeing Sidney Lumet's black-and-white film adaptation (1962), which I still think is one of the best adaptations of anything - of a book, of a play - ever done. But I remember being struck by the idea that it was a play, so I read the play and I read about O'Neill, and in an odd way, there was something that I connected with there. There was something wrong with the family. There was a demonic thing going on that nobody could put their finger on, but everybody knew the ship was sinking. Everybody was going down, and nobody knew why or how, and they were all taking desperate measures to stay afloat. So I thought there was something about that that felt similar to my own background, and I felt I could maybe write some version of that." (Interview magazine 2011)
Sam describes the first story he ever wrote:
"I remember that when I was a kid, I wrote a story about a Coke bottle. You know that in the old days Coke bottles had the name of the city where they were manufactured inscribed on the bottom - St Paul, Dubuque, wherever. So I wrote this story about this bottle and its travels. It would get filled up in one town, someone would drink it and throw it out the window, and then it would get on a truck and go somewhere else." (Rolling Stone, 1986)
On the impact of drinking on his writing:

"I didn't feel like one inspired the other, or vice versa. I certainly never saw booze or drugs as a partner to writing. That was just the way my life was tending, you know, and the writing was something I did when I was relatively straight. I never wrote on drugs, or the bourbon. (The Paris Review, 1997)
On why he doesn't explain his plays:
"As soon as you start talking about your art and examining it and analyzing it, you kill it. You absolutely kill it. So I'm not going to do that. I'm not interested in putting it to death, you know? Once everyone is through, they'll go, 'Oh, now I get it.' They discard it. They throw it away. So long as they continue to question it, and so long as it continues to put them in the unknown and in the questioning mood, I think it has value. When they all of a sudden say, 'Oh, I get it, I understand it, that's what it's all about,' you're dead as an artist. Don't you think? That's why I will never write a memoir. (GQ, 2012)
* * * * *
As a tribute to Sam, the Museum of the Moving Image in Astoria, New York, will screen The Right Stuff on August 25 and September 1 at 7 pm.
"Museum of the Moving Image salutes the life and career of playwright, author and actor Sam Shepard with two 70mm presentations of his Academy Award-nominated performance as sound-barrier breaker and proto-astronaut Chuck Yeager in Philip Kaufman's singular American epic, The Right Stuff. Perfectly cast and with big screen charisma to spare, he plays the legendary test pilot as a stoic cowboy, as comfortable on horseback as he is in the cockpit, doggedly pursuing neither glory nor celebrity but quiet, elusive transcendence, pushing the envelope and chasing demons in the sky."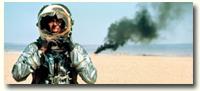 August 20, 2017
From Dr. Shane Owns, Shrink Tank:
"The director, Philip Kaufman (The Right Stuff), discovered Sam Shepard at a poetry reading and Shepard rejected the part several times. 'I felt like it was ridiculous to play a living person. I knew Chuck [Yeager] and I didn't feel like I was him at all,' he said. By all accounts, Shepard captured Yeager's quiet bravery and reserved confidence, even in the face of invincible demons. Jerry Bruckheimer called his performance 'the very essence of cool.' And it is."
From Nelson Pressley, Independent.co.uk:
"Shepard always regarded Hollywood stardom warily, but he became a major crossover celebrity, showing up on lists of America's Sexiest Men. 'Sam was so hot in Resurrection, his then-wife Jones later said of his 1980 film with Ellen Burstyn, 'that I wrote him a filthy fan letter.'"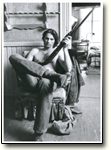 From Stephen L. Betts, Rolling Stone:
"Pulitzer Prize-winning playwright Sam Shepard often brought the kind of prosaic dialogue to his plays that wouldn't necessarily be out of place as lyrics to country songs, rife with minute details and charged with emotional weight. As an Oscar-nominated actor in feature films and television productions, the characters he portrayed were often the laid-back, laconic type... Remembered for his brief role as 'Spud,' husband to Dolly Parton's character Truvy Jones in the 1989 film Steel Magnolias, Shepard once told a British reporter, 'More than any other art form I know of in America, country music speaks of the true relationship between the American male and the American female… Terrible and impossible."
From actress/singer Dolly Parton:
"I was so sorry to hear of Sam's passing. What a nice man and what a great actor. I was honored to have him play my husband in Steel Magnolias. Rest in peace, my friend."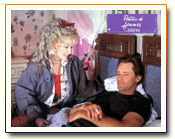 There's a lovely scene between Dolly and Sam at this link.
* * * * *
I've been active in my family's genealogy over the past forty years and in the last few years Ancestry.com has been a terrific resource. They link to a web site called findagrave.com and under Sam's name, some fans have made comments. I'm struck by how many acknowledge him as an actor, not a playwright. Almost all of them.
One of my all-time favorite actors.
I always enjoyed your movies.
Sam, you were so talented and handsome!
Hollywood lost a great actor today!
I got to be in his film "Baby Boom". He was a wonderful guy.
Your films we shall cherish.
Loved your portrayal of Chuck Yeager in "The Right Stuff".
Wonderful actor.
A Fine actor.
You were great in all of the movies. My favorite was "Baby Boom".
I thought you were a very talented actor.
Thank you for the performances and the memories.
I remember you as the vet in the movie "Baby Boom".
I loved you as an actor, not so much as a playwright.
I enjoyed your acting through the years!
Loved you in "The Right Stuff", "Baby Boom", and more.
One of my favorite actors.
One of my favorite actors. I also loved your writing.
Loved all your movies!
You were such a great actor. A real man's man.

Note that Baby Boom is mentioned quite often. Funny and oh, so romantic! Sam was actually in four films with Diane Keaton. The other three were The Only Thrill, Crimes of the Heart and Darling Companion. Here are some new photos from Darling Companion showing Sam as Sheriff Morris - a man like Sam who also enjoyed fishing.
August 17, 2017
For those of you who think you know "Sam, the actor", here's a film quiz to test your knowledge. If you obtain a score of 17 to 20, I salute you as a bona-fide Shepard movie fan. (This quiz includes questions from both cinema and TV films)
1. Name the film in which he co-stars with Penelope Cruz.
2. In what film is he killed in a car bombing?
3. What TV film earned him an Emmy nomination?
4. Which of his films featured the music suite "The Carnival of the Animals" by French composer Saint-Saens?
5. In what film is he bitten by a badger?
6. Name the film in which he says - "Anybody that goes up in the damn thing is gonna be Spam in a can".
7. In what film does he visit the Louvre?
8. Which film did he star in that was previously a Shepard play?
9. In what film does he play Dad to seven sons?
10. Name the film in which he plays a veterinarian.
11. In what film does he ride a motorcycle?
12. In "Brothers" he plays a Vietnam vet. Name the film in which he plays a very disturbing and dangerous Vietnam vet.
13. Spud is his character's name. Can you name the film?
14. Name the film based on a Beth Henley play.
15. In real life we know he's a playwright, but in what film does he play a writer of hard-boiled detective stories?
16. Name the film that was based on a biography called "Shadowlands" by William Arnold.
17. Name of the film in which Eva Marie Saint plays his mother.
18. In what film is his character a train robber?
19. He directed Sean Penn in one of his plays but can you name the film in which Sean Penn directed him?
20. Name the film that tells a true 1993 war story in Somalia.
* * * * *
August 16, 2017
It's a little difficult to pinpoint exactly what Don Shewey does for a living. There's no Wikipedia page for him. When I first read his biographical book on Sam many moons ago, I assumed he was a journalist. Later I saw him as a gay theater critic and presently he's become known as a psychotherapist and massage therapist in NYC. The above photo shows him with his first meeting with Sam in 2003 when he was doing an interview for American Theater magazine. I'm not sure what Shewey's connection is to cinema. In any event, I found this blog written a few days ago and was shocked to read what he wrote about Sam as an actor.
"In films Shepard reliably represented the many faces of craggy masculinity. It's no disrespect to say he wasn't a great actor – he was an economical performer and an iconic presence, which suited most of his film roles. His most memorable performance, for me, was playing the ghost of Hamlet's father in Michael Almereyda's 2000 film. I weep just thinking about the way he pulled Ethan Hawke into his arms and growled into his ear 'Remember me!'"
Everyone is entitled to their own opinion but I am aghast that Mr. Shewey is so unfamiliar with Sam's films or that he would even mention Hamlet as most memorable. Must be into Shakespeare.
* * * * *
"This farmer, he didn't know when he first saw her...
or what it was about her that caught his eye.
Maybe it was the way the wind blew through her hair."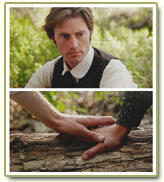 There's this wonderful old interview with Sam at youtube.com in which he shares what it was like filming Days of Heaven. The video runs about 12 minutes and Sam gives a fascinating view of the filmmaker and the reasons why the film became a classic. I know you'll enjoy it.
From Mark Broadman, True West magazine:
"The late playwright Sam Shepard is well known to Western fans for the laconic cowboy figures he played on the big screen. Frank James in The Assassination of Jesse James by the Coward Robert Ford. Butch Cassidy in Blackthorn. Wild Bill Hickok in Purgatory. Pea Eye in Streets of Laredo. He came by it naturally. Shepard was cowboying in California in his teens. He competed in rodeo many times over the years. He even compared it to his primary job, saying rodeo has more real drama than a hundred plays."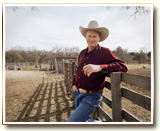 Well, Mr. Broadman missed a few more cowboy roles in Sam's filmography. He forgot Bill Buck in Bandidas, Howard Spence in Don't Come Knocking, Snort Yarnell in The Good Old Boys, and Eddie in Fool for Love. Sam's love of horses began in his childhood and he gave this little history on how he became a cowboy:
"I grew up in the San Gabriel Valley out there towards that semi-desert country in California where all the racetracks and the lay-up farms were. I grew up with Thoroughbreds, working at Santa Anita Park racetrack as a hot walker when I was a kid and working in a lot of those lay-up farms... So that's kind of where my initial interest in thoroughbreds came from - just watching those horses go around that track."
"I got into team roping through the movies. The stuntmen taught me how to team rope. Back in the '70s I was team roping quite a lot, and from there I went into cowboy polo, which is a kind of slam-bang affair in an arena with padded chaps and all that stuff. And then from there I went to polo, and along the way I ran into these cutting-horse guys and got started with that."
"I've been breeding horses since 1988. I could afford it because the movie things came along and gave me an opportunity to buy some mares, and they did pretty good."
Purgatory and Fool for Love
Jesse James, The Good Old Boys, Laredo and Bandidas
Blackthorn and Don't Come Knocking
* * * * *
From actor Val Kilmer (who starred in 3 films with Sam):
"I keep thinking about dear old Sam... I'd always needed to be able to at least half way decently rope a horse, as you need to do on occasion when you own 6,000 acres and 50 some horses at one point. And he LOVED roping. It was as if roping was magic and he could do it and everyone loved it when he did it."
"When we did our first film together (Thunderheart), I immediately bought a plastic yearling skull model with two metal spikes out the neck of the skull one stabs into a bail of hay to practice roping. And I tore my little actor fingers off roping that black plastic calf head until I was over 50% at least. I can't tell you how happy he was to see the improvement over the weeks and months out there in the Badlands of South Dakota. He would grin. Which he didn't do that often. Not back then. When we became actual friends, he'd smile and grin often."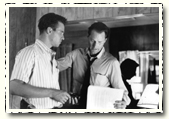 August 13, 2017
From William Glover, reviewing THE ONE INSIDE:
"Genius is rarely generous, or kind. Sam Shepard's plays are often sad and violent, explosive and hilarious. His cowboy looks and remote demeanor onscreen radiate intensity. So his final book, The One Inside comes as a revelation. The stories in this slim, partly autobiographical book crackle with erudition. And they are as open and unpredictable as the western landscape that permeates Shepard's dreams... Autobiographical fiction often demands that the reader pardon the famous shortcomings of the author. But here we get to experience the genius of his vision without being asked to let him off the hook. As a result, I suspect many readers, reminded of him by his passing, will, on the strength of this volume, return to his other works with a more generous eye."
* * * * *
Much of Sam's writing in the last few years was done at the Santa Fe Institute among other scholars. He felt the atmosphere was conducive to being more disciplined in his commitment to daily writing. Here he hobnobs with president David Krakauer (center) and fellow writer Cormac McCarthy (left).

* * * * *
This is a film poster for Don't Come Knocking that I had never seen before. WOW! Awesome doesn't fully describe it with its Edward Hopper appeal. The role of Howard Spence is pure Shepard, written for him and ultimately fulfilled director/writer Wim Wenders' dream as he declared, "To have Sam in front of the camera is one of my oldest desires as a filmmaker." Despite all its artist achievement and great performances from the entire cast, critics and audiences alike were not happy with the film's meandering script. Just press the mute button and enjoy the scenery.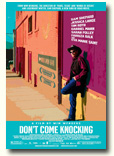 * * * * *
I've been reading some old magazine articles on Sam and came across the October 2011 issue of Interview magazine. Michael Almereyda writes about Shepard being "a kind of mystical cult figure for teenagers who happen upon plays like Cowboy Mouth or Buried Child or Fool for Love, only to later discover that the Pulitzer-Prize-winning playwright is also an actor." Absolutely untrue! Teenagers do not have their heads in avant-garde theater works. They're teenagers. They go to the movies. They first meet Shepard on the big screen and then they discover much later that he won a Pulitzer Prize in Drama. When will the theater world accept that the majority of Americans first recognize Shepard from the world of cinema?
* * * * *
It's been 2 1/2 weeks since the death of Sam Shepard and there has been no word from the family as to the status of his body? Has he been cremated with his ashes scattered over the Western plains? Was there a private funeral? Is there already a burial site? Or will there be a public memorial? Every culture has some kind of ceremonial farewell, especially to a great man.
August 12, 2017
The first written work by Shepard that I read decades ago was "Motel Chronicles". I had read all of J.D. Salinger's books (and later read the memoirs by Margaret Salinger and Joyce Maynard) and for some reason, Sam's style echoed Salinger's stream of consciousness writing, at least for me. Maybe I connected with Sam because he was just nine days older than me and I was also a loner. Maybe I connected because I had the same angst toward my father. In the end, I think I jumped on board because he was a movie star. But I have to add, "when they made him, they threw away the mold." Here's a snippet from the book:
"The Rialto Theatre was dark and musky in the middle of the day and I entered the world of the movie so completely that the theatre became part of its landscape. The trip to get popcorn up the black aisle with the sound track booming and the kids squealing in their seats was all part of the plot. I was in the cave of King Solomon at the candy counter. The "Ju-Ju-Bees" were jewels. The ushers were jungle trees. Cheetahs roamed through the bathroom. I breathed African dust for days afterwards in a town of solid white folk."
One more snippet: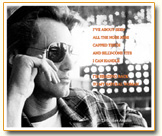 The cover of "Motel Chronicles" features a photograph by Bruce Weber. I always wanted to purchase Weber's book on Sam when it was listed on Ebay but it was always a bit too pricey for me.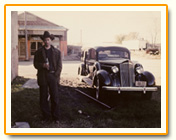 One of my favorite photographers is the legendary Annie Leibovitz and she presently has an exhibition sponsored by the LUMA Foundation in Arles, France. The showing, which runs from May 28 - September 24, 2017, features "The Early Years", which consists of over 8,000 photographs taken between 1968 and 1983. There may be more than one of Sam but we know the photo below is included. I had never seen it before.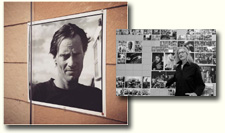 From Loretta Greco, Magic Theatre:
"Sam refused to play the wise sage. He remained beautifully broken, from his first plays in 1964 to his last book of fiction in 2017—still combing the open road for visages of his lost father, the bygone West of his youth, and America's forgotten promises. I last saw Sam in Healdsburg at the end of March, just before he headed home to his Kentucky farm. We discussed Diebenkorn's work and pondered the origin of the Beatles' 'Blackbird.' Before the afternoon was over, he dictated a dedication for Magic's 50th anniversary for Ed Harris to present. Sam asked to hear it out loud. His sister, Roxanne, read it back patiently several times. Sam listened intently, making small, careful revisions."
The first thing that intrigues me is the discussion of the Beatles' song "Blackbird". I had never heard of it until I noted that it was sung at Swedish actor Michael Nyqvist's funeral last month. At that time I looked up the history of the 1968 lyrics and discovered it was written about the civil rights struggle. At the Academy Awards ceremony in 2016, Dave Grohl performed this song to accompany the "in memoriam" segment so it seems quite appropriate for memorials, perhaps one for Sam. Very beautiful lyrics.
Blackbird singing in the dead of night
Take these broken wings and learn to fly
All your life
You were only waiting for this moment to arise

Blackbird singing in the dead of night
Take these sunken eyes and learn to see
All your life
You were only waiting for this moment to be free

Blackbird fly
Blackbird fly
Into the light of the dark black night...

The second thing I picked up in Greco's statement was the fact that Sam was in Healdsburg, CA in March. That's where his son Jesse and his family live. Perhaps that was one of his last stops before he retired to Kentucky. Here is a terrific photo of Sam and Jesse, probably taken 10 to 15 years ago.

August 11, 2017
A little patriarchal history: Samuel Shepard Rogers II was born on February 20, 1917 in McHenry, Illinois. He was a bomber pilot during World War II. Two of his brothers and a sister served our country as well. Sam's great-grandmother on his father's side, Mary Howe Rogers, was known as the founder of the public library in Crystal Lake, Illinois as well as an early kindergarten school teacher in the late 1800s. Sam's father died after being hit by a car outside a bar on March 24, 1984 in Santa Fe, New Mexico. Can you see the strong resemblance to both Sam and son Walker?

Here's a photo of Sam taken from the 1961 yearbook for Duarte High School in California.

August 10, 2017

In many of these tributes for Sam, much has been said about his Oscar nomination for The Right Stuff, but I'd like to point out that he received other nominations as well. His performance in the A&E original movie, Dash & Lilly, (1999) earned him both a Globe and Emmy nomination for Best Performance by an Actor. Directed by Kathy Bates, the drama told

the story of the tumultuous and passionate love affair between

Dashiell Hammett and Lillian Hellman, played by Judy Davis. Sam was also recognized for his work in the ABC TV film Ruffian (2007) with a SAG nomination for Outstanding Performance by a Male Actor. He starred as horse trainer Frank Whiteley. That Sam Shepard understood the sport is no doubt among the reasons why he was able to get Whiteley down perfectly.

* * * * *

From actor Peter Coyote:

"We both lived in Mill Valley together, and while we were never close, we shared a lot of interests, practiced roping together a few times, and I was good friends with his wife Olan (who he was married to during his peak creative years) and his son Jesse, whose writing I encouraged with the gift of a portable typewriter I'd used pre-computer. Despite not being more than casual pals, Sam cast me as Austin, one of the two leads in the world premiere of True West, and a Hollywood agent in the audience signed and represented me for the next 8 or 9 years... I imagine he's chatting with my sister [Elizabeth West] who preceded him by a few days. They'll both be back as the rain."

I came to know Coyote over 20 years ago when he was looking for feedback on his first book, Sleeping Where I Fall. He is the dearest man. We began an online friendship and eventually we met up in Boston. He liked the idea of an official web site so I created one for him and thus began Coymoon Creations, a combination of "Coyote" and his Polanski film, Bitter Moon. That first True West production took place on July 10, 1980 at San Francisco's Magic Theatre with Peter starring as Austin and Jim Haynie as Lee.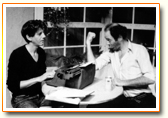 From Owen Gleiberman, Variety:
"In 1978 Shepard was tapped to co-star in a major motion picture: Terrence Malick's second feature, Days of Heaven, in which he was cast in the role of a wealthy, dying farmer in the Texas Panhandle in 1916 who is lured into the scheme of a pair of traveling rogues (Richard Gere and Brooke Adams). The movie was like a magic-hour version of a Biblical parable, and Shepard's performance was wry, taciturn, sorrowful, and sexy in a gentlemanly way. As an actor, he was more than skillful enough to get by, but in Days of Heaven he had something more than skill. He had an aura."
"A lot of it was his look. Tall, rock-steady, almost pre-verbal, with his hair swept back and two slightly uneven front teeth that suggested the authenticity of a much older era, he could have been a preacher or a country lawyer from an age that was decades before media. He looked like a startlingly handsome man out of a 19th-century photograph."
I like what Mr. Gleiberman is pointing out but I have to correct him. Shepard's hair was not "swept back". It had a rather shaggy, unmanageable look as seen in these photos.
Terrence Malick's film was such a masterpiece from the cinematography right down to the soundtrack. My husband and six children all love it as well. This movie scene of Linda Manz during the locust infestation could be mistaken for a Vermeer painting.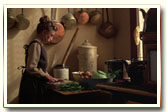 * * * * *
Strumming... First, a young playwright in NYC; second, a scene from Netflix's "Bloodline" series; third, with his wife O-Lan; and fourth, with his 'buddy' Patti Smith.
August 9, 2017
From Sean Murphy, Pop Matters:
"Like Wilde, he was blessed with talent and charm (not to mince words, he was a beautiful man), and he somehow managed to incorporate virtually every cliché of Americana, distilling it into his own, unique persona. Semi-tortured artist, channeling our pathologies via works that were, on arrival, sui generis? Yes. Prototypical rugged individual, who mostly shunned the hackneyed trappings of fame, preserving both his integrity and his soul? Yes. Man's man comfortable in the outdoors, and adept at working with either animals or his bare hands? (Quick: think of how many playwrights you'd actually be able to hunt with, get shitfaced with, talk books and music with, and with whom you'd hope to have by your side if your car broke down in the middle of nowhere.)"
From Liz Smith, New York Social Diary:
"He was so inescapably and iconically American — a poet, a cowboy, a truth seeker, a builder and destroyer of myths. He was tumultuous and intensely private... As an actor, his presence was electric, invigorating and often oddly comforting — granite wrapped in fine linen."
From Wilborn Hampton, Huffington Post:
"When he was diagnosed a couple of years ago with the illness known as Lou Gehrig's disease and that would finally take his life, he told only a small circle of friends and family. Although part of the reason for keeping the news secret was his insistence or keeping his private life private, another was that he wanted to finish his last book without the encumbrance of well-wishers."

"As the disease took its toll, he found it difficult to hold a pen or even peck at the typewriter. His lifelong friend Patti Smith and his daughter Hannah helped him finish the book, The One Inside, which was published earlier this year. It was one of his most autobiographical and in it he wrote briefly about his own anguish when a central character discovers his limbs won't move."

Alfred A. Knopf
A young Sam Shepard on his horse.

Book cover
August 8, 2017
From John Winters, Shepard biographer:
"When news arrived Monday [7/31] of the passing of Sam Shepard, the line Hamlet says of his late father — "I shall not look upon his like again" — came to mind."
[A perfect quote to define the man! And it just so happens that Sam played Hamlet's father in the 2000 film with Ethan Hawke]

"While many will be familiar with Shepard's star turn as Chuck Yeager in The Right Stuff, the 1983 film in which he personified the strong silent type, the best example of his underrated range as an actor came in Voyager (1992).
There, he carries the film, and plays not only a man of quiet desperation, but also the heartbroken victim of his own foibles, who has lost everything. It clearly demonstrates that onscreen, just as in his writing, Shepard was unafraid to tap into his own pain and insecurities and lay them bare in the name of art."
I'm in total agreement with Mr. Winters about Sam's performance in VOYAGER. It is possibly my favorite Shepard film. Peter Travers of Rolling Stone magazine wrote, "As Walter Faber, a rational fifty-year-old engineer who gets blindsided by emotion when he meets a young woman, Shepard gives his finest screen performance."
Here are some rare black & white production photos from the film:
This past week Voyager director Volker Schlöndorff gave the following tribute:
"Sam was not comfortable acting: 'I feel like a whore,' he said after six weeks of shooting and wanted to stop the movie. It's true that he did it for the money and he was very well paid. But he was very choosy as to the parts he condescended to whore for. And it's also true that he was very good at being an actor and he was even better at rewriting scenes so that he had a minimum of dialogue, giving all the lines to his partners. I was very fond of his performance and I think the movie is memorable because of his presence. After a farewell scene with Julie Delpy, I found him almost sobbing backstage, he turned to me and said: 'I just realized I could tolerate another loss in my life.'"
And some memories from author Joe Lansdale (Cold in July):
"I can't claim to have been a dear friend of Sam's, or to know him real well. My only contact with him was on the set of Cold In July, a film made from one of my novels... I felt his role in that film was magnificent, and so did a lot of folks, because it was. Sam and I talked about music and books mostly..."
Personally, COLD IN JULY was a special treat for me because it was filmed in my neck of the woods in the Mid-Hudson Valley. One of the locations was a local diner I frequent and I get a warm feeling every time I return. It's this Sam was here thing.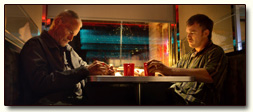 From Janelle Okwodu of Vogue magazine:
"In fashion circles, he will be remembered as a symbol of all-American style at its most powerful - the personification of the uncomplicated elegance of '70s and '80s menswear. Keeping things relaxed even as his star rose, Shepard liked his clothes straightforward: denim, cowboy boots, and plaid shirts for casual days, natty blazers and tailored suits for formal moments. That consistently effortless wardrobe complemented both his onscreen persona and his reputation for being a straight-shooter..."

"Tall, unquestionably handsome, and self-possessed, he made even the most basic outfits look appealing... In jeans and work boots, Shepard did what many of fashion's peacocks could not - leave a lasting impression."
[Wow... I always thought his fashion statement was b-o-r-i-n-g. Always the blue jeans and dark jerseys.]
August 6, 2017
From actor Stephen Rea:
"I wrote an introduction to one of his plays in which I said that the three great writers of the English-speaking theatre at the end of the 20th century were Beckett, Pinter and Sam. He said to me at the time: 'You shouldn't include me in that company', but he more than belonged there. His writing is heroic, he himself was heroic and he was heroic in the stoical way he faced his death. He was very candid. I saw him shoot people down once or twice but, my God, he was the kindest man; utterly truthful, witty and generous to a fault. There was no one like him."
[I always enjoy Stephen Rea on the big screen but none more than his role as the joyless husband Henry in Neil Jordan's The End of the Affair, based on Graham Greene's novel. Top performances from all three leads. That includes Ralph Fiennes and Julianne Moore. If you haven't seen it, you're missing a gem.]
From The Arts Desk:
Nicholas Wright, then artistic director of the Theatre Upstairs, recalls "a laconic, dry, very laid back, very masculine Gary Cooperish kind of style, certainly very direct, capable of being quite rude."
"My impression," says the actress Dinah Stabb, "was that he was always keenly interested in events going on outside the room. Although he was part of the world of the Royal Court, he never seemed to be of it. It's no surprise that he went on to be a film star, because he seemed like a film star when you met him. People always wanted to be part of him, to be where he was."
Jimmy Fay, who directed Shepard's plays - True West twice (once for the Lyric in Belfast, and once for the Abbey), Ages of the Moon and Curse of the Starving Class, also in the Abbey in 2011, described him as "generous, razor sharp, experimental, strange, iconic, Elvis-like", while also being "utterly engaging, interested in people, an outdoors man, a great poet who always had to write".
August 5, 2017
From Graham Hillard, National Review:
True West still rings true and stands as the greatest American drama since Long Day's Journey into Night. Sam Shepard has died, and American theater has lost one of its last remaining giants... Who, now that Shepard is gone, will seize his mantle? Tony Kushner, perhaps? Or Lin-Manuel Miranda? Had he not ensured a lifetime of poor reviews by making explicit a conservatism that had once been merely latent, my money would have been on David Mamet, an obvious genius and a dialogist of unparalleled skill.
Yet none of them can claim Shepard's fire. The man had something. He gnawed that bone until it broke.

From David Krakauer, President of the Sante Fe Institute:
"Sam was a restless, brilliant, and gracious polymath who became an important member of our community, an unlikely and passionate interlocutor at the Santa Fe Institute, and a friend with whom we would discuss novels, poetry, folk music, and the challenges of our too often thwarted efforts at creativity. He was one of the most seductive people I have met and we shall all miss him very much."

"Sam's office was in the Institute library where we could hear him typing out essays and plays on his Olympia SM9. When Cormac McCarthy and Sam worked in adjoining rooms of the library, the Institute resounded like a nineteenth-century steel mill — deafening hammering of dueling Olivettis and Olympias."
In the 2016 documentary "California Typewriter", several artists and writers, who remain devoted to the old-fashioned method of word processing, are interviewed. Sam discusses how he approached playwriting and how he values the physicality of a typewriter. You can watch a clip of his interview at this link.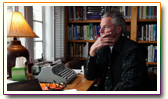 * * * * *
Troy Lennon, History editor at The Daily Telegraph, wrote about Sam's appeal to cinephiles:
"A versatile performer, he brought an intelligence, integrity and authenticity to his roles on stage, on screen and behind the scenes as a writer and occasional director. He often acted the part of farmers or ranchers on screen but also lived that role in his private life, running horses and cattle on his own ranch. Even when he played or wrote about characters like pilots, lawmen or urban dwellers, many were imbued with that same rugged rural spirit."

In 1984 when director Phillip Kaufman was looking for someone to play the pivotal role of Chuck Yeager, he found his leading man in an unlikely place. He said, "Sam had a cowboy quality to him. He was Gary Cooper". His confident cowboy swagger earned him an Oscar nomination and made him as close to a mainstream star as he ever wanted to be. Sam said, "I didn't want to be a movie star. I didn't want to have that thing of being an icon. It scared the shit out of me."

Some journalists have remained confused as to how many wives Sam had. He had only one; that was O-Lan Jones and they were married for 14 years. Here is their wedding photo taken on November 9, 1969 at St. Mark's Bowery in NYC. Together they had a son, Jesse Mojo.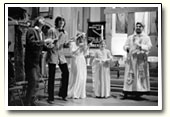 O-Lan is an actress, writer and composer and has been involved in experimental theatre, music, and opera since the age of sixteen. She's been working on a memoir called "Fire Road" for several years. You can read what she writes about Sam at this American Theater link. Through the years, I enjoyed recognizing her in these small screen roles. As a Peter Coyote fan, I first caught her co-starring with him in "Die Laughing" and the quirky film "Out", where she probably had her biggest role. She often played a waitress and it was easy to pick her out because of the space between her teeth. She even wrestled a role in one of Sam's most successful films - "The Right Stuff".
Excerpt from "Fire Road":
We [Sam & O-Lan] would steal away and drive around in his car at night, a beige Volvo station wagon. No destination, the smell of metal dust in the empty car. I watched his hands change gears in the rolling light from the streets. That car didn't seem like him; it was something you'd find in a suburban driveway. It was placid and boxy, but he was jagged, vibrant, the air rippled around him. He'd walk into any dark place and not because he wasn't scared—it was okay to be scared, it would all be gone some day anyway. Our empty places hummed together. His from fighting his way out of the suburbs, mine from the time I lived in the jungles of Yucatan, where everything I knew had been torn away down to the bare blank bottomless hollow.

He'd say, "What's the worst thing that can happen—we die?"

* * * * *
Here's the aging but still handsome Shepard in a photo shoot taken in New York 15 years ago:

August 4, 2017
Robert Faires of the Austin Chronicle wrote an article yesterday reminding folks that Central Texas will be keeping Shepard's flame alive in years to come with major archives of his work at Texas State University and the University of Texas.
The Wittliff Collections at Texas State in San Marcos is home to 27 boxes of Shepard materials, covering his career during the Eighties and Nineties, as well as an additional eight boxes that focus on Shepard's four-decade friendship with Johnny Dark, the father of Shepard's wife, O-Lan Jones. The Harry Ransom Center at UT houses 30 boxes of its own, stretching from 1965 to 2011, but chiefly focuses on the periods of 1983-87 and 2001-09.
In 2013 Texas State in San Marcos featured an exhibition for nine months called "The Writer's Road: Selections from the Sam Shepard Papers".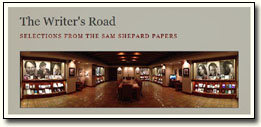 * * * * *
While so many mourners are praising Sam's talent as a playwright, Justin Chang of the LA Times refreshingly honors Sam as an actor. I couldn't have said it better. Here are a few paragraphs:
On the page, Sam Shepard was seldom at a loss for words, but on the screen, he was a master of resonant understatement. The men he played over more than four decades on the screen have encompassed multitudes — lovers, loners, drifters, professionals, authority figures, rebels and one very famous test pilot — but they tend to be lumped together with words such as "laconic" and "taciturn," perfectly accurate descriptors that can nonetheless seem inadequate to the task of capturing his peculiar expressiveness.

You could say that a face as beautifully sculpted as Shepard's rendered speech more or less superfluous: the flinty stare that was made for quiet brooding, the tight, dyspeptic frown, the prominent brow that became ever more majestically crosshatched with age. But his lanky physicality and craggily handsome features only partly accounted for what made him, until his death, on July 27 at age 73, such an extraordinary screen presence — one that never got old for being so reliably expressive...

Simply by showing up and inhabiting the frame for a few minutes, Shepard could inject a picture with some essential quality that it needed — gravitas, world-weary intelligence, the weight of lived experience. In recent years, the gifted independent American classicist Jeff Nichols has made particularly exceptional and varied use of this ability, casting Shepard first as a cryptic but dependable father figure in Mud (2012) and then as a disturbingly charismatic cult leader in last year's Midnight Special.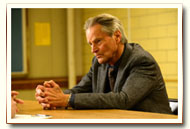 August 3, 2017
When a great man dies, there is bound to be an outpouring of beautiful words and essays written about his life, some written by folks who never even shared any space with this great man, but they think they know him because of what he wrote. Vast difference between the great man and his great works. So, it is in this spirit that I point out an essay by Hilton Als called "Sam Shepard's Soul". I immediately wrinkled up my nose. Of course, soul is different to a white man than a black man. He obviously wasn't writing about Mr. Shepard's spirituality. Mr. Als asserts, "While he was associated in films and onstage with the West, Sam Shepard's real terrain was black music." Are you kidding? In his blather, Mr. Als writes, "I wonder if Shepard ever felt that it was very difficult to live with his ambition, a talent he must have tried to hide, or felt humiliated by." Okay, enough nonsense for today.
The photos below were taken in January 2016 and at the time the public was taken aback by Sam's very frail appearance but there was no explanation given. Sam could have refused this photo shoot given his illness, but he chose to sit down and have photographer Chad Batka click away. Perhaps this was his quiet way of saying goodbye. These photos show Sam as a very humble man, unlike most celebrities obsessed with their looks. Longtime Knopf editor LuAnn Walther said he fought the neurodegenerative disease for a couple years.
Patti Smith's poetic memoir in The New Yorker makes note of Shepard's affection for another dear friend and longtime resident of Hudson, New York, screenwriter and author Rudy Wurlitzer. It was Rudy who adapted Max Frish's novel for one of my favorite Shepard films - Volker Schlöndorff's Voyager (1991). He asked Imby (Hudson's local social network) to post these two photos. The first one was taken of Sam and Rudy at Le Gamin cafe in Hudson in 2012. Imby also points out that Sam's daughter Hannah has lived for several years in Hudson and they extend their sympathy to her as well "and, for that matter, everyone else who knows and loves Sam Shepard's great work. A legend he will always be." Amen!
August 2, 2017
From actor Ed Harris:
"Most of Sam's plays are pretty autobiographical in terms of dealing with his own internal maelstrom. His last book, The One Inside, is a collection of episodic little stories tied together. It's the most intimate thing he wrote. Read that and it's like you're holding the essence of Sam in your hands... As a really private guy, Sam didn't talk a lot about his feelings. I'm glad I was able to spend some time with him when we were rehearsing Buried Child. He'd been diagnosed with ALS [Amyotrophic Lateral Sclerosis]. When he found out he was seriously ill, he became more open and accessible. A kindness crept into him. It allowed me to feel the nature of our friendship, and I'd like to think it was the same for him. He was a huge influence in my life. I loved the guy and I'll miss him big time."
Sam's last film was James Franco's "In Dubious Battle", which also starred Ed Harris. Love this photo.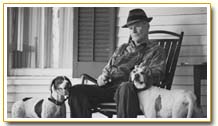 From actor Richard Gere: [Days of Heaven]
"Sam was like some washed-out sun-bleached bone you find out in the desert. Even when he was young, it felt like there was something very ancient about him... There was a desert cowboy thing about him, where he was at home being alone - but happy when he got to town and took his boots off. I think he felt comfortable with that persona."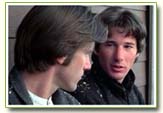 From director Jeff Nichols: [Mud and Midnight Special]
"Shepard was an American icon in a time when we manufacture a lot of celebrities, but there's a giant chasm between celebrity and an icon. And I don't want to sound too cheesy - he wouldn't want that - but that's what he was."

From director Philip Kaufman: [The Right Stuff]
"Sam didn't just write and act; he played drums and other instruments. He traveled with Dylan for a while. He was cool, and I mean the original meaning of cool. He was out of the jazz era. He was a cowboy...You always had to validate the truth of things with him. With some people, you read an obituary and that's it. But with Sam I have to reject the obituary approach, because he lived such a vivid life. The Sam I have in mind is still alive. His plays bear testimony to that, and all his varied roles in films. He was and is to me sort of a ghost, like the ghost of that father figure that hovers in so many of his plays. He's one of the rare people I've met whose voice has gotten inside of me. Therefore he's still with me."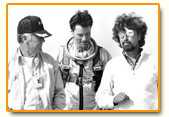 August 1, 2017
Broadway will pay tribute to Sam Shepard with a ceremonial light dimming. Marquees will go dark for one minute at exactly 7:45 pm tomorrow evening, August 2.
"Sam Shepard was a prolific storyteller who created provocative, thoughtful, and exciting work for Broadway, Off-Broadway, and film," said Broadway League President Charlotte St. Martin in a statement. "His original voice was a definite draw for audiences and had an undeniable influence on other artists. He will be greatly missed. Our thoughts are with his family, friends, and colleagues."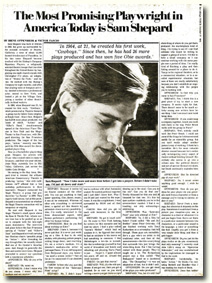 Village Voice - October 27, 1975
* * * * *
Punker pal Patti Smith has written an essay in The New Yorker called "My Buddy" as her tribute to her old friend. She was traveling in Switzerland when she learned of Sam's death. She writes how she told the sleeping lion of Lucerne, "He dreams of horses. Fix it for him, will you? Have Big Red waiting for him, a true champion. He won't need a saddle, he won't need anything." You can read the full article at this link.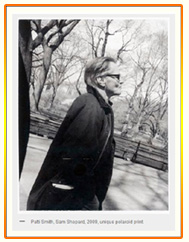 July 31, 2017
Sam Shepard, the celebrated avant-garde playwright and Oscar-nominated actor, died on Thursday, July 27, 2017 at his farm in Kentucky. He was 73. Chris Boneau, spokesman for the Shepard family, said the cause of death was complications of ALS, more commonly known as Lou Gehrig's disease. He said Shepard was open with those who asked him about ALS and was not afraid to speak about it. He added, "He faced the disease head on without an ounce of self-pity."
He is survived by three children - Jesse, Hannah and Walker. He is also survived by two sisters, Sandy and Roxanne Rogers.
Boneau also indicated that funeral arrangements remain private, and no plans have been made yet for a public memorial.

Totier Creek Farm near Midway, KY
Shepard bought his farm in 2000, keeping cutting horses and cattle on it while boarding his mares at nearby Nuckols Farm. He loved breeding thoroughbreds. In a 2007 interview, he said, "I plan all the matings and never talk to bloodstock agents. I spend endless hours poring over pedigrees, but some of the best horses I've bred came from instinct."
"I loved Sam. He has been a huge part of my life, who I am, and he will remain so. I will let others talk about the importance and beauty of his work in theater and film." ...Actor Ed Harris
"From the day Sam Shepard hit New York to the day he died, his image was always in line; the music of his plays - the fantasy rhymes - sussed the spiritual impasse of his generation." ...John Lahr, The New Yorker
"I think the last time I saw him was last year on opening night for a 'Buried Child' revival at Signature. I hadn't realized he was ill, but he was having difficulty handling objects. I grieve his loss, celebrate his life and work, and give thanks for my part in it." ...Actress Lois Smith
"Sam Shepard was one of the last myths of the American West, John Ford's melancholy-rebellious son. He has bridged bridges between rural and urban America, they were hardly viable for a whole society, but they were to be crossed for individuals. But at least. Now the gulf between Prairie Home and Big City is as big as never before. And no Sam Shepard anymore." ...Georg Seeßlen, Zeit Online
"Sam Shepard's snaggle-toothed smile, craggy good looks and outlaw style as actor and writer made him an American icon in the mold of Gary Cooper and Marlon Brando." ...Jeremy Gerard, Deadline
"He was a poet of the first order. I've acted in many of his plays and directed 'A Lie of the Mind'. He played my father twice on film. Some days he could be irascible. At other times he could be profoundly wise and kind. He was the writer any serious American actor of my generation cut their teeth on. It is a gross understatement to say, he will be missed." ...Actor/director Ethan Hawke
"Buried Child' will certainly go down as one of the great works of 20th-century drama, a scathing endgame for American values and emblematic of Shepard's lifelong fascination with the harrowing fragility of family bonds." ...Peter Marks, The Washington Post
"For more than half a century, playwright Sam Shepard stood as a towering presence in American theater and cinema, penning dozens of plays and earning an Oscar nomination as an actor in his own right. Delving deeply into the complicated, often bleak nature of family life, the Pulitzer Prize winner earned the title — in drama critic Jack Kroll's words — of 'poet laureate of America's emotional badlands.'" ...Charles Sykes, NPR
"At about the time his playwriting was beginning to peak, he did something one would have never imagined O'Neill or Williams doing: He became a romantic movie lead. The shift was so unexpected that many of his fans in the theater thought it had to be somebody else when his name appeared with Richard Gere's and Brooke Adams' among the leads in 'Days of Heaven'... but his on-screen magnetism was powerful enough to match, if not overpower, Gere's own." ...Film critic Gene Seymour
"Shepard was that perfect bundle of contradictions that only an artist could ever justify: Someone who craved privacy and outwardly resented the opposite and yet acted in movies and revealed his rawest truths on the pages of his plays. Or perhaps he wasn't so oblique after all — just too complicated for the Hollywood celebrity machine." ...Lindsey Bahr, QCOnline.com
Everyone remembers the moment that Shepard opened a door for them that they've been walking through for the rest of their career. If you still haven't walked through that door, start with 'Buried Child', move onto 'Fool for Love' or 'True West', and then drift along, like a cowboy poet, through the vast expanse of his America, fractured, at risk of forgetting itself, grasping towards the ineffable with heartbreak and grace." ...Isaac Butler, Slate magazine
"It is probably no accident that his written work and onscreen presence fascinated European directors like Michelangelo Antonioni and Wim Wenders: In his understated masculinity he was a throwback, an endangered species. He seemed vaguely tortured, and he wasn't about to tell you why." ...Jim Windorf, NY Times
"Throughout all his various works and appearances, Shepard established a (perhaps unwanted) iconic status. Attractive and rustically 'all American' in a way that seemed stolen from a Dorothea Lange photo, yet a cultural renegade, Shepard offered a certain weathered appeal to members of his generation and beyond." ...Gabriel Bell, Salon magazine
* * * * *
Here is a rare photo of Sam with O-Lan Jones on their wedding day in 1969 in New York City. They were married for 14 years.