NEWS: JULY - DECEMBER 2013
December 31, 2013
Wrapping it up
Starting the new year, Shepard fans can look forward to Discovery Channel's six-hour TV series, KLONDIKE, airing three consecutive nights beginning January 20th. Click on the photo below to watch an interview in which Sam shares his thoughts on the Gold Rush.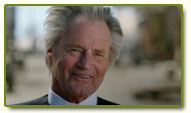 Sundance premiere
Jim Mickle's COLD IN JULY will premiere on January 18th at the Sundance Film Festival. In a recent interview, the director commented on his film - "'Cold in July' is an 80's revenge thriller. It's still very character based. It's still very family based. It's a father-son revenge thriller, which I think is kind of awesome. We really set out to do a movie that was going to be fun from start to finish and wasn't going to follow- you know it's based on a book, but what I loved about the book was that it followed no formula and it had a lot of familiar elements, it had a lot of pulpy ingredients, but it just kept unfolding in a way that you could never guess... So we set out to do that with this movie. To really make a movie that doesn't play by any genre rules. It's thriller, it's action, its comedy. It's really different. Right now it's really fun for me because it's kind of the exploration process of finding exactly how all these disparate elements will come together... I always felt Michael [C. Hall] was one of the most talented actors out there, but seeing him do this…he's just incredible. Sam and Don [Johnson] are also just equally incredible. Two very, very different human beings, but two really interesting people."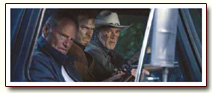 'Osage' reviews
As of today, the Tomatometer sits at 67% for AUGUST: OSAGE COUNTY, not quite what the legendary movie mogol Harvey Weinstein might have anticipated. He has been quoted as saying, "When it comes to Oscars, I'll take bets on this movie, it's going to be a surprise and a sleeper, but it's gonna be there." Though the Pulitzer Prize winner worked well on the stage, the movie appears to sit awkwardly on the screen, according to the critics. I was amused by the comments of Matt Patches of IGN Entertainment - "'August: Osage County' is a bombardment of feelings, never holding the audiences hand or taking the easy route while never unearthing anything profound enough to make the journey worth it. At its best, it's a great actors chewing up scenery. At it's worst, it's a cacophony of famous people screaming. Audiences may see enough of that during their holiday season."
The Grand Dame of Dish
"I found myself seated between the reserved Sam Shepard and Broadway's feared columnist Michael Riedel. After lunch when the elusive Mr. Shepard, famous writer and actor extraordinary and I made nice contact, he told me of his children and his life in Kentucky." ...Liz Smith, NY Luncheon, December 11, 2013
December 16, 2013
Sam Shepard Papers
In a December 6th article called "Shepherding Shepard", Adam Roberts of the Austin Chronicle reports on the success of the Wittliff Collection Exhibition - The Writer's Road: Selections from the Sam Shepard Papers now on display at Texas State University until February 14, 2014. David L. Coleman, director of the Wittliff Collections, says, "It's been one of the most popular exhibitions we've ever staged. Everyone from school kids to college students to retirees has been coming to see the show." Roberts writes, "A visit to 'The Writers Road' makes clear the rich holdings of the Shepard collection at Texas State University. And yet the Wittliff is not the only repository for Shepard's materials in Central Texas. In fact, the other major collection of the dramatist's work exists just over 30 miles to the north, at the University of Texas' Harry Ransom Center." According to HRC Assistant Director for Acquisitions and Administration Megan Barnard, anyone interested in how Shepard developed his work will find ample material for study in the Ransom Center's holdings. She explains, "The collection is filled with drafts and revisions of many of Shepard's plays, stories, poems, and other works. Especially interesting is a series of notebooks in which Shepard recorded thoughts and ideas related to his plays, acting roles, songs, and travels. These notebooks offer a unique glimpse into Shepard's creative work not just as a writer but also as an actor and musician."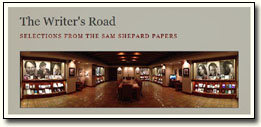 Back in 2006 when the school acquired this material, the Dean of the College of Fine Arts announced, "Sam Shepard is an American original, a vision and voice that for 40 years has been unconfined by genre or convention. The University of Texas at Austin is thrilled to have the Shepard archive available for research and for use in our theatre and play writing programs."
December 14. 2013
NYC Premiere
Sam must be getting into the holiday spirit because on Thursday night he joined his fellow cast members at the premiere of August: Osage County. It appeared that the entire cast was there except for Meryl Streep and Ewan McGregor, who were both off shooting new projects. The star-studded premiere was held at the Ziegfeld Theatre. The NY Daily News reported that our playwright was acting much less bashful than he was at Thursday's luncheon. An eavesdropper picked up Sam asking his co-star, 5-foot-9 Julianne Nicholson, "Are you wearing heels or stilts?" Ms. Nicholson starred in "Heartless" when it premiered at the Signature Theatre last year.
Here's another quote from Meryl Streep about Sam: "One of the most upsetting scenes that we shot was really early on, and it was with Sam Shepard, a writer I really have always admired, and I've also admired him as an actor. To look at him close up and see his loathing of me, that was really hard because you get old. You look old. You're old. And, you still think that maybe there's a spark of love from this person who's gone through everything. To look into his eyes and realize he'd rather be dead than looking at me. Oh, that was brutal. That sort of set the tone for my own dealing with his death and everything else afterwards."
December 12, 2013
Urban cowboy

We all know that Sam is not into publicity so when he accepted an invitation to yesterday's luncheon honoring "Osage" producer Jean Doumanian, that was a surprise. Perhaps he's back in NY for the holidays, a time to regroup with the family. Reporting the event at the swanky Le Cirque restaurant, journalist Roger Friedman wrote, "Shepard, looking like a dusty cowboy in the city, had the seat of honor next to Liz Smith. They talked Texas." However, when it came time for NY Post's Michael Riedel to do a little Q&A with the cast, Sam tried the invisible act by hanging out in the background even though fellow cast members repeatedly encouraged him to join them. Co-star Juliette Lewis said, "It's a miracle he's even here. We should count our blessings." When she was asked what they talked about on set, she responded, "Rock and roll, Patti Smith, the West. He's a cowboy."
Friedman continues, "Sam did stick around through dessert, hanging with Cooper and chatting with actor Bob Dishy. He talked to yours truly about late genius novelist David Foster Wallace, who took his own life at a young age."
Award nominations
Both the SAG and Golden Globe award nominations were announced this week. The entire cast of "Osage" was nominated for its outstanding performance, and Meryl Streep and Julia Roberts received SAG and Golden Globe nominations for best actress and best supporting actress respectively. The Golden Globe ceremony is slated for January 12th with the SAG event on January 18th.
December 5, 2013
Sundance screening
The Sundance Film Festival has just announced its lineup and COLD IN JULY will be among the 16 films to be screened in the US Dramatic Competition. Filmed last summer, the violent small-town corruption tale stars Michael C. Hall, Don Johnson and Sam. The festival runs January 16-26. The festival is featuring the following synopsis: How can a split-second decision change your life? While investigating noises in his house one balmy Texas night in 1989, Richard Dane puts a bullet in the brain of low-life burglar Freddy Russell. Although he's hailed as a small-town hero, Dane soon finds himself fearing for his family's safety when Freddy's ex-con father, Ben, rolls into town, hell-bent on revenge. Michael C. Hall brings a shell-shocked vulnerability to his portrayal of Dane that contrasts perfectly with the grizzled badasses portrayed by Sam Shepard and Don Johnson.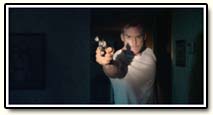 Directed with an excellent eye for the visual poetry of noir, this pulpy, southern-fried mystery is a throwback to an older breed of action film, one where every punch and shotgun blast opens up both physical and spiritual wounds. Twists and turns accelerate as the film reaches its inevitable destination: a gore-soaked dead end. Cold in July is as muggy, oppressive, and hard to shake as an east Texas summer.
"Out of the Furnace"
Among the many reviews this week on OUT OF THE FURNACE, I have to share this funny quote - "This is the kind of film where everybody on screen could shoot and skin a 12-point buck, rebuild a 1970 Dodge Challenger's engine and fail a sobriety test on the fly. It's as if an entire town has been populated by characters from Bruce Springsteen songs."
Two film critics pointed out a particular scene between Christian Bale and Sam. James Ward wrote, " "Playwright Sam Shepard also turns in a strong performance as Baze's stoic uncle. Shepard and Bale's scenes together as they go hunting for deer are quiet but powerful." And Allison Long echoed that with "The quiet scenes between Bale and Shepard and the electric scenes between Bale and Harrelson are some of the best in the film and show how the film can truly sing when all the elements successfully come together."
December 4, 2013
Another review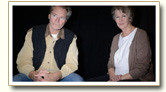 A third review of "A Particle of Dread" has come to light from Sophie Gorman of the Irish Independent. This time our critic is not happy. Ms. Gorham writes, "Shepard has written this almost like a piece of music, with the theme of Oedipus like a musical coda, emerging in different forms but still recognizable. But the end result is one of fragmentation; moments of high drama, standout performances and provocative ideas being tangled with moments of overacting, dipping energy and unnecessarily tangled stories. There are traces of Shakespeare's Macbeth, of gothic horror, The Omen. The ancient themes of sacrifice, of retribution, preserved. But there is also a lack of cohesion in Shepard's writing and also director Nancy Meckler's interpretation. Meckler needs to rein in some performances, to draw others out, to build something of real substance."
Silly quote for the day
From the "Out of the Furnace" review by Manohla Dargis, NY Times: "Mr. Shepard's casting is predictable, almost formulaic, and it underscores Mr. Cooper's weaknesses as a filmmaker. There's nothing wrong with Mr. Shepard as a performer here and most anywhere, and there's often a lot that's right. He's fun to look at, for starters. You could spend hours tooling along the byways etched into his elegantly weathered face, but too many directors use him as simplistic shorthand for American masculine decency."
'Out' in LA and NY theaters today
Some mighty good things are being said about Scott Cooper's new film, OUT OF THE FURNACE, which opens nationwide on Friday. R. Kurt Osenlund of Slant magazine writes, "Gray and gritty, Out of the Furnace's visual finish suggests the final cut was dragged through the dirt of the movie's Rust Belt setting, and that's just one layer of a very shrewd aesthetic. No longer playing second fiddle to a show-stealer like Jeff Bridges, the Oscar-winning star of his debut feature, Crazy Heart, director Scott Cooper is given ample room to prove his filmmaking mettle with this rough-hewn follow-up, a thriller whose strategic, exposition-dodging design proceeds with near-total effortlessness." More reviews here.
December 3, 2013
Good news trickling in...

It's been five days since "A Particle of Dread" premiered at the Derry Playhouse. I'm beginning to think that Londonderry/Derry is not particularly a city of culture though it daringly takes on the mantel of "City of Culture 2013". A second review of the play has finally emerged today, but there is mostly silence online as far as any critiquing by the general public. No tweets. No blogs. This second review was written by Jane Coyle of Culture Northern Ireland. What joy! Both reviews are much more positive for this Oedipus tale than those of his last three plays. I shall eagerly await the audience response when the play hits the American stage next year. Do you agree that there is a major difference between the opinions of theatre critics and theatre-goers? Isn't a satisfied audience the ultimate goal?
December 1, 2013
Article on 'Particle'?
That a NEW Sam Shepard play could premiere in Northern Ireland last Thursday without a word written about it for three days is truly amazing. Actually it's downright shameful. Yes, bring on Sam Shepard for Londonderry's City of Culture 2013 celebration. Have him write a play specifically for this occasion and once it's staged, let's not mention it.
Well, we do know that BBC's art show host, Marie-Louise Muir, interviewed Sam last week regarding "A Particle of Dread" and that program will be broadcast in Northern Ireland on December 12th.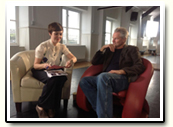 And the discussion with Clare Dwyer-Hogg following the screening of "Paris, Texas" at the Brunswick Moviebowl on November 21 can now be read at this link.
Update - 12/2: Yesterday's edition of The Irish Times has published the only review thus far and today's edition published this Shepard comment - "The thing about Oedipus to me that is so incredible is that it doesn't have a plot. There's no story. It's just a situation. It's a predicament that the central character finds himself in. And the audience knows everything. He's totally guilty, as the audience knows, but believes himself totally innocent."
Glasgow tidbits
According to blogger Doug Blane, most of the audience at the Citizens Theatre in Glasgow on November 16th did remain after the "True West" performance for the Q&A with Sam. Some didn't. I'm trying to think of some reason why you wouldn't stay to meet the playwright. It was free. Ummm... Maybe the laundry was waiting?

When Sam came on stage, we are told he was wearing jeans. When have you last seen Sam wearing anything but jeans? The most boring piece of apparel imaginable. Anyway, after a few minutes, he starts to relax and share his wisdom on writing - "You don't necesarily have a lot of motivation or predestination about where you're going. You just start. Characters, situations and places appear, but there is never a lot of thinking about it. That takes place as you're writing." Yes, it's true. I've had that experience. Often times it happens at the moment the ink spills out of the pen, simple as that. For me, it rarely happens at a keyboard.
Asked which brother in the play ["True West"] is based on himself, he says "Everything you write is based on yourself, no matter how much writers want to deny it."
When questioned about acting with 'Osage" co-star Meryl Streep, he replies, "She comes in and it's like a leopard let loose in the room. You have no idea what's going to happen next."
November 29, 2013
New play premieres
No word yet from Northern Ireland as to the success of last night's premiere of "A Particle of Dread", Sam's personal spin on the Oedipus tragedy, first dramatized two thousand years ago. This ancient Greek classic has been re-imagined by our playwright as a modern thriller set in the desert of the American West. Sam's philosophy fits right in - "I think Sophocles must have had an intention. I don't think he was writing just for the heck of it. I think he knew very well what we all know yet pretend not to. I think he knew we each have a destiny and a fate. That they work side by side, whether we see it or not. That this destiny is somehow written; forecast, like the weather."
The production has been invited to New York next fall. According to Stephen Rea, Sam is very keen on this as well as the whole production. It is hoped there will be other dates and venues between then and now. In an RTÉ interview yesterday, Rea spoke about their rehearsals this month - "It's actually wonderful to be in that room with him and Nancy [Meckler] and all those actors. Sometimes it's been one's experience that directors don't necessarily treat actors with the most sensitivity but Sam does and he really enjoys people's work, so it's very exciting to have him there in the room. And it's exciting to see him adjust the play to the performances that he sees in front of him. He's a practical man of the theater." When he describes the play, it sounds very Shepard-esque - "The play doesn't have a schematic narrative. It has images and thoughts & it has a cumulative effect but not a normal cumulative narrative effect." Rea says Sam admits to being influenced by Beckett but it's not a slavish imitation. Like Beckett, Sam's plays are musical. They are pure theater. And he's not interested in backstory or character motivation.
One of my favorites...
Every time I listen to "A Horse With No Name", I can't help but think of Sam Shepard. After finally looking up some background on the 1972 song, I discovered that musician Dewey Bunnell of a band called America, wrote the lyrics. He was actually living in the desert in his earlier years because like Sam, his Dad was a military man stationed in California. His family often traveled to the desert in Arizona and New Mexico. As an Easterner, I longed to see the desert. Finally my husband and I drove to the Mojave Desert on a cross-country road trip four years ago and now I love the song even more. I wonder if it's a Shepard favorite...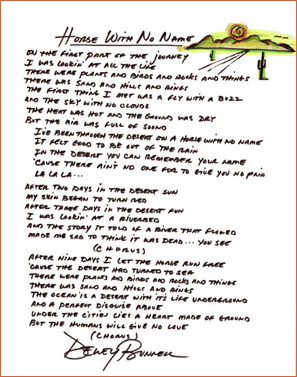 "Osage" cast
The Independent Spirit Award nominees were announced on Tuesday and "August: Osage County" will receive the Robert Altman Award, which is given to one film's director, casting director and its ensemble cast. It will be presented on March 1, 2014.
In a recent interview, Meryl Streep was asked about the famous playwright in the role of her husband. She responded, "I was so thrilled Sam Shepard was cast in this part. And when I met him, I was hairless, toothless. And he looked at me just the way he was supposed to, with complete revulsion. It sort of broke my heart and really made me mad. It was fuel for the rest of the thing."
In another interview, she said, "For me one of the most upsetting scenes we shot very early on, and it was with Sam Shepard who is a writer that I've always admired, and as an actor too. To look at him close up and see his loathing of me was really hard. You get old and you look old, and you're just old, and you still think that maybe there's a spark of love from this person who has gone through everything, and to look in his eyes and realize that he would rather be dead than look at me, that was brutal. That set the tone for how I chose to deal with his death in every scene afterwards.
Great images
One of my favorite westerns of all time will continue to be "The Assassination of Jesse James by the Coward Robert Ford". The cinematography simply takes my breath away. Probably the most beautiful western I have ever seen. And the casting is so-so unbelievably perfect. I apologize for not posting these interesting photos back in 2007. Better late than never! Photographer Stephen Berkman captured the Jesse James gang in some old-time photography called the wet collodian process.

Highly recommended westerns from my favorites list is Clint Eastwood in "The Good, the Bad and the Ugly" and its 2008 Korean parody - "The Good, the Bad, the Weird". Check the latter at Netflix or Amazon Instant Video. - it's hilarious!
Flashback time
The photo is twenty years old and was featured in Premiere magazine. The quote is from an interview with Sam in The Observer seven years later.
November 22, 2013
Foyle Film Festival appearance
Last night "Paris, Texas" was screened at the Foyle Film Festival in Derry followed by a Q&A with Sam, that was supposedly led by writer Clare Dwyer-Hogg. I have no information at the moment about the evening except for these two photos.
Grumbling Time
An article was published today by a journalist in regard to Sam's appearance a week ago at the "True West" performance at Citizens Theatre in Glasgow. A tad late... It read as if it had been written over several days. Weird. The photo she posted of Sam on stage was misleading to readers because it appeared it was taken that evening but, in fact, it was taken over five years ago when he attended the World Science Festival. The photo should have been posted with a caption indicating where and when it was taken. The writer didn't have much to say about the evening except to whine, such as, "The thrill of seeing and hearing Sam Shepard in the flesh, though, still fails to answer a few nagging questions about the huge and growing popularity of the personal appearance as an art-form." Art-form? Lady, it's simply a public event with a buzz!
'Osage" star Julia Roberts
Yesterday it was announced that the 25th annual Palm Springs International Film Festival will present Julia Roberts with the Spotlight Award for "August: Osage County". It will be given at its annual awards gala on January 14th. Festival Chairman Harold Matzner praised the actress: "Her ability to consistently give standout performances over the past 25 years is remarkable. In her latest, 'August: Osage County,' she is a key catalyst in a darkly comic tale of a family coming back together after tragedy strikes." [Can you name two other Shepard/Roberts movies?]
Interesting... When 'Osage' writer Tracy Letts was recently asked, "What would you want an audience to take away from this film?" she responded, "I don't know. I have no idea how to answer that question." How about one big headache? Ever watch "The View"? There's nothing worse than a bunch of angry women all talking over each other.
November 21, 2013
From today's Derry Journal
"In the dance studio on the top floor of the Derry Playhouse, American actor and playwright Sam Shepard sits in front of his typewriter each day as he watches his latest work take shape. Now in the fourth week of rehearsals, just over a week before the eagerly awaited return of the Field Day Theatre Company, the cast of 'A Particle of Dread' are rehearsing from morning until night. As Sam watches them work, the tap of the typewriter is a constant presence - and a reminder of the exciting genesis of a new play by one of the world's most renowned writers."
Here's a new portrait of Sam with director Nancy Meckler and cast members.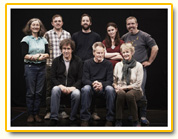 Sneak peak in NYC & LA
According to Deadline, folks in the Big Apple and LA will get an early look at Scott Cooper's "Out of the Furnace". Relativity Media just announced that the film will open in those two cities on December 4, two days before it goes nationwide. The film, which had its world premiere on November 9 at the AFI Fest, won the Taodue Golden Camera Award for Best First/Second Film at the Rome Film Festival last week.
While Sam was on location in PA, he spoke with a group of journalists about who he shared scenes with, his character's backstory, how the quality of the script made him take the role, staying authentic to Pittsburgh's language and culture, and using improv on the set. Read the interview here.
Northern Ireland events
Here are some photos of Sam attending Nuala Herron's exhibition at the Derry Playhouse. The award-winning local artist was commissioned by Culture Company to create an exhibition, featuring a number of oil paintings and drawings of local people as a way of telling the story of Derry/Londonderry through portraiture.
Sam's play, "A Particle of Dread" will be opening a week from today. In an interview with northernireland.org, director Nancy Meckler commented on the production, "Sam's been obsessed with the whole idea of Oedipus for a very long time, so I think for him it's an opportunity as a writer to finally go for it. He calls it 'Oedipus Variations' and that's exactly what it is. The thing about Shepard is that he loves jazz, and this is almost like a jazz improvisation, where you take something that's thrown up by the story, follow it, and then you come back. Sometimes we're in ancient Greece with Oedipus. Sometimes we're in a modern version. It's like Sam's riffing on the myth, but it's still about a man who does not know his origins and gets caught out trying to get to the truth. He doesn't realize that the truth is going to destroy him."
Music will have a very specific part to play in the Field Day production. Belfast-born composer Neil Martin wrote a score to complement the on-stage action, which he will perform live on cello during the performances.
Sam has been attending rehearsals this month, even celebrating his 70th birthday at the theatre. Ms. Meckler continues, "Usually what happens with a new play is that the writer is there for a week at the beginning. Then they come later on when you're really getting things going. But Sam has been here throughout. What's great about him is, because he's an actor and also a director, he's very good in the rehearsal room. He doesn't intrude.

The 72-year-old director also responds strongly to what she calls the 'non-naturalistic' elements in Sam's writing. She explains, "There's the reality of us sitting here. But then there's the reality inside our heads, which is completely different and completely hidden from each other. This whole idea that we really exist on many levels at the same time, our inner life, the outer life, our dreams, our fantasies. I think as a writer Sam deals in that. What's challenging about 'A Particle of Dread' is that it's like a huge, explosive collage on Oedipus, so it's about really figuring out how it needs to look and sound, what space it should be in, how much music there should be. We're still playing with the order of the scenes."
Actor Stephen Rea, who leads the cast, adds, "I think it's fantastic for Sam to hear it and to be offering us new thoughts on it. Some writers would sit thinking that everything they've written is being betrayed before their very eyes. With Sam, no. He's an actor – he likes actors." When asked where Sam stands in the pantheon of playwrights, he replies, "The late 20th century in English language theater is dominated by three writers - Beckett, Pinter and Sam Shepard. I think Sam's right up there with them. His great mentor was Joe Chaikin, in New York's Open Theater. Chaikin said the theater isn't just a duplication of life, it is a realm, just as surely as music is a realm. And I think that's been Sam's big influence. That's absolutely what Beckett is about. That's why they stormed out of theaters when Beckett's plays started, because they weren't being spoon-fed a realistic narrative, and they couldn't work out what was going on. I think Sam has carried that on."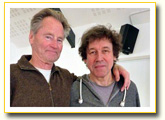 November 17, 2013
A Scottish appearance
While Sam was in Londonderry this month preparing for the world premiere of his new play, "A Particle of Dread" (Oedipus Variations), he was contacted by the Citizens Theatre in Glasgow and asked if he would attend the last performance of "True West" on November 16. He accepted a few days ago and agreed to take questions from the audience during a Q&A session after the show along with director Philip Breen.
Dominic Hill, the theatre's artistic director, said: "It's wonderful that we're able to welcome Sam Shepard to our theatre to see our production of his play 'True West'. That he's been kind enough to take to the stage following the performance to talk about his work is a real coup and I'm excited that Glasgow audiences will have the chance to hear from such a legendary figure whose work as a playwright, actor and director stands as a commentary of contemporary American culture."
The Herald Scotland reported, "Despite a hit career, Shepard makes few public appearances." And from a tweeter - "Just spotted Sam Shepard arriving @citizenstheatre for his play #TrueWest and all I can think of is Steel Magnolias."
Air date announced
Discovery Channel has announced an air date for the miniseries KLONDIKE. Shot last May at the CL Ranch west of Calgary, the six-hour series will air over three nights starting January 20. Besides Sam, it stars Richard Madden, Abbie Cornish, Tim Roth, Ian Hart, Tim Blake Nelson and Greg Lawson. Based on the book, "Gold Diggers" Striking it Rich" by Ottawa writer Charlotte Gray, it tells the story of gold rush fever in 1890s Dawson City. It's the first scripted project for Discovery Channel, executive produced by Ridley Scott.
November 11, 2013
It's all good news for "Out of the Furnace"!
Scott's Cooper's OUT OF THE FURNACE premiered at the 27th AFI Fest on Saturday night. A few reviews surfaced soon after the screening and the general feeling was very positive. Scott Feinberg of The Hollywood Reporter called it a "smart and stirring drama" with a star-studded cast who all gave first-rate performances. In fact, the film received a lengthy ovation from the audience at the TCL Chinese Theatre. One moviegoer remarked, "It makes 'The Deer Hunter' look like 'Mary Poppins'. Yowser!
Scott Foundas of Variety called it a "powerfully acted descent into the hellfire of rusted-out steel town America. He continues, "Cooper seems to make actors feel safe and willing to expose themselves in ways they ordinarily might not, and time and again he takes scenes to places of unexpected emotional power."
And what about Sam's performance? Charlie Schmidlin of Indie Wire writes, "Perhaps the most understated and enigmatic contribution though is from Sam Shepard, playing Red, the brothers' uncle who grows closer to the family once Russell gets out of prison. As a positive influence in the siblings' lives, he is a symbol of stoic responsibility, but watch his face as he and Bale infiltrate a crack den later on in the story, and you see a glint of his most savage tendencies that makes you wish Cooper had devoted more time to that aspect."
Allison Long of Film School Rejects also mentions Sam - "The quiet scenes between Bale and Shepard and the electric scenes between Bale and Harrelson are some of the best in the film and show how the film can truly sing when all the elements successfully come together."
The film will have its US theatrical release on December 6th.
Filming "Shepard & Dark"
If you've seen Treva Wurmfeld's documentary, SHEPARD & DARK, you may have been a bit confused about the chronology of the film and its uneven editing. It skips around so much that sometimes you don't have a clue where or when they're filming. In the beginning of the film, Sam arrives in San Marcos with the correspondence with scenes later filmed of the pair going through their letters. Huh? Anyway, I found this explanation from the director to be helpful - "It was about six weeks altogether over the course of eighteen months. It was much harder to know where Sam might be at any second; I couldn't just go visit him, as I could with Johnny. There were times where I knew he'd be in Los Angeles, so I'd set up an interview. Once, I heard he would be in Kentucky, so I arranged to fly there for literally two days to meet him. The initial shoot was our drive down to Deming, New Mexico; then to Santa Fe; and on to San Marcos, Texas. That journey was a total of about six days. With Sam, I shot these little chunks, and another in Taos and Southern Colorado for about four days – they were all over the place. As for Johnny, I spent about ten days with him in Deming. Then, there was the Santa Fe chunk with both of them that took up a couple weeks."
When asked about the status in the friendship between Sam and Johnny, Ms. Wurmfeld replied, "It has been nearly a year since we finished the film. There was a period of time where I had heard they got back together and met at a Denny's halfway between Deming and Santa Fe. But then I heard they had another falling out, and as far as I know, they aren't talking to one another. Now, that could have changed yesterday."
Perhaps if there were screen captions pointing out dates and places, the film wouldn't suffer from that piecemeal approach and it would result in more clarity. Personally, the one thing that jumps out at me is why Sam doesn't visit Johnny in his home. Why do they meet at the supermarket deli where Johnny works if they're such close friends, almost family? Throughout the film, all you see is Sam alone in unknown places and Johnny alone in his home except for their brief time at the deli, at a Denny's and then at the Sante Fe Institute. For a film about male friendship, they should have spent more time together. But then you have to ask - exactly how much time have they actually spent together since Sam left the family over 30 years ago? I know what long distance friendships feel like through letter writing and they're not quite the same as sharing real time moments in the same space.
November 7, 2013
"Cold in July" debuting in spring 2014
Deadline has just announced that a promo for COLD IN JULY will be shown at the AFM, which kicked off yesterday. Based on Joe R. Lansdale's cult-classic novel, the film was shot last summer about five miles from my home in upstate NY. Paris-based Backup Media teamed up with Memento Films International to finance the film, which will hit theaters in spring 2014. Here's the first publicity still showing Sam with Michael C. Hall and Don Johnson.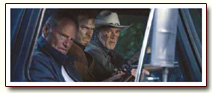 This week...
The New Yorker published an article this week by Patti Smith about the 10/27 death of musician Lou Reed. Ms. Smith writes, "As news of Lou's death spread, a rippling sensation mounted, then burst, filling the atmosphere with hyperkinetic energy. Scores of messages found their way to me. A call from Sam Shepard, driving a truck through Kentucky."
Anyone know the Shepard & Reed connection? Well, back in 1984, Lou Reed wrote a song called "Doin' the Things That We Want To", which acclaimed Sam's play, "Fool for Love" and the films of Martin Scorcese. If you listen to it, you'll note that it sounds just like a Bob Dylan song.
So, Sam was home at his horse farm in Midway last week but, according to the folks at San Francisco's Magic Theatre, this week he's now in Ireland preparing for the premiere of his play later this month. A birthday bash was loosely organized by Magic to celebrate Sam's 70th birthday this week without the honoree. It ended up being a kind of pop-up affair, a combination of ceremony, performance, film screening of "This So-called Disaster" and all-night celebration. Sam is not a party boy, so it's doubtful he would have derived any pleasure from attending.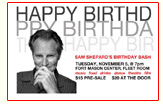 November 1, 2013
Foyle Film Festival
The 26th Foyle Film Festival previously announced that German director Wim Wenders would be joining Sam for a Q&A after the screening of "Paris, Texas" on November 22. Apparently, there has been a change for reasons unknown and Wenders will not be present. The festival is now booking tickets for "Sam Shepard in Conversation with Writer Clare Dwyer-Hogg" after the film screening at the Brunswick Moviebowl.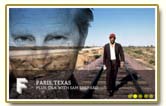 This week director Treva Wurmfeld drew some parallels between "Paris, Texas" and her film, "Shepard & Dark". It's a given that Sam wrote the script at a time when he was abandoning his own son, but I hardly see any resemblance between Travis, the annoying Harry Dean Stanton character, and Sam Shepard, other than not wanting to get on an airplane. Ms. Wurmfeld does indicate that she recently spoke with Sam, who said "he'd heard" her film was great, but hadn't seen it because it would be too difficult to watch. Ms. Wurmfeld notes, "He still doesn't like looking back at his past." Too bad he didn't like looking back at his past years ago. He could have saved himself a lot of grief and might have come closer to living a happy life. We know for sure Mr. Shepard will never write a memoir, but if he did, I might suggest the title of John Osborne's play, "Look Back in Anger".
By the way, if you live in the Houston area, you might want to check out the Houston Cinema Arts Festival, which has an interesting triple bill for November 7th - "Shepard & Dark", Paris, Texas" and "Harry Dean Stanton: Partly Fiction". My favorite Stanton movie will always be "Fool for Love". I can hear Sam's sister twanging that song now. Love it!
October 26, 2013
Cast announced
The Derry Playhouse has announced the cast for the upcoming premiere of Sam's play, A PARTICLE OF DREAD. The ensemble will include Irish actors Stephen Rea, Judith Roddy, Frank Laverty, Iarla McGowan, Brid Brennan, Caolan Byrne and Lloyd Hutchinson. It will be staged from November 28 thru December 7, 2013.
Yesterday my DVD of "Shepard & Dark" arrived as well as the book, "Two Prospectors: The Letters of Sam Shepard and Johnny Dark". After viewing the film, I was overcome with the "blues" as Sam might put it. While filming, Sam was writing, "A Particle of Dread" and he spoke about his own reflections on destiny and fate. Johnny ponders, "There might be fate, I don't know, but I also think when he [Sam] talks about it, there's an element of letting himself off the hook for his behavior." Johnny is right. When you watch the film, you'll come away feeling that Johnny is a very sweet man who values friendship and who will always love Sam. He is without an ego and any fracture in the relationship has been singularly imposed by another man's ego. It's heartbreaking to watch at times.
"Klondike" premiering in January
Check out the new KLONDIKE TV Page with posters & photos. The Discovery Channel series will be premiering in January 2014.
Tim Roth, who's cast as The Count says "Klondike" was a reunion for him and Sam. "I had done a play of his in 2004, 'The God of Hell,' in New York. I hadn't done a play for 20 years before that." Truth be told, said Roth, he's always suffered from stage fright even when he was making a name for himself in the London theater more than 30 years ago. "On film there is no problem," he noted. "As soon as I started getting more film work, I thought I'm done with stage." But working with the playwright again may have inspired him to push through his fear. "I think I am probably going back to the theater to do a play," he said.
October 19, 2013
It all began...
In the NY Times yesterday, an article was written on 85-year-old Ralph Cook, who died last month. He had a significant effect on Sam Shepard's life because Cook created Theater Genesis, the leading edge of what became known as Off Off Broadway. In 1964 while Cook was waiting tables at the Village Gate in Greenwich Village, a 20-year-old busboy showed him a couple of manuscripts and soon "Cowboys" and "The Rock Garden" were being staged. In a recent telephone interview, Sam recalled, "He had heard that I'd written these one-acts and wanted to see them, and I think within a week we were in production. That's the way it was back then."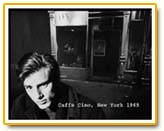 Sam told the Times, "These were the first plays I'd had produced, and it was quite amazing to me to recognize that putting on a play was an entirely different process from writing one. It was quite a shock to see actors take hold of what I'd written, and I suddenly realized what theater was all about. Before, the plays were just stuck in my imagination. I didn't have any idea what theater really was, that it was this live thing that took place between the actors and the audience. Theater Genesis became my home. It was a place to work, and it was a home. I have Ralph to thank for that."
"Jesse James" screening in NYC
Museum of the Moving Image will present a rare big-screen showing of the 2007 Western "The Assassination of Jesse James by the Coward Robert Ford" with director Andrew Dominik in person. Arguably a cult favorite since its release, this masterful and magisterial film was described by Star-Ledger critic Stephen Whitty as an "epic film that's part literary treatise, part mournful ballad, and completely a portrait of our world, as seen in a distant mirror." The screening on Saturday, December 7, at 6:00 p.m. will take place in the Museum's Sumner Redstone Theater, with the post-film conversation moderated by Chief Curator David Schwartz.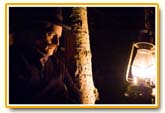 "'Jesse James' is the thing that I've done in my life that I'm most proud of," Dominik said. "I think it's a movie that really benefits from being on the big screen, and I love the idea of it having some further life on the big screen."
New Paperback
Another Shepard play has been published. "Heartless" was released earlier this month on October 8th in paperback edition printed by the Vintage Series.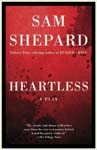 October 15, 2013
More news from Northern Ireland
The 26th Foyle Film Festival, which runs from November 20-24, will feature a program of documentaries, short films and feature films from all over the world. This year acclaimed German director Wim Wenders and our Pultizer Prize-winning playwright will attend a screening of PARIS, TEXAS, at the Brunswick Moviebowl on Friday, November 22. The film, directed by Wenders and written by Sam, won many international awards, including the Palm d'Or at the 1984 Cannes Film Festival. It is also known for its cult following.
Tickets are still available for Sam's newest play, "A Particle of Dread" which is being staged at the Derry Playhouse from November 28 to December 7, 2013. Tickets can be purchased at this link. This distinctive and compelling take on the Oedipus story is being directed by Nancy Meckler, who goes way back with Sam. The 72-year-old American director has previously directed four of his plays in London - "Action" and "Killer's Head" at the Royal Court in 1975, "Curse of the Starving Class" in 1977 at the Royal Court, and "Buried Child" in 1980 at the Hampstead Theatre Club. Here is a photo of Meckler as well as the Derry poster.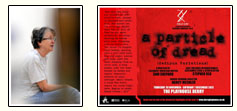 Back in 1980 Sam discussed why he digs the Greek myths like "Oedipus Rex" - "This devastating harm coming down from the heavens. No Jung, no Freud, any of that. No 'language' or trappings at all. Now that's a story."
More screenings
When AUGUST: OSAGE COUNTY had its world premiere at the Toronto Film Festival last month, it received a few dents in its armor due to mixed reviews. According to The Wrap, "Most critics were kind to the individual performers, but accused the picture of being overly stagey and marred by an inconsistent tone that veered from comic to tragic, often in the same scene." Last night the film had its US premiere at the Mill Valley Film Festival and after the screening, director John Wells conducted an ad hoc focus group discussion. Wells said he still isn't exactly sure which version he'll use for the final scene. He indicated he would be meeting with film editor Stephen Mirrone and producers George Clooney, as well as Grant Heslov and Jean Dourmanian, who produced the stage version. In the meantime, the screen adaptation is making the film festival circuit in the Hamptons, Chicago, Philadelphia, Hawaii, Austin, Houston, New Orleans, Napa Valley and St. Louis. Rather unusual for a Weinstein film. Here's a new movie still and poster.
By the way, the 17th Annual Hollywood Film Awards will be given out on October 21 honoring the best in film for 2013. I guess they want to be the very first of the award shows. Carlos de Abreu, founder and executive producer, announced the cast award - "We are very proud to recognize the ensemble cast of 'August: Osage County,' for their dramatic and outstanding performances."
Wittliff Collections Exhibition
"The Writer's Road: Selections from the Sam Shepard Papers" at Texas State University can now be accessed through an online interactive exhibition at this link. Enjoy!
October 12, 2013
Commentary
A week from today SHEPARD & DARK will be coming to DVD and VOD. I have not yet seen the film though it played at our Woodstock Film Festival, so I am eager to finally view it after following the reviews for months. What intrigues me the most is the aftermath of this documentary. Did the correspondence project ultimately fracture the long-time friendship of these two old eccentrics? We do know that Sam never supported the film by making any appearances but, then again, he shies away from public events. Betsy Sharkey of the LA Times published a review on October 10th, writing, "There is a distinctive intimacy to a handwritten letter between friends. You can feel the emotion behind the stroke of the pen, layers of meaning in the choice of a word. Put the letter writers in a room together and there is both comfort and disquiet, as if the other knows, perhaps, too much... The film takes us inside Dark's quiet, orderly life, with his dogs and his kindness equally well known around town. A steady supply of weed takes the edge off any difficulties. Shepard is all edges, talking of the mistakes he's repeated, the rootlessness he often feels, plucking on his guitar late into the night." It is often said that writing can be cathartic in healing but for our playwright, a lifetime of written works - plays and books - have apparently not brought him any closer to a place of peace.
October 6, 2013
Two Prospectors: The Letters of Sam Shepard and Johnny Dark
On sale in nine days! I just read the Kirkus Review - hope the letters are more interesting than the review. By the way, do you think this Remington painting makes for a better book cover for these two old hands (laughing). And have you wondered why the book is called "Two Prospectors"?
Kirkus Review: Only three years separate Dark and Shepard, and in this engaging correspondence, we see the evolution of their relationship. They were buddies earlier, and they remained close despite Shepard's rise to celebrity as a playwright and actor. Oddly, neither seems to have thought about going online (computers are not mentioned), so, except for the transcriptions of taped conversations, the volume has the feel of an earlier age. Editor Hammett notes that he has not assembled a complete collection but has edited heavily, arranging the pieces to tell a narrative, excising what he deemed repetitive or excessively quotidian, though some of the latter remains. The correspondence from both parties is rich with allusions to the writers they admire - principally Kerouac and Beckett, though many others appear as well, including Melville, Lardner, C.S. Lewis, Saroyan, Chekhov and Dickey. They write occasionally about money, the lack thereof, and about writing. The title comes from a play they began working on together but never finished. One transcript records an initial plotting session. Health issues occur continually. Dark's wife declines as the book progresses, as do comments about life and writing. In 2008, Shepard wrote: "I continue to write because basically that's all I've found I can really do."
Flashback - Vanity Fair's 1984 Hall of Fame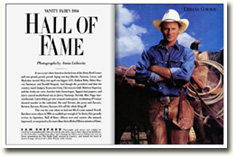 "Out of the Furnace"
A new poster! They seem to be improving over time. After its festival premiere next month, the film will open in theaters on December 6.

October 1, 2013
Festival premiere - which one?
It appears that Scott Cooper's OUT OF THE FURNACE will have its world premiere next month either at the AFI Festival, which runs from November 7-14 or at the Rome Film Festival, running from November 8-17. Just yesterday AFI Festival Director Jacqueline Lynaga decided to add the Scott Cooper film to their list of red carpet Centerpiece Galas. A week ago the Rome Film Festival announced that 'Furnace' would be one of four English-language films in its competition line up. The studio has released this new movie still: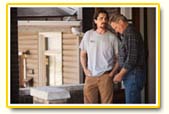 And the name of the band is...
Sam's youngest son, 26-year-old Walker, has been playing in an old time string band based out of Brooklyn, NY. For some reason, they have recently changed the band's name from the Dust Busters to Down Hill Strugglers. I can't say I prefer this name. It sounds too negative! Walker sings and plays the fiddle, banjo, guitar and harmonica.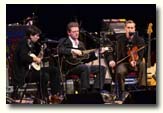 Shepard theater is alive and well
Buried Child - through October 13 at the Magic Theatre in San Francisco

Fool for Love - through October 20 at the Jungle Theater in Minneapolis

True West - at Pittsburgh Public Theater in PA from November 7 to December 8

Curse of the Starving Class - through October 20 at the Vortex Theater in Albuquerque

A Lie of the Mind - through October 13 at Hofstra University's Black Box Theater

L.A. Theatre Works' Radio Theatre Series will Sam Shepard's True West, directed by Eric Simonson and starring Francis Guinan and Alfred Molina, from 7-9 p.m., Thursday, Oct. 3 on KPFK 90.7 FM and on demand at www.latw.org.
September 25, 2013
Theatrical release
Over the next month there will be a smattering of theatrical screenings for SHEPARD & DARK. Here's the film schedule:
9/25 IFC Center, NYC
10/4 Music Box Theater, Chicago
10/11 Laemmle's Music Hall, LA
10/18 The Screen, Santa Fe
10/25 Portland Museum of Art, Maine
On Thursday, October 10th, Director Treva Wurmfeld will also screen her film and answer questions from the audience at Texas State Universary in San Marcos, Texas. This event is taking place in conjunction with the Wittliff's current literary exhibition, "The Writer's Road: Selections from the Sam Shepard Papers."
In this exclusive clip from the documentary, we see Sam reflecting that he was once an enemy of sentimentality, a position that changed as he grew older and gained more life experience. Music Box Films Home Entertainment will release the film on DVD and VOD on October 22.

In a review this week, A.O. Scott of The New York Times wisely informs us that "the film points toward a rich and complicated story that only partly makes it onto the screen." He writes, "Its subjects balance their forthrightness with a certain reticence and resist their own nostalgic tendencies. There was once something there, something remarkable, but neither the film nor its main characters can quite capture what it was."
Filming "Savannah"
Here are some new productions photos from the filming of SAVANNAH. The white-haired lady is director Annette Hayward-Carter. The movie is pulling an 8% on the Tomatometer.
September 12, 2013
Mixed Reviews from Toronto
The early reviews from the TIFF screening of AUGUST: OSAGE COUNTY have been noted by the Tomatometer. Out of 14 reviews, nine were fresh and five were rotten giving the film a 64% rating. The film's bosses are reportedly planning on re-cutting the ending so it is more in line with the original stage show.
Catherine Shoard of The Guardian writes, "It's bracing, but it does feel closer to panto than melodrama, more exhausting than illuminating. Violet is a queen bitch...Yet for all the sparks, the character can't quite catch fire in these conditions. Such southern fried frankness might thrill those in the theatre but at the cinema we eat this sort of thing for breakfast." Kevin Jaggernauth of The Playlist complains, "While the choice of helmer John Wells might not seem like the most inspired decision, all he theoretically has to do is put the camera on a tripod and let the actors do their thing. And he does. And yet, 'Osage County' still turns out be an exhausting, screechy drama, in which a lot of very good actors work very hard, and yet produce so little as a result." Laramy Legel writes, "While it's a given that families around the world are complex, and capable of massively strange interactions, the only place you'll find a group of people and a set of conflicts like this is in an extremely overwritten movie." Nick McCarthy of Slant magazine sums up his review with, "Wells prioritizes performance over clarity of its piquant dialogue, which slightly waters down the cleverly callous wit the play put front and center. Therefore, this serviceable version of 'August: Osage County' falls short of the powerhouse, painful punch-in-the-gut moxie the material requires to overwhelm. It pokes and occasionally stabs, but doesn't twist the knife as much as it should."
Eric Kohn of IndieWire predicts, "Interest in the high profile cast and well-known material should lead to strong returns. While not the leading contender for Best Picture, it's nonetheless a formidable contender in several performance categories." Tim Robey of The Telegraph laments, "The three-hour-plus duration of the play has been trimmed to a much less luxurious, multiplex-friendly two. The main casualty of this compression is the character of Johnna, the Cheyenne Indian housekeeper whom Bev hires both to cook and give him someone to talk to. Johnna's presence supplied a quietly astonishing finale on stage. The film, torn between Violet and its real protagonist, Barb, opts for a different ending, which is fine in itself – but the sum of the whole piece has been whittled down along the way. It just isn't quite the saga, the American epic, Letts first presented."
Sam and Hannah
In a March 2010 interview with The Guardian, Sam opened up a bit about his only daughter. He revealed, "I never thought about having a daughter and then I had a daughter and it was a remarkable thing. It was very different from having a son and your response to it. With a son, it's much more complex. And it's probably because of my stuff in the past. With a daughter, I was surprised at how simple it is." It's to her, he says, that he intends to leave his notebooks, "because she's the one who's asked for them."
In his upcoming book, "Two Prospectors: The Letters of Sam Shepard and Johnny Dark", soon to be released on October 15th, he writes again with pride about Hannah a few months after the Guardian interview - "She just finished the thesis at the University in Galway and wants to send me a copy. I have a scholar for a daughter. She's working on her doctorate in Irish Studies - wants to teach college."
Texas Exhibition
Here are more photos from the Wittliff Collections exhibition, "The Writer's Road: Selections from the Sam Shepard Papers" at the Alkek Library at Texas State University in San Marcos. The exhibition runs through February 14, 2014.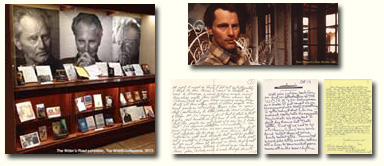 Disappointing
The latest review of SAVANNAH from Huffington Post's Jackie K. Cooper only echoes the previous negative comments from other film critics. Again, the blame sits with writing and direction, both orchestrated by Annette Hayward-Carter. Cooper writes, "'Savannah' is a movie with a high powered group of actors. Jim Caviezel and Chiwetel Ejiofor lead the cast with Bradley Whitford, Hal Holbrook, Jack McBrayer, Sam Shepard and Jaimie Alexander in supporting roles. That is a lot of talent to be cast in one small film, and sadly the movie still sinks. It isn't the acting that does it in; it is the vagueness of the script. It meanders here, there and everywhere and finally just ends." The film will become availabe on DVD and VOD next week.
September 3, 2013
Summer happenings

Filming for COLD IN JULY took place this summer practically under my nose but I never spotted our playwright though some folks saw him dining out at one of our local eateries. Kingston, just 90 miles north of the Big Apple, is becoming a hot spot for filmmakers. Personally I wouldn't hang out on North Front Street, especially after dark, but it offers up some good ambience. The film, directed by Jim Mickle, stars Michael C. Hall in the lead role as Richard Dane. He plays a small town frame builder from East Texas who kills a burglar in self-defense. The dead man's father swears revenge. A son's life for a son's life. But the two guilt-stricken fathers become unlikely allies, aided by Dane's tough-minded wife and a pig-raising detective from the Houston backwoods, as they discover a bigger secret, darker and more dangerous than any of them could have imagined. Sam and Don Johnson play Dane's sidekicks with Vinessa Shaw as Dane's wife. Here are some location shots in Kingston, but I'm not sure when or where the photo of Sam was taken but it shows him with Hall, Johnson and Kasey Lansdale, who will be singing on the soundtrack. Her father, Joe Lansdale, wrote the novel the script is based on, so hey, perhaps part of the book deal was "my daughter gets to sing in this film if I fork over the rights." The novelist commented on the film saying, "All the actors were awesome, and very nice as well. I was humbled by their ability to bring my novel alive, and by Jim Mickle's directing style. Great stuff all around."
Opening near you? Who knows...
As previously reported, Treva Wurmfeld's documentary, SHEPARD & DARK, will be available on DVD and on demand beginning October 22. However, news has just broken that the film will also be released in select theaters on October 9. Since the producers apparently never thought the film was important enough to have its own web site, the public has no way of knowing which cities will be showing it. I think they should pay me for all my promotional efforts over the past year! Many cinema web sites pointed to sam-shepard.com as the best link for information (chuckling....). You can pre-order the DVD at Amazon.com. Bonus features will include extended interviews, deleted scenes, "7 Things I Learned from You" (not sure what that is), a photo gallery and poster gallery. Check out the new theatrical trailer at this link.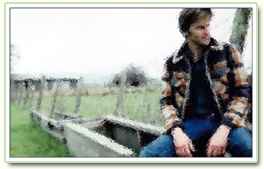 First "Klondike" photos
The first photos from the Discovery Channel's 6-part mini-series KLONDIKE have been released. Sadly, there are none of Sam. Expect the series to premiere sometime in 2014.
Here's the background on the production: In the late 1800's people from every walk of life converged on the Klondike, increasing the town of Dawson from 400 to 30,000 people almost overnight. All these adventurers were focused on one thing: striking it rich. A portrait of these characters is captured in the book "Gold Diggers: Striking it Rich in the Klondike" by Charlotte Gray. Through letters, photos, newspaper clippings and oral histories, she tells the stories of a diverse crew of people from gold diggers to newspaper folks. To recreate the dramatic stories of the larger than-life characters inspired by Gray's fortune hunters, Discovery Channel put together a talented cast of actors - Richard Madden, Tim Roth, Abbie Cornish and Sam, who plays Father Judge who's on a mission to save souls in order to atone for his violent past. The grit, cold, and almost unbelievable stories of determination, greed, and hardship will spin a dramatic tale. Filming took place last spring near Calgary.
TIFF News
AUGUST: OSAGE COUNTY will have its premiere gala on September 9th at 6:30 pm in Toronto. It has also been confirmed that Meryl Streep and Julia Roberts will attend the event. The film will open in US theatres on CHRISTmas Day. Newstalk says Sam's influence upon playwright Tracy Letts is unmistakable. In the film, Sam is an Oklahoma poet named Beverly Weston (hate the sissy name) who is battling alcoholism, while his wife Violet (Meryl Streep) suffers from cancer and a new-found drug dependency. Not long after hiring a live-in caregiver for Violet, Beverly vanishes, prompting the family to unite in a search that ends with a morbid discovery. Mother and daughters (Julia Roberts, Julianne Nicholson and Juliette Lewis) are left to deal with the aftermath, and each other. Alas, the four women have never exactly seen eye-to-eye. Prepare for a very dysfunctional family!
August 29, 2013
New play has a name!

Stephen Rea says bringing Sam Shepard to Londonderry for his new version of the Oedipus legend in December is a long held dream. The forthcoming Field Day production of Shepard's new play - 'A Particle of Dread' - promises to be one of the highlights of the UK City of Culture 2013 programme. In a recent interview, Mr. Rea says, "In the 60s, American theatre exploded into extraordinary life in the shape of such groups as 'Living Theatre,' 'La Mama' and Joe Chaikin's 'Open Theatre,' bringing a new daring and openness to theatrical presentation. Towards the end of the decade, some of the younger practitioners found their way to London, giving shape, direction and excitement to an emerging experimental Fringe theatre. Nancy Meckler and Sam Shepard were two of the most gifted of those to arrive in Europe. I worked with them both back then, and now I'm fulfilling a long held dream by bringing them to Ireland to work with some of our finest actors in this new version by Sam of Oedipus, directed by Nancy Meckler."
"A Particle of Dread" gets its title from a line in Oedipus when the character called Chorago says, "If the killer can feel a particle of dread, your curse will bring him out of hiding." The play will be staged at The Playhouse Theatre in Derry from November 28 to December 7, 2013. For tickets, visit their website. The photo they're using for their publicity is taken from the 2004 Off-Broadway production of Caryl Churchill's play, "A Number", starring Sam and Dallas Roberts.
August 24, 2013
The Big 70
According to the San Francisco Chronicle, the Magic Theatre is hosting a major celebration in November when Sam turns 70. However, it's not known whether or not the guest of honor will be present. Apparently, there will be a birthday bash - 24-hour nonstop national live-feed readings of Sam's work at the Magic and theaters in New York, Chicago and elsewhere. The Magic-Shepard connection goes back to a staging of "La Turista" 43 years ago, when our playwright was already a multi-Obie Award-winning mainstay of the Greenwich Village alternative-theater scene. Between 1975 and 1983 the Magic produced a dozen of Sam's plays, many directed by the author. World premieres included some of his best work - "Buried Child," "True West" and "Fool for Love".
Sam reflects, "I had tremendous luck at a very early age. I don't know how that happens - I mean, the Pulitzer, I was like 36. It was one thing after another, the accumulation of awards. It intimidated me. You go through that conflict of wondering whether you're worth it. You start questioning the work. You just have to battle those things in yourself."
Presently, he's working on three different plays but adds, "But the main thing I'm working on is a book. I mean, I have several books out there, but they're all collections of short pieces. I'm determined to see if I can sustain prose beyond... to write a book book."
It's not clear just when he'll find the time. Besides the two plays he's writing for Ed Harris, one of them for Harris and Kathy Baker, who co-starred in "Fool for Love" at the Magic in 1983, he has to cross the Atlantic to Northern Ireland this fall. He's been working with Stephen Rea preparing for Derry's upcoming City of Culture celebration.
He explains, "We're working on Sophocles' 'Oedipus' variations on it. It's a work in process, so it's difficult to say what it is. I'm working with actors in a kind of improvisional way, but also writing."
When asked if his big book will be a memoir, he replies, ""No. Not by any means. A memoir you write on your deathbed."
"Savannah" shown in select cities this week
Director/writer Ms. Annette Hayward-Carter obviously has not impressed the film critics with the debut of SAVANNAH. I can't remember reading such negative reviews. Fortunately, they're not about Sam's acting. On the Tomatometer, 10 of its 11 reviews are rotten.
New York Daily News: "This amateurish work has the look and feel of a student film... This is a movie that's too square for some and too dull for all. The whole thing feels like a video you watch at a historical re-creation park before going to the gift shop."
Slant magazine: "The film, adapted from Cay's memoir, is impossible to take seriously as a commemoration of Moultrie's life or Allen's prolific status because of its plethora of contrivances, from the film score that's so sentimental it almost suggests an intentional satire of middlebrow historical dramas, to the cloying script that has Allen's charming little pleasantries treated by everyone who lives in the film's Mayberry-as-Savannah as uproarious quips."
Village Voice: "Annette Haywood-Carter's Hallmark Channel–ish film celebrates his rabble-rousing and fiercely independent streak with a suffocating earnestness. Drenched in dewy-eyed nostalgia, tinged with sorrow for the way changing tides made Ward an outcast, the story overflows with reverence but is drastically short on passion or suspense, and the framing device - in which an aged Christmas (Ejiofor, in awful old-man make-up) remembers his exploits with Ward to a friend (Bradley Whitford) - is as awkward and messy as the action proper is inert."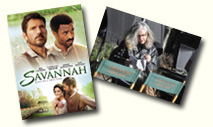 IndieWire: "Problems with the movie arise from the very first moment, where we're introduced to the rather confused structure that the movie will utilize to tell its tale. Based on the memoir, 'Ward Allen: Savannah River Market Hunter,' the first misstep is in establishing a flashback structure whereby we see a 95-year-old Christmas (Chiwetel Ejiofor in some truly awful old age make-up) relate the stories of Ward to lawyer/friend Jack Cay (Bradley Whitford), who wrote the book the movie is based on. It's not clear why this format is used other than to include the author as a character in the adaptation of his own work. But this already speaks to the level of ambition (or lack of it) that the filmmakers have in regards to the material. There doesn't seem to be any effort at all to move beyond the memoir or use it as a starting off point - the picture seems to be merely a collection of anecdotes about Ward strung together into a two hour running time. It's this episodic approach which creates a two-fold issue of 'Savannah' lacking any narrative drive and bouncing jarringly from 'My Cousin Vinny'-esque courtroom comedy to romantic drama to love letter to the traditions of the South."
Timeout: "Like Allen's bagged prey, the movie's story is limp, its romances are flightless and, despite the talented cast, its performances are toothless."
NY Post: "An aristocratic, renegade white man goes hunting with a freed slave in the Old South: It sounds like 'Django Unchained.' But in the stately, persistently uninteresting 'Savannah,' the duo shoots ducks, not racists and criminals, and Jim Caviezel, as the real-life duck hunter Ward Allen, is no Christoph Waltz. Allen swaggers up and down the river like an overgrown Huck Finn, accompanied by Christmas Moultrie (Chiwetel Ejiofor). Allen spouts ornate dialogue and refuses to abide by society's norms. But he never comes across as much more than a gasbag drunk, and his romance with a rebellious society girl (Jaimie Alexander) lacks the impact of either passion or tragedy."
NY Times: "The story becomes one of personal loss rather than epic adventure. We also don't learn much about how the bond between Allen and his black friend was formed or see it evolve. So the film's tale ends up being less rich than its lovely Georgia settings."
Variety: "Despite an effective Jim Caviezel, this anecdotal drama never rises above the level of lightly likable."
Hollywood Reporter: "Like its central character, 'Savannah' seems displaced in time, its resolutely old-fashioned storytelling style feeling woefully out of place in the modern multiplex."
August 15, 2013
Have you seen MUD yet?
A reminder that MUD is now available through Video on Demand. I highly recommend it as good old-fashioned storytelling. It's a mix of "Stand by Me" meets "Summer of 42".
Make up your mind..
The folks at Relativity Media have changed their mind once more and are now giving OUT OF THE FURNACE a wide release on December 6. The company initially planned to premiere it on October 4 and then changed it to a limited release on November 27. Sam stars alongside Christian Bale.
October release
Music Box Films Home Entertainment will release SHEPARD & DARK on DVD and VOD on October 22, 2013. It's a bit strange that none of the film's official web sites have made this announcement but you can pre-order the DVD at Amazon.com.
July 27, 2013
TIFF Premiere
The Toronto International Film Festival has released the names of the first round of films that will be heating up TIFF 2013 this September when the highly anticipated film festival takes over the town. The last five Best Picture Oscar winners have had TIFF screenings, including last year's "Argo", so it comes as no surprise that Mr. Weinstein's Oscar contender, AUGUST: OSAGE COUNTY, the John Wells' adaptation of Tracy Lett's Pulitzer and Tony-winning play, will have its world premiere in Toronto. Watch the trailer here. The film's theatrical release is set for CHRISTmas Day.
Next film?
This is not official yet but sources indicate that Sam has signed on the dotted line for an indie film called "Cold in July", based on a novel by Joe R. Landsale. Michael C. Hall ("Dexter") has been cast in the lead role of Richard Dane, a family man who shoots an intruder in his home in the dead of night. While most view the killing as a justified act of self-defense, the intruder's ex-con father, Ben Russell (Sam's role), doesn't seem to agree with the righteousness of Dane's act and sets out on a violent path to avenge his son's death. Mayhem ensues as this vengeful tale unfolds and everyone from the feds to the Dixie mafia finds their way into the plot of this exciting thriller. Jim Mickle is directing from his own script with Nick Damici.
Blu-ray release
Winner of four Academy Awards, THE RIGHT STUFF (1983) is considered by many to be Philip Kaufman's magnum opus. This big screen adaptation of Tom Wolfe's book featured a satirical account of the early days in the U.S. space program from Chuck Yeager's breaking of the sound barrier to the Mercury 7 astronauts. This complex portrayal humanized the aviation pioneers that led the country into a new frontier.
"The Right Stuff" will mark its 30th anniversary with a Blu-ray debut on November 5th. Warner Bros. Home Entertainment will release the iconic film in a premium 40-page Blu-ray book, which includes rare photos, production notes and other material. Not only did the film pick up four Oscars but Sam received an Oscar nomination for Best Actor.
July 12, 2013
Exploring a writer's mind
The San Antonio Express-News featured these photos, which are part of the exhibit, "The Writer's Road: Selections from the Sam Shepard Papers" in the Wittliff Collections at the Alkek Library at Texas State University in San Marcos. The two photos of Sam were taken by Bill Wittliff, the first one in 1992 and the second one twenty years later. The middle photo shows an exhibit case devoted to "Buried Child", his 1979 Pulitzer Prize-winning drama. The display will continue through February 14, 2014.

After striking up a friendship with Bill Wittliff, the founder of the university's Southwestern Writers Collection, while working on the movie, "Raggedy Man", Sam began making donations of his "stuff" beginning in 1992. According to exhibit co-curator Chad Hammett, most of the material Sam has sent, which includes drafts, director's notes and letters, is handwritten. He has never used a computer. Instead, he either works in longhand or on a typewriter. He scrawls notes in margins; he slashes through words or sentences, scribbling new text onto every bit of white space on the page. An early draft of an essay displayed near the rear of the gallery is nearly illegible. The case also shows successive drafts of the piece, each a little tidier as he got closer to what he wanted to convey. The drafts in each gallery case give a clear sense of a writer wrestling with words and ideas.
The drafts in the exhibit, not to mention his prolific output, which includes more than 40 plays and plenty of screenplays - show his devotion to his craft. Some of his letters reveal him to be a bit of a reluctant writer. In a 1995 note to close friend Johnny Dark, Sam wrote a list that included his favorite thing to do, which was "stroll through the pasture with cows and calves" and his second favorite thing to do was "chain saw oak firewood". [Yikes!]

Below the list, he wrote: "Sometimes, lists are better than writing - more fun - but then they get boring - so does writing. I would like to be burning up with writing, but I'm not. Other things are more fun."

Another letter suggests a cranky view of life on a film set, too. Written while he was working on "Country," it includes a reference to him holing up "like a woodchuck" in his trailer.

"Is it really necessary to make this much fuss and waste just to make a movie that's only going to disappear in time anyhow?," he writes, adding later, "Still it ain't a bad way to make a lot of $ in a relatively short time."
The exhibit also touches on his relevance on a global level. Posters from international productions of his plays are displayed, including posters advertising French and Turkish stagings of "True West." Each features distinctly American iconography: A rocket bursting through an American flag for the French show, a cowboy hat resting atop the barest hint of a cowboy's face for the Turkish one.
In conjunction with the 40-year correspondence between Sam and Johnny Dark, the film "Shepard & Dark" was shot and in October the University of Texas Press is slated to publish the book, "Two Prospectors: The Letters of Sam Shepard and Johnny Dark", as part of the Southwestern Writers Collection. Hammett, who has edited the book, says, "If we've done it right, it should read like a novel. Working on the project was an incredible experience. Shepard is probably my favorite writer. I've read pretty much everything he's published. And to have your idol's phone number..."
First photos from "Out of the Furnace"
Relativity Media just unleashed some promotional material for their fall flick, OUT OF THE FURNACE. We finally have some first images from the film, as seen in the official trailer. Christian Bale has traded in his batman cape for a rifle and plays a down-on-his-luck steel mill worker in this gritty tale. Directed by Crazy Heart's Scott Cooper and shot on location in the depressed former steel town of Braddock, Pennsylvania, the films aims to capture some of the blue-collar grit of the film that earned Bale his Oscar - "The Fighter", but with its own rough and tumble criminal twist.
West Virginia Festival
So far I've come across two unfavorable reviews of HEARTLESS, one of several plays now being staged at the Contemporary American Theater Festival in Shepherdstown, WV. They speak of hooey and are similar to the many reviews that surfaced after the play's premiere in NYC last summer. The first one is by Jayne Blanchard. She writes:
Heartless, in many ways, is vintage Sam Shepard - a surreal, cubist kind of family drama with enigmatic characters, nods to iconic imagery and dialogue studded with non sequiturs that take the play into the realm of black comedy. It shows that even though Mr. Shepard is close to 70, he is still absorbed by the bitterness and hopelessness of life and by characters more prickly than a dog on a hot porch. He's still pondering a uniquely American loneliness as hard as a blank stare and people wrapped in isolation even when sharing a room or a bed.

The hallmarks of Mr. Shepard's work are all present and accounted for: the atonal riffing on various metaphysical unknowns, the deadpan absurdist touches, the ruminations on the infernal mystery of women and the coyote howl of lost youth and waning faculties...

This is the sort of play where someone steps outside for some fresh air and remarks "I'd like to gaze into the abyss awhile," where a character goes for a run and returns with bloody feet, which she ritualistically cleans on the terrace without a single word of explanation, or women burst into snippets of modern opera usually favored by director Peter Sellars. You don't know who is dead or alive, since people jump off steep roofs and saunter onstage a few minutes later miraculously unharmed and apparently everyone has the ability to chin-wag with the departed.

Ed Herendeen, to his credit, does not even try to corral this assemblage of determined weirdness - even though it does give the sense that the actors are just out there flailing around all by their lonesome and trying to make sense of it all. He just lets the action unfold in a series of spare parts that never quite come together. Not that it matters in Mr. Shepard's rangy, surreal landscape of losers and the lost.

For a play ostensibly about the heart, you are not exactly left at the end reeling with emotion. There is too much of the brain in Heartless, and another organ as well, since you get the distinct feeling that ultimately, Mr. Shepard is wanking with the audience and laughing his butt off in the wings.
The second review is by Christopher Bransome:
It was not too long into the play that I had to acknowledge that the majority of the people on the stage were very likely mad. Trying then, to understand within the normal structures of thought seemed fruitless, but rather than reject the story outright as fiction or nonsense, I began to follow textures of the madness amid rhythms that a normal family might make.

Clearly, there is pain, including some typical family-style conversations about pain. There is fear, jealousy, blame. There is the explosive, near fatal-sounding boom boom boom boom boom of a heartbeat. I began to question which of the flesh and blood characters on the stage were real and which were inventions, and of whom? I'm not sure it was that important to know these things.

Shepard talks about his inspiration for "Heartless" in an interview with the literary director for Signature Theatre in New York City, where the play premiered last year. He describes having been in such a house in the hills overlooking Los Angeles, thus, "You feel like you're not exactly of the city. You're outside it." 'Heartless' is not simple, and one is likely to feel not exactly of the play.
New additions
You can find new photos in the black & white gallery.
July 4, 2013
Coming soon
The DVD of MUD goes on sale on August 6th. That was quick! Sure to become "a newly minted American classic" (The Wall Street Journal), MUD arrives on Blu-ray Disc, DVD, and Video on Demand and Pay-Per-View August 6 from Lionsgate Home Entertainment.
Back in the saddle
Hall of Fame jockeys Pat Day and Chris McCarron are among those scheduled to participate in the inaugural "Battle in the Saddle Celebrity Team Penning Event" at the Kentucky Horse Park's Covered Arena on Sunday, July 14. The event will pair two amateur riders with a celebrity guest rider to compete to see who has the skills and bravery to pen a group of cattle in the quickest time. All proceeds from the benefit will support the Kentucky Horse Park Foundation, a non-profit 501(c)3 organization dedicated to enhancing, expanding, and improving the Kentucky Horse Park.

Celebrities scheduled to participate include:
—Sam Shepard, playwright, actor, director, and Thoroughbred breeder.
New photos
In 2007 New York's Juilliard School conferred honorary doctorates to seven distinguished artists and cultural leaders during their 102nd commencement ceremony on May 25, 2007. Sam was one of the recipients and I'm posting some photos from that event.
Authors praising authors
Little, Brown and Company must be pleased that Sam Shepard has given some advance praise for their upcoming book, "The Maid's Version", written by Daniel Woodrell, author of "Winter's Bone". Woodrell's publicist shared Sam's comments last week and I assume we'll see them on the jacket when the book goes on sale on September 3. The novel is based on a true story of a 1928 explosion in an Ozarks dance hall.
"'The Maid's Version' is stunning. Daniel Woodrell writes flowing, cataclysmic prose with the irresistable aura of fate about it."