December 28, 2009
Heads up!
On Wednesday evening, PBS will be showcasing the documentary, "Patti Smith: Dream of Life". December 30th happens to be Patti's 63rd birthday as well. Of interest to Sam Shepard fans is the fact that a segment of the film shows Sam dropping by her apartment for a tranquil jam session. These long-time pals will also be appearing together in a 92Y literary event in NYC on January 21st as they read from their respective new books.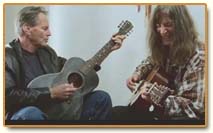 Just recently I watched "Black White + Gray" highlighting the lives of art curator Sam Wagstaff and photographer Robert Mapplethorpe, who were close friends of Patti's. She was interviewed throughout the film and I was struck by how articulate she was, so I'm definitely looking forward to viewing this documentary. The synopsis reads: Shot over 11 years by renowned fashion photographer Steven Sebring, Patti Smith: Dream of Life is an intimate portrait of the legendary rocker, poet and artist. Following Smith's personal reflections over a decade, the film explores her many art forms and the friends and poets who inspired her — William Burroughs, Allen Ginsberg, Bob Dylan, Robert Mapplethorpe and Michael Stipe. She emerges as a crucial, contemporary link between the Beats, punks and today's music. Shot in lush, dark tones, featuring rare performance clips and narrated by the artist herself, Patti Smith: Dream of Life is an impressionistic journal of a multi-faceted artist that underscores her unique place in American culture.
December 22, 2009
Spotlight on Shepard

Journalist James Wolcott describes Sam's new collection of stories as "Short but Shepard" in Vanity Fair's January issue. Wolcott writes, "For a laconic splinter whose platinum presence suggests a merger of Samuel Beckett and Gary Cooper (those two craggy minimalists of parched utterance), Sam Shepard has sure slung a lot of words around in his long, unruly career. From the resonant cavity of his literary voice has come a locust army: more than 45 plays (among them True West, Curse of the Starving Class, and The Tooth of Crime), numerous screenplays (including Paris, Texas), and a pair of nonfiction entries (one of them a diary of Bob Dylan's Rolling Thunder tour, that runny-clown-paint masquerade), and none of them pecked out on a dinky netbook neither, but on a manly typewriter. Now the latest addition to the Shepard library - DAY OUT OF DAYS, which the publisher (Knopf) calls 'a new collection of short fiction,' and they do mean short. Some of the chapters are only a page long; others consist of a single tombstone paragraph. But the cumulative effect is expansive, panoramic. Like Bob Dylan, Shepard is a geographer of the rawboned surrealism of America's shadow interior, story after story bearing the name of a town or highway, our national portrait dabbed with a thousand points of darkness." The photograph above of Sam with his Hermes typewriter in NYC, was taken by Bruce Weber, no stranger to placing his camera lens on Sam. The book will be available for purchase on January 12.
December 19, 2009
A film classic becomes available on Blu-Ray
Terrence Malick's 1978 film is coming to Blu-ray in March. The Criterion Collection has announced that it will release DAYS OF HEAVEN on Blu-ray on March 23, 2010. This release will feature a new, restored high-definition digital transfer, supervised and approved by director Terrence Malick, editor Billy Weber, and camera operator John Bailey. Special features will include: Audio commentary featuring Weber, art director Jack Fisk, costume designer Patricia Norris, and casting director Dianne Crittenden, new video interviews with cinematographers Haskell Wexler and John Bailey, and a booklet featuring essays by critic Adrian Martin and director of photography Nestor Almendros.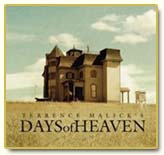 This classic, infused with melancholy and mesmerizing beauty, continues to be among my favorites over the past thirty years. Every time I hear the music, "Carnival of the Animals", I am immediately intoxicated and transported to those golden wheat fields and Farmer Sam's austere Victorian home dominating the prairie. What a film!
Another publicty photo
I came across this sweet photo from BROTHERS showing Sam as the Cahill patriarch reading to his granddaughters. According to several reviews, young actresses Bailee Madison and Taylor Geare are definitely scene stealers! By the way, congrats to Tobey Maguire for his Golden Globe nomination for Best Actor.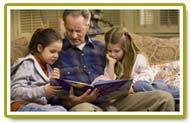 December 3, 2009
Praise for BROTHERS!

On the eve of the US theatrical release of BROTHERS, the reviews are trickling in and it gives me great pleasure to learn that Jim Sheridan's latest film is receiving a positive response from film critics, who also have kind words for Sam's performance. Bill Goodykoontz from the Arizona Republic describes the film as "a powerful statement on loyalty, love and the cost of war" while film critic James Berardinelli describes it as "the most successful remake of a foreign film since Martin Scorsese reworked 'Infernal Affairs' into 'The Departed' and won the Oscar... Excellent support is provided by Sam Shepard as the military Dad whose past has laid the seeds for the present."
Roger Ebert writes, "Sheridan and his screenplay sources make 'Brothers' much more than a drama about war and marriage. It is about what we can forgive ourselves for — and that, too, has been a theme running through Sheridan's films... The principal actors, with Shepard's well-timed and not overacted appearances, make this a specific story about particular people, and it avoids temptations toward melodrama."
Also from Chicago is the Tribune's Michael Phillips - "The film is gripping - an honorable and beautifully acted addition to the tradition of homefront war stories... Sam Shepard, at his intuitive and subtle finest, plays their taciturn father, a retired Marine himself. Typical of the small moments in 'Brothers' that make it special: In the cramped kitchen, when Tommy sees his father for the first time in a long while, the muttered words between them speak volumes, quietly." David Edelstein of the New York Magazine says Sam has never been better.Stephanie Zacharek of Salon writes, "When Shepard and Gyllenhaal appear in a scene together, the air around them is charged - it's as if the searching, vulnerable quality in Tommy's eyes registers as a taunt in the manly-man world of his father." This is a must-see this weekend!
Among all the reviews I've read, I believe the most interesting comments come from Jonathan Kiefer of The Fast Times:
With Sam Shepard in its cast, we're not wrong to hope for something more poetic and philosophical... I mentioned Shepard not just because he's written great plays involving manly, ghostly, family drama, but because his presence is what's best about "Brothers." Yes, Gyllenhaal has some nice moments of drunken desperation and amends-making; and Maguire acts his heart out, or at least bugs his eyes out, during imperative breakdown scenes; and Portman sharpens the blade of her beauty into recognizable signifiers of maternal inclination and grief; but Shepard's portrayal of the young men's father, a favorite-playing combat-veteran Marine himself, is the movie's anchor. He's the faded patriarch, at once burrowed into old grudges and woundedly aloof, and this marvelously coiled-up performance precludes all the potential cliches. Mare Winningham, underused, plays the brothers' mother, but it's in Shepard's face and testy manner that the full family backstory is revealed.
November 23, 2009
"Ages of the Moon" & "Brothers"

As previously posted back in June, following a sell-out run in the Peacock Theatre earlier this year, AGES OF THE MOON returned with 16 performances from November 13-28. Both Stephen Rea and Seán McGinley reprised their original roles. The play will be staged once again for an American premiere with the duo starring in an off Broadway venue at the Linda Gross Theater.

A press conference for BROTHERS was held in NYC last Saturday with Sheridan, Maguire, Portman and Gyllenhaal in attendance. The photo to the left shows Jim Sheridan directing Maguire and Gyllenhaal in a kitchen scene. Mike Goodridge of Screen Daily heaped some praise on the film with his review - "'Brothers' is that rare animal, a US remake of a fine foreign language film which works on both a creative and thematic level in its conversion to an American setting. Susanne Bier's explosive 2004 film is effectively re-imagined by writer David Benioff and director Jim Sheridan, and their 'Brothers' is tight, tense and emotional, addressing the issue of soldiers returning from the war in Afghanistan in the context of an expertly told melodrama... Sheridan has always had a knack for drawing exceptional performances from actors and he continues to do so in 'Brothers'."
Sam discusses BROTHERS

As part of the promotional campaign for the film, Sam, dressed in black and dark sunglasses (what's that about?) offered a rare interview. The filmmakers just released a total of 24 videos, which include interviews with director Jim Sheridan, cast members Jake Gyllenhaal, Tobey Maguire, Natalie Portman, Bailee Madison, Mare Winningham, Sam Shepard, and Taylor Geare as well as screenwriter David Benioff, production designer Tony Fanning, and cinematographer Frederick Elmes. You can view Sam's interview by clicking on the above photo. I have taken the time to transcribe the video for archive purposes.
On why he chose to work on this film:
It was all around wanting to work with a director like that. The script in itself was very interesting and powerful. It was mainly Jim who was the inspiration for me wanting to do it.

On the movie:
I think it's very classic in its orientation. It's very biblical but an interesting thing is that Jim approaches it in such a deeply personal way that given the circumstances of the story, he makes it extraordinarily personal. And you're never quite sure where he's digging this stuff up but you know it's from experience which is very interesting. He always seems so perplexed about it. He's in a dilemma all the time which is great. I mean he's in the right kind of dilemma, questioning the essence of the story. Where the human factor is.

On the atmosphere the director creates:
I don't know if you're always comfortable. Sometimes you're very uncomfortable but you're inspired because of his dilemma. You almost feel like you have to take care of him (laughing). It's an interesting situation. I never quite felt like that with any other director... He's walking this line between truth and falsehood. It's amazing to work with someone like that. You know That's the way I feel about writing. There's something deeply at stake in it and you don't always feel like that working in film.

On the relationship between Sam and Hank:
I grew up in a military family myself. My dad was in the Air Force and I find it bizarre... this thing... First of all, the brainwashing. That part of it is very bizarre to me. It actually conspires to take the humanity out of an individual, that you're no longer an individual. You're a fighting machine and you no longer have emotions. You no longer have feelings. And yet it's considered a brotherhood and it obviously is. These guys don't leave anybody behind. They're courageous. They have a code of ethics and yet, at the same time, there's this underside of it which is, I feel, a kind of brainwashing where the humanity is sucked out of you in order for you to become a weapon and a number. It has this incredible dichotomy to it, which is part of the dilemma these characters find themselves in.

On co-star Mare Winningham:
Oh, she's wonderful. She's my wife. She's not the actual physical mother of these boys. She's their stepmom. I don't know if it's a needless complication or not but it's kind of interesting because the boys relate to her in a slightly different way than they would if she were their natural mother, and then my relationship. It just throws a kink into the situation which makes it interesting. And Mare, of course, is such a wonderful actress. She just makes the thing happen without a lot of tags on it. She's just there.

On Jim Sheridan:
He's far more patient than I am. He has incredible patience and he's extremely good-natured. I don't think he has a mean bone in his body although he pretends sometimes to have one. As a person, he's quite different than me. I don't have that kind of patience. In fact, I have hardly any patience. (laughing). Consequently, I'm not a very good director. I do it and I force myself to have patience but I think it's either part of your character or it isn't. I think he's endowed with a lot of patience.
November 20, 2009
Upcoming TV Pilot
Our thespian has been tapped to star in TOUGH TRADE, the first original drama pilot set for the fledgling Epix feevee channel. The provocative, contemporary one-hour drama tells the story of the sprawling Tucker family, a three-generational Nashville music dynasty whose penchant for drink, debauchery and divorce has left them morally corrupt and on the verge of bankruptcy. The family with little left is pinning its hopes on its former black sheep, a budding country star turned alternative rock heart throb.
Sam will play the patriarch of the Tucker clan. Mark Greenberg, President and CEO of EPIX says, "Sam Shepard is the ideal actor to star in 'Tough Trade' and we are proud to have him be a part of EPIX's first original series." Kevin Beggs, Lionsgate's president of television programming and production, adds, "It's a tremendous coup to have Sam leading our cast. He's a brilliant multi-talented artist who will bring great authenticity to the project." Executive producer of the project is Jenji Kohan of "Weeds" with a script penned by Chris Offutt ("True Blood"). Gavin Hood is directing the pilot, slated to start production on December 3 in Nashville.
More on BLACKTHORN
I have more details on Sam's upcoming project, BLACKTHORN. Variety reports that Stephen Rea will also have a role in this reprise of the Butch Cassidy legend. This is not the first time that the paths of the two men have crossed. It's been said that Sam wrote the play, "Geography of a Horse Dreamer" with the Irish actor in mind. More recently he wrote two plays for him - "Kicking a Dead Horse", which he also dedicated to the Irish actor, and then "Ages of the Moon", which will be presented in January for an Amerian premiere in which Stephen reprises his role.
"Blackthorn" is looking at a March shoot in Alicante, Spain, and on location in Bolivia. Set around 1910, the film has Shepard as an incognito Butch Cassidy 15 years after his supposed gunning down by the Bolivian police, plotting to return to the states and retire. Eduardo Noriega plays a trigger-happy cowboy who loses Butch's life savings, pushing Butch into a final job, a mine heist. Stephen Rea plays a railroad employee, who was originally sent after Butch following a string of bank robberies and who's still keen on hunting him down.
Praise for BROTHERS
Film critic and entertainment reporter Stephen Schaefer of the Boston Herald reports that he has just seen BROTHERS. He writes, " For some reason, I had only modest expectations for this drama. First, it's an American adaptation of Suzanne Bier's extraordinary 2004 Danish original and remakes can be depressing affairs if you are even slightly familiar with the original. Yet I found the film to be extraordinarily involving with an astonishing level of performance that began with Maguire's Oscar-worthy work and continued right down to smaller roles such as Sam Shepard as the boys' troubled, semi-alcoholic military father."
Bam Cafe Event in 2010
As part of the Brooklyn Academy of Music's "Eat, Drink and be Literary" program, BAM Cafe invites contemporary authors for intimate evenings of readings, discussion as well as dinner and wine. Sam will be their guest on Thursday, June 3, 2010 at 6:30 pm.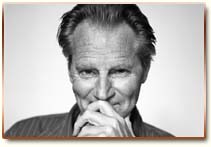 "No one knows better than Sam Shepard that the true American West is gone forever, but there may be no writer alive more gifted at reinventing it out of pure literary air."
- The New York Times
Doors will open at 6 pm and Deborah Treisman will act as the evening's moderator. BAM Cafe is located at 30 Lafayette Avenue in Brooklyn.
Sam's stories

In an effort to highlight the release of Sam's book, "Day out of Days", in January, The New Yorker has once again published another one of his stories in their November 23 issue. It's called, "Indianapolis (Highway 74)". Remember Sam will be reading some of his stories at a 92Y literary event in NYC on Thursday, January 21, 2010 at 8 pm. It will be held at the Kaufmann Concert Hall with tickets priced at $27. Patti Smith will also join Sam with readings from her memoir Just Kids.
November 11, 2009
Opening December 4th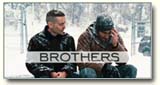 In three weeks, BROTHERS will be opening across the country. Pete Hammond of the LA Times believes the upcoming film has Oscars pedigree - Oscar nominee and Golden Globe winner Natalie Portman, Oscar nominee Jake Gyllenhaal, Oscar, Golden Globe and Emmy nominee Sam Shepard, Oscar nominee Mare Winningham as well as director Jim Sheridan whose films have earned 16 nominations. Hammond writes, "Sheridan received a tremendous ovation when he was introduced for a Q&A after a very well-received Directors Guild of America screening. I wouldn't underestimate the Academy's respect for Sheridan, and if Lionsgate can gain any traction for this tough little movie, it could surprise." (FYI, Sam's three best actor nominations were for his roles in "The Right Stuff", "Dash and Lilly" and "Ruffian")
On the opposite spectrum, there's a review in the recent issue of Film Comment, written by Laura Kern, who thinks fans of Susanne Bier's 2004 film should steer clear of this remake. Though she faults Natalie Portman's performance when compared to Connie Nielsen's in the original film, she does think Jake Gyllenhaal gives a "respectable performance" and says the appearance of Sam Shepard and Carey Mulligan add some clout, "but not nearly enough." We shall see...
I came across this interesting tidbit from the film's director. While stage actors adhere to a playwright's words, movie actors, more committed to the action portrayed, often change dialogue. For a dinner scene in the film, Jim Sheridan remembers actors Jake Gyllenhaal, Natalie Portman and Tobey Maguire talking about who would say what: "We were having a grand old time rewriting the script, when in walked Sam Shepard, who was playing the father but who, of course, is a great playwright. And Sam said, 'Isn't this a fantastic scene?' Immediately, we shut up and performed David Benioff's scene just as he wrote it."
That crooked-tooth grin
In an interview with Eva Marie Saint, the veteran actress commented on playing Sam's mother on screen- "Oh yes, I loved playing that lady in 'Don't Come Knocking'. I met Sam and Wim and he said, 'Well do you want to do this?' And I said, Sam Shepard, I'm so happy but I don't feel like your mother!' She continues, ""Who doesn't think Sam's sexy? Not only women, but men too - like my husband. I think it's partly because there's this shyness about him. I also really like that crooked smile he has. I told him, 'Don't go to the dentist and have them fix that crooked tooth.' He said, 'What tooth?' I said, 'Aw come on Sam, that sexy, crazy, crooked tooth.' We women recognize it! It's the imperfection of his teeth that makes him sexy. He's not out of a mould; he's not perfect. He doesn't have the white, perfect teeth and he's offbeat a little bit, and that's always attractive." Well, to the disappointment of Ms. Saint but perhaps the delight of others, I believe that tooth has now been fixed due to an incident with a horse.
Ms. Saint's comments reminded me of what EW film critic Owen Gleiberman mentioned in his review of that film - "Sam Shepard, with his snaggle-toothed rawhide glamour, is just about the only actor of his generation who can still wear a cowboy hat that looks as though it utterly belongs on his grizzled head."
November 2, 2009
Behind and in front of the camera lens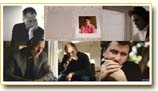 We have photograph books by celebrities and then we have photograph books of celebrities. Five years ago today, Steidl/Matthew Marks Gallery published a book by British photographer Sam Taylor-Wood called "Men Crying". (The name is misleading as the photographer is actually a woman and what man would want to photograph a bunch of men crying!) The 56-page coffee table book in limited edition of 2500 copies presents 28 photographs of well-known actors – including our very own Sam, Tim Roth, Ed Harris, Jude Law, Benicio Del Toro, Laurence Fishburne and Sean Penn – in various states of emotional break down. In 2004 Taylor-Wood arranged with these actors' agents for them to participate in a photographic project - but the actors were unaware of the subject's theme. When each actor arrived for the photo shoot, they were simply asked to cry.

Taylor-Wood says, "People can decide for themselves which they think are the authentic tears and which they think are fake. It's about the idea of taking these big, masculine men and showing a different side." Hey, these are accomplished actors so there's no authenticity here! However, what makes this collection fascinating is that it is a photographic re-enactment of the "screen test" where the role calls for conveying weakness without undermining the actor's perceived masculine mage. This series had several exhibitions and the book is now considered highly collectible, similar to Bruce Weber's photographs of Sam. If it were put to a vote, I would definitely choose Daniel Craig who makes crying look dead sexy. As for Sam, I would say he's in pensive mode, but seriously worried. Of course, the buzz he's sporting is disappointing (perhaps done for the play "A Number" that same year) because his classic looks are enhanced with his hair combed back. Personally I do believe Sam belongs to a unique group of film actors who have the ability to successfully exhibit deep sorrow on screen. Let me point you to two films that quickly come to mind - "Voyager" and "The Only Thrill".
October 24, 2009
Back in the saddle
According to Screen Daily, Sam and Spanish star Eduardo Noriega will head the cast of Mateo Gil's new project BLACKTHORN, a western set to shoot in Bolivia next year. Sam will play James Blackthorn (alias Butch Cassidy) who raises horses in Bolivia but is dying and wants to return to the US. However, along the way he crosses paths with a young Spanish mining engineer (Noreiga) accused of robbing a mine, and the two slowly strike up a friendship. The photo below is being used in the media announcement, but it's actually from his "Jesse James" film.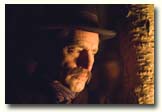 Director Gil says,"One of the things I like most about westerns is that it's a truly moral genre. The characters face life and death, and other very important matters (freedom, commitment, loyalty, courage, treacher, justice, friendship… and even love) in very pure and simple terms. The decisions they make are not only very dramatic, but set examples. What more can you ask from a film?"

The film will be produced by Spanish outfits Aiete-Arianne Films and Arcadia Motion Pictures alongside Taiwanese company Zeus Films. Spanish broadcaster TVE has pre-bought the TV rights for Spain. Originally Nick Nolte was intended to take the leading role.
Book preview
As reported last summer, Sam has amassed a collection of short stories, which will be published in a book called "Day out of Days" and will be available for purchase on January 12th. Three publications - The New Yorker, Zoetrope and The Paris Review - have recently premiered some of these stories, and if you wish, you can peruse some of them at the above book link.
Kerouac Film

With the 40th anniversary of Jack Kerouac's death, on October 20th a new documentary was released on DVD called "One Fast Move or I'm Gone: Kerouac's Big Sur." Presented by F-Stop/Atlantic Records, the film is a journey through the places and soul searching that inspired Kerouac's 1962 novel, "Big Sur." Among the folks who help piece together this trip are Sam, Patti Smith, Tom Waits, John Ventimiglia, Lawrence Ferlinghette and Aram Saroyan. Kerouac was one of Sam's early idols. The producers filmed him in New York City one afternoon for a series of readings from "Big Sur" as well as excerpts from Kerouac's poem called "Sea".
September 24, 2009
Premiere date announced

Director Jim Sheridan's film, BROTHERS, will premiere on December 4th. Sam joins an outstanding cast that includes Jake Gyllenhaal, Natalie Portman and Tobey Maguire. The film is a remake of the award-winning 2004 Danish film by Susanna Bier that won several international awards both for the film itself and performances from Connie Nielsen and Ulrich Thomsen. "Brothers" tells the powerful story of two siblings, thirtysomething Captain Sam Cahill (Maguire) and younger brother Tommy Cahill (Gyllenhaal), who are polar opposites. A Marine about to embark on his fourth tour of duty, Sam is a steadfast family man married to his high school sweetheart, the aptly named Grace (Portman), with whom he has two young daughters. Tommy, his charismatic younger brother, is a drifter just out of jail who's always gotten by on wit and charm. The boys' father is a retired Marine named Hank Cahill, played by Sam, with Mare Winningham in the role of their mother, Elsie.
September 1, 2009
Dream of Life
I recently came across a movie clip from the documentary, "Patti Smith: Dream of Life" which features Sam having a jam session with the punkpoet. You can view it by clicking on the photo below: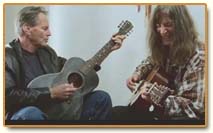 Director Steven Sebring chronicled Smith's life on film from 1996 to 2007 through life performances, lyrics, visual art and interviews. After screening at various film festivals last year, it was released on DVD in January. Film critic Elizabeth Bachner writes "Part of Patti Smith's mystique has always been that she's elusive and hard to pin down." That could be said of Sam as well so perhaps it's no surprise the duo became fast friends many moons ago.
DVD Release

The Accidental Husband was to be a spring 2008 release, then summer, fall, spring 2009, and now it finally makes its way to a DVD store near you on November 10th. The movie features a steady stream of shenanigans when a jilted firefighter (Jeffrey Dean Morgan) seeks revenge on relationship expert and talk show host, Dr. Emma Lloyd (Uma Thurman), who advises his fiancée to leave him at the altar. Directed by Griffin Dunne and produced by Thurman, the cast also includes Colin Firth, Isabella Rossellina, Justina Machado and Sam as Uma's father. The film had both a theatrical and DVD release in the UK.
August 17, 2009
Smith & Shepard

Sam Shepard and Patti Smith have been close friends since the early 1970s, when they co-wrote and co-starred in the play "Cowboy Mouth". Upon the publication of their new books - Sam's "Day Out of Days" and Smith's memoir "Just Kids" - they will read together at the Poetry Center for the first time. This event, sponsored by the 92Y Center in NYC, will take place on Thursday, January 21, 2010 at 8:00 pm at the Kaufmann Concert Hall. Living only two hours from the Big Apple, I would have definitely planned to attend this reading but alas, I will be in a much warmer climate next winter. Shucks....
August 12, 2009
Sam, the writer
Five months from today Sam's third book, "Day out of Days" will be published! Yes, exciting news! Knopf Doubleday Publishing has released this description:
From one of our most acclaimed and inimitable writers: a collection of tales set mainly in the fertile imaginative landscape of the West, written with the terse lyricism, cinematic detail, and wry humor that have become Sam Shepard's trademarks.

A man traveling down Highway 90 West gets trapped alone overnight inside a Cracker Barrel restaurant, where he is tormented by an endless loop of Shania Twain songs on the overhead sound system . . . A wandering actor returns to his hometown against his better instincts and runs into an old friend, who recounts their teenage days of stealing cars, buying Benzedrine, and sleeping with whores in Tijuana . . . A Minnesota family travels south for a winter vacation but, being caught up in the ordinary tyrannies of family life, remains oblivious to the beauty of the Yucatán peninsula . . . A solitary horse rancher muses on Sitting Bull and Beckett amid the stuff that inhabits his kitchen . . .

These are tales at once magisterial and spare, elegant and violent, personal and all-encompassing. Comprised of narratives, lyrics, and dialogues, Day out of Days is a work of stunning vision and clarity imbued with the vivid reverberations of myth—Shepard at his flinty-eyed, unwavering best.
The 304-page book will be released on January 12, 2010.
"Ages" Reprisal
Atlantic Theater Company has just announced that Stephen Rea and Sean McGinley will reprise their starring roles in the American premiere of The Abbey Theatre's production of AGES OF THE MOON. The play will begin previews Tuesday, January 12; open Wednesday, January 27; and play a limited engagement through Sunday, March 7, 2010. It will be staged Off-Broadway at Atlantic's main stage, The Linda Gross Theater at 336 West 20 Street, NYC. The acclaimed world premiere was held in Dublin last winter.
Previous News:
January - June 2009
July - December 2008
January - June 2008
July-December 2007
January-June 2007
November 2005 - December 2006