NEWS: July-December 2020

December 20, 2020
I recently came upon this excerpt from David Yaffe's 2017 book on Joni Mitchell titled "Reckless Daughter". As many of you know, Sam hooked up with Joni when they were both on Bob Dylan's Rolling Thunder Revue in 1975.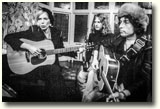 This is what Joni said about her relationship with Sam:
"Sam and I had a flirtation. He got scared of me. What panicked him was we were sitting in a bar and we were talking and all of a sudden he said, 'You're really smart.' Often when people would say that, they would lean away from me like I had a disease… And then we talked a little bit more, and I was saying things and he'd go, 'How do you know that?' It was like we were twins. The stars were really funny. He was born November 5 and I was born November 7. I was born under a really powerful sky, and I think he was too. He's multi-expressive. He's a playwright and a singer and an actor and he's good at all of them. What I think was happening was that I was forming sentences like he would've. Everything was creating an aversion. But for me, on coke, I found him very attractive. He reminded me of the people where I come from, from the region that I come from."

* * * * *
Chuck Yeager, a WW II fighter ace who was the first to travel faster than sound, died earlier this month on December 7. His test pilot exploits were told in Tom Wolfe's book "The Right Stuff", which was made into the 1983 blockbuster film, directed by Philip Kaufman. Sam received an Oscar nomination for Best Supporting Actor for his portrayal of Yeager. The famous pilot advised Sam on his role and even had a cameo in the film. Yeager said with a deep-voiced West Virginia twang, "Sam Shepard was a neat guy. He hunts, fishes, drives a pickup truck and shacks up with Jessica Lange. What more could you want out of life?"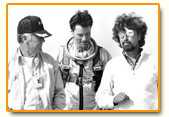 * * * * *
Here are some new additions to the photo shoot that took place in NYC on September 29, 2011 when Sam was promoting his film "Blackthorn". The last photo shows him with his friend, producer Heather Rae.
In journalist Marshall Fine's critique of "Blackthorn", he wrote that the film could serve as a terrific valedictory performance for Sam, and indeed it does. It was the last film in which he was cast in the lead role, which garnered rave reviews. If you haven't seen it yet, it's available to rent online. Sam is awesome! The second photo below shows Sam with director Mateo Gil and his two co-stars.
Eric Hynes of Time Out New York wrote, "Wrinkled, leathery and densely carpeted in a salt-and-pepper beard, the 67-year-old playwright and actor still exudes intellectual mischief and hard-stare sex appeal; his self-styled ruggedness is a perfect match for an infamous gringo living incognito. It's his best screen work since 'The Right Stuff'."
November 1, 2020
The film adaptation of Cormac McCarthy's bestselling Western novel, ALL THE PRETTY HORSES, premiered in 2000. Directed by Billy Bob Thornton, the film starred Matt Damon, Penelope Cruz, Henry Thomas, Lucas Black, Bruce Dern and Sam in a very small role. The book was published eight years earlier and won both the U.S. National Book Award and the National Book Critics Circle Award. The movie version did not fare so well only receiving a 32% rating on the Tomatometer. It was released on Christmas Day 2000 to mostly negative reviews and grossed $18 million worldwide against a $57 million budget.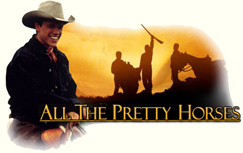 Set in 1949, "Horses" is about two friends who take off from their Texas ranch and head for the vast spaces of Mexico. There, they find charms, dangers, romance, treachery, jail and their own rich rites of passage to maturity.
This is the only photo of Sam in the role of J.C. Franklin, the Grady family lawyer who gives John Grady Cole the bad news about his disinheritance. Thornton remarked, "Sam is such a big admirer of Cormac McCarthy that he told me he'd be willing to do any role at all in the film. He wasn't concerned about the size of the part. He only has one scene, but he was incredibly excited about playing it."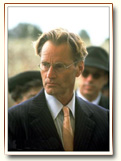 David Krakauer of the Santa Fe Institute wrote the following about this pair of prolific writers - "Sam's office was in the Institute library where we could hear him typing out essays and plays on his Olympia SM9. When Cormac McCarthy and Sam worked in adjoining rooms of the library, the Institute resounded like a nineteenth-century steel mill — deafening hammering of dueling Olivettis and Olympias."

In the photo above, David sits between Sam and Cormac.
Sam often took on bit parts and hopefully he was paid well. Another film that flopped at the box office a year later was the techno-action thriller SWORDFISH, starring John Travolta, Halle Berry, Hugh Jackman, Don Cheadle and Vinnie Jones.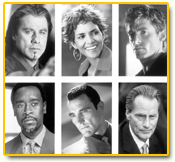 I especially liked this review by Paul Clinton of CNN:
Here are some things you probably know about "Swordfish": It features some wildly exciting action sequences. John Travolta is not wearing dreadlocks or platform boots. Yes, Halle Berry goes topless - and so does Hugh Jackman. There's a nice twist at the end of the film.

And here are some things that you probably should know: "Swordfish" is idiotic. Travolta is sporting the same haircut he wore in "Pulp Fiction" (1994). He's also playing the same standard-issue bad guy he played in two films directed by John Woo, "Face/Off" (1997) and "Broken Arrow" (1996). And by the time this train wreck of a film is over, you don't care about the twist at the end.
I never saw it because I refuse to see any film with John Travolta with the exception of "Saturday Night Fever". I never watch films starring Hugh Jackman either. And Halle Berry and Don Cheadle didn't add any excitement so I definitely skipped this film. And who wants to see Sam killed! The scene I'm referring to was shot near Bend, Oregon at the Ranch of the Canyons. It's an aerial sequence in which a jet-black helicopter flies over Sam as he is fishing in the river. Evidently, the scene took several days to complete with the crew spending most of their time wading back and forth across the swift-running river. Sam was an ardent fly-fisherman and it must have been a perk for him to get paid for fishing and also have the chance to catch several trout between takes.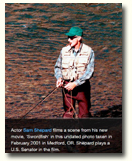 October 28, 2020
It's been over three years since Sam left us and long-time partner actress Jessica Lange still has not shared any remembrances of their life together, but almost 30 years ago, she did share some intimate details about their relationship in a Vanity Fair interview. Here are some excerpts:

When we started, it was never with the intention that we were going to run off, live together, have a family, do all these…regular things. It was just this unbelievably passionate love affair. But then we just couldn't give it up.

I'd seen Sam in Resurrection and there was something about him that struck such a familiar chord, probably because I'd spent the last fifteen years with foreigners. I'd lived with a Spaniard, then this Russian, and there was something about Sam…his long legs…I immediately felt I knew something about him, that wildness, that typically American wildness, a no-restraints outlaw quality.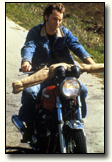 Sam and I were so much in love, so wild about each other and being together. We were absolutely inseparable. We couldn't even go to the grocery store without each other.

I've been with a lot of men and I've known a lot of men. And you know I've had romances with what you'd call famous men, and none compare to Sam in terms of maleness.

The worst part about life with Sam is the separations. He's not the kind of man who's going to follow a woman around. He'll come see us [she always takes the children], but he's not going to pack his bags, sit on my locations for three months, and twiddle with the kids….Sam would've been happy if I never made another movie, if we could've lived together in the wild, idyllic manner we had in the beginning. But I kept wanting to act. Those separations became sources of real, um, difficulty for us.

I was pregnant for three years. Sam's one of those men who loves you when you're pregnant–just thinks you look more beautiful than ever before, loves the big belly. It was great, except I get real dark sometimes when I'm pregnant. My mood swings are extreme anyhow, but when I'm pregnant, I could be like Medea any moment, I'm so hard to live with. Sam says he went through it twice, he doesn't want to live through it again.
It's obvious that the pair each harbored their own demons. Jessica often spoke about her mood swings so perhaps she suffered from a bi-polar disorder and, of course, Sam continually battled alcoholism.
These were the last photos of the pair caught by a bystander near Duluth, Minnesota, on July 27, 2015, exactly two years before his death on July 27, 2017. You can see how frail Sam looks.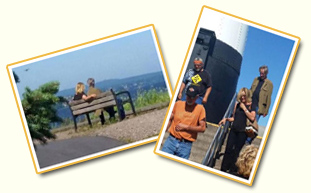 October 18, 2020
In 1976 director Robert Woodruff asked Sam if he had any unproduced plays that could be premiered as part of the inaugural Bay Area Playwrights Festival. Sam gave him THE SAD LAMENT OF PECOS BILL ON THE EVE OF KILLING HIS WIFE, an operetta, which he created with composer Katherine Stone. [Yeah, that's quite a title!] The play premiered on October 22, 1976, but Sam never saw that production because at the time he was up in Canada shooting "Days of Heaven".
The second production was presented in NYC by La Mama in a double bill with SUPERSTITIONS in September 1983. And in April 1984 the double bill premiered at the Magic Theatre in San Francisco.
Another 'Pecos Bill' production was presented by New York's Signature Theater Company at the Joseph Papp Public Theater in the winter of 1997.
"Superstitions" originally premiered on July 1, 1981 at the Intersection Theatre in San Francisco. The advertisement below comes from the Berkeley Archives. Note that it reads, "Improvisational jazz theater piece based on the poetic vignettes of Texas-grown writer Walker Hayes."

In this instance, Sam used the pseudonym "Walker Hayes" though I don't understand why he's referred to as a "Texas-grown writer".
Sam's wife O-lan appeared in the 1983 La Mama double-bill production as well as in the 1981 Intersection Theatre production of "Superstitions". Here she is in 'Pecos Bill' with actor Mark Petrakis.
October 16, 2020
Published in 1973 by Black Sparrow Press, HAWK MOON was Sam's first book, which contained short stories, poems and monologues. The book runs just under 100 pages, and includes around 50 individual pieces and are a much darker collection of writings than "Motel Chronicles". I especially was attracted to this photo of Sam with his youthful smirky grin, so different from his future intellectual portraits.

Cultural critic and essayist Mark Dery writes, "No doubt, 'Hawk Moon' is early, immature Shepard, half-baked in spots, overegged in others. The London Review dismissed the book as 'scrappy and inconsequential,' rolling a derisory eye at its 'breathless, unpunctuated prose-poems and cute little seven or eight-liners in free verse in the style of Richard Brautigan.' Yet the reviewer conceded that the best of the fleetingly brief stories—flash fiction decades before the term was coined—'are sharp, macabre histories of urban fear and violence' that are very much of their moment - the mechanized world of motor-car, radio culture, rootlessness and nuclear threat. Yet, you can still see the mythical world of the Frontier, the Wild West, the prairies receding in the rear-view mirror."
October 10, 2020
Back in August Ada Pirvu wrote a unique article called "The Armani Aesthetic and Film Costume Appropriation: Sam Shepard in 'Voyager'. Ada is the author of Classiq, an online journal that celebrates cinema, style, culture and storytelling. She also contributes to the film magazine, The Big Picture.
Giorgio Armani has had a long relationship with the movie world and has worked on many films. He knows that clothes enhance the cinematic experience so he was hired to be the costumer designer for Sam's character - the engineer Walter Faber in "Voyager". Ada writes that when she first saw Sam in his tank top, vest, suspenders and Trilby hat, the image instantly reminded her of Armani's 1980s and 1990s campaigns. Ada goes on to say, "It was not just the clothes that brought Armani's campaign imagery to mind, but the feel of the shot, and Sam Shepard's body language, and the gaze on his face. It is a detached look."
Do you remember that hat? He even wore it in bed and it became a distinctive trait of this transient traveler. The story was based on Swiss author Max Frisch's 1957 novel, "Homo Faber", and was adapted for the screen in 1991. Directed by Volker Schlöndorff, it starred Sam, French actress Julie Delpy and German actress Barbara Sukowa. It's a must-see for all Shepard fans!
October 5, 2020
New material has been added today on the documentary THIS SO-CALLED DISASTER by director Michael Almereyda. It was filmed in the fall of 2000 during the last three weeks of rehearsal for the Shepard-directed play, "The Late Henry Moss", a

somewhat autobiographical drama about the playwright's volatile relationship with his father. It premiered at the Magic Theatre on November 14, 2000. Though Sam appears uncomfortable at times in front of the camera, it was actually his idea to document the staging of his play. That came as a surprise to me. At one point, Sam answers an AP reporter's shallow questions and wearily asks her photographer to please get out of his face. Oh, that man makes me laugh. Well, we all know he wasn't regarded as Mr. Congeniality!
After Sam had played the role of the ghost in Almereyda's "Hamlet", he contacted the filmmaker. Almereyda recalled, "Sam called me up and said he was directing a new play and that he had a great cast and he wondered if I was interested in making a record of it. He instigated the process. It was pretty impossible to say no. And he hadn't even seen 'Hamlet' yet."
That great cast included a trio of notorious hellions - Nick Nolte, Sean Penn and Woody Harrelson. Sam explained his actions in an interview in the April 2004 American Theatre magazine: "I knew this was sort of a chance of a lifetime with this many great actors. The thing is that, as is true of any production, you don't see the work the actor does. You don't see the sweat, the real grit, the energy that goes into making the character. These guys were absolutely dedicated. For movie stars, this was something that a lot of them hadn't really encountered."

And the film's director explained, "I don't really know any documentaries like it. Most movies like this tend to be pretty self-congratulatory, and I cut everything like that out. It wasn't an ad for their nobility, it was more an attempt to show what happens on an intimate level when people of this stature get together... The editing was a big challenge, and in many ways the editing shaped the movie more than might be apparent because I wanted a kind of artless or casual style. But really it's a very crafted movie."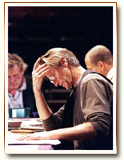 Freelance movie writer Ruthe Stein wrote, "I went into the screening thinking the title referred to the San Francisco production of 'The Late Henry Moss,' although the play hardly qualified as a disaster, so-called or otherwise. It sold out a four-week run and was the talk of the town. The meaning of the title isn't explained until late in the film, when Shepard brings up a letter from his father, their last communication before the man was run over by a car while in a drunken stupor. In the note, the elder Shepard absolves his son of any responsibility for this 'so-called disaster between me and your mother.'''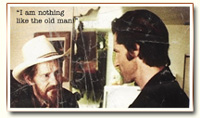 The film premiered on May 7, 2003 at the Tribeca Film Festival and is available on DVD. It can also be viewed at this youtube link if you don't mind the Spanish subtitles. The 89-minute documentary explores Sam's working relationships with the play's cast but also cuts away at times to some personal insights from Sam regarding his father. It's a must-see for Shepard devotees as one watches Sam in a rocking chair on the porch of his writing refuge, a cabin in the Minnesota woods, while describing at length the miserable relationship he had with his alcoholic father.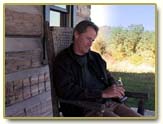 One reviewer wrote, "As a character study alone 'This So-Called Disaster' does some fine work examining the background of a playwright. It is interesting to listen to the story of Shepard's father, who led a very troubled life, culminating with his untimely death. He even shares his last encounter with his father, one that is touching in the way that it's told so humbly."
Sam recalls, "It's one of those meetings you never forget, you know, but it was horrible because he was absolutely smashed. And I should've known better, over the years, to try to sit down with him when he was in that state, because he was a mad man, he was crazy - he was totally crazy. And, uh, you know this Dr. Jekyll/Mr. Hyde personality thing that happens with true alcoholics."
The film ends on a sad note showing a home movie of Sam with his dad and the following photos were also shown in the film. The first one shows Sam's parents, Jane Elaine (Schook) Rogers (1917-1994) and Samuel Shepard Rogers (1917–1984). The second one shows his dad as a bomber pilot during WW II.
September 30, 2020
It's been over three years since Sam's death and yet it feels like only yesterday that this news enveloped us with tremendous grief. In a new interview with The Observer, Patti Smith spoke about the loss of her life-long friend.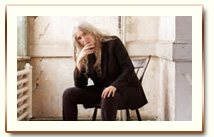 Speaking about the major moments in her life, the punk poet laureate said: "I see Sam looking at me with a wry smile – he knew me so well – I miss him terribly."
"Sam was very protective, though he understood I'm pretty tough and can handle myself," she added. "We went through a romantic interlude but didn't need that, we connected in so many ways. We trusted one another, respected each other's work, had a similar sense of humor. We had an equal but masculine/feminine relationship which, at any age, is nice. He was like a friend but it was also like having a man in my life – for 50 years."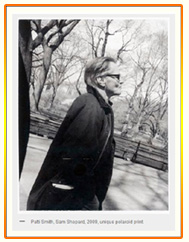 "He was – still is – a very handsome man. And he had this animal magnetism." ...Patti Smith, 2009
This is one of the last public photos of the pair taken exactly five years ago today.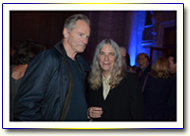 And speaking of Patti, here she is included in an interesting collage created by artist Ed Seeman -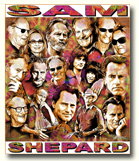 I just came across this very rare photo of Sam taken back in the '60s by the late photographer Jerry Bauer, who gave authors their own movie-star moment. He worked in black & white, and played with natural light the way other photographers used lamps.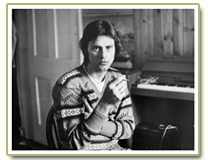 One of Bauer's most celebrated subjects was Samuel Beckett, greatly admired by Sam. The following comments are from a 2011 issue of Interview magazine, in which Sam expresses his thoughts on the legendary writer. The photo is by Bauer.

"He's meant everything to me. He's the first playwright—or the first writer, really—who just shocked me. It was like I didn't know that kind of writing was possible. Similar to the experience of reading Rimbaud, it was like, 'Where the fuck did he come up with this?' Of course, with Beckett, you can say it was James Joyce, because he'd worked for Joyce, but it was more than that... I suppose it was the form more than anything else that I was obsessed with, because I felt like the form of theater at the time was so retrograde. That's what Joe Chaikin was after—this theme of naturalism that was so present, was so old-fashioned and backward and unexpressive of the times. Theater needed a brave new kind of expression, and Beckett had invented a brand new form."
In a 2017 interview with The New Yorker, Patti Smith shared Sam's love of Beckett:
"In the winter of 2012, we met up in Dublin, where he received an Honorary Doctorate of Letters from Trinity College. He was often embarrassed by accolades but embraced this one, coming from the same institution where Samuel Beckett walked and studied. He loved Beckett, and had a few pieces of writing in Beckett's own hand, framed in the kitchen, along with pictures of his kids. That day, we saw the typewriter of John Millington Synge and James Joyce's spectacles, and, in the night, we joined musicians at Sam's favorite local pub, the Cobblestone, on the other side of the river. As we playfully staggered across the bridge, he recited reams of Beckett off the top of his head."
In an essay at Electriccompany.com entitled "What Sam Shepard Taught Me About Gods, Dads, and Death", author Helena Fitzgerald writes, "It's hard to talk about Shepard because he ends up sounding like a parody– this swaggering, sexy cowboy genius who wrote like Samuel Beckett if Beckett had gotten high on LSD on a road trip across the American West."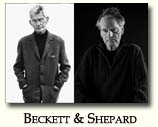 Back in 2017, The Arburturian compared these two men - "Both were taciturn to the point of rudeness, both great drinkers and smokers, both hugely embarrassed by their burgeoning reputations, both unable or unwilling to talk about their work, both standing tall with fine heads of hair and silently boasting unequalled knowledge of world literatures and both constantly curious about the foibles and weaknesses of human nature."
August 5, 2020
The photo below is the recent cover of the Catalan edition of "Spy of the First Person," Sam's last book. It was published in March by Quid Pro Quo. I can't make up my mind if this is an improvement over the English edition. Neither one sparks any interest or meaning.

One of the photos used in connection to this book's edition was the following photo. It wasn't labeled but I was able to track it down to a most likely screen shot of Sam from the 2014 film "Cold in July".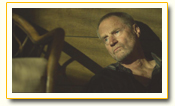 The cover of the Turkish edition of "The One Inside", another 2017 Shepard book, shows a very recognizable photo. Since Patti Smith wrote the foreward, obviously someone wanted to capitalize on her notoriety as well.

* * * * *
If you're as old as I am, you probably remember the legendary New Yorker film critic Pauline Kael. I recently discovered her review of "The Right Stuff" and want to share this excerpt:
"As the lanky Sam Shepard embodies him, Chuck Yeager, the 'ace of aces' who broke the sound barrier in 1947, evokes the young, breathtakingly handsome Gary Cooper. And Yeager and the other test pilots have a hangout near the home base of the U.S. flight-test program: a cantina in the Mojave Desert, with a wall of photographs behind the bar —snapshots of the flyers' fallen comrades. Presided over by a woman known as Pancho (Kim Stanley), the place recalls the flyers' hangout in the Howard Hawks picture 'Only Angels Have Wings' and the saloons in Westerns."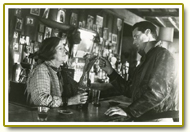 "Shepard's Yeager is the strong, silent hero of old movies —especially John Ford movies. On horseback in the desert, he looks at the flame-spewing rocket plane that he's going to fly the next morning, and it's like a bronco that he's got to bust."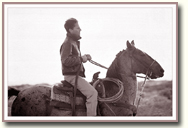 "Kaufman uses Sam Shepard's cowboy Yeager as the gallant, gum-chewing individualist. He has some broken ribs and a useless injured arm when he goes up in that fiery rocket, and he doesn't let on to his superiors; he just goes up and breaks the sound barrier and then celebrates with his wife over a steak and drinks at Pancho's. He expresses his elation by howling like a wolf."
* * * * *
| | |
| --- | --- |
| | "I grew up in the San Gabriel Valley out there towards that semi-desert country in California working at Santa Anita Park racetrack as a hot walker and working in a lot of those lay-up farms. I mostly did grunt work. I was mucking out stalls and working in the alfalfa fields. You know in high school you didn't get very glamorous jobs back then." ...Sam Shepard |

* * * * *
I've come across terms, such as Shepardian and Shepardesque, but I wasn't familiar with Shepardscape. Do you like it?
July 30, 2020
Mill Creek Entertainment will release THE PLEDGE on Blu-ray on October 13, 2020. The 2001 psychological thriller was directed by Sean Penn and starred Jack Nicholson. The supporting cast is full of big names - Robin Wright, Sam Shepard, Aaron Eckhart, Vanessa Redgrave, Helen Mirren, Benico del Toro, Harry Dean Stanton, Mickey Rourke, Lois Smith and Patricia Clarkson.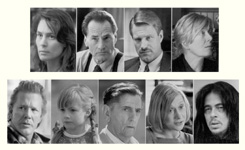 I had never created a movie page for this film so that has now been completed. The screenplay, written by Jerzy Kromolowski, was adapted from the crime novella by Swiss author Friedrich Dürrenmatt. The book was called "The Pledge: Requiem for the Detective Novel" and was published in 1958.
Penn had previously worked with Nicholson on "The Crossing Guard" and after reading Dürrenmatt's novel, he knew he wanted to direct him in the role of retired cop Jerry Black. Penn says, "I was looking for another project to do with Jack when we got the rights to the book."
The story follows detective Jerry Black who reaches retirement on the day when the mutilated body of an eight-year-old girl is found in the icy mountains. Black takes it on himself to tell her parents and pledges to find the killer. When his cocky young replacement forces a confession from a mentally retarded American Indian, who later commits suicide, the case is closed. But Black is skeptical and begins his private crusade to hunt the murderer.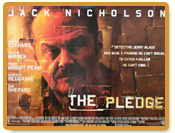 Nicholson told the press - "Every day I came to work with another great actor, wondering what they were going to do with their character. The quality of the actors Sean was able to attract to the project, that's what gives the picture its richness. The film maintains its suspense and a lot of that has to do with the quality of the performances of the actors, all of whom are really quite wonderful."
In the first half of 2000, Penn directed Shepard and in the second half Shepard directed Penn. Yes, after "The Pledge" was filmed, Penn joined the cast of Sam's play, "THE LATE HENRY MOSS", which premiered at San Francisco's Magic Theatre on November 14th. The play's cast also included Nick Nolte, Woody Harrelson, Cheech Marin and James Gammon.
July 13, 2020
This month Cowboys & Indians magazine featured an article on the book "Sam Shepard; New Mexico" by John Miller. They wrote, "The new book manages to weave together a new experience using powerful passages from different times and places. Shepard's stark, sometimes desperate inner dialogues from weary days on the roads of New Mexico are complemented by landscape photographs from the respected artist Ed Ruscha."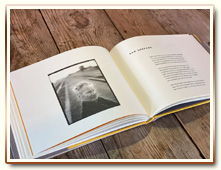 Miller says, "I wanted to include images with [Shepard's words] that were not just pictures of him. Ed Ruscha's one of my favorite artists. ... I'm sure Shepard knew of Edward Ruscha — he's a pretty well-known artist and had spent a lot of time in California, too. ... Ed was a big admirer of Sam, and that's kind of why he agreed to do this. His studio found these, basically, outtakes from the Twentysix Gasoline Stations book. And he was very generous in letting me use them... I've put it in the bookstores here in town [Sante Fe], but also in some galleries. Every place I go has a Sam Shepard story. He's a favorite son here even though he's not from here — everybody loves him and claims him as their own."
And what quality binds the two artists? Miller explains, "I think it's the desolation. The emptiness of those gas stations really mirrors where [Shepard's] stuff is set, you know, in a motel room or in a car. And it's always on the way somewhere."
* * * * *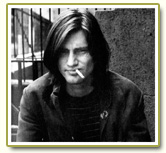 "First off, let me tell you that I don't want to be a playwright. I want to be a rock and roll star. I want that understood right off. I got into writing plays because I had nothing else to do. So I started writing to keep from going off the deep end. That was back in '64. Writing has become a habit. I like to yodel and dance and fuck a lot. Writing is neat because you do it on a very physical level. Just like rock and roll. A lot of people think playwrights are some special brand of intellectual fruit cake with special answers to special problems that confront the world at large. I think that's a crock of shit. When you write a play you work out like a musician on a piece of music. You find all the rhythms and the melody and the harmonies and take them as they come. So much for theory."
...Sam Shepard, 1971
July 3, 2020
Today the American Film Institute Movie Club celebrated THE RIGHT STUFF, ranked #19 on AFI's 100 Years of the greatest American films of all time. Sam's role as Chuck Yeager earned him an Oscar nomination for Best Supporting Actor. Great performance!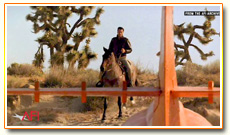 You can check out the AFI web site and watch a brief video of Ed Harris and Ron Howard discussing the film.