June 17, 2011
Blackthorn trailer released

Two years ago, it was announced that Tom Cruise and John Travolta were planning to star in the remake of "Butch Cassidy and the Sundance Kid." Gasp! Then came the news that the film would be a sequel called BLACKTHORN starring Sam Shepard and directed by Mateo Gil ("Vanilla Sky" screenwriter)). Sign of relief! Spain has released their own poster. No surprise that Spanish actor Eduardo Noriego is now included.
Playing in Florida...

Sam Shepard is having a little rennaissance in South Florida this month. His most recent play, 'Ages of the Moon,' is onstage at Plantation's Mosaic Theatre through June 26, and Alliance Theatre Lab has now served up a no-holds-barred production of Shepard's vintage 'Fool for Love.' In a review on "Ages", John Thomason of the Broward New Times writes, "Under Richard J. Simon's appropriately understated direction, Gordon McConnell and Dennis Creaghan appear effortlessly calibrated to Shepard's verbal oddness. So many Shepard characters are formed by the experiences of a lifetime of hard luck; these two tireless workhorses certainly fit into that flock, looking utterly displaced in a physical, emotional, and existential Nowheresville. 'Ages of the Moon' may not be the playwright's ultimate work, but it has the tender wisdom of a swan song."
May 24, 2011
A stubby Mr. Stubbs
Another small role for Sam has just popped up that I was completely unaware of. It seems earlier this year, production began on director/writer Annette Haywood-Carter's period drama, SAVANNAH. When the cast was originally announced, Sam had not been picked up yet for the role of Mr. Stubbs.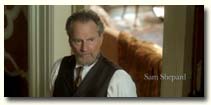 James Caviezel stars in the leading role of real-life Ward Allen. Born an aristocrat, Allen turned his back on a life of material comfort to become a market hunter. Chiwetel Ejiofor plays Christmas Moultrie, the last child born into slavery on the Mulberry Grove Plantation near what is now Port Wentworth. During his life he was a farmer, fisherman and hunter. During the 1900s, Allen and Moultrie established a hunting and fishing business partnership. The two also became confidants and life-long friends.
Other cast members include Bradley Whitford, Jaimie Alexander, Jack McBrayer and Hal Holbrook. Filming took place in Savannah from February 14 to March 20th.
May 8, 2011
Sam as Butch Cassidy
Here's another great review of Sam's performance in BLACKTHORN from Ronnie Scheib of Variety: "The film's mythic dimension derives not from any quaintly quirky mannerisms or speech patterns, but rather from the bred-in-the-bone way the human figure inhabits the breathtakingly vast landscape. And Shepard delivers in spades, his character weary but just crackpot enough to survive...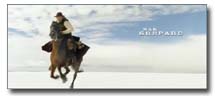 Shepard effortlessly incarnates the Western loner on the lam, his every gesture bespeaking distances to travel, dangers to circumvent and respites to savor. His past recklessness is evoked in flashbacks to grinning near-death escapes. But now his anarchic streak has been channeled into less hazardous mischief: Bouncing along on a mule singing the misanthropic ditty 'Sam Hall,' he belts out the ballad's 'Damn your eyes!' refrain with particular relish."
April 29, 2011
Kudos for Blackthorn & Sam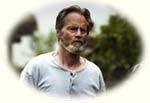 Magnolia Pictures has acquired North American rights to BLACKTHORN, which premiered at the Tribeca Film Festival last week. "With an amazing cast and incredible locations, director Mateo Gil has created a western for the ages," said Magnolia SVP Tom Quinn. "Sam Shepard is unforgettable as Butch Cassidy, with a command performance that is a high point in an amazing career." Gil responded, "It's not only that 'Blackthorn' was accepted in competition at Tribeca and that the public has received the film enthusiastically. but on top of all of this, Magnolia will be releasing our film! I love NY!"
During the promotional interviews for the festival, Gil was asked about working with Sam. He described him as a "strong person, very straightforward" and that it was a great experience working with him. He felt the production was very fortunate in getting Sam to accept the role because they needed "an actor with a lot of charisma". Yes, if it's screen presence you're looking for, Sam is the guy for that job! And, naturally, the director was impressed with Sam's love of horses. He explains, "Sam was doing all of his own riding ALL of the time. For a couple of very, very far-away shots, some distant second unit shots, we used a stand-in, but he was always on the horse! We were shooting at a very high altitude. You get tired faster because there's' not too much oxygen up there! Sam is very strong. And he wanted to ride all the time. It was amazing. He never once complained. When he knew he was going to be riding horses that day, you could feel his smile (on set) from when he woke up in the morning. He just wanted to ride his horse all the time."
Following the screening at Tribeca, film reviews began filtering in with 100% praise for Sam's performance as the elder Butch Cassidy. Calvin Wilson of the Post Dispatch called the Pulitzer Prize-winning playwright a "woefully underrated actor". Downtown Express reported, "Shepard turns in some of the best acting of his career". Erica Abeel of the Huffington Post wrote, "Sam Shepard is a magnificent craggy presence as an aging, vinegar-y coot, still polishing his legend. (And of course he does his own riding.) The premise is ingenious and adroitly handled. The locations are spectacular, especially the endless salt flats of the Bolivian frontier." Steve Dollar of Wall Street Journal said Shepard was the reason to see the film as he commands the screen. French Scheck of The Hollywood Reporter points out how the film showcases the playwright's grizzled, laconic presence with Sam delivering "a beautifully understated performance." Jason Bailey of DVD Talk says Shepard's "presence in a movie like this is the very definition of 'reassuring'. He gives the character a weary, grizzled impatience. There's not a false note in the performance, which even includes some inspired warbling." Melissa Harmon of Movie Buzzers wrote, "Sam Shepard has a fantastic ability to convey his emotions without speaking. Through his tough exterior, he's able to portray an empathy for people that the character had in real life." Harmon is right on. It's one of his strongest acting skills and is present in almost all his films. "Voyager" comes to mind immediately.
Kirk Brokaw of Independent magazine offered some interesting comments - "In Mateo Gil's new continuation, James Blackthorn is Butch 20 years later, fully embodied by Sam Shepard in an irascible, full-tilt performance that's the best work of his career. Shepard is now old enough, grizzled enough, and ornery enough to play Butch writ large, and the character finally has the legs of a legend. Call it intuition, age, or luck, the actor who Shepard may frequently remind you of is Walter Huston in his Oscar-winning role in the 1948 "Treasure of the Sierra Madre"... Like Huston, Shepard has come to carry a lot of mileage in his face. He's a hoot on horseback twanging a guitar and talk-singing a couple of original tunes... Like most of the great Western actors, he's an authentic bent hero, a flawed but honorable cuss, a damn-your-eyes outlaw that just won't roll over and die. Walter Huston would have liked Shepard's Butch Cassidy a lot.
April 21, 2011
Saturday premiere
On the international level, BLACKTHORN will open in Spain on July 1st but here in New York, the Tribeca Film Festival will be premiering the Butch Cassidy western on Saturday, April 23rd. Director Mateo Gil describes his film as a nostalgic western. He adds, "Nostalgic of the western heroes and their old values. And nostalgic also of a certain way of making movies that I miss a lot today." When asked what it was like working with our playwright, he responds, "Sam Shepard is not only very fond of horses, loneliness and countryside, but also an enormous writer. Plus he is a man of theatre. And that enables him to transform complex conflict and reasoning into simple feelings and actions. The way he approached his lines was straight and clear, and also contributed highly by feeding the dialogues with his own ideas. Besides, he is a big fan of westerns too. The perfect match for the role."

Now here's a delightful story from the director: "While filming in Potosi, Bolivia, we hired some local crew to help us scoop for some extras. We also asked them to look for Shepard's stand-in among the tourists in the place. For that purpose they were shown photographs of the actor in order to know his size and appearance. One Sunday morning, sitting down on a bench in the main park of the city, reading a book, there was a man that fitted in the features we were looking for. Our local man approached him and explained the situation in English and invited him to become Shepard's stand-in. The tourist stared at him for a few seconds and said: "I am Sam Shepard". This is SO funny!
David D'Arcy of The National writes, "In an epic that salutes everyone from John Ford to Sergio Leone, Cassidy learns that his travelling companion's life might not be worth saving. On a budget of $7 million, 'Blackthorn' manages to capture a landscape that is as grand as the original. Shepard, 67, is sure to be in the running for a prize this week." And Genna Terranova of Indie Wire notes, "Mateo Gil makes a solid English-language debut with this sublimely shot and well-acted tale set in the remarkable landscapes of Bolivia. Sam Shepard gives a riveting performance as the weathered, mysterious, and unsentimental Blackthorn, gracefully revitalizing the legend of history's favorite outlaw.

I've posted a New York magazine interview with Sam regarding this film. It took place over the phone somewhere between East Texas and New Orleans. Not surprising for a guy who loves the road. Apparently, Sam will be doing some singing in his Butch Cassidy role and it won't be "Raindrops Keep Falling on my Head". He relates, "For years, I was afraid to sing, and once I got over it, all of a sudden it opened up this whole other channel for me. I've got a young son (Walker Shepard) who's in a band called the Dust Busters (see photo). He sings like crazy. We sometimes sing together, and he's got a great voice. I'd like to do more singing. It was one of the things that attracted me to this movie, actually, that there was singing involved in the role.‬" Sam also reminisced about the "old days" - "I love Westerns. 'True Grit' - I think they did a much better job with that than the John Wayne version. And the people that I hang out with still love Westerns. I'm a horseman myself, and a lot of horsemen that I hang around, they just adore Westerns as a form. But I'm not sure how widespread that is. You know, back in the day when I grew up, the whole country watched Westerns. Hopalong Cassidy and Roy Rogers and The Rifleman. TV was just loaded with Westerns." Okay, I'll add some of my favorites - The Range Rider, The Lone Ranger, and Gunsmoke. You know, Sam and I grew up in the same era, born just 9 days apart! Those were the days, my friend....
Lou Lumenick of the NY Post also recently spoke with Sam via cellphone. Lumenick doesn't always get his facts straight so I'm not sure his reporting is accurate when he says the "Blackthorn" shoot was Sam's first trip to South America. Filming, at times, could be challenging according to Sam - "Breathing was difficult because we were working at great altitude. But I thought the screenplay was head and shoulders above anything I've been offered in the last three or four years."
Lumenick relates how, at least on the phone, Sam laughs a lot for someone who specializes in plays about tortured family relationships. The playwright seems particularly amused by the idea that his rugged good looks regularly landed him on sexiest-men lists in the 1980s, when there were predictions he'd become a big movie star like Harrison Ford. Critics dubbed him "the new Gary Cooper" for his Oscar-nominated favorite role as test pilot Chuck Yeager in "The Right Stuff," and dubbed him "the new James Stewart" when he played a veterinarian in the romantic comedy "Baby Boom." Laughing, Sam responds, "They just didn't know what to call me, did they?" Rising star or not, Woody Allen replaced Shepard with Sam Waterston when he completely reshot the 1987 drama "September" with different leads. Sam recalls, "I think he replaced the actors playing my character 12 times - I replaced Christopher Walken, and you couldn't imagine two different actors. And Woody told me he liked what I did. I'd love to work with Woody again, but I probably won't get the chance because he thinks I insulted him in an interview."
Teaming up with Brad Pitt again

According to the NY Post, Sam was on the road because he was driving to New Orleans to shoot the thriller "Cogan's Trade" starring Brad Pitt, Ray Liotta, Richard Jenkins and James Gandolfini. Directed and written by Andrew Dominik, based on the novel by George V. Higgins, the film tells the story of Jackie Cogan, a professional enforcer who investigates a heist that went down during a mob-protected poker game. Both Pitt and Shepard were directed by Dominik for "The Assassination of Jesse James by the Coward Robert Ford." The photo shows Brad Pitt in character on location last month. Nice and sleazy! I've seen over 25 of his films and have yet to see a bad performance. He's high on my list of talented actors so I'll be eagerly awaiting this film.
April 13, 2011
Unearthing a Celluloid Artifact

In the 1960s, Pop artist Wynn Chamberlain often toyed with making a movie and spent time visiting various avant-garde filmmakers on their sets. In 1969, he finally made a film called BRAND X. The film, which featured Sam, Abbie Hoffman, Sally Kirkland and the Warhol superstars Ultra Violet, Candy Darling and Taylor Mead, was released in 1970 in New York, Washington and Los Angeles. Vincent Canby endorsed it in The New York Times as "a tacky, vulgar, dirty, sometimes dull, often hilarious movie" with the tone of "a liberated college humor magazine."
"We thought we were making an art film," Mr. Chamberlain, now 83 and based in Morocco, said in an interview recently. But eventually "we realized that it was a populist film." A satirical take on television, with fake programs and commercials, "Brand X" anticipated TV and movie comedies of the next decade like "Saturday Night Live," "SCTV" and "The Kentucky Fried Movie," though in a more absurdist vein and with a more political view.
After that initial run, it turned up for a while on college campuses, and then it vanished, never to be screened again or released on video. Even Mr. Chamberlain did not have a copy and the film gained a reputation as a lost relic of its era. Eventually he reclaimed a print of the film from New Line in 2007 and on April 9th, it was screened for the first time in nearly 40 years, at the New Museum on the Bowery in NYC.
Composer for 'Companion'
Film Music Reporter has learned that James Newton Howard is currently working on the score for the upcoming drama "DARLING COMPANION". The film is directed by Newton Howard's long time collaborator Lawrence Kasdan. The project marks Kasdan's first directorial effort in over eight years. The film centers around a woman who loves her dog more than her husband, and the drama that ensues after he loses the dog after attending a wedding at their vacation home in the Rockies. The independently financed movie stars Kevin Kline, Diane Keaton, Richard Jenkins, Elizabeth Moss, Dianne Wiest and Sam as Sheriff Morris. The film was shot last fall and is currently in post-production. IMDB shows a release date of 2012.
March 7, 2011
Roll the cameras...
Filming began recently on the CIA thriller, SAFE HOUSE, in Cape Town. Here are a couple production photos of Ryan Reynolds and Denzel Washington. Once they've wrapped in South Africa, where the majority of the filming will take place, the two stars will return to the US to shoot additional scenes in Washington, D.C. I can only assume that's where Sam's scenes will eventually be shot.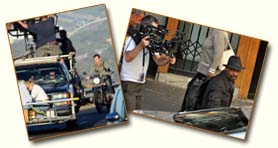 Tribeca film programme announced
BLACKTHORN is among the line-up of films to be shown during this year's Tribeca Film Festival. The tenth edition of Tribeca, founded in 2001 by Robert De Niro, Jane Rosenthal and Craig Hatkoff, will take place April 20 through May 1 and will offer 43 world premieres. Here's the festival's synopsis: "Legend has it notorious American outlaw Butch Cassidy was killed in Bolivia in 1908. Mateo Gil's classic Western, however, finds Cassidy (Sam Shepard) 20 years later living on in hiding under the identity of James Blackthorn - and yearning for one last sight of home. Joining forces with a Spanish mine robber named Eduardo, Blackthorn sets out on one final adventure across the sublime landscape of the Bolivian frontier. In English, Spanish with English subtitles."
Dark Horizons wrote up an analysis that I thought was worth sharing here: "A rather curious Spanish/British co-production shot on location in Bolivia, 'Blackthorn' expands on theories that have arisen in recent decades that Butch Cassidy didn't die in that stand-off in San Vicente and went on living well into the 1920's and 30's. In this film, helmed by 'The Sea Inside' scribe Mateo Gil making his English-language directing debut, Cassidy has assumed another identity and is now quietly living out his remaining years. Gil says his film brings a modern point of view to the genre, while still embracing its nostalgia and its deeply moral elements. Mostly though it avoids the "grandiose images and traditional aesthetic" of westerns in favour of an intimate character study of Cassidy himself. A promo trailer shows an obviously limited budget, but some eye catching scenery and a potentially quite interesting performance from Shepard." (The trailer has since been deleted.)
Now playing...

Maine - Mad Horse Theatre Company in Portland will present the Maine premiere of Sam Shepard's "The Late Henry Moss," opening on Thursday, March 10, and running Thursday to Sunday through March 27. Calling this play the most directly autobiographical of the playwright's, director Chris Horton says, "Shepard's father was plagued by alcoholism and the violence and anger that often accompany this life-destroying disease. Shepard approaches the subject matter with his typically dark humor, posing questions about this most important relationship in a man's life." Performances will be at Lucid Stage, 29 Baxter Blvd.

California - "Simpatico" opened Saturday night and will run until with March 27 at the New Village Arts Theatre in Carlsbad. Director Lisa Berger admits that much of the appeal for her is how difficult a Shepard play can be for both the director and the actors. "One of the hard things is how the characters will be talking about a main idea, then go off on a tangent, then come back to the main idea," she explained. "That's difficult for an actor. It especially makes it hard for them to memorize the lines. We've been working as if those tangents are jazz riffs. That helps them get the rhythm, and rhythm is key to doing Shepard. According my research on him, I heard him describe two actors playing a scene as if each has an instrument. So they're playing the music back and forth. You can really hear the musicality in his language."
Event canceled
On February 22nd, Sam had been scheduled to participate in the "Conversation in the Arts" series at Chicago's Columbia College. Patti Smith had come to Columbia last semester to speak, but for whatever reason, perhaps a conflict in his work schedule, Sam canceled his speaking engagement and was replaced by Chris Jones, chief theatre critic of the Chicago Tribune.
DVD release

Doug Liman's spy thriller FAIR GAME will be released on Blu-ray and DVD on March 29. The film is inspired by the experiences of real-life CIA officer Valerie Plame played by Naomi Watts). When Plame's retired ambassador husband Joe Wilson (played by Sean Penn) writes a newspaper article challenging the basis for the U.S. war on Iraq, the White House leaks Plame's undercover status leaving her international contacts vulnerable, her career in shambles and her life in danger. Sam has a wonderful cameo as Valerie's dad.
February 18, 2011
Performing with Patti

On Wednesday evening Patti Smith took the stage for a reading/concert at Manhattan's 92nd Street Y. She was joined by her long-time guitar player Lenny Kaye and old friend Sam. After reading her memoir, "Just Kids" and viewing her documentary, "Dream of Life", I have great respect for the beauty in her honesty. And Patti is an unbelievably down-to-earth person despite her fame! She began the evening with a reading from her book, which was interspersed with music. After reading how she came to collaborate with Lenny, she brought him out. When she read a selection in which Sam buys her a homely but well-loved guitar, he took the stage with a guitar of his own and quipped, "I had no idea it was so complex." He sat in with Smith and Kaye, taking the lead on a few blues songs, including a spare rendition of "In the Pines." The trio also dedicated a playful version of "Redondo Beach" to their friend Maria Schneider, the "Last Tango in Paris" actress who died earlier this month. Patti, Lenny and Sam ended the 75-minute evening with "People Have the Power."
Beantown Reading

If you live in the Boston area, you might be interested in the following staged reading of a Shepard play. Massachusetts resident Chris Cooper and Sam seem like a good match. Cooper, the kind of quiet, but high-quality actor that seems to raise up every film he's in, has that chiseled look that matches Shepard's penchant for setting his plays in the American Southwest. So, good for Commonwealth Shakespeare Company for snagging Cooper for their staged reading of "Curse of the Starving Class," part of CSC's American Voices series. Chris will be joined by his wife, Marianne Leone (Joanne Moltisanti on HBO's "The Sopranos"), Jared Craig, Kelby T. Akin, Tom O'Keefe and Marie Polizzano. The performance will be Monday, February 21 at 7 p.m. at the Boston Center for the Arts. The reading is free but if you make a $20 donation, it will get you a seat and admission to the post-performance wine-and-cheese reception.
February 11, 2011
European distribution for Butch Cassidy western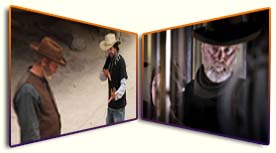 According to Variety, BLACKTHORN has been sold to Bac Films for France after sealing a Spanish deal. The Butch Cassidy story represents the English-language directing debut of Spain's Mateo Gil, Alejandro Amenabar's longtime co-scribe. Bac will release "Blackthorn" theatrically and will handle its DVD release. The deal follows a Spanish distribution pact with Vertice Cine, which bows Gil's film in late May. Themed around the loss of ethics in modern times, per producer Ibon Cormenzana, the film is being sold internationally by Madrid-based 6 Sales. Shown in a promo reel at the Berlin Film Festival, "Blackthorn" is finalizing post-production.
The Shepard/Dark Collection

Hundreds of personal letters between Sam and his one-time father-in-law have been acquired by Texas State University, officials announced this week. More than 300 letters between Sam and Johnny Dark, along with hundreds of photographs, taped conversations and a homemade film, document the decades-long friendship between the two men. Dark was the stepfather of actress O-Lan Jones, who was married to Sam from 1969 to 1984. The two men have been friends since the late 1960s and remain close.
The two men are working on a book of their selected correspondence, which will be published by the University of Texas Press as part of the Wittliff Collections' Southwestern Writers Collection Book Series.
"Sam Shepard is one of America's most celebrated playwrights, and this very personal material illuminates his work process as he created some of his most memorable plays," said Wittliff Collections Curator Steve Davis. "This new collection will be a boon for Shepard scholars and biographers for generations to come."

The Wittliff Collections already hold a substantial collection of Sam's papers, which he began donating to Texas State in 1992 through the efforts of his friend Bill Wittliff, the Collections' founding donor. The Sam Shepard Papers include 26 boxes of journals, manuscripts, correspondence, clippings, publicity, and awards relating to many of Shepard's plays, books, and films, including his Pulitzer Prize-winning play, "Buried Child", and his other acclaimed plays such as "True West".
Casting news
Universal has rounded out its cast for the Ryan Reynolds-Denzel Washington thriller SAFE HOUSE, adding Liam Cunningham, Brendan Gleeson, and yes, Sam Shepard to the mix!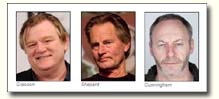 The film centers on a CIA trainee (Reynolds) who must transport a criminal (Washington) targeted by assasins. Daniel Espinosa ("Easy Money") is directing the script penned by David Guggenheim. Production, which will begin next week, is looking at a February 10th release next year. Universal has fast-tracked this project since acquiring the rights last year. The script was on the 2010 Black List of the top unproduced screenplays, and Washington boarded the project soon after Universal acquired rights.
Meeting La MaMa's Mama

"I walked up to her (Ellen Stewart) and said, 'I have this play.' And she said, 'Let's do it, baby.' And she did. It was a one-act, never published, and is lost now. I was very lucky to begin when Off Off Broadway was starting with Caffe Cino, Judson Church, Theater Genesis. But Ellen was the most generous. She just put shows on. I could bring something written on an envelope, and Ellen would put it on the next day. She was not discerning. She had taste, but for her, it was just a great big carnival. She was very sexy, a bombshell, the Nina Simone of Off Off Broadway. She also had an outrageous sense of humor. I would call it a transvestite sense of humor. It crossed all boundaries and had a real sexuality. She was a New Orleans woman. She was not New York at all." ...Sam Shepard, NY Times, 1/23/11 (The above photo was taken at La Mama's 45th anniversary celebration in 2006)
January 14, 2011
NY theater pioneer Ellen Stewart dies

Praised by many as a torchbearer of the off-off-Broadway scene, theater icon Ellen Stewart died of natural causes on Thursday at the age of 91. A fashion diva turned creature of the theater, Ms. Stewart founded the award-winning avant garde theater landmark La MaMa Experimental Theater Club in Downtown Manhattan back in 1961. Since that time, La MaMa has produced thousands of plays, musical, dance and performance art pieces and launched the careers of countless theatrical star, Besides Sam, the list includes Billy Crystal, Bette Midler, Robert DeNiro, Harvey Keitle, and Harvey Fierstein. The photo was taken in October 2006 when LaMama celebrated its 45th anniversary. It began with a production of "Tooth of Crime". A party followed the show with the normally reclusive Sam Shepard making a speech thanking his mama Ellen Stewart for all the opportunities she gave him, and so many theatrical generations. Apparently, the tenderness of his touch to the top of Stewart's silver locks, and the kisses he planted on her cheek left few dry eyes in the midst of a festive evening.
Film release in Spain
Madrid-based outfit 6 Sales has sold Agora scriptwriter Mateo Gil's BLACKTHORN, to indie distributor Vertice Cine for release in Spain.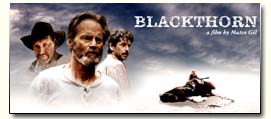 Currently in post production, the new Western stars Shepard as famous outlaw Butch Cassidy living in Bolivia under the alias James Blackthorn who decides to return to the US, but gets caught up in a heist of a mining company with a young Spaniard (Noriega). The other key cast members include Stephen Rea as Sheriff McKenley, an old nemesis of Butch Cassidy, and Magaly Solier, best known for her role in Claudia Llosa's Oscar-nominated drama "The Milk Of Sorrow", who plays Blackthorn's girlfriend. 6 Sales' Marina Fuentes has announced that Blackthorn should be ready for delivery by March and they are weighing up which festival would best suit its premiere.