December 31, 2010
Favorite quote of 2010!
And he still uses a manual typewriter. You have to wonder had Sam been born at the turn of the century, would he have sat in the darkness every night while the rest of the world welcomed the invention of the light bulb? The man probably has no idea that an entire web site devoted to his lifetime work could be built by a gaggle! Happy New Year!
November 16, 2010
Award time!
On Saturday morning Sam stepped in front of the podium at Chicago's Symphony Center upon receiving the 2010 Chicago Tribune Literary Prize. He announced, "I am notoriously bad at speeches so I'm not going to give one. I'm just going to read." He asked if anyone had read "Life" - the Keith Richards autobiography. There were a few nods, though not many. He described the bio as a wonderful book with a line that has stayed with him - "Memory is fiction". Since I wasn't present, I have no idea how that played into his non-speech but it certainly isn't a line that resonates with me.

Those who did attend the event indicate that the reading felt more like a performance with snippets of the real man glimpsed among the several written works that he read from - which included two of his books - "Great Dream of Heaven" and "Day out of Days".

The Tribune reports that Sam wore jeans and a casual sports coat and he came across the way his work does, rooted but playful, part Dylan, part Clint, part Cormac McCarthy. Tribune editor Gerould Kern noted in his introduction how ironic it was that the man often referred to as "America's greatest living playwright" was actually best known as a movie star. Of course, he is! That's where his main audience will always be, like it or not. It's possible that mainstream America is totally ignorant of his written works and that his cinema followers have little interest in dysfunctional men and their horses.
"Blackthorn" finds UK Investor
Quickfire is now co-financing the western BLACKTHORN, the Spanish film which imagines what happened to Butch Cassidy after the notorious 1908 shootout. Madrid-based Six Sales is selling the film, now in post-production, and will be showing a promo reel at this month's American Film Market. "Blackthorn" has already been sold to Spanish public broadcaster TVE and Canal Plus in France. The film, directed by Mateo Gils, also stars Eduardo Noriega, Magalia Solier and Stephen Rea. Here are some new movie stills. More can be found on the movie page.
November 8, 2010
You gotta love this man....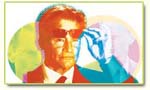 There are a couple new articles on Sam due to his upcoming acceptance of the Chicago Tribune Literary Prize. The ceremony will be held at 10 a.m. on Saturday at the Armour Stage at Chicago's Symphony Center. Timeout Chicago conducted a phone interview and it appears that both the interviewer and interviewee ended up being somewhat annoyed with one another. Not surprising when it comes to a Shepard interview. Timeout included the above strange photo. C'mon, guys, you can do better than that.... Or maybe you didn't want to....
You're sure to be amused when you read actor Dermott Mulroney's following comments regarding his co-star in the film, INHALE. This interview was recently published in the Santa Monica Register:
In my college years, I learned about Sam Shepard's plays and his movies. I've worked with him a couple of times too. We were shooting this movie and they hadn't cast that part yet. I kept thinking, "You guys might want to fill that role?," and then it turned out to be him and I was thrilled because I knew he'd be great in that part.

I worked with him in 1986 or 1987, and I played his son (in "Bright Angel"). I was 22 and he was 42. And then, a little less than 10 years after that, he directed a movie I was in, called "Silent Tongue", with River (Phoenix), Richard Harris and Alan Bates. It was a really weird, beautiful movie, like his plays. Then, I ran into him again and we did a little theater thing. On a regular basis, I've come across him, and the deal with Sam is that he was never very nice and now he is unbearable. He's a very intimidating person. Not to me, which is why I can speak freely about this. We're actually friends and we see each other every seven years, whether we like it or not. But, 20 plus years ago, when we worked together, he was one thing. He's grown crotchety over the years, for sure.

The director of "Inhale", Baltasar Kormakur, is a big guy. He's handsome with a powerful personality, and even he was a quailed a little bit around Sam. Sam is a very forceful person. It's funny to me because I'm like, "Sam, will you please," and everybody else is, "Yes, sir. Right away, sir." I think he's just had it. It's interesting because he's working a lot lately. If he doesn't, I think he'd just live by himself in a cabin and kick his dog. I think jobs get him out of his house, and he's been doing incredible work. He was great in "Brothers". That was really subtle good work there. And in this, I think he's fantastic. Great casting to have that guy be tough and then have to just break and spill the beans. It was a cool part for him.
Political thriller premieres

"Fair Game" opened on 46 screens last week. Though based on a true story with a well-known outcome, Doug Liman's "Fair Game" is as suspenseful as any fictional thriller and considerably more tragic. Seattle Times movie critic Moira Macdonald agrees. The film "is written as a drama and paced as a thriller, and it works just fine both ways." The Rotten Tomatoes meter is showing a healthy 80%! Hopefully we'll see it in more cities in the weeks ahead. The film, starring Naomi Watts and Sean Penn, is written by Jez and John-Henry Butterworth, based on books written by both husband and wife. The synopsis is as follows:
As a covert officer in the CIA's Counter-Proliferation Division, Valerie (Naomi Watts) leads an investigation into the existence of weapons of mass destruction in Iraq. Valerie's husband, diplomat Joe Wilson (Sean Penn), is drawn into the investigation to substantiate an alleged sale of enriched uranium from Niger. But when the administration ignores his findings and uses the issue to support the call to war, Joe writes a New York Times editorial outlining his conclusions and igniting a firestorm of controversy.

Soon after, Valerie's covert status is reported by a high-profile Washington journalist. With her cover blown and her overseas contacts placed in mortal danger, Valerie is pushed to the breaking point as her career and private life collapse. After years serving the government, Valerie, a mother, a wife and a field officer with an impeccable record, now struggles to save her reputation, her career and her family. Sam plays Valerie's retired Air Force officer dad.
Here's a photo of Sam during production of the film.

October 6, 2010
Tough Trade axed

About nine months ago, Sam was shooting the pilot for an original series for cable channel Epix called TOUGH TRADE. The story revolved around three generations of the Tucker family, a Nashville music dynasty with the patriarch played by Sam. Originally, Epix brass had said that they expected "Tough Trade" to premiere as a series in 2010. The project appeared on track with an order for 4 more scripts and an extension of the actors' options. The pilot, which was recut several times, was reportedly screened around the country and did well. But then last Thursday, Epix officially passed on it. According to Epix CEO Mark Greenberg, the network's executives spent a long time trying to fix what they considered some flaws in the pilot, including possibly recasting some roles, and worked on the additional scripts but faced a number of challenges. "It was a combination of running out of time and dealing with distractions, and at some point we had to make a decision whether it works or it doesn't," he said. "At the end of day, it just didn't work." The network and producer Lionsgate TV are considering retooling the "Tough Trade" pilot into a mini-series.
October 2, 2010
Thought for the day
Still no word about why Bucknell University did not reschedule Sam so he could still be honored with the Janet Weis Fellow in Contemporary Letters. Passing it on so quickly to Edward Albee feels like a slap in the face. However, the head of the Theatre Department had a few comments about the playwright at the University's web site. Gary Grant explains that audiences often relate to Shepard's plays and stories by saying they've had similar experiences. Are you kidding? I guess if you've managed to become a man steeped in a dysfunctional world, riddled with anger and violence, that might be true. We're talking about the outer fringe of society often fictionalized by Shepard as lowlife dramas. That's why his characters intrique us; not because we identify with them! As for comparing Shepard to Mark Twain of classic American literature fame, now that's a stretch and I see no common thread here. Twain's humor was never sadistic.
September 28, 2010
An Evening with Sam Shepard in Taos
On Sunday night Sam gave a reading as part of a SOMOS fundraiser event in Taos, New Mexico. A blogger fortunately shares the following account of the evening: Sam Shepard, ruggedly handsome at age 67, walked out on stage at the Taos Community Auditorium this past Sunday evening in his jeans, striped shirt and casual western boots to read for us from an assortment of short works he has published over time. He dove right in with a funny (very funny) accounting of his memories of the 80s from the point of view of his young son ("My dad knows nothing.") He read for well over an hour and we in the audience loved every minute of it. It's interesting to note that some people only know Shepard as a writer, while others only know him as an actor. He seems a bit embarrassed about being an actor but has quite a body of work to be proud of. He wondered aloud why he, a seriously liberal type, is constantly being cast as a hard-ass military person and the last work he read described suiting up in just this way and waiting for the call to leave his trailer and head to the set... His description of the attitude of his character (weary but determined) would certainly fit. My favorite of his stories about acting was entitled "Winging It." Here he described the six takes he offered to a German director for a scene being shot in Mexico. It's hilarious and he voices both parts perfectly... BTW: He referred to Hollywood as "nuts." He has some fabulous stories of travels and childhood which are not to be missed.
Bucknell cancellation

Back in April, I announced that Sam had been named the 2010 Janet Weis Fellow in Contemporary Letters at Bucknell University. The award was established in 2002 to honor and recognize individuals who represent the highest level of achievement in the craft of writing within the realms of fiction, non-fiction or biography. Previous recipients have been John Edgar Wideman, David McCullough, Toni Morrison, John Updike, Salman Rushdie, Tom Wolfe, Joyce Carol Oates and Derek Walcott. Sam was to be the first playwright to receive the award at the scheduled October 12th event.
Now comes news that Sam has cancelled his talk. Pete Mackey, vice president for communications at Bucknell announced, "While we are disappointed by Mr. Shepard's decision, we have moved directly to securing a Weis Fellow for this year who will bring honor to the award's recognition of individuals of the finest literary achievement."
Say what?! And sure enough they found another playwright to pay homage to. Edward Albee will now be receiving the award on March 22, 2010 in the Weis Center for the Performing Arts at Bucknell. It does make you wonder why they didn't just re-schedule Sam's appearance. It was also announced that the Department of Theatre and Dance will still host several of Sam's works this month. They include "Savage/Love", "Killer's Head," "The Sad Lament of Pecos Bill" (an operetta), "Chicago," "Cowboy Mouth," "Red Cross" and "Tongues."
Conversations in the Arts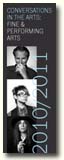 Columbia College Chicago has announced its sixth year of Conversations in the Arts, a program series that offers in-depth dialogue with some of the world's most notable cultural figures in a select and intimate setting. Sam will appear at 7 pm on February 22, 2011. Others speakers include Patti Davis and Christian Siriano. "All of these artists have wonderful things to say about life, work, creativity, the importance of perseverance and pursuing your life goals," said Eric Winston, vice president of Institutional Advancement, who oversees the CITA series. "We give great care to the selection of the people that we bring in for the series," Winston said.
Shepard's appearance is a joint effort between CITA, the Fiction Writing Department, which is billing the visit as a "Prelude Event" to its annual Story Week Festival of Writers, which runs from March 13-19, and the Theater Department. Playwriting is one of Columbia's interdisciplinary degrees, with the writing component taught by Fiction Writing and the performance component by the Theater Department.
In describing Sam, Brian Shaw, assistant dean of the Theater Department, said, "He has been tirelessly experimental and had some pretty massive explosions. He's really put himself out there artistically. He is one of the major figures in theater of the late 20th century. Shepard revolutionized how theater was written and produced."
Keaton & Shepard team up for the fourth time!
Sam will be joining the cast of Lawrence Kasdan's upcoming film, DARLING COMPANION, starring Diane Keaton, Kevin Kline, Mark Duplass, Dianne Wiest, Richard Jenkins and Elisabeth Moss. The film is the last of the trilogy that includes "The Big Chill" and "Grand Canyon." All of the films have starred Kline. Here's the synopsis: On a wintry day, Beth (Keaton) saves a bedraggled lost dog from the side of the freeway. Struggling with her distracted, self-involved husband Joseph (Kline) and an empty nest at home, Beth forms a special bond with the rescued animal. When Joseph loses the dog after a wedding at their vacation home in the Rockies, the distraught Beth enlists the help of the few remaining guests and a mysterious young woman in a frantic search. Each member of the search party is affected by the adventure, which takes them in unexpected directions – comic, harrowing, and sometimes deeply emotional. The production is scheduled for a 30-day shoot in Utah beginning in late September.
August 20, 2010
New Mexico Book Readings
The Inn and Spa at Loretto and Garcia Street Books in Sante Fe have just announced their "Meet their Author Series" for 2010. Sam will read, discuss and sign his short story collection, DAY OUT OF DAYS, on Thursday, September 23, from 5:00-6:30 pm. The event will be held at the Inn and Spa at Loretto. Reservations are not required but seating is limited, so it will be a first-come, first-serve basis. There will be no fee.
Here's another reminder that Sam will also be making an appearance in support of the local literary arts organization, SOMOS, on September 26 from 6 to 9 pm at the Taos Community Auditorium. Known as a frequent visitor to Taos, Sam will read from DAY OUT OF DAYS" and signed copies will be available for sale. SOMOS executive director Dori Vinella said, "Were thrilled that Sam thinks enough of SOMOS to participate in our fundraising event. SOMOS shares Sam's love of Taos and the literary arts and we are proud to provide opportunities for aspiring local writers to learn from accomplished writers like Sam."

Tickets to the "Evening with Sam Shepard" are $20 in advance or $30 at the door. They can be purchased at the Taos Center for the Arts, 133 Paseo del Pueblo Norte; FX-18 Gifts and Jewelry, 103 Bent St.; or the SOMOS office, 233 Paseo del Pueblo Sur. Proceeds from the fundraiser will benefit SOMOS' Youth Mentorship Program, which provides opportunities for middle and high school students to develop the craft of writing in a non-institutional format, with the guidance of adult mentors.
"Thunderheart" film page added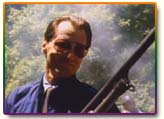 There's something deeply satisfying about a film that gives you a credible plot, believable characters and just enough mysticism to make you lose yourself in the texture of the moment. Filmed almost 20 years ago on the Pine Ridge Reservation in SD, THUNDERHEART is loosely based on actual events in the 1970's, which concerned corruption and reform battling for supremacy within the Indian community, widespread neglect on the part of the Federal Government and the need for change. Sam and Val Kilmer take on the lead roles as FBI agents in a terrific cast that also includes Graham Greene and Fred Ward. If you call yourself a true Shepard movie fan, you should be able to name two other movies in which Sam co-starred with Val Kilmer.
August 17, 2010
Play it again, Sam????

I'm amazed that it's taken me this long to discover that once upon a time Woody Allen cast Sam in a 1987 film called "September" with co-stars Mia Farrow, Dianne Wiest, Maureen O"Sullivan and Charles Durning. The idea of Mr. True West in a film by Mr. New York City is both intriguing and incongruous to say the least. The film was shot over ten weeks at the Kaufman Astoria Studios in Queens. However, the director essentially deleted the entire film! He then proceeded to shoot it a second time with replacements for O'Sullivan, Durning and Shepard. Whether the original film still exists in some warehouse today is not known, but I assume there are tons of Shepard fans out there who would love to view it. Here's the story behind this interesting scenario.
Allen claims that it's perfectly natural for him to "re-shoot tons of material" adding that he could have filmed "September" a third time. Originally, Christopher Walken was hired on for the role of Peter, an aspiring writer, but it soon became apparent that although the two had previously worked together in "Annie Hall", there was friction on the set. Allen later explained, "We couldn't get copacetic on what to do and decided that instead of his making concessions and my making concessions, we'd work on something else down the line." This is when our playwright was hired on. After photography was completed, Allen decided he was unhappy with the script and needed to re-shoot. Ms. O'Sullivan was unavailable due to a case of pneumonia so she was replaced by Elaine Stritch. Due to a commitment to another project, Charles Durning left and was replaced by Jack Warden. Like Walken, Sam didn't always see eye to eye with Allen and was eager to move on to his next project in California. Another "Sam" came along as his replacement - Sam Waterston. This necessitated rewriting the character with Allen explaining, "Sam Shepard's quality is that of a kind of inarticulate, attractive loner from the plains, whereas Sam Waterston has a more Eastern, Boston quality."

While working with directors such as Woody Allen and Robert Altman might be an honor for some folks, apparently Sam had no illusions. In an Esquire magazine interview, he said, "They may be great filmmakers, but they have no respect for actors. Individually, each understands zip about acting. Allen knows even less than Altman, which is nothing." However, Sam must have at least befriended Allen because he eventually gave the director some rare Sidney Bechet recordings from his father's collection of vintage jazz.
August 10, 2010
A Literary Prize!
Sam Shepard has won the 2010 Chicago Tribune Literary Prize for lifetime achievement! Tribune editor Gerould Kern said, "In selecting Shepard, we recognize his significant influence on American culture. He transcends boundaries of form, with his talent stretching from the stage to page." Tribune theater critic Chris Jones adds, "Sam Shepard is the premiere dramatist of rural America. His work chronicles wide-open spaces, domestic dysfunction and long, brooding silences on the prairie."

Reached at his Kentucky home, Sam said he was honored to receive the award from "such an old, established newspaper," especially given that his great grandfather, Samuel Shepard Rogers IV, was a Chicago Daily News editor. (The playwright was born Samuel Shepard Rogers VII.)

Sam's local connections run even deeper. "I was born in Fort Sheridan," he said. "My family started out as wheat farmers in McHenry (County) and later moved to Lombard, so I have a lot of family there."

Although he grew up in California and launched his writing career in New York's Greenwich Village, Chicago has played a significant role in his career. Steppenwolf's production of "True West," directed by Gary Sinise and starring Sinise and John Malkovich as tensely reunited brothers, hit Broadway in 1982 to become a critical and commercial smash. Sinise also directed Steppenwolf's revival of the broken-family drama "Buried Child," which played Broadway in 1996 and received five Tony nominations. Sam admits, "The Chicago production of 'Buried Child' was one of my all-time favorite productions of any play."

"When people define Chicago-style acting, they are often thinking (at least subliminally) of actors doing Shepard," Jones said. "Works like 'True West' are synonymous with the rise of Steppenwolf — and, indeed, the coming to glory of the Chicago actor."

Sam joins an illustrious group of Literary Prize winners that includes Arthur Miller, Tom Wolfe, August Wilson, Joyce Carol Oates, Margaret Atwood, E.L. Doctorow and David McCullough. The award will be presented November 13 at the Chicago Humanities Festival.
Becoming Sam Shepard

I came across an interview from Details magazine dated a couple years back. Growing up in Duarte California, Sam was known as Steve Rogers, but when he came to NYC in 1963, he became Sam Shepard. In this particular interview, he's asked why he changed his name and responds - "If you remember, back in the old days there was a Steve Rogers who was Captain America - that was his alter ego, right? And I always thought, I don't want to be carrying around the name of a cartoon hero. Actually, my legitimate name is Samuel Shepard Rogers, so I just shortened it to Sam Shepard and dropped the Rogers. I just kind of invented it."
New film page added
Iranian-born director Mehdi Norowzian originally gained fame in the UK with his bold and dramatic commercials and even captured an Oscar nomination for his short film, "Killing Joe" in 2000. LEO (aka "Leopold Bloom") was his first and only feature-length film and for reasons unknown, it sat on the shelf for two years after failing to obtain a theatrical distributor. Finally in 2004 it was released on DVD in both the UK and US. The director certainly attracted a terrific cast. We start off with Joseph Fiennes who Sam describes as a wonderful actor whose work is enhanced by his openness. Joe's co-star is Oscar winner Elizabeth Shue ("Leaving Las Vegas") who gives an impressive performance. Playing the bible-loving owner of Vic's diner, Sam serves up his customers, believe it or not, Shepherd's pie! And who does he serve it to? A town bully called Horace played by a hell-bent Dennis Hopper (think Frank Booth!)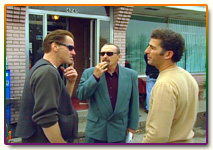 On location with Dennis and Medhi
A literary drama offering the parallel tales of two wounded souls, this tale of redemption and the struggle to find one's place in life finds an ex-convict's correspondence with a young boy offering hope for the future despite the fact that the boy has yet to find his own place in the world. Moving seamlessly between the two stories, the film gradually and inventively draws them together,with both main protagonists haunted by their pasts.
In an interview included on the DVD, Sam claims he has always wanted to work with Dennis Hopper but never had the chance. He does explain how the two met decades ago. Back in the sixties when Sam was playing with the Holy Modal Rounders, one of the band's tunes was used for "Easy Rider". I personally wasn't aware of this, so I was absolutely delighted to learn that the kooky song I remembered from the film - "If you want to be a bird" - was connected to Sam! They play it when Jack Nicholson dons his football helmet as he hops on the back of Peter Fonda's motorcyle and speeds down the highway.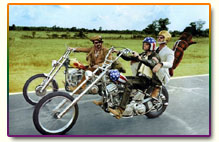 July 22, 2010
Remembering James Gammon

Veteran stage and film actor James Gammon died on July 16th at his home near Los Angeles at the age of 70 following a battle with cancer of adrenal glands and the liver. The gravel-voiced actor made himself part of the American landscape, playing weathered cowboys, dysfunctional rednecks and alcoholic patriarchs in films, television and plays, including a succession of Shepard-penned roles. He appeared in "A Curse of the Starving Class", "A Lie of the Mind," "Simpatico," "The Late Henry Moss" and a 1996 Broadway production of "Buried Child," for which he received a Tony nomination. Somehow Sam's stories of desertion and disconnected family ties struck a chord with Gammon, who once said, "I'm just swept by him."

Sam first saw Gammon acting in his play "Curse of the Starving Class" in 1973 at the MET, a Los Angeles theater that Gammon was instrumental in forming and running. It was then that the two began a long friendship.
In a recent phone interview regarding Gammon's death, Sam said, "He was more than an actor. He was part of a whole world I was familiar with. He came from the same background as me. You're probably aware of the notorious father figures in my plays, alcoholic Midwesterners who leave their families and get lost in the Southwestern desert. Jimmy had that familiarity about him with the way I grew up, the guys with the voice and the face and the whiskey. He definitely rang a bell with me. We did a lot of things together. We had a race horse together. He was very dedicated to his work and to his family."
You can read more of Sam's reflections on his friend's death in this LA Times article.
Upcoming role...
Detective fiction writer George Pelecanos has been trying to bring his third novel, SHOEDOG, to the screen and financing seems right around the corner. Directed by John McNaughton, the film's cast will include Sam alongside Wes Bentley, Kris Kristofferson, Heather Graham and P. Diddy. The book's synopsis reads:
| | |
| --- | --- |
| Constantine is a drifter with a lot of miles behind him, a lot more ahead and plenty of jobs in between that never showed up on anyone's books. Back in his home town, he hitches a ride on a bright spring morning with a little man named Polk. There's one stop Polk needs to make, and it changes Constantine's life forever. Like the kind of cars they don't make anymore and the kind of songs they don't sing, Shoedog has the style, rhythm and muscle of a classic. | |
Fall release

Summit Entertainment has set a November 5th limited release date for FAIR GAME, starring Sean Penn, Naomi Watts and Sam in the role of Naomi's retired officer dad. The film, which revolves around the controversial outing of CIA agent Valerie Plame, will expand to additional theaters on the subsequent two weekends. Directed by Doug Liman, the film premiered to generally favorable reviews at the Cannes Film Festival in May.