December 31, 2011
A funny story to end the year....
While scanning the Net, I came across this blog regarding Sam's appearance at the "Blackthorn" premiere in NYC back in September. Apparently, this young man from the Patrick McMullan photo agency crashed the after-party that evening and wrote about his experience. He introduced himself to Sam and asked, "You do so few movies. (Hello! He does an average of two to three per year!) What does it take to get you out of hiding." Sam laughed and replied, "A good script. It's always about the script. I read this script and knew immediately that I wanted to do it... I always say that dismissing the importance of a script is like having a closet with no hangers. What are you going to hang your clothes on?" This guy then bravely (or stupidly) asked Sam if he would mind having his photo taken with his pal, some Eastern European wannabe. Sam looked at him as if he were insane. (Would you expect any other reaction?) Since the guy had his camera ready, his pal quickly jumped into the frame and here's what was eventually posted on Facebook. You're certainly not going to find words like gracious and generous when it comes to Sam's response to his fans (but we love him anyway).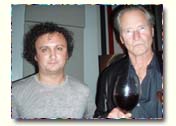 I also discovered another blog on the Wild Magazine web site where photographer Sabine "Sam" Mirlesse gets some early morning shots of Sam at NYC's Mercer Hotel on the morning of the "Blackthorn" premiere. By comparison to the above story, you'll note that our man is unexpectantly cordial. Check it out!

Miller Scholar at the Santa Fe Institute
In some of Sam's interviews recently, he has mentioned working at the Santa Fe Institute in New Mexico and I just wanted to clarify his connection to the Institute. A year ago Sam was made a Miller Scholar, which gave him a very prestigious visiting position. At the time of the appointment, SFI Faculty Chair David Krakauer said, "Sam is a very accomplished, thoughtful person, and I know he will challenge us, and provide us with another unique perspective to think from". Sam arrived at the Institute in late December 2010 and conducted research and wrote at SFI intermittently through May.
The position ranges from a few months to a year and offers a unique environment for highly accomplished, creative thinkers to catalyze transdisciplinary collaboration, synthesize ideas and methods from many disciplines, and enhance, or even define, new fields of inquiry. Miller Scholars both benefit from and contribute to ongoing scholarly research at SFI. During their stay, Miller Scholars are free to devote their time to scholarship on any topic and are encouraged to collaborate with SFI resident faculty and postdoctoral researchers, and make use of the working group- and workshop-convening power of the Institute.

Sam gave this update recently - "I did that a year ago for six months, and then I was invited back as a kind of resident. Itís without any stipend or anything, but they give me a place to work. And I really liked that somehow itís time for me to be institutionalized. [Laughs] So far itís worked out good, and I want to continue it as long as Iím productive. Iíve got my farm in Kentucky, but sometime it gets a little bit remote, and I wonder what Iím doing. New Mexico feels like home to me now."
This is a wonderful photo taken in Santa Fe back in 1984. You might at first think the photographer was Bruce Weber but it's still a famous name - try Annie Leibovitz!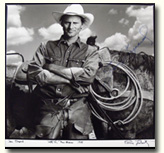 In its 2012 Best of the West Source Book, True West magazine listed a number of Santa Fe and New Mexico people and places in the honors roster - including both locals and visitors. "Blackthorn" was named the Best Indie Western. Star Sam Shepard was named Best Western Film Actor and director Mateo Gil scored as Best Western Film Director.
Here's another photo of Sam taken in New Mexico - not with fans - but with Jaimie Alexander (on the left), one of his co-stars from "Savannah" due out in 2012.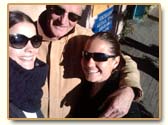 Film Festival Premiere

Lawrence Kasdan's DARLING COMPANION has been selected as the opening-night film at the 27th Santa Barbara International Film Festival. The Sony Pictures Classics release stars Diane Keaton as a woman who saves a stray dog on the side of a freeway in Denver. Besides Sam, the cast includes Kevin Kline, Dianne Wiest and Elisabeth Moss. Sony describes it as "comic, harrowing and sometimes deeply emotional." The film will screen on Thursday, January 26. You'll note on the film page (above link) that the movie stills they've released thus far are rather uninteresting with mostly dog images.
November 8, 2011
Coming to theaters next year
CIA thriller SAFE HOUSE, directed by Daniel Espinosa, will open in theaters on February 10, 2012. Denzel Washington plays the most dangerous renegade from the CIA who comes back onto the grid after a decade on the run. When the South African safe house heís remanded to is attacked by mercenaries, a rookie operative (played by Ryan Reynolds) escapes with him. Now, the unlikely allies must stay alive long enough to uncover who wants them dead.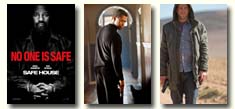 Sam co-stars in the action-packed film along with Brendan Gleason, Vera Farmiga, Robert Patrick, Liam Cunningham and Ruben Blades. Perhaps Universal's budget is tight because their publicity campaign is inconsequential with a rather boring web site with little information. They haven't even released the roles or names for most of the cast! And as far as the title, it's been used so many times before, you'd think the producers could have been more imaginative. Anyway, here's our first glimpse of Sam: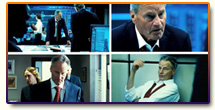 Yes, another review!
I could not resist posting this "Blackthorn" review published by the San Diego Reader:
A real Western is riding our way from South America. Up in the high Andes, Blackthorn is much more than an exotic footnote to 1969ís "Butch Cassidy and the Sundance Kid".... In this better sequel, Sam Shepard never strives for charm as the aging Cassidy. Known as James Blackthorn in Bolivia, and thought to have died there with his pal in 1908, Butch lives on in a deep backland. In 1927 he is a rugged old bone, raked by memories, raising horses, comforted by a native woman, and imagining a son he has never seen.

And he is Shepard, crowning his acting career. At a certain slant the gray, bearded actor looks so much like Walter Hustonís prospector in "The Treasure of the Sierra Madre" that I almost gasped a welcoming laugh. To the filmís great advantage, director Mateo Gil and writer Miguel Barros are Spanish. They stake their claim away from the Bob & Paul myth.

Their Bolivia is shot with powerful sensuality by the great Spanish cinematographer Juan Ruiz AnchŪa and rooted in Shepardís hardbitten, scraped-down magnetism. Along with some sketchy plot involving an alcoholic consul, we have fabulous mountains, a desert that is death made visible, and Blackthorn igniting his true Cassidy whenever he rides a fast horse or fires a rifle. He also sings a bit like a mule with a muse.

Most central is friendship. Loyalty haunts Blackthorn, making him stay true to the woman, his horse, the unseen son, the memory of Sundance. And, perhaps, the Spanish mining engineer who hauls the old fugitive back into danger. Their alliance is the spring of tension in a terrific, full-hearted Western.
The film is still available thru video on demand but it will be released on DVD and Blu-ray on December 20th. There are no details if the disc will include any extras.
The Ellen Steward Award
Last night La MaMa's gala event celebrated the 50th anniversary of its Manhattan theatre. Our playwright was honored with the first Ellen Stewart Award although the honoree was not present. Possibly his absence was due to the Arkansas shoot of his latest film, MUD. No excuse was given in the media coverage. It was reported that Sam sent a video message of remembrance. He related how as a young man, he wanted to put on a play and he didn't know where to do it. He was pointed in the direction of Stewart who told him she would do his play before he had even finished asking her. "She always wore these tight pants and these green, flowing shirts... she was very sexy," he said. He also remembered selling coffee in the cafe. As the recipient of this award, Sam was given the opportunity to choose a young artist who will then create and present a new work to be produced during La MaMa's 51st season next year. Sam chose Matthew Paul Olmos, who was recently awarded the "Top Prize for the Americas" by the BBC 2011 International Playwriting Competition for his play "The Nature of Captivity."
Show Time!
You can now watch Sam's brilliant performance in BLACKTHORN in your own living room through video on demand. That's exactly what I did and it was worth every penny! The cinematography alone brings esoteric pleasures but certain images of 'Cowboy Sam' as the weathered but rugged James Blackthorn (aka Butch Cassidy) will linger with you long after the film is over. Yes, images like the scene where Blackthorn, dressed in his long auburn coat, sits quietly cross-legged on the desert floor across from his enemy. His craggy-lined face and chiseled looks capture a man with character written all over him. Even his raspy rendering of some old cowboy songs will bring you smiles. It's a must-see!!! The film has been warmly received by critics and Sam's performance has received heaps of praise - check out the BLACKTHORN film page!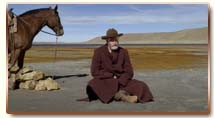 There's a ton of new interviews you can check out in the press section. Obviously, Sam was committed to giving appropriate publicity for "Blackthorn" as the lead star so he gave several interviews via phone and a few in person when he was in town for the premiere. Here are some photos taken in NYC on September 29th.

I've plucked out some interesting tidbits from his several interviews:

On his career as actor vs. playwright
"I don't get offered leading parts. I suppose I've become a kind of character actor or sideman. I think it had to do with probably in the '90s, I refused so many leading roles that they gave up on me, or I just became unpopular, or I became old. All those reasons."
"I didn't think I would be taken seriously as a writer if I became a movie star. You don't want to be ignored as a writer because you have this other thing... There was a review of a play of mine in London a few years back that said, 'It's a pretty good play for a movie star.' And I thought, 'Ugh! This is exactly what I didn't want!'"
"The only thing I really regret was "Lonesome Dove." I turned that down because I had really young kids at the time, and it was a long, long shoot. It was extremely long. I just didn't want to be gone that long, but I do regret that. I could have played either one of those characters and was offered both of them."

On his present film project, MUD
"This is a beautiful script, great little script. It's a script I wouldn't even think about touching except rearranging a little bit of the language in it, but there's no way you can improve on it. I play an ex-sharpshooter from the army who lives alone on a riverboat house and is sort of the protector of the Matthew McConaughey character... The writing is totally authentic and flows. It doesn't feel like any of it is contrived."
"I won't be there [in Arkansas] very long. I'll probably be a week shooting the initial stuff and then the very last scene, because of the nature of it, has to be shot in New Orleans, down on the Gulf, and we don't shoot that 'till late November, so I'm shooting in Arkansas mid-October and then that at the end."

On aging
"In many ways, I don't feel any wiser with age, except for one thing. I feel more and more it's a necessity to stay working. That's what I've learned now and will never forget. You must keep your mind active. Keep working. If you let that slip and lose your focus then you can get very, very lost. I've found when I'm not working, I can dwell on all kinds of stuff. That's just not productive. So, I try to keep that work ethic going because it's necessary."
"Iíll tell you the great secret that Iíve learned at this age. Itís about staying in the present. Itís not an easy trick. The Dalai Lama seems to do well at it ó and we can all aspire to do what heís doing. Not many other people seem to do well at staying in the present, and you have to remind yourself. I think the problem is that life tries to make us not stay in whatís happening to us right now. What Iíve learned now is that itís very easy with age to get lost in the past or project oneself into the future. To stay in the present is the most difficult thing at all, but well worth it., if possible. Thatís the aim."

On working with Diane Keaton and the upcoming "Darling Companion"
"I enjoyed it very much. Great actors. I've worked with Diane many times. Always love working with her... "Every film Iíve done with her has been fun. We have an extraordinary bond. Sheís this fantastic combination of brilliance in comedy and intelligence. A dream! I just did another film with her ("Darling Companion") about a woman who rescues a dog off the freeway and then I lose the dog. Itís a brilliant comic script about us searching for the dog and meeting all these whacked-out characters."

On where he lives
"I basically live out of my truck - I mean from place to place. I feel more at home in my truck than just about anywhere, which is a sad thing to say but it's true,"
"I've come and gone from this town [NYC] so much, going back to '63. It's not the place I choose to live. It's the place I choose to work." (Sam now makes his home at his Kentucky horse farm and in Santa Fe, New Mexico)

On writing his autobiography:
"Iím not interested in autobiography at all. No, never. I mean, in a way, all the plays have been autobiographical, but not confessional like that. Iíve never read an autobiography where the protagonist isnít the hero of his story. Itís ridiculous. Iím just not interested in it."

On writing:
"I write all the time. I write obsessively. It keeps me feeling as though I have an activity that's meaningful. I do it everyday, but not out of some sense of ritual. I feel more and more that there's a necessity to it. Work keeps you sharp."
"There's nothing serene about it. Yeah, I would say that it did come from a fractured sensibility. And it's still fractured because of the state of things. I'm extremely grateful that I found writing, but it doesn't make it any more peaceful."
"I feel very lucky and privileged to be a writer. I feel lucky in the sense that I can branch out into prose and tell different kinds of stories and stuff. But being a writer is so great because youíre literally not dependent on anybody. Whereas, as an actor, you have to audition or wait for somebody else to make a decision about how to use you. With writing, you can do it anywhere, anytime you want. You donít have to ask permission."
"I write quite a bit on set because there's a lot of time sitting around. Oftentimes it's just notebook stuff that later turns into short fiction or notes for a play or dialogue but I don't sit methodically and try and make a play as if I was on my own time. But trailer time is a perfect opportunity to get some writing done."
"I donít own a computer. I write longhand. In notebooks. Itís then typed up. And retyped until I feel Iíve got it."
"I have two manual typewriters that I use. I prefer them. I started out that way. I get habitual about stuff. I just prefer it over the computer because it doesn't feel like you're doing anything. You're looking at a screen and clicking the keys, but the keys - they're just representative. They don't actually hammer a letter down on the page. I like the page a lot. I don't relate to the screen so much."
Patti & Sam
There's a Patti Smith album in the works - and it will include some songs with Sam. Yes, singing, not drumming. Apparently, the pair have been recording "old tunes" together. Asked if "old tunes" means songs from Patti's early career, Sam laughed. "No, no, old songs before we met," rattling off names of bluesmen, gospel singers and banjo players, most from the dawn of the recording era. "Ivory Joe Hunter, Richard 'Rabbit' Brown, Washington Phillips, Charlie Poole - those guys." Fans of the Holy Modal Rounders, the folk group Sam once recorded with, will be happy to hear that ďHesitation BluesĒ (a traditional tune they famously covered) is on the set list. I recently came across this rare old photo of the twosome probably taken close to 40 years ago.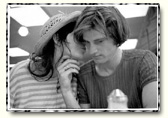 Back in February, there was some kind of jam session going on with Patti in Soho, which also included Sam's 24-year-old son, Walker, who plays with the Dust Busters band.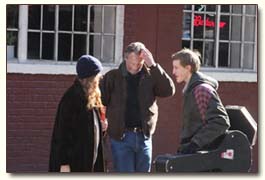 And here are some interesting comments from Patti that describe her friendship with Sam:
"Our friendship transcended any youthful difficulties; it transcended all our different periods of life. We're just the same. When Sam and I are together, it's like no particular time. People part and people die, but to be able to have such a rich history with a human being as a friend is beautiful... He fiercely guards his privacy, but if he's talking to you and lets you in the door, he offers everything. You can sit at his table. You can ride his horse. You can look in his notebook. It's just a matter of walking through the door."
Plays in the works...
Our playwright is presently working on a couple works. He just finished the bones of a three-act play, which he began writing during a six-month residency at the Santa Fe Institute in New Mexico. He says he had earlier sworn off writing longer works, but this one just came to him. He doesn't expect it will be finished for another year and rumor has it that it might eventually be produced by New York's Signature Theater.
October 3, 2011
"Blackthorn" premiere in NYC
Sam turned out for the premiere of his Butch Cassidy western in NYC on September 29th. The following photos show him with BLACKTHORN's director, Mateo Gil, and his companion for the evening, producer Heather Rae. Yes, those beautiful high cheekbones are authentic - she's part Cherokee. Ms. Rae has been a Sundance Film Festival fixture for years and is considered a good friend.
September 26, 2011
New movie role
Good news! Sam has joined the cast of the feature film MUD, written and to be directed by Jeff Nichols. His co-stars are Matthew McConaughey, Reese Witherspoon, Tye Sheridan, Ray McKinnon, Joe Don Baker and Paul Spars. Filming will begin shortly in Arkansas.
MUD is a coming-of-age drama centered around two fourteen-year-old boys who encounter a mysterious fugitive hiding out on an island in the Mississippi. Intrigued by this man, they enter into a pact to help him evade capture and reconnect with the love of his life.

Sam will play the reclusive character of Tom Blankenship, an ex-sharpshooter from the army who lives alone on a riverboat house and is a sort of protector of the Matthew McConaughey character.

September 4, 2011
La MaMa Honor

Sam will be the recipient of the first-ever "Ellen Stewart Award", named in honor of the late founder of Manhattan's experimental theatre company La MaMa. Ms. Stewart passed away on January 13th of this year at the age of 91. He will be honored during the company's 2011 gala on October 17 in the Ellen Stewart Theatre. Sam's relationship with La MaMa dates back to the 1960's when he was a young playwright and La MaMa had just opened its doors. In a remembrance about Ms. Stewart in The New York Times at the time of her passing, Mr. Shepard commented, "I walked up to her and said, 'I have this play.' And she said 'Let's do it, baby.' And she did. She just put on shows. I could bring something written on an envelope, and Ellen would put it on the next day." His numerous productions at La Mama through the years included the 1983 rock concert version of his "The Tooth of the Crime", which La MaMa remounted in 2006 on the occasion of the company's 45th anniversary season.

This honor is presented "to an artist who embodies the courage and pioneering spirit that Ms. Stewart encouraged at La MaMa, an artist who carries on her ideal of challenging conventional theatrical boundaries and expanding our understanding of human potential." As part of the honor, the recipient will also select a young theatre artist to create a new work to be presented and produced at La MaMa.

The gala will include entertainment from actors and writers with ties to La MaMa, including Wallace Shawn, Estelle Parsons, John Kelly, Justin Bond, Scott Wittman, Taylor Mac and Elizabeth Swados. The evening of cocktails, dinner and performance will begin at 6:30 p.m.
August 27, 2011
Sam and the Irish
When "Curse of the Starving Class" opens tonight, it will be the fifth Shepard play to open at the Abbey Theatre in Dublin in five years. Apparently, Irish audiences are enamored with our playwright. Sara Keating has written an article for the Irish Times in which she comments, "His pieces are deeply embedded with the evolution of the countryís culture and the failed myth of the American dream. If the glorified ideal of a Wild West being conquered by the heroic cowboy was the familiar template for American authenticity, for Shepard the frontier becomes a dangerous place where the superficiality of such dreams of individual freedom are revealed. If his diverse plays share a vision, it is the way they puncture the limitless freedom of pioneer country by refusing to allow it to be tamed."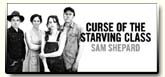 The play will run through September 10th.
Butch Cassidy Rides Again!
BLACKTHORN will be premiering on Video on Demand on Friday, September 2, but if you like what you see, we highly recommend seeing it in theaters because the locations in South America where Gil shot the film are absolutely glorious on the big screen. It will open in New York and Los Angeles on October 7 and in other theaters in the weeks that follow. You'll note that the new trailer that's circulating the Web is much more dramatic than the first one and I think these new posters offer more visual appeal as well.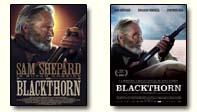 I'd also like to share this crackerjack review from Shelagh M. Rowan-Legg of Twitch:
Shepard is not nearly as well-known as he should be. He proved his acting mettle as Chuck Yeager in "The Right Stuff", but is probably more famous as one of America's best playwrights. He has always shied away from the acting spotlight, which serves him well in a role such as this. The intelligence and existentialism of his writing work come through in this performance, and show a Blackthorn/Cassidy as a man who, though he has learned that he can only now appreciate the small pleasures of life, the past hangs over him like a greying cloud, exile will take its toll on the psyche and he must run to the siren call of home. Too many bodies, too many deceptions, and even he cannot escape the one-last-job scenario. This is in some ways reminiscent of Clint Eastwood's work in "Unforgiven" but Blackthorn doesn't have anyone to cheer him on in his struggle to define his own moral code. He will still kill those who seek to kill him, but Shepard conveys in his eyes a desperate longing to put the gun down. Like Shepard, Noriega is not well known outside of his native Spain, where he is one of its best and most prolific actors. And like Shepard, he can convey subtle emotions and hidden secrets with a flicker of a smile and. He and Shepard have fantastic chemistry, and in some great comedic moments, banter back and forth so well you would think they had worked together for years. This is credit both to the script and the actors, that they slip into these roles with great ease.

Think of this film as a kind of spiritual cousin. Times have changed, both in the western genre and in the world of the film. Cassidy and Sundance might at one point might have been glorified in their exploits, but glorification of the criminal is done. Blackthorn has a kind of moral code now, in his age, though it is not necessarily different than before. He knows the good from the bad, but perhaps still does not quite understand on which side he belongs. "Blackthorn" is a minimalist, slow-burn film, beautifully photographed and scored. Moments of intense action are juxtaposed against a vast, impossible landscape, and its unexpected ending is quietly devastating. Like its characters, it does not reveal its secrets too easily, but when it does, it makes you laugh and breaks your heart.
August 6, 2011
Fantasia Festival screens "Blackthorn"

BLACKTHORN had its Canadian premiere last week at Montreal's Fantasia International Film Festival. Regularly held in July of each year since 1996, the festival is valued by both hardcore genre film fans, and distributors, who take advantage of the eclectic line up to select foreign and domestic films for release across North America. Kevin Jagernauth of Indie Wire reviewed the Butch Cassidy sequel describing Sam's performance as "very strong and impressive" adding that "the creases in his face alone deserve some applause." And film critic Tony Timpone gives praise with, "Shepard plays the revitalized Cassidy with quiet dignity. Despite his bank-robbing past and present complications as an accidental accomplice, Blackthornís a man with a strict moral code. With his contemplative stare and sparse dialog, playwright Shepard conveys all these subtle emotions beautifully."
I particularly savored the following comments left by an anonymous reviewer at Pop Culture Ninja:
This one is Shepardís film all the way, and it is easy to believe that Mateo and his team conjured the whole thing out of little more than the image of the ruggedly handsome actor sitting there staring out over the harsh beauty of the Bolivian desert. From this serenity flows a wellspring of legend, adventure, and human frailty encapsulated in the carefully paced mannerisms of Shepardís Cassidy; what we see is an old man, tired and softened by age with little to no sign of the American legend in sight.

Of course, Shepard himself still is an American legend, and he doesnít rely upon his image as the quintessential folksy cowboy to carry the film. This Cassidy is almost a brand new creation and miles away from what we think of as the Ďretired gunslingerí archetype. Shepard makes him a serene and peaceful man, who doesnít seem to have the edge necessary to have ever been the outlaw he claims to be.

Then, in a surprisingly delicate unpacking, as the storyís events require him to, the actor brings that passion, violence, and resolve churning back up to the surface like a phoenix from dry ashes. Itís perhaps the single most effective example of the old gun coming back from the pasture Iíve ever seen captured on film. It isnít just the performance that is strong, but also the character as written. Butch Cassidy isnít merely a historical figure or a campfire fairy tale, heís also a cinematic phantasm that has haunted our matinee daydreams for decades.
July 27, 2011
"Darling Companion"release next year
According to Variety, Sony Pictures Classics has snagged U.S. rights to Lawrence Kasdan's film, DARLING COMPANION. The film, now in post-production, stars Diane Keaton, Kevin Kline, Elisabeth Moss, Dianne Wiest and Sam. The story centers on a woman (Keaton) who rescues a stray dog only to see her husband (Kline) lose it, sparking a search that enlists an array of disparate characters. Sony plans to release the film sometime next year.
July 4, 2011
Teaming up with Scott Glenn again
Shepard fans in Boise Idaho are in for a treat this month. The Egyptian Theatre will be featuring Sam and actor Scott Glenn doing a reading of AGES OF THE MOON to benefit Boise Contempory Theater. The Idaho Statesman writes, "This really is an amazing opportunity to be in a room with two remarkable actors, and one of Americaís best playwrights." "Ages" tells the story of two old friends, Byron and Ames. Over whiskey on a hot summerís night, they wait for a total eclipse of the moon, reflect and bicker until fifty years of love, friendship and rivalry are put to the test. Sam and Scott happen to be old friends too. They worked together in ďThe Right StuffĒ about the early days of the U.S. space program and are connected through Idaho film producer Heather Rae, who is one of Shepardís longtime friends. She recently worked with Glenn in Jaffe Zinnís film ďMagic Valley,Ē which filmed in Idaho. The reading will be held at 6 pm with tickets priced at $50, $75 and $100.