June 27, 2008
More Press...

A few theatre articles surfaced this week in NY publications regarding the US premiere of KICKING A DEAD HORSE. The Village Voice's headlines read "True East: American Icon Sam Shepard Returns to New York After a 28-year Absence". Journalist Alexis Soloski writes, "Though well into his sixties, Shepard embodies the mystique that's long surrounded him. In jeans and a green button-down shirt, with cragged features and silvering hair, the dirt from the California deserts of his boyhood still seeming to scuff his boots, Shepard looks the part of the playwright-cum-cowboy, the literati pin-up. But that image can eclipse the intelligence of his work, just as his vernacular language and very voice (soft, unassuming, with a hint of a drawl) can belie the sophistication of his ideas. That Western aura also belies the many years he spent in New York, living in East Village dumps, working odd jobs, writing his first plays, and earning the first of his unprecedented 11 Obie awards." You can read the full article here.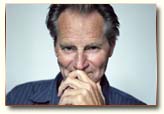 On June 22nd New York Magazine featured an article called "How the West Was Lost: Sam Shepard takes on cowboy poseurs - and his own iconhood." Read the full article here. Apparently Sam's next project is writing another play for Stephen Rea. It's called AGES OF THE MOON about two old friends who become enemies. He insists it's a different breed than "True West" or "Simpatico" and no, it doesn't have a horse this time!
From the NY Times comes "A Lone King Lear on the Lone Prairie." Columnist Celia McGee focuses on the play's Irish star. Sam comments, "There's no one thing in Stephen's performance that makes him a brilliant actor. It's more that he's an extraordinary man who grew up in Belfast during all the horrible stuff the Irish refer to as the Troubles. He's been through a lot, and it shows on his face." Read the full article here.
A Horse Man

Here's a drawing of Sam at a Joe's Pub event a couple weeks ago. The artist is Michael Arthur, whose ink drawings are his live reactions to guests at the NYC pub. That evening in a public conversation with The Paris Review's Philip Gourevitch, Sam said: "I've been around horses all my life. I can't see that ever ending. I really miss 'em when I'm in NYC. I see a cop on a horse and I go, 'God, how lucky is that guy?'" Yup, horses certainly have been a major passion in this man's life starting in his youth when he worked as a ranch hand. Besides writing about horses - think "Geography of a Horse Dreamer", "Simpatico", "Far North" among others, and saddling up horses in several films, Sam is also an avid racing follower and owner and likes nothing better than tending his horses at his Kentucky farm in Midway whenever he can get away from the Big Apple.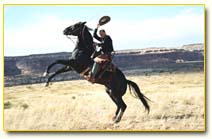 June 3, 2008
At The Moth

The last storyteller at Thursday evening's "Toil and Trouble... Stories of Experiments Gone Wrong" at NYC's The Moth was Sam relating a very painful, but humorous story of how Choo-Choo, his stunt double on "The Right Stuff" was thrown into a cactus by the horse Sam insisted he use. "Back in the early '80s," he said, he was in the Mojave Desert making a film and he was supposed to be in "a chase scene on horseback." He wants to use his own horse, a roan, but there is no roan to double for the stunts. The stuntman says, "We have a serious stunt to do, and the insurance company isn't going to let you do it — because you can't do it." But he checks out Sam's roan and agrees to try it.
The stunt involves hitting the arm of a saguaro cactus, which has been rigged to snap off, using a balsa wood dowel. ("That's the scientific part," Sam said). The stuntman "is supposed to crash into it and get his leg caught in the stirrup, and he gets dragged and then he falls off."
But when they shoot the sequence, "the horse sees a big black electric cable" and perhaps thinking it's a snake, "smashed directly into the cactus" and the stuntman "is dragged 150 yards." He loses half an ear, breaks three ribs and a collarbone and has lacerations. Later Sam goes to visit him in the hospital. The patient is philosophical. "These things happen," he says. But he adds: "That might be a nice horse, but he can't dodge a cactus."
And that, Sam concluded, was "the last time I used my own livestock" on a film shoot.
Photos from this event can be seen at this link.
Summer productions
If you're looking for a Sam Shepard play this summer, you'll find these productions on the East and West coasts.
Killer's Head: Studio@620 by Black Horse Theatre, St. Petersburg, FL. Through June 5
Kicking a Dead Horse: Public Theater, NYC. June 24 - July 27.

Buried Child: Actors Theater of San Francisco, CA. Through July 12.
True West: Betty Condiotti Experimental Theater at Spreckels Performing Arts Center, Rohnert Park, CA. Through June 29.
True West: Banyan Theater Company, Sarasota, FL. July 13-August 3.
May 28, 2008
Strumming on the old banjo
I just came across more of Sam's music gigs in the Big Apple. On February 20th Jalopy Theater presented "Roots N Ruckus" with The Velocity Ramblers. Sam and son Walker also played at NYC's Bowery Poetry Club back in April and June of last year. Peter Stampfel, the original Holy Modul Rounder and brainchild of this new band, has nothing but admiration for his friend - "When Sam joined at age 17, he'd been playing banjo for seven months, and could do stuff that I can't do after half a century."
May 23, 2008
On to London
When KICKING A DEAD HORSE finishes its Public Theatre run, the Rea and Shepard team will be headed to London. The play will launch the theatre's autumn season with a 16-performance run from September 5-20 with an official opening on September 10. "The Late Henry Moss" received its European premiere at the Almeida in 2006.
Sam the storyteller
Sam will be one of the participants at the renowned storytelling collective The Moth in an event entitled "Toil and Trouble…Stories of Experiments Gone Wrong," as part of the 2008 World Science Festival. The event will take place at Symphony Space on May 29, 2008 from 7:30-9:00pm. The storytellers will each take to the stage to tell tales of heroic failures, miscalculations, and experiments — scientific and otherwise — gone wrong. In keeping with Moth traditions, each story must be true, must be told live with no script or notes, and must be told in ten minutes. The Moth, a New York-based non-profit arts organization dedicated to the art of storytelling, has been called "New York's hottest and hippest literary ticket" by The Wall Street Journal. "The World Science Festival is thrilled to partner with The Moth because what so many fail to recognize is that science itself is a story—a story in which generations of seekers across the world's continents have boldly attempted to understand themselves and the universe we all inhabit," said Festival Co-Founder, Brian Greene. "And to have Sam Shepard participate in the program underscores emphatically how science is so much more than what many of us experienced in the classroom—science can stir not only the mind but also the soul." Tickets for this event are priced at $35 and are available at www.worldsciencefestival.com or by calling 212-864-5400. Symphony Space is located at 2537 Broadway at 95th Street.
Documentary narration

You can add another narration to the great wealth of Sam's work. Unbeknownst to me and perhaps others, back in 2001 he narrated a GREAT PERFORMANCES program called "Kurosawa". A giant of 20th-century cinema, Akira Kurosawa holds a unique place among the world's most distinguished filmmakers as the only non-Westerner. Yet, surprisingly little is known of Japan's greatest filmmaker outside of his native country, and only a few of his films are familiar to American audiences. The documentary features film excerpts; archival footage never before seen in the West; interviews with actors, including Clint Eastwood and James Coburn; and re-creations from his book, Something like an Autobiography, examining the personal circumstances that produced one of the world's greatest cinema artists. The film, directed by Adam Low, is available on DVD.
May 15, 2008
Greenwich Village Event
On Monday, June 9th, Joe's Pub will present The Paris Review: Sam Shepard and Philip Gourevitch in conversation. In the tradition of The Paris Review's renowned Writers at Work series of written interviews, Philip Gourevitch, editor of The Paris Review and longtime staff writer for The New Yorker, will interview Sam about his contributions to the American theater and the writing life. I love this snippet from Sam' interview in the magazine's Spring 1997 edition. (FYI, this interview is included in Modern Library's "Playwrights at Work," a series of interview reprints from Paris Review)
Interviwer: Do you have any idea what the end of a play is going to be when you begin?

Sam: I hate endings, just detest them. Beginnings are definitely the most exciting, middles are perplexing, and endings are a disaster.
Joe's Pub is located adjacent to the Public Theater at 425 Lafayette Street, where KICKING A DEAD HORSE will be staged next month.
It was just announced that the play's run has been extended by two weeks. It will preview on Wednesday, June 25 and run through Sunday, August 10 with an official press opening on Monday, July 14 at 7 PM. It marks the fifth Shepard play to have its premiere at The Public, following Curse of the Starving Class (1978), Tongues (1979)True West (1980) and Simpatico (1994). Artistic Director Oskar Eutis shares his excitement, "It is an honor to welcome Sam Shepard back to the Public. He is one of our greatest writers, and Kicking a Dead Horse is perhaps his most personal work to date. Funny, Elegiac and moving, it is a great meditation on age and the American West."
T Bone & Sam

T Bone Burnett's new album, "Tooth Of Crime" was released worldwide on Tuesday on Nonesuch Records. The new album is an outgrowth of a long-running collaboration with Shepard that began with the 1996 musical staging of his noted play TOOTH OF CRIME (SECOND DANCE) in New York. The songs are distillations of modern conflicts and personal drama in a modern hyper-reality. This new collection is the realization of years of work to fully capture the inspiration of Shepard's forceful ideas. Burnett, best known as producer to the stars and curator of soundtracks, started writing these songs years ago for a revamped production of Sam 1972 play of the same name, about a washed-up rock star. Only bits were used, and Burnett didn't finish the songs until recently.
New DVD this summer

You may remember that two years ago WALKER PAYNE premiered at the Tribeca Film Festival. Since the filmmakers couldn't find a distributor, there was no theatrical release forthcoming. On August 26, 2008, Turner Classic Movies will release it on DVD. Set in Southern Illinois in the 1950s, Payne (Jason Patric) is a down on his luck miner trying to raise $5,000 to rescue his two daughters from their mother. Enter an opportunistic schemer (Sam Shepard), who convinces Payne to compete his beloved pet in a series of illegal dogfights. Funny story - The film seemed to win over many in the audience at Tribeca, but one particular woman was turned off by the intense dog fight matches. During a Q & A, she called the film disturbing and said that some of the scenes hit a bit too close to home for her. "Is anyone else as upset as I am?" she asked the filmmaker, actors on stage, or anyone who would listen. While some giggled, actor Jason Patric quipped, "There are a lot of therapists here in New York City." Director Matt Williams stepped in relatively quickly to offer a few soothing words. The photo below shows the cast on stage - Bruce Dern, Jason Patric, Sam Shepard, Kadee Strickland and Drea De Matteo. For more info on the film, click on the film title above.
Mystery of the "Coyote" solved
Last month, a new book hit the shelves that has been garnering rave reviews. "Girls Like Us" by Sheila Weller focuses on the lives of three music artists - Carly Simon, Carole King and Joni Mitchell. Definitely this summer's beach book - at least, mine! If you're interested in trivia, you might know that Mitchell's song "Coyote" was an ode to an ex-lover but which one? Well, it was none other than Sam Shepard! The lyrics include, "Coyote's in the coffee shop... He's staring a hole in his scrambled eggs... He picks up my scent on his fingers... While he's watching the waitresses' legs" In the autumn of 1975, Sam was invited to tour with Bob Dylan and his Rolling Thunder Revue, a large band and entourage that included Mitchell.
Coming this summer
The romantic comedy, THE ACCIDENTAL HUSBAND, has a summer US release in on August 22, but don't get too excited. It premiered in the UK back in February to disastrous reviews. No wit, no sparks and no clear direction from director Griffin Dunne. Perhaps Uma Thurman was miscast as comedy doesn't appear to be her forte. I for one have always admired her talents beginning with her role in "Henry and June" (1990) - she just blew me away! And I guess I feel a kinship to her since she has lived in my hometown for several years. As far as Sam's performance, BBC's Stella Papamichael wrote, "Only Sam Shepard conveys a modicum of sincerity playing Dr Lloyd's quietly concerned father. Film critic Mike Beharrell echoed those words with, "The most relaxed and natural person in the whole thing is Sam Shepard, playing Thurman's old Dad in a homespun, 'I'm thinking of the money' kind of way."
Sam Sighting...
The name of the town is Versailles, Kentucky, and last night Sam was spotted having dinner at Railheads, an old train depot style restaurant that offers up American cuisine with a Southwestern touch. That's not far from his horse farm in Midway, which coincidentally has some connection to Jesse James. The town's Black Horse Tavern is where Frank (played by Sam in the recent film) and Jesse's mother was born.
April 20, 2008
Curse returns...

Sam has returned to his 1978 Obie Award-winning play, CURSE OF THE STARVING CLASS, to make revisions for a new San Francisco production that will feature Pamela Reed, a veteran of the first staging. American Conservatory Theater (A.C.T.) will present the 30th anniversary production of the play that looks at the American dream, April 25-May 25. Peter DuBois directs, with Reed playing Ella, 30 years after creating the role of Emma. The director, who had a series of private conversations with Sam, notes. "In addition to a number of changes clarifying the dialogue and the characters, Sam has shifted the play from a three-act to a two-act structure. The changes heighten the absurdity and the humor of the play, which walks a line between pain and comedy in a specific and beautiful way, and the changes deepen that contrast." Artistic director Carey Perloff adds, "It's particularly uncanny that we're presenting this play about the wild underbelly of the American dream of home ownership while the homes of half of America are being foreclosed." Some of you serious moviegoers may remember that 25 years ago Pamela Reed starred with Sam in the film, THE RIGHT STUFF.
Funny stuff behind the scenes...
From the Calgary Herald comes a few tidbits about Sam. Costume designer Devora Brown was asked what her biggest wardrobe malfunction was. She replied, "That's easy. On "Jesse James" the clothes were very old and in horrible states so sometimes the thread would just be disintegrating because it was so old. I don't get starstruck, but for some reason Sam Shepard made me so nervous. He was relaxing in his trailer in the middle of the night and they needed him on set so I knocked on his trailer to make sure everything was OK, but he had blown out the crotch of his pants . . . so I go back and get a needle and thread and I come back and he's smoking a cigar on the edge of a chair and holding out the crotch of his pants - still wearing them. So I'm sewing, mopping my brow and my hands are shaking because it's Sam Shepard and Sam Shepard's crotch."
NY's Public Theater presents...
This is the revised performance schedule for KICKING A DEAD HORSE at New York's Public Theater.
Tuesday June 24 - Sunday July 27
Tuesday at 7pm
Wednesday - Friday at 8pm
Saturday at 2 & 8pm
Sunday at 3 & 7pm
Staged last year at the Abbey Theatre in Dublin, it will again be directed by Sam starring Stephen Rea. Critics describe the play as "classic Shepard, rueful and paradoxic." It will soon be published in paperback by Vintage on June 10th. It was previously published in the UK by Faber & Faber back in September 2007.
March 10, 2008
Patti Smith: Dream of Life

Celebrity photographer Steven Sebring's feature directorial debut "Patti Smith: Dream of Life" is described as a "hypnotic plunge, a breathing collage of this legendary musician/poet/painter/activist's philosophy. Twelve years in the making, the film examines Smith's "interior terrain," the ideas, losses and memories she wrestles with in addition to tracing her outward adventures. The film utilizes music, narration, graveyard pilgrimages, performance, political rallies, archival footage and verite moments with her working-class parents, children and friends to examine this punk pioneer. In one scene, she and her old friend and lover sit in the corner of her apartment playing vintage guitars, singing the blues tune "Sitting on Top of the World" as Sebring focuses on their feet tapping time in unison. It was Shepard who gave Smith her first guitar in 1971, a 1931 Gibson. At one point Smith also pulls up her pants leg, and then turning Sam's wrist to the camera, she shows their matching tattoos they'd gotten many moons ago.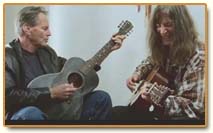 "Dream of Life" premiered at the Sundance Film Festival on January 20th followed by the Berlin Int'l Film Festival on February 9th. It will next be screened at the Philadelphia Int'l Film Festival in April.

February 23, 2008
Snow cancels Shepard's Boston Appearance
Last night Sam's gig had to be canceled due to bad weather. Boston's Museum of Fine Arts was set to screen "Bound to Lose," the documentary about the Holy Modal Rounders, a 1960s folk duo with a cult following you may know from the "Easy Rider" soundtrack. A live performance by the Velocity Ramblers, a band led by one of the original Rounders, Peter Stampfel, was to follow the movie and Sam was expected to jam with the band. Coincidentally, he also had to cancel his appearance with the band at Ohio State University back in November due to a horse accident that required minor surgery.
January 29, 2008
Sam sightings this month...
Sam took in a couple plays this month in the Big Apple. He was seen attending the Royal National Theater's production of Samuel Beckett's "Happy Days" at BAM (Brooklyn Academy of Music). He was also spotted at "The Seafarer" playing at the Booth Theater. For dining out with his family, he was seen with his family having dinner at Babbo's near Washington Square Park and also having breakfast at Pastis in the revitalized Meatpacking District. By the way, he was not seen at the SAG Awards on Sunday night. He had received a well-deserved nomination for RUFFIAN but lost to Kevin Kline.
Remembering Bill Hart
Yesterday the Village Voice featured a remembrance by Sam about his late friend and theater colleague Bill Hart (1937-2008). You can read it here. Bill Hart was a director and a former literary manager of the Public Theater. In addition to many other productions in his long career, Hart directed "States of Shock" and "Tooth of Crime" (Second Dance).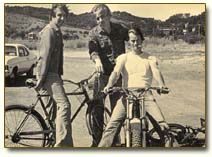 January 10, 2008
HD DVD release

JESSE JAMES HD DVD editions will be coming out on February 26th. Warner Warner Home Video has officially announced that the film will be released on Combo Format HD DVD and Blu-ray Disc. The only special feature available is a 30-minute making-of documentary. Death of an Outlaw explores the roots of the legend Jesse James and how he has become a man so many people remain interested in talking about 100 years after his death.
Sam on Drums...

The documentary "Bound to Lose" is expected to be released on DVD soon. The film features the Holy Modal Rounders, the legendary 40-years-running psychedelic folkster outlaws from NYC's Greenwich Village. Sam played on drums with the band from 1966 to 1969. In the film, Sam remarks, "It was just like a renegade insanity. I don't really know how we got into this or why anybody wanted to record us." You can click on the photo above to view the trailer. Back in November Sam had to cancel his appearance with the band at Ohio State University due to an accident that required minor surgery. Apparently Sam himself had some teeth kicked out by a horse. We'll have to wait on some new photos to see whether that famous chipped tooth is long gone.
DEAD HORSE comes to off-Broadway

And now some news about kicking a horse from Playbill: "There are some manly productions in the coming months. And some manly men - including one who is possibly the manliest man in the American theatre. Playwright Sam Shepard will spend the late spring at the Public Theater directing KICKING A DEAD HORSE, Shepard will direct star Stephen Rea in the tale of a Manhattan art dealer and - what else? - the myth of the West. (This is Shepard, after all.) Previews begin June 17. The Shepard/Rea team also premiered the play in Dublin last spring at the Abbey Theatre.
Real life vs. Reel life
The new indie film, "The Savages", written by Tamara Jenkins, has a great line when Philip Seymour Hoffman says to his sister (played by Laura Linney) - "We are not in a Sam Shepard play." The sibling tensions that arise between the two, the filial loathing they feel for their father, would all be recognizable to anyone familiar with Shepard's plays. However, truth be told, Hoffman was indeed in a Shepard play - "True West" in an off-Broadway revival back in 2000!