December 4, 2014
Headed to Broadway
One of my favorite Shepard plays, FOOL FOR LOVE, will be coming to Broadway next year. The production staged at the Williamstown Theatre Festival in MA this summer was such a success that it will move to the Manhattan Theatre Club's Samuel J. Friedman Theatre. Directed by Daniel Aukin, the leads will again be played by Sam Rockwell and Nina Arianda. Performances will begin September 15, 2015 with opening night set for October 8. The story goes like this - "Holed up in a seedy motel on the edge of the Mojave Desert, two former lovers unpack the deep secrets and dark desires of their tangled relationship, passionately tearing each other apart. Beaten down by ill-fated love and a ruthless struggle for identity, can they ultimately live with, or without, each other?"
Sam says that his own experience of love inspired this play, which was written shortly after breaking up with his wife O-Lan.
Photo additions
Here are a couple more photos taken on November 11th. In the first one, Sam strolls the sidewalks of New York with Stephen Rea and Derry journalist Mary-Louise Muir. The second was taken in the evening at the play's opening with another Irishman - yes, Liam Neeson.
November 24, 2014
What they're saying about "A Particle of Dread"
Theater critics are beginning to share their thoughts on this enigmatic play. Read the review excerpts. No one sounds too excited about the playwright's latest efforts but the reviews are speckled with positive comments, specifically about the cast and production. Most critics agree that:
It helps to brush up on your Sophocles.

It feels like one has been dropped into a CSI episode.

The word "riff" comes to mind - a rapid energetic often improvised verbal outpouring; especially one that is part of a comic performance.

It is frustratingly oblique rather than illuminating.

George Santayana's quote is true - "Those who cannot remember the past are condemned to repeat it.

It meets Signature's goal of presenting works that might otherwise not be seen in major productions and may satisfy die-hard fans of Shepard's canon.
Opening night saw some familiar faces, those of Liam Neeson, Bill Pullman, Olympia Dukakis, Donald Moffat and Salman Rushdie. Here's a photo of Sam last night with lead actor Stephen Rea and Artistic Director Jim Houghton.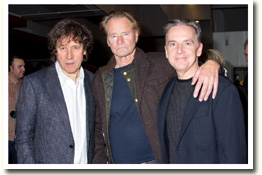 On the sidewalks of New York...
The paparazzi caught up with Sam as he attempted to hail a taxi on October 26th.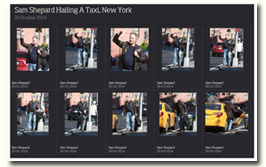 But the more interesting photos were taken in Soho yesterday showing Sam with a mystery woman. Aha!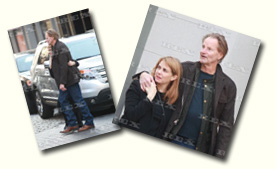 If they were walking with their arms around each other, I wouldn't deem it so serious but the fact is their fingers are entwined. You may remember back in May, I posted a photo of another mystery woman. He seems to favor short women!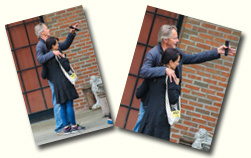 Just published

This month Michigan's Mavick Press published a strangely titled 53-page poetry collection called "I dreamt about Sam Shepard last night". This work of Swedish poet Ingela Strandberg has been translated into English by Göran Malmqvist. The photo cover comes from a scene in Sam's 2005 film, "Stealth". Strandberg has been characterized as "a fusion of Sylvia Plath and Elisabeth Bishop, but with a Swedish sensibility transported half a century forward." I was able to find this partial image of her Shepard poem. Interesting trivia... But you know what (laughing...), dreaming about Sam Shepard happens to be a very common occurrence among older women!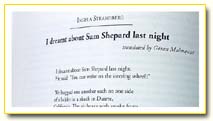 November 23, 2014
"A Particle of Dread" officially opens!
After two weeks of previews, the first reviews are trickling in. Here are some excerpts:
Linda Winer, Newsweek:
Mythic, mysterious and obscure... The 90-minute drama, another transfer from actor Stephen Rea's Field Day company in Northern Ireland, is one of the more sober and obscure collages among Shepard's 50-odd, deeply scary, weirdly primal, often amusing works. In many ways, this feels like a return to the playwright's experimental off Off-Broadway beginnings... Ancient myth mingles with Irish accents and desert-rat Americana in a play that is both compelling and pretty ponderous. Still, nobody but Shepard could have written it.
Matthew Murray, Talking Broadway:
If not for Shepard's other tension-packing device, of intricately disrupting the timeline so that, at certain moments, you're not sure who's involved in the event you're watching or when exactly it's happening, there would be no notable deviations from the source at all. This doesn't exactly kill the evening, but it also doesn't help it — you're going to take away very little, if anything, from A Particle of Dread that you wouldn't from a solid version of Oedipus Rex...

For her part, director Nancy Meckler has kept the pacing sharp and the actors focused, though she's not able to conjure surprise when Shepard doesn't give her enough cues to do so. Nor has she made convincing use of Frank Conway's portentous but head-scratching abattoir set or the live musicians who oversell the spooky factor through Martin's banshee-noir compositions. Too often, the production seems to be trying to say too much, in too many different ways. The script suffers from the opposite problem - Shepard's message would come through more distinctly and more powerfully if we could see how it's evolved across the last few thousand years. Resetting the action in the America of today only takes him so far, and the play feels as though it wants to go further than he allows it.
Frank Scheck, The Hollywood Reporter:
This oblique intellectual exercise is likely to prove off-putting to all but the most adventurous audiences, although Shepard completists will no doubt want to catch the latest offering from the playwright's ever-restless imagination... Audience members will find themselves baffled at times by the juxtaposition of characters and situations, which seem to have been tossed into a blender and randomly reassembled.... Filled with comic digressions, the piece is frustratingly oblique rather than illuminating... Shepard's willful self-indulgence smacks more of an overeager university drama student than a seasoned playwright.
November 19, 2014
Photos from November 17 event
On Monday Sam and Stephen Rea appeared on stage at New Jersey's Centenary Community College for a public interview. Here are some snapshots from that evening though their clarity is poor.
November 14, 2014
NJ event
A public interview with Stephen Rea and Sam Shepard will take place at 7 p.m. on Monday, Nov. 17, in the Sitnik Theatre in the David and Carol Lackland Center, 715 Grand Ave., Hackettstown, NJ. The event is free and open to the public. "This is an amazing opportunity for members of the Centenary community and beyond to meet Stephen Rea and Sam Shepard," says Dr. James Patterson, Centenary College Provost and Chief Academic Officer. "It is a privilege to have them conduct a public interview here on our campus. This is an event that you won't want to miss." For more information, call 908-852-1400, ext. 2238.
First shot of Sam in "Bloodline"
It seems rather crazy that publicity photos for Netflix's new drama series, BLOODLINE, would be found on web sites in Norway and Argentina and not the good old USA. Go figure...
From the playwright on his Oedipus Variations
"If you strip it away in a certain way, it's very American. It's very much about murder and rape and pillage - it's not a pretty play - but it certainly speaks to the horror of contemporary life."
November 7, 2014
Yes, we love our movie stars (which includes Sam!)

In a telephone interview last month with Signature Theatre, Sam was quoted as saying, "I'm very disappointed in the current state of theatre, especially in New York, about this whole business of not being able to move a play. You know, you have to have a movie star in your play in order to be able to sell tickets. People don't come to see plays, they come to see movie stars. And as a writer, it kind of turns your stomach." Wait a minute here. Actor Stephen Rea, who will appear in the upcoming A PARTICLE OF DREAD, is counted among the top 10 Irish actors according to Hollywood.com and having appeared in more than 75 films, he certainly qualifies as a movie star! I just saw him once more in Graham Greene's End of the Affair, and he never fails to impress me. I think our movie star did right to hook up with Mr. Rea. Here's how they met according to Sam.
"I left New York in the early '70s... I went to London because the fringe theatre was happening at that time. It was very eclectic and every exciting in the way that the original off-off Broadway was, and that's exactly what I was looking for. Stephen and I met at the Hampstead Theatre, which is also where Nancy [Meckler] originated, and she happens to be directing, so the whole thing was incredible, almost accidental. I'm very grateful."
November 4, 2014
We're days away from the NYC opening of A PARTICLE OF DREAD at the Signature Theatre. Here are a couple of photos of Sam mingling with his cast and crew.
FYI, here's a little history of Sam's presence at Signature Theatre. He began his collaboration with the theatre in 1996 as Signature's sixth Playwright-in-Residence. That season saw productions of When the World was Green, a collaboration with director Joseph Chaikin, The Tooth of Crime, Curse of the Starving Class, and four of Sam's earlier one-acts: Chicago, The Sad Lament of Pecos Bill on the Eve of Killing his Wife, Killer's Head and Action.. Sam returned to Signature for the 2001-02 Tenth Anniversary Season for the New York premiere of The Late Henry Moss, and in 2012 helped usher in the first year in The Pershing Square Signature Center with his play Heartless.
October 23, 2014
Netflix drama coming in March

After all the hoopla over the past several months with Netflix boasting about Sam Shepard headlining their new series, it's rather disappointing to learn that he has hardly any screen time. So misleading!The IMDB lists him in ONE of the show's 13 episodes (does he die again? Think "August: Osage County") whereas Sissy Spacek appears in 7. At least the producers have finally given the series a name - BLOODLINE. All 13 episodes will premiere in March 2015 in all Netflix territories. The cast also includes Kyle Chandler, Ben Mendelsohn, Linda Cardellini, Norbert Leo Butz, Jamie McShane, Jacinda Barrett and Enrique Murciano. Netflix gives the following description - "'Bloodline' is a dramatic thriller that explores the demons lurking beneath the surface of a contemporary American family. The Rayburns are hard-working pillars of their Florida Keys community. But when the black sheep son comes home for the 45th anniversary of his parents' hotel, he threatens to expose the Rayburns' dark secrets and shameful past, pushing his siblings to the limits of family loyalty."
October 17, 2014
Extended!
According to Broadway.com, the US premiere of A PARTICLE OF DREAD has extended its run at Off-Broadway's Signature Theatre. Performances will begin November 11 prior to an official opening on November 23. The run will continue through January 4, 2015 at The Alice Griffin Jewel Box Theatre. It had previously been scheduled to continue through December 21. Tickets during the extension weeks start at $75 each.
In an interview a year ago, Sam commented on this Oedipus story. His words might be useful to those interested in purchasing tickets especially since his plays are often unstructured.
"I'm a great believer in chaos. I don't believe that you start with a formula and then you fulfill the formula. Chaos is a much better instigator, because we live in chaos – we don't live in a rigorous form. This play has been miraculously pulled together by a really talented director, Nancy Meckler. Oddly, I worked with her 35 years ago and she's made some kind of sense of it. That seems to be the thing everybody wants – sense... I don't believe in adaptation. I tried and I thought, eugh, I don't want to do an adaptation. I want to do a variation on. I want to do something with the emotions that the play is calling up. I want to take off on the feelings that the thing produces. If it doesn't produce those feelings, it's worthless, as far as I'm concerned. So in the case of Sophocles, he definitely calls up feelings. That's what you're adapting: the feelings, not form – the instincts and all the incredible things that are called up."
New film project
Sam's next role on the big screen will be in the thriller, YOU WERE NEVER HERE, which marks the narrative feature film debut of former performance artist and documentarian Camille Thoman, who is directing from her own script. Mireille Enox will star. She will portray an artist who follows and photographs strangers when disturbing events lead her to suspect she's being watched - blurring the lines between real and imaginary. Filming begins October 20th in Brooklyn and Manhattan.
October 2, 2014
Opening next month
As previously reported, Signature Theatre will be presenting Sam's most recent play, A PARTICLE OF DREAD, his harrowing rendering of the story of Oedipus, the mythical King whose tragic tale was first dramatized by Sophocles two thousand years ago. This Ancient Greek classis is re-imagined as a modern thriller set in the desert of the American West. Tickets go on sale on October 15th. This NY production will feature some of last year's original participants when in premiered across the Atlantic. The production will again feature Stephen Rea, Judith Roddy, Lloyd Hutchinson, Brid Brennan, composer and cellist Neil Martin and director Nancy Meckler.
Stephen Rea said, "It's exciting that Field Day is traveling to America for the first time with a new work by the great American playwright Sam Shepard, and a real honor to be working with New York's Signature Theatre to bring this production to an international audience. The play was specifically written for Derry, where Sam walked the walls every day of rehearsals. Derry is alive and embedded in this highly original conversation with the Greeks, offering us, I believe, a very special moment in English-speaking theatre."
September 19, 2014
On the London stage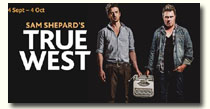 A revival of Sam Shepard's 1980 play TRUE WEST opened at the Tricycle Theatre in London earlier this month. Director Phillip Breen's production, starring Alex Ferns and Eugene O'Hare, was first staged at Glasgow's Citizens' Theatre last year. Breen explained, "When we did it in Glasgow Sam came over and really liked it, and he asked whether we wanted to transfer it to London. I said yes, but explained that we didn't have the rights. So he said 'let me sort that out' and then on the following Monday morning, I got a call from his agent in New York saying he had been knocked out by the production and was enabling it to come to London. That was obviously amazing, and he's been a great support to us ever since." The classic Shepard play runs through October 4.
On Hoffman & Williams

In a recent interview Sam spoke about the deaths of Philip Seymour Hoffman and Robin Williams. He had seen Hoffman just a week before he died when they attended the Sundance Film Festival in January. Sam's opinion was, "He was overweight, but he was overweight a lot. And he was pretty tired. He said he was going to go back and take a nap... See, I don't think he meant to kill himself. I think he had some bad heroin though I didn't realize he was that much of a junkie." He pauses. "I knew Robin pretty well and Robin knew he wanted out - he had Parkinson's. The two guys were very similar in that they were both overwhelmed by their own thing. I know a lot of people who've died... who've taken their own lives. But you know Patti [Smith], who's an old, old friend of mine, she wrote a review of the new Murakami book that appeared in the NY Times, and at the end of it, she said, 'I don't want to kill myself. I want to see what happens.' And what a statement. I believe her."
In the same interview, Sam shared more thoughts. About America, he says, "We're on our way out, as a culture." As others have pointed out, whether you agree or disagree with Sam depends on your definition of American culture. Perhaps his America may be on its way out but the America of others may be on its way in and he's going to be left in the dust suffering from Grumpy Old Man Syndrome. The fact is Sam Shepard is averse to change. BUT still so damn lovable...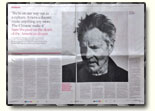 He tells us he's writing his first novel. "After six book collections, basically I thought, 'God, wouldn't it be so great to be able to sustain something?'" But he is hesitant to expand on plot or themes. "I don't know how to explain it. I really don't. Hopefully it's a novel, but I have the hardest time sustaining prose. I feel like I'm a natural-born playwright but the prose thing has always mystified me. How to keep it going? How do people do it, for years and years? I've been working on this for 10 years!"
He does his serious writing at the Santa Fe Institute because in Kentucky back at his horse farm, he would be easily distracted. Evidently the academic atmosphere is helpful. "It's a great discipline," he says. "So I'm very content for that reason. I mean I produce… pages. Pages! Whether they're any good or not…"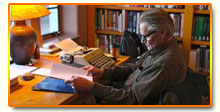 When it comes to the commercial aspect of movie-making, he says, "It's difficult. I know as an actor you have to negotiate but I can't handle the whole idea that art and commerce are synonymous. It drives me nuts. And then you get the reputation of being difficult to work with." There are, he adds, producers who "seem to really care" but he's skeptical of "the big studio guys" and Netflix, and those people who "don't think what the actor's going through, what the writer's going through, what the artistic essence is".
"Midnight Special" coming next year
Another film project has come to light that I wasn't aware of. Back in January MIDNIGHT SPECIAL was filmed in New Orleans. Having starred in MUD, its director, Jeff Nichols, once again cast Sam. The Warner Bros. film is a supernatural sci-fi thriller starring Michael Shannon, Jaeden Lieberher, Joel Edgerton, Kirsten Dunst and Adam Driver. Shannon plays Roy, a father desperate to protect his uniquely gifted eight-year-old son Alton. A race ensues to get Alton to a secret location all while being hunted by an extreme religious sect led by Sam's character and a government task force. Scripted by the director himself, the film will arrive on November 25, 2015.
August 28, 2014
Netflix series
For lack of any name, I had been referring to the new Netflix project slated for 2015 as the "Black Sheep" series. Still unable to come up with a name, the production at least is presently using THE UNTITLED KZK PROJECT. KZK is best known as the writing and production trio of Daniel Zelman and brothers Glenn and Todd A. Kessler (collectively known as KZK), who created the American legal thriller television series, "Damages". The description of this new series reads: "A family of adult siblings whose secrets and scars are revealed when their black sheep brother returns home." We now know some of the main character names. Sam, the patriarch, is called Robert Rayburn and his wife is Sally, played by Sissy Spacek. Several Rayburns are listed but they can't all be their children - John, Jane, Danny, Sarah, Meg, Ben, Kevin, Diana and Belle. I expect we will see our playwright in brief scenes. The photos below are location shots showing Gala Catering about to feed the cast and crew and the second one shows an abandoned array of director chairs including one for its star Kyle Chandler. They're certainly keeping this one under wraps.
August 21, 2014
Coming next month
The acclaimed thriller, COLD IN JULY will be released on Blu-ray and DVD on September 30. The first image below shows the Blu-ray cover. The second is a new poster which is my favorite; however, it doesn't connect to the film noir atmosphere and its cinematography which is soaked in dark hues. The third image is from Mondo, the collectible art division of the Alamo Drafthouse. Not too crazy about it but I did love the Mud poster they created last year, which is the fourth image.
The photo below is one of my favorite scenes because it shows Sam sitting in one of my favorite diners in town. Shot a year ago July in upstate New York, specifically Kingston, Esopus and Woodstock, a local can spot so many familiar places, such as the Olympic Diner.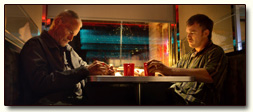 "Ithaca" - new film project
Filming began July 21 in Virginia for Sam's latest film, ITHACA. The film, executive produced by Tom Hanks, is Meg Ryan's directorial debut. Based on the book, "The Human Comedy", written by William Saroyan, "Ithaca" is a coming-of-age story set in the San Joaquin Valley in California during World War II.
Fourteen-year-old Homer Macauley is left to take care of his mother and family when his older brother goes to war. Homer's dream is to be the greatest and fastest bicycle telegraph messenger the world has ever known. The messages he carries all around his hometown are filled with love and pain that reflect how World War II has impacted the homefront. On top of his responsibilities as a messenger, Homer also has important duties at home. His father is dead, and his older brother has gone off to war, so he must help his mother in providing for his older sister and caring for his four-year-old brother, Ulysses.
Ms. Ryan will also play Mrs. Macauley with Alex Neustaedter as her son Homer. Meg's real-life son Jack Quaid will take on the role of older son Marcus. Sam plays a man named Willie Grogan.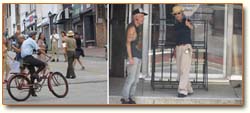 The producers transformed parts of Petersburg into a small World War II-era town through the use of storefront facades, a makeshift grocery store and a fleet of cars from antique collectors. Also used were The Brickhouse Run and the historic Tree Hill Farm. Most of the film was shot in Petersburg with some scenes shot at the former Robert Fulton School in the Fulton Hill area of Richmond and at a farm surrounding the city. Location manager Tom Trio said that part of the city's appeal was that not a lot of cosmetic changes had to be made to adapt the city to Ryan's vision or that of writer Erik Jendresen's.
July 5, 2014
Six months from now
Here is a bit more info on the upcoming NYC premiere of A PARTICLE OF DREAD, staged by the Signature Theatre Company.
It will be produced with Field Day Theater Company, directed by Nancy Meckler, and will once again feature Stephen Rea as Oedipus. Rehearsals will begin October 14, 2014 with the play running from November 11 thru December 21 at The Alice Griffin Jewel Box Theatre.
The description of the characters is as follows:
Oedipus/Otto: plays multiple roles including Oedipus, King of Thebes. When told as a young man that he was destined to kill his father and marry his mother, he left his home and came to Thebes. There he solved the riddle of the sphinx and married Queen Jocasta without realizing she was his real mother. Now Thebes has been attacked by plague. Oedipus is a strong, proud leader, determined to rescue his city from the plague by finding out who killed its former king. Short of temper. Also plays Otto, in a wheelchair, possibly a retired teacher. Mild mannered and curious, he is plagued by dreams in which he seems to have murdered someone. He becomes fascinated by newspaper reports of a crime on the highway, as if somehow this crime is related to him or his dreams. He has a close loving relationship with his daughter Annalee.

Antigone/Annalee: plays multiple roles including Antigone, daughter of Oedipus. Strong, determined, passionate about how she lives her life. Uncompromising, loving. Also plays Annalee, daughter of Otto. Married to a violent man who has killed their babysitter. Terrified it will affect her baby son's future because of what he has seen. Blunt, outspoken, determined, loves her father.
Jocasta/Jocelyn: Jocasta is the Queen of Thebes. Attractive, sensual, high status, proud, a strong match for her husband Oedipus. He is in fact her son. Perhaps she has always known or suspected this and does not want the truth to come out. Mild Northern Irish accent. Jocelyn is the wife of Otto. A Southwestern housewife. Otto is an anxious man, but she is the calm one, unruffled, wants a peaceful life, avoids conflict. A gently warm personality.

Uncle Del/Traveler/Tiresias/Maniac Of The Outskirts: with a strong comic sense, irony, sense of detachment from society's madness. Plays multiple roles, including Uncle Del, based on the Oracle at Delphi. Reads signs, throws the bones, and sacrifices animals to read their intestines; Traveler. blind, lives in the hills and can see the future; Tiresias, a blind seer called to Oedipus to reveal what he knows about why the city is ridden with plague; and Maniac of the Outskirts, an anonymous madman who lives on the outskirts of society and gets blamed for everything. Bitter, pissed off, sarcastic, comic. Think Ratso Ritzo in "Midnight Cowboy."

Laius/Larry/Langos: powerful presence, good-looking, sexy, threatening, simmering, high status. Plays multiple roles including Laius, a king who ruled Thebes years before the Oedipus story. When his wife Queen Jocasta gave birth to their son, Oedipus, the child was destined to kill his father and marry his mother. Laius took the child to the hills to be left to die. Years later he was killed at a crossroads in an altercation with Oedipus; Larry, a young, modern version of Laius, consulting a healer because his wife cannot conceive; and Langos, a gangster casino boss who denies at first that he ever had a son but then admits that he did abandon the child in the hills.

Randolph: an American detective who is very keen on the forensic aspect of the work. He is so obsessive about what one can glean about a crime from the evidence that he gets carried away and begins to picture the crime and the people and fantasize about them. Must have a strong comic sense.

Harrington: from the American Southwest. A highway policeman, he is laid back and feels very cynical about forensic experts. He sees the crime in a very straightforward way and simply assumes it is Mexican gang warfare. Bemused by Randolph's fanciful ideas gleaned from the evidence. Must have a strong comic sense.
A somber photo from 2008