JULY - DECEMBER 2018 NEWS
December 6, 2018
A year later, Sam's friend Wim Wenders wrote a short review of "Spy of the First Person". He wrote, "I like short books. Sam Shepardís last novel, which he finished with the help of Patti Smith, as he couldnít type any more himself, is a miniature novel and was published posthumously. It has been my favourite reading lately, and for once I wish it would have been much longer. Actually, I was so addicted I read it again the next night. Sam Shepard wrote like nobody else: his prose is sparse, pure and sharp, and his dialogues flow from the pages as if his characters had been recorded live. Yet they talk like no other people; tentatively, hesitantly, always making sure they follow the otherís drift. Samís universe, in all its simplicity, reveals a deep understanding of the American soul."
* * * * *
The 1982 New York staging of "True West" starred John Malkovich and Gary Sinise. In a recent interview Malkovich confessed that he didn't know whether Sam had seen the whole play. He remembers, "It was at a lovely little theatre in New York, Cherry Lane, and there would be Antonioni or Kurt Vonnegut or Jacqueline Onassis or Bowie - kind of everybody came. But I don't believe I met Sam during the run. Sam wasn't a conventional movie star. He wasn't a conventional anything. He was a real one-off." He adds, "He was very funny, super-laconic. It was no surprise he played cowboys and astronauts. But there was something sweet, lonely and poetic about him too."
October 13, 2018

Another movie page has been completed. 1994 was a banner year for great films and I remember buying a CD for the wonderful movie soundtracks that year. Perhaps that's why "Safe Passage" suffered a bit at the box office. So much competition! The family drama, based on the novel by Ellyn Bach with a screenplay by Deena Goldstone, was headed by Susan Sarandon, one of Hollywood's greatest actresses. I like to think of this film as a valentine for all mothers. This is a feel-good movie that's so heartwarming. I just loved all the dynamics of this wacky family. With so many stories about dysfunctional families, this one was so refreshing and reaffirming. It'll also give you a chance to see Sam play the piano.
* * * * *
Our playwright will be celebrated with an afternoon of performances and readings at London's Royal Court Theatre on November 12. Curated by Lloyd Hutchinson, Nancy Meckler and Stephen Rea, the event will feature scenes from Sam's plays and poetry he wrote during his lifetime. A number of his plays were staged at the Royal Court throughout the 1970s and 1980s. Fool For Love, Buried Child and A Lie of the Mind have all recently been revived in London, with a West End production of True West beginning this winter. The event will take place at 3 pm in the Jerwood Theatre Downstairs. All proceeds will go towards supporting emerging playwrights.
* * * * *
Flashback: May 22, 1984 - ''Fool for Love'' won the Obie Award for best new American play of the 1983-1984 theater season. Obies for best performance were also presented to the play's leads, Ed Harris and Kathy Baker.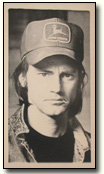 The play will be performed during the next month at The Actors Studio in NYC. Performances will run on a Thursday, Friday, Saturday & Monday at 7pm with a Sunday matinee at 3pm from October 18- November 12th.
July 27, 2018
From Santafenewmexican.com:

He had the right stuff: Honoring Sam Shepard

Itís been a year since Sam Shepard died, leaving behind a legacy of deeply American stories. Shepard spent five decades upending quaint, romanticized notions of familial love and loyalty. In the process, he ensnared the creative imagination of Scott Harrison, founder of Ironweed Productions, a local theater company that has presented a number of Shepardís plays over the years. Harrison and other Ironweed actors pay tribute to the Pulitzer Prize-winning playwright in An Evening Honoring the Work of Sam Shepard at 7 p.m. Sunday, July 29, at El Museo Cultural de Santa Fe (555 Camino de la Familia). Readings of Shepardís works are followed by a reception. There is no charge for admission. For more information, visit ironweedsantafe.com.
July 18, 2018
I have added the "Bright Angel" film page today. Though it premiered at an Italian film festival in 1990, it wasn't released in the states until June 1991. TV Guide headlines the film with "Spare and elliptical, 'Bright Angel' sets a violent coming-of-age story against the bleak backdrop of the modern American West." First and foremost though, it is a road movie with Dermot Mulroney and Lili Taylor as its lead stars. Sam plays Dermot's father, a spare, angry man. He has good advice to give, and even some love, but his life has been spoiled by disappointment and he cannot create a harbor for his lonely, doubting son.
Adapted by author Richard Ford from two of his own short stories, the film is directed by Michael Fields who makes the most of the iconography of the West. Some say it has a David Lynch vibe and I would agree. It just so happens that on July 31, the Quad Cinema in NYC will be screening it with director Michael Fields and author Richard Ford in attendance.

Some of you may remember that Richard Ford was a good friend of Sam's. He, too, was a Pulitzer Prize winner. They appeared together for readings at the Unterberg Poetry Center at 92nd Street Y in NYC in 1997 and 2006. On the back of the hardcover edition of "Great Dream of Heaven", you'll find this Ford blurb - "These are wonderful stories, by turns intuitive and well-wrought, satisfyingly unpredictable, smart, irreverent, knowledgeable about important human matters, often quite sweet, and at all times a pure pleasure to read. Mr. Shepard absolutely makes the form be his own, and for that reason, these stories are irresistible."
July 12, 2018
The New Mexico Actors Lab in Santa Fe is staging "Ages of the Moon" now through July 22. Director Robert Benedetti told the press, "Shepard is one of the authentic voices that make up the cultural identity of American theater. We really wanted to do a Shepard play in this year after his death. And especially since he spent so much time in Santa Fe." Shepard lived in the capital city on and off between 1983 and 1986, and again from around 2010 to 2015.
In this 80-minute play, two men in their sixties sit on a Kentucky porch one summer afternoon, awaiting a total eclipse of the moon while they listen to country music, drink too much bourbon, and argue. Regret and intermittent rage dominate their long dayís journey into night. In 2010, Sam told The New York Times, "Iíve come to feel that if I canít make something happen in under an hour and a half, itís not going to happen in a compelling way in a three-hour play." He said he was fond of Ages, especially its honest relationship to the ravages of alcohol, which he admitted had taken a toll on his own life. "Ages is like a Porsche," he said. "Itís sleek, it does exactly what you want it to do, and it can speed up but also shows off great brakes."

Nicholas Ballas, who plays "Ames" said that he met Sam more than 30 years ago in Santa Fe. He even claims to have saved his life one night on the street when somebody grabbed a knife and went for him in the midst of a very complicated bar fight. In playing "Ames", Ballas has come to recognize Shepard-ish aspects in the character. He says, "I got to realize that he was a bit of a tortured soul. And that comes out in the show a lot... Itís classic Shepard, you know, two men in opposition who are very much joined at the hip by need, by disappointment, by love. And thatís kind of the beauty of it. Sam knows the male psyche ó and he creates it ó like nobodyís business."
* * * * *
From the UK comes news that "True West" will be staged in the West End at the Vaudeville Theatre from November 23 to February 16 with press night on December 4. The play will be directed by Matthew Dunster, who said, "There is something dangerous about 'True West'. Itís always unsettled me. I was always scared of reading it. Fearful of its burning content but also of its brilliance. When Sam Shepard died, I went back to it and I knew I had to find a way of doing it."
* * * * *
An LA production of "Cowboy Mouth" was performed last month and this review gave it high marks - "Extemporaneous and absolutely beautiful in all its savage bizarreness. 'Cowboy Mouth' is an exquisite often darkly comical wrapper for many mutually excessive conflicts and polarities contrasting love and hate, beauty and ugliness, power and powerlessness, poetry and prose and on and on. Shepard and Smith wrote pure genius into this piece which is ultimately a journey of our own making despite our dreams for happiness or our downfalls in search of it. Directed, art directed and performed to a rare, extraordinary, odd perfection."