FEBRUARY 2018 NEWS
February 25, 2018
A few excerpts from The Wrap, July 31, 2017:
"It's something of a show-business truism that writers sink into the background, shoveling the coal below deck while the glamorous actors and charismatic directors do their work in a more public setting. Part of what makes Sam Shepard's career so fascinating was his apparent ease on both sides of the camera... but Shepard wasn't merely a strong character actor; he was sexy and charismatic in a way that made him a pin-up for people who read the New York Review of Books... Playwrights don't generally become household names outside of Broadway circles, but Shepard was becoming well known to moviegoers with striking acting turns in films."
"Naturally, the ever-snotty Spy magazine couldn't resist taking a dig at Shepard's two branches of fame; a writer there once sniffed that Shepard thought he was Gary Cooper crossed with Eugene O'Neill when he was really a mix of Randolph Scott and Zane Grey."

"The writing slowed down in the last several decades of his life, but the acting roles continued, with Shepard excelling both in leads and supporting performances. Spy's opinion notwithstanding, there was something very Gary Cooper-ish about Shepard's handsome, rugged features and his ability to convey a great deal of emotion with a minimum of dialogue."
"He leaves behind a rich legacy of acting work. If you're in the mood for some deeper cuts, check out Volker Schlöndorff's 1991 'Voyager' or the Kathy Bates-directed 'Dash and Lilly'".

"Whether crafting his own words or performing those written by others, he was an extraordinary American artist."
* * * * *
Most fans recognize Sam as a movie star, some as a playwright, but fans of underground music know him as the drummer for seminal New York avant-garde folk band the Holy Modal Rounders. The band is best known for its song, "If You Want to be a Bird", which plays during the classic scene in "Easy Rider" in which Dennis Hopper, Peter Fonda and Jack Nicholson roar down the highway on their motorcycles. That's Sam playing drums as Rounders founders Peter Stampfel and Steve Weber whoop and yowl. You can view that scene at this youtube link.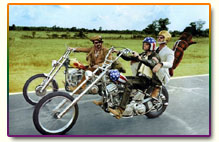 One of my favorite moments in the film is when Nicholson takes a swig of Jim Beam and then flaps one arm like a chicken and exclaims in his traditional drunken chant "Neh! Neh! Neh!" During his long career, he made famous a few other lines as well - "Heeeere's Johnny!", "You can't handle the truth!", and "Ever dance with the devil in the pale moonlight?" What a career!
* * * * *
An unusual photograph showing Sam in his younger days:

February 23, 2018
Men's Journal, August 2017:

"It only takes a glance to see that Shepard packed several lifetimes into one, all of them cloaked in the mystery that comes with tight-lippedness and a penchant in his stories for mixing fiction with autobiographical detail (or the other way around). He liked the road. He knew the highways of the West as well as a long-haul trucker, and his stop-off points were no less obscure. If he wanted an experience, it appears he went and got it. The weird America was in his blood."

* * * * *

Hub Theatre Company of Boston will kick off its highly anticipated sixth season with "True West", directed by Daniel Bourque. The show runs Friday, April 13 through Saturday, April 28, 2018 at First Church Boston, 66 Marlborough Street in Boston's Back Bay. Performances are Thursdays at 7:30 pm, Fridays and Saturdays at 8 pm, and Sundays at 5 pm. All performances are "Pay-What-You-Can." Donations of non-perishable food items will be collected at each performance for local charities.

February 20, 2018

Released by Audible.com, the new edition of Tom Wolfe's "The Right Stuff" is narrated by Dennis Quaid, who played astronaut Gordon Cooper in the 1983 film adaptation, directed by Philip Kaufman. The unabridged audiobook was released on February 6th and is 15 hours and 46 minutes. Quaid said he loved the spark of Wolfe's prose style, the chance to relive the making of the film and the chance to play, at least in one medium, all of the characters. He admitted it was his favorite film in his career. [What's your favorite Quaid film? For me, it's a toss-up between "Great Balls of Fire" and "The Big Easy".]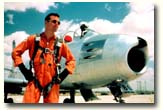 In his Oscar-nominated role as Chuck Yeager, Sam said, "I'm not a Method actor. I just go for it. I could have cared less about the sound barrier. I was trying to capture something about the man. Something about his independence, something about his arrogance, something about his humility and his courage... I asked Chuck what it was like to be an ace pilot, and he said, 'Well, by the time I was 12 years old, I'd already killed 26 black bears.' He had no fear."
Have you ever wondered why Sam didn't do the narration in the film? According to the director, Levon Helm had that voice that Tom Wolfe ascribed to Chuck Yeager, that sort of West Virginia drawl that Sam didn't have and that's why Levon took on the narration. The Levon Helm Memorial Boulevard is just a mile from my home so I see his name often.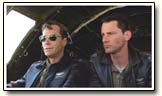 I love watching the camaraderie between the two of them with Sam's line - "Hey Ridley, got any Beeman's?"
February 18, 2018
Here's a book review from playwright/journalist Jonathan Leaf: "Advertised as a novel, 'Spy of the First Person' has received praise in publications whose critics should know better. In fact, one might well place 'novel' in quotation marks. Fewer than 20,000 words in length, it's far too disjointed to fit the common meaning of the word."
[I believe that novella would have been a more apt description]
"It reads more like a rambling exercise in prose-poetry composed by a 14-year-old who just discovered the beatniks. Permit me to quote a typical passage:
I remember sometimes you would start whole stories. Sometimes paragraphs. Sometimes sentences with the word 'sometimes.' Do you remember how you did that? I thought it was a good way to start. 'Sometimes.' In other words not always but sometimes. In other words sometimes not always. Sometimes this or that. Sometimes birds. Why birds, you would say. Why birds? Sometimes. Why color? Sometimes. Why . . . wind? Dogs. Sometimes it made complete sense to me. It made complete sense."
"The novel's story, such as it can be made out, concerns a crippled and dying old man. This is plainly based on Shepard himself, a victim of Lou Gehrig's disease who was relegated to a wheelchair in his last days. Shepard has even given this character children with the same names as those of his own. A second figure is an observer tailing the old man. It is not clear why this stalker is engaged in this task or why it is of any significance, but interlarded with it are references to Pancho Villa and a number of garages and single-family homes in California and New Mexico. Much of it reads like 'automatic writing': words randomly assembled. This inability to construct a logical tale has been a Shepard characteristic."
* * * * *
Ironweed Productions of Santa Fe has announced an evening of Shepard readings on Sunday, July 29th, marking the anniversary of his death. This will be a free event from 7 to 10 pm at El Museo Cultural where "True West" was staged in 2006. The evening will include readings from "Fool for Love", "True West" and "Buried Child", as well as selected pieces from "Motel Chronicles", "Cruising Paradise", "Great Dream of Heaven", "Day Out of Days" and his final book "Spy of the First Person". Following the readings there will be a reception in the gallery space.
February 13, 2018
In 1962, a teenaged Mt. San Antonio College student named Steve Rogers wrote a 15-minute play entitled THE MILDEW. That play was published in the campus literary magazine MoSAiC. The author of the play left the school at the end of that year and changed his name to Sam Shepard. Now, 56 years later, that play will have its first production. It was be staged with two other plays at Mt. SAC at 8 p.m. for three nights - February 13-15.

It's a short script described as a stark, morbid comedy that explores many of the same themes Sam would become famous for. A proper young man tries to introduce the audience to his ideal life and neighborhood, only to have his vision of his life destroyed by strangers who pass by.
According to Sam's biographer John J. Winters, the play shows "a remarkable eagerness to experiment and a transgressive sense of humor." However, he continues, "The Mildew ultimately lacks the things that set Shepard's later work apart. While it's strange and at times humorous, it lacks the sustained tension and the knowing irony of his produced work, as well as the dark humor and linguistic flights."
February 11, 2018

Magic Theatre of San Francisco has announced that the theatre's 2018 gala fundraiser, Magic Masquerade, will be held at the Julia Morgan Ballroom on Friday, March 9, 2018 at 6:00 p.m. The gala will honor Sam by bestowing the inaugural Sam Shepard Legacy Award to longtime Magic supporters John Marx and Toni Rembe Rock. The evening will also include a Sam Shepard Tribute Performance. The theatre statement reads, "Almost 50 years ago Sam Shepard embarked on a journey with Magic Theatre - a journey that would include the creation and premiere of 7 of his most enduring works. Magic Theatre provided him with an artistic home to explore, create and thrive during these formative years. The art he created allowed audiences to viscerally explore the essential elements of humanity and dared audiences to feel beyond themselves. Sam challenged the status quo and forged the way for countless other playwrights to dream and discover their own voices. Magic Theatre has continued to be the artistic safe-haven for the writer's vision to flourish. This accomplishment has only been made possible by visionary cultural stakeholders, like John Marx and Tony Rembe Rock, who were galvanized by Sam's unprecedented impact on the American theatre."
February 5, 2018
In the winter of 2011, production began on the film SAVANNAH, in which Sam played actress Jaimie Alexander's father. When he died last summer, Jaimie wrote this kind tribute and posted it online along with some photos.
Dear Sam, you were the best movie Dad a girl could ask for. A good friend and an incredible teacher. I'll never forget our long conversations over multiple glasses of wine while filming in Savannah, your incredible kindness, all the books you gave to me, that yellow pocket knife you carried and then gave to me (I carry it still today), that crazy good food we ate at The Shed in Santa Fe, but most of all…your goofy sense of humor. You were such a smart ass! I feel incredible sadness today…but also joy at the thought of you. I'm so grateful our paths crossed. I'll carry love and admiration for you always. Rest In Peace.
* * * * *
Here are more Shepard drawings. Love the middle one!