December 6, 2016
Now Playing...
Since AGES OF THE MOON premiered at the Abbey Theatre in Dublin in 2009, it has been staged a handful of times. It arrived a year later at Off Broadway's Atlantic Theater Company and then made appearances in West Virginia, Texas, Canada, and is presently being staged this month in Berkeley, CA, by Anton's Well Theatre Company. Not a lot happens in this play as two geezers fuss and drink while waiting for a total eclipse of the moon but there are deeper layers as good humor turns into hostility. Director John Cooper of the Canadian production says, "It is a story of our stubborn resistance to the truth and the narratives we create to protect ourselves from the painful truth of our choices." It's classic Sam Shepard, who knows firsthand the painful truth of choices. Did he become his father?

What is little known is the fact that "Ages" was also staged at The Moscow New Drama Theatre in October 2010. Earlier that year Russian theater director Vyacheslav Dolgachev and Sam met up at a restaurant in NYC. After a couple hours of conversation, Sam proposed that his newest play be staged in Russia. At that time the play had not yet been published but he gave the director exclusive rights for its performance in Moscow. Dolgachev said, "'Ages of the Moon' fascinated me from the very first pages. I would say they are aged characters of Shepard's 'True West'. They sit on the terrace and talk about nothing particular, but then they have this electric charge between them."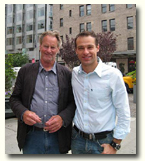 The person who translated the play was journalist Sergey Gordeev (seen above), who also translated "The Curse of the Starving Class" for the Saratov Youth Theater for a Russian production the same year.
A Star is Born
Jasper Rees of The Arts Desk wrote an interesting article a couple days ago called "When Shepard was a Londoner." You may recall that Sam left the US in 1971 after an extramarital affair with punker Patti Smith and spent the next three years in London where several of his plays premiered. Rees writes:
"Nicholas Wright, then artistic director of the Theatre Upstairs, recalls 'a laconic, dry, very laid back, very masculine Gary Cooperish kind of style, certainly very direct, capable of being quite rude.' 'My impression,' says the actress Dinah Stabb, 'was that he was always keenly interested in events going on outside the room. Although he was part of the world of the Royal Court, he never seemed to be of it. It's no surprise that he went on to be a film star, because he seemed like a film star when you met him."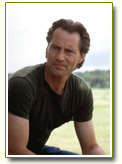 Hilton Als of The New Yorker once wrote, "Tall, slightly snaggletoothed, and eagle-eyed, Shepard always looked like America, or a movie version of America: one could easily imagine him playing Tom Joad or Abraham Lincoln. His Western drawl was an additional attraction. Joan Didion's essay about the charisma of John Wayne could just as easily apply to Shepard."
"He had a sexual authority so strong that even a child could perceive it. And in a world we understood early to be characterized by venality and doubt and paralyzing ambiguities, he suggested another world, one which may or may not have existed ever but in any case existed no more: a place where a man could move free, could make his own code and live by it; a world in which, if a man did what he had to do, he could one day take the girl and go riding through the draw and find himself home free."
November 28, 2016
It's that father figure again...
Check out the new short story by Sam in the December 5, 2016 issue of The New Yorker. It's sooooo Shepard and it's called "Tiny Man". Visit this link.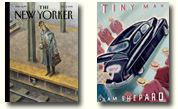 November 4, 2016
A new book!!!
The first work of long fiction from the Pulitzer Prize-winning playwright - a tour de force of memory, mystery, death, and life! It's called THE ONE INSIDE. It will be available in hardcover on February 7, 2017. Note that the foreword is by Patti Smith. It's been almost seven years since Sam published "Day out of Days", so I'm super excited about this new work!
The synopsis reads:
This searing, extraordinarily evocative narrative opens with a man in his house at dawn, surrounded by aspens, coyotes cackling in the distance as he quietly navigates the distance between present and past. More and more, memory is overtaking him: in his mind he sees himself in a movie-set trailer, his young face staring back at him in a mirror surrounded by light bulbs. In his dreams and in visions he sees his late father—sometimes in miniature, sometimes flying planes, sometimes at war. By turns, he sees the bygone America of his childhood: the farmland and the feedlots, the railyards and the diners—and, most hauntingly, his father's young girlfriend, with whom he also became involved, setting into motion a tragedy that has stayed with him. His complex interiority is filtered through views of mountains and deserts as he drives across the country, propelled by jazz, benzedrine, rock and roll, and a restlessness born out of exile. The rhythms of theater, the language of poetry, and a flinty humor combine in this stunning meditation on the nature of experience, at once celebratory, surreal, poignant, and unforgettable.
Barbara Hoffert of Library Journal comments: "The One Inside (Knopf. Feb. 2017. 192p. $25.95) proves to be meditative and valedictory, featuring (not surprisingly) an actor/writer recalling significant people and places in his life as the narrative careens through time from California to Santa Fe to an Oklahoma film set. Since this is Shepard, the protagonist is riding a sharp and polished knife's edge as he muses; he's trying to persuade a young woman not to publish some dark and damning phone conversations they've had together. Memories of his father, especially during wartime; of his father's girlfriend, with whom he also became involved (with tragic consequences); and of the vibrant American landscape inform the narrative. Reflections on how acting, writing, and filmmaking really feel make this more than a novel about plot."
Another play published
On March 21, 2017, Vintage will publish Sam's 2013 play "A Particle of Dread" (128-page paperback at $15), which re-envisions Oedipus Rex as a modern thriller.

E-book available
For those of you who aren't familiar with one of Sam's stories from "Cruising Paradise" called "Spencer Tracy is Not Dead", you can access it at this Amazon link. It's a Vintage Shorts "Short Story Month" Selection. The synopsis reads, "The ride to the tiny village in Mexico where he's due to film has not been easy. The actor has to first put up with Gunther, a maniac German driver in a tuxedo, the Narcos who insist on excavating the contents of their car, the customs official in Mexico who sends him back across the border, and an embittered woman in the Mexican consulate for whom he must play Spencer Tracy."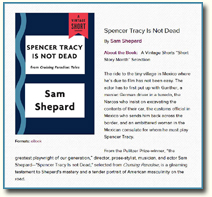 November 2, 2016
At the AFM
The AFM (American Film Market) is being held this week in Santa Monica, CA. It is one of the largest film events in the world. It's Cannes on the California coast minus the red carpets, stars and big premieres. From November 2-9 independent film producers try to find financing and distribution for their projects. Los Angeles-based Premiere Entertainment Group will attend with international rights to the psychological thriller, YOU WERE NEVER HERE, filmed in the fall of 2014. Camille Thoman wrote and directed the film, which stars Mireille Enos, Goran Visnjic, Vincent Piazza, Nina Arianda and Sam as agent Paul Stark. Here's the poster.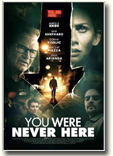 After a woman is attacked outside of her apartment, a series of increasingly disturbing events leads an artist (Enos), who follows and photographs strangers, to suspect that someone out there is actually watching her. As she encroaches on her suspected intruder (Visnjic), her agent (Shepard) and cop/lover (Piazza) begin to think she is taking things too far with her personal investigation. Events spiral out of control and boundaries bleed between real and imaginary...crime and art...the watcher and watched. ​
Premiere Entertainment CEO Elias Axume says, "Director Camille Thoman has crafted a deeply psychological thriller with a compelling cast and the mysterious performance art world of New York City as an atmospheric backdrop. We knew this was a special film and we were eager to be a part of it."
"I am thrilled to be sharing this story of the blurred lines between aggressor and victim, madness and sanity," said Thoman. "I could not be more proud of the tremendous work that the stellar cast, crew and producing team have done and cannot wait for the world to witness Mireille Enos' layered, luminous performance."
Producer Neal Dodson adds, "Every frame of Camille Thoman's film overflows with her hypnotic vision and perspective. The whole cast is fantastic, including the legendary Sam Shepard."
Opening this month
Here are some rehearsal photos from BURIED CHILD, which has transferred from NY to Trafalgar Studios in London for a limited season from November 14 to February 18, 2017 with press night on December 1. Directed by Scott Elliott, the cast includes Ed Harris and his wife Amy Madigan, Jeremy Irvine, Charlotte Hope, Jack Fortune, Barnaby Kay and Gary Shelford. The 1979 Pultizer Prize-winning play takes a macabre look at one American Midwestern family with a very dark secret.
Also playing in London
At Found111, 111 Charing Cross Road, you can see FOOL FOR LOVE, being staged from October 26 to December 17, 2016.

September 11, 2016
Limited release

There's no doubt Meg Ryan's directorial debut disappoints. ITHACA had a limited theatrical release this weekend and based on reaction from various film festivals over the past year, it's not surprising that it received dreadful reviews. Looking over Sam's film career, this adaptation of William Saroyan's "The Human Comedy" has to one of his worst films though his performance was notable. Film critic Joe Leydon of Variety writes, "Sam Shepard is so wonderfully engaging as the crusty Willie Grogan, an avuncular alcoholic who spouts wisdom while sporting Harold Lloyd-type glasses, you can't help thinking that, in almost any other context, his performance might generate award-season consideration." The movie is presently being rated at 13% on the Rotten Tomatometer.
Claudia Puig of The Wrap sums it up with, "Meg Ryan's choice of literary adaptation for her directorial debut may have been too ambitious: The overall effect, while earnest, is disjointed, dreary and oddly structured. Seemingly pointless scenes drag. The characters feel like cardboard cutouts, and the story is so deliberately paced as to feel tedious... Generally, scenes don't flow smoothly, and the pacing and rhythm suffers. It feels like key swaths have been edited out. The ending comes abruptly and awkwardly." For more reviews, check out the film page.
The poster seen above is the third one released and what's so inane about it is Sam is not portrayed as his character with his Harold Lloyd glasses. They just took a photograph of him from some other film, maybe "August: Osage County". Here's what he should look like.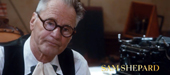 On the London Stage
BURIED CHILD will open in the West End at Trafalgar Studios in November. It will feature husband and wife Ed Harris and Amy Madigan, who starred in an off-Broadway revival of the play earlier this year. It will open on November 24 with previews beginning on November 14, and will run until February 18, 2017. It transfers from the Pershing Square Signature Center in New York, where it was staged by The New Group. Artistic director Scott Elliott said, "'Buried Child' is Sam's masterpiece and I can't wait to get another crack at it with Shepard's masters, Ed Harris and Amy Madigan, along with some fresh British artists." The play was published in 1978 and won the 1979 Pulitzer Prize for Drama. It opened on Broadway in 1996 and received five Tony Award nominations, including Best Play.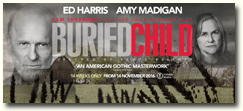 Sam and Ed first hooked up in the 1983 film, "The Right Stuff", and our playwright wrote the role of Eddie in his play, Fool for Love, for Ed's stage debut. Following that partnership, "Buried Child" is now the fifth of Sam's plays that Ed has performed in, including "Cowboy Mouth", "True West" and "Simpatico". Personally, I've seen over 30 Ed Harris films and though I can't pick my favorite because there are so many top-notch performances, it's hard to believe he's never taken home an Oscar! He should have won for "Pollock". He was awesome!
Le Cinéma de Franco
And speaking of Harris/Shepard connections, over the past week, James Franco's IN DUBIOUS BATTLE has made the film festival circuit, premiering in Venice on September 3 followed by a screening at the Deauville American Film Festival two days later. On Monday, it will have its North American debut at the Toronto International Film Festival (TIFF).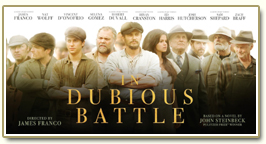 The handful of reviews thus far have been favorable and there's much agreement among the critics. Gabriele Niola of Positive Magazine writes, "'In Dubious Battle', whose title comes from John Milton's 'Paradise Lost', is everything but a perfect work, but it represents the highest peak of Franco's career as a director and is also a crucial point to reach a poetic maturation, characterized by a sincere attention for social matters. If he will manage to get rid of that annoying intellectualism that at times still emerges from the rifts of his works, we can hope well for his future as a film-maker."
And Owen Gleiberman of Variety - "'In Dubious Battle' has to be acknowledged as a major growth ring in Le Cinéma de Franco. He has learned by doing, and he has acquired skills that are beginning to fuse with the best side of his instincts, which is to look at subjects with a candor that mainstream movies too often avoid." He also mentions Sam's role - "Sam Shepard plays a rival farmer who agrees to house the workers in tents on his land in exchange for their picking his crop for free. Shepard, who has always looked like he came from the '30s, makes this farmer a compelling contradiction, a hard case with a soft spot."
Sam & his Hermes 3000
Those who haven't adjusted ecstatically to all the wonders of modern technology will revel in the unorthodox and delightful documentary "California Typewriter", recently screened at the Telluride Film Festival. The film features an array of typewriter enthusiasts, including our playwright as well as Tom Hanks, biographer David McCullough and singer-songwriter John Mayer. In his interview, Sam states succinctly, "I never got along with the computer screen," and he adds that he gets a rush from seeing the ink flying on to the paper in front of him as he types and retypes a new play.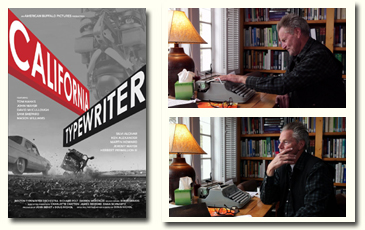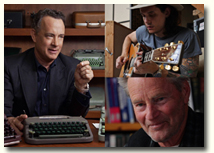 August 17, 2016
International premiere
Director James Franco's IN DUBIOUS BATTLE will receive its international premiere at the Venice Film Festival on September 3, 2016. Production took place last year in March and April and was mostly shot in the Atlanta area. This adaptation of John Steinbeck's Depression-era novel has an impressive cast, including Franco himself. It stars Nat Wolff, Selena Gomez, Vincent D'Onofrio, Robert Duvall, Ed Harris, Sam Shepard, Josh Hutcherson, John Savage, Ashley Greene, Zach Braff and Bryan Cranston.
The story takes place in the California apple country where 800 migratory workers rise up against the landowners after getting paid a fraction of the wages they were promised. The group takes on a life of its own - stronger than its individual members and more frightening. Led by the doomed Jim Nolan, the strike is founded on his tragic idealism - on the "courage never to submit or yield." The film will also be screened in the "Special Presentation" category at the Toronto International Film Festival (TIFF), which runs from September 8-18.
Here are a couple more production photos. The right one shows director James Franco with Ed Harris.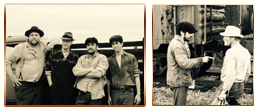 August 4, 2016
New trailer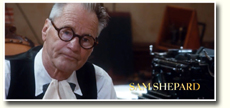 Finally there's a trailer for Meg Ryan's ITHACA. Check it out at this link. This month the marketing strategy for the film is aimed at focusing on the cameo appearance of Tom Hanks trying to promote positive memories of the duo in films such as "Sleepless in Seattle" and "You've Got Mail". To date the film has only been screened at film festivals, but it appears that it will have a limited theatrical release (usually NY & LA) on September 9th. The latest review comes from Alistair Harkness of The Scotsman: "Ryan has no real sense of how to craft a story from behind the camera. She also switches point-of-view and introduces dream sequences and hallucinatory images at odd moments. The stylistic mishmash is jarring to say the least. Even the performances – usually a strong point for actors-turned-directors – are leaden, with only Sam Shepherd's turn as the town's drunken chief telegraph operator coming close to conveying the gravitas this wannabe prestige picture is desperately striving to achieve.
DVD release

On June 21 MIDNIGHT SPECIAL was released on DVD and Blu-Ray. I'm not a sci-fi fan but I have admired films in that genre, such as "Starman" and "ET." Those particular films were enriched with those heart words - lightheartedness and heartwarming. You might even have laughed. Let me assure you there are no laughs in "Midnight Special". It is dour and dark, serious and intense. Michael Shannon, who plays the boy's father, has a constant scowl on his face from beginning to end. Personally, I think the director should have done more of a follow-up on cult leader Calvin Meyer, played awesomely by Sam. But hey, the critics loved this film so what do I know?
The play's the thing...
FOOL FOR LOVE is being staged through August 14 at Princeton Summer Theater, performing at Hamilton Murray Theater on the campus of Princeton University in Princeton, NJ.
The Catastrophic Theatre of Houston, TX, will present BURIED CHILD from September 9 to October 1.
TRUE WEST will be presented by Shattered Globe Theatre, Chicago, IL, from September 8 to October 22.
Letter to the editor of the Hartford Courant
"Our democracy was hard-earned but could be very easily lost. Playwright Sam Shepard once said that 'democracy's a very fragile thing. ... As soon as you stop being responsible to it and allow it to turn into scare tactics, it's no longer democracy, is it? It's something else. It may be an inch away from totalitarianism.'

Trump's scare tactics threaten to turn our democracy into 'something else' and we all must take the responsibility to ensure this does not happen. Trump must be soundly defeated. He is wholly unworthy of your vote."
...Christopher A. Bird, Glastonbury
July 9, 2016
New Archival Collection
Off-Off-Broadway's La MaMa Experimental Theatre Club has launched its new Archival Digital Collections website, which features a treasure trove of photographs, production stills, key art, scripts, videos and press clippings. Here is a photograph of Sam during a run of his "Melodrama Play" at La MaMa.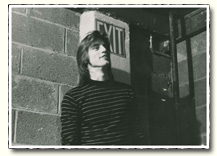 Ithaca at EIFF

2016 doesn't appear to be a good year for Meg Ryan. Besides disastrous reviews for her ITHACA directorial debut, she received even more disastrous reviews for her plastic surgery after she took to the stage at the Tony Awards. Anyway, her film was screened at the Edinburgh International Film Festival last month and, not surprisingly, continued to receive bad press. I'm curious as to why there has not been one video clip or trailer released to this date even though the film was shot two years ago. The story comes from William Saroyan's 1943 novel, "The Human Comedy". It was previously filmed that same year with Mickey Rooney.
Steven Armour, Serving Cinema: "Scarcely seen on screen in the past decade, Meg Ryan has joined the ranks of A-list stars trying their hand at directing with her feature film debut Ithaca, a period drama set in 1942 in the wake of the attack on Pearl Harbor and America's subsequent decision to join the allies in the Second World War. Though dutiful in its treatment of the subject at hand, Ithaca is ultimately devoid of any authorial stamp or stylistic flare, proving a pedestrian first foray behind the camera by Ryan that may also be her last... Sam Shepard is the only character of much note in the film, and even then the role isn't much of a stretch for an actor of his caliber."
Matthew Anderson, CineVue: "Foremost in Ithaca's problems is a woeful script. Never wont to unduly criticize a fellow writer, it's nevertheless very difficult to find any positive comment to make about the dialogue offered to the big hitters on the bill here. In letters received from Marcus, the phrase 'I wish there was no war' sums up the very obvious anti-conflict sentiment though none of his suffering is shown. Through other eye-rollingly bad moments we finally hit rock bottom with 'There will always be pain in this world.' Looks of indignation on the faces of a cast loathe to enunciate such drivel beg the question as to how the project proceeded without going back to the drawing board. Despite having only a marginal role herself, in trying so hard to be thought-provoking and profound, Ryan forgets to develop character past the planning stages, resulting in no emotional involvement at all."
Allan Brown, Movie Review World: "Despite its whimsical nature, stilted dialogue and continual bombardment of oversentimentality, there are some notable performances throughout. Willie (Sam Shepard) and Tom (Hamish Linkletater) both shine as Homer's new bosses at the local telegraph post. Their presence in the film adds a much needed injection of life and humor into the proceedings... Despite the actors being plagued with stiff dialogue exchanges from a screenplay that's almost impenetrable, Neustaedter and the whole cast salvage what they can from it, and at times, even manage to evoke a spark of emotion, in this overwise drab and confused drama."