November 20, 2008
New Title...

According to Screen Daily, Baltasar Kormákur's latest film, RUN FOR HER LIFE, has been renamed INHALE. The Icelandic director spoke about the film at the Reykjavik International Film Festival (Riff), earlier this month. Described as a thriller, the film is about the international trade in human organs. No release date has been set yet. The cast includes Dermot Mulroney, Diane Kruger, Rosanna Arquette, Vincent Perez and Sam in the role of a district attorney. The following is the official synopsis given by distributor Echo Bridge Entertainment:
Every day, rising L.A. District Attorney Paul Chaney and his wife, Diane, wait for word that there's a donor for their daughter, Chloe. Diagnosed with a rare degenerative condition, Chloe is on a long list to receive a rare double lung transplant. As her health worsens, Paul becomes desperate to save his young child, so desperate that he'll risk everything he has to organize an operation. When Paul learns of a Dr. Placer who performs transplants in Tijuana, Mexico, he heads south in a frantic search for the only man who may be able to save Chloe. But after arriving, he realizes Dr. Placer's medical ring runs deep into a criminal underworld where his patients aren't donors they're victims. With his career, his family, and his life on the line, Paul finds himself at a critical crossroads: expose a massive, illegal harvesting operation and save the lives of hundreds of children, or save the life of his daughter
Something called "charisma"
From the 10/19/08 edition of the Pittsburgh Tribune-Review:

We breathe. We think. Our hearts beat. The basic building blocks of every human being are the same. But some people are different in a way that transcends the dynamics of what it means to be human. Some people make an impression from afar.

Tracy Brigden, the artistic director of City Theatre, remembers being a young assistant years ago when she was charged with showing an actor the space at The Theater Club on West 55th Street in New York.

She saw Sam Shepard walking toward her, and then he saw her. From almost a block away, Brigden felt his presence. His charisma.

"When he put his hand in the air and waved at me, I literally became breathless," Brigden says. "From the moment I shook his hand, I don't think I breathed for a full 10 minutes because he has a presence and a charm and a vivid kind of energy that takes your breath away."
September 15, 2008
Yay or Neigh?
London's Almeida theatre is presently booked for 16 performances of Sam latest play, KICKING A DEAD HORSE, directed by the writer himself and starring Stephen Rea, fresh from New York following its debut in Dublin last year. But despite Sam's status as a Pulitzer prize-winning playwright, the British critics were largerly underwhelmed. Here are some excerpts from a review roundup by the Guardian's Mark Espiner:
"Familiar territory," said the Times. "We've been here before," yawned the Guardian. "I began to wonder whether I'd get out of the theatre alive or succumb to death by chronic tedium," groaned the Telegraph. Once they had got over the similarity of this play to his others, the critics flocked to cite the playwright's influences and allusions, particularly to the king of bleak, Samuel Beckett.
For the Evening Standard's Nicholas de Jongh, it "enjoyed spiritual and thematic links" with "Happy Days". Michael Billington saw, in Rea's scuttling about the stage, a reference to Clov in "Endgame". The Times's Sam Marlowe tried to outdo them all with an elusive reference to more than one Beckett play, saying his bickering recalled "Endgame" or "Waiting for Godot". Marlowe then threw in Shakespeare to boot, claiming the horse burial scene was "faintly reminiscent of "Hamlet". The Telegraph's Charles Spencer dispensed with the Beckett issue most elegantly, though. For him it was "'Happy Days' with a sex change and an American accent".
There was little else that the critics seemed to agree on. Rea's performance had a "pervading glumness" that "dulled the broody monologue" for the Standard. The Times found Rea compelling with his "unhappy eyes as tragicomic as a clown's" and the Guardian heaped on the praise for the acting talent: it was the "chief pleasure" of the show, which captured "supremely the character's mix of the elegiac and the absurd." The Telegraph was left "entirely unmoved", though, by a merely efficient performance that relied more on "technical skill … than the prompting of the heart", while the Independent found Rea attacking his part "with soul",

The writing, too, was in contention. For the Times, the "rant about America's historical and contemporary political failings" was "all crammed into one clumsy climactic speech." Could that be the same speech that the Guardian found so "moving" and which summed up "complex feelings, mixing yearning and rage about the American West"?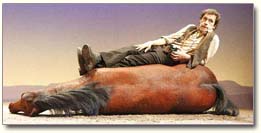 For all reviews regarding the Dublin, New York and London performances, visit our detailed theater page.
DVD release
For three months in the summer of 2005, small towns around York County in South Carolina got a taste of Hollywood as filmmakers shot a movie starring Jason Patric. Police closed down streets where scenes were being shot. Aspiring extras waited in line to land bit parts. Social circles buzzed with sightings of Patric and other stars knocking back suds at McHale's Irish pub in downtown Rock Hill. Three years later, the fate of WALKER PAYNE offers a glimpse into Hollywood's rougher side. After premiering at the Tribeca Film Festival in April of 2006, the film will now have a straight-to-DVD release.

"It's part of the business," said Jeff Monks, director of the South Carolina's Film Commission. "Sometimes, you produce a product that you think will make a lot of money. And the market doesn't pick up on it. ... This one just didn't work."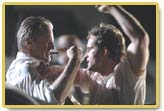 The film, originally titled "Walker," is described as a gritty, intense 1950s drama set in the small town of Norris City, Illinois. Patric has the title role as a hard-luck coal miner who resorts to dogfighting to save his family. Sam plays a con man named Syrus, and Drea de Matteo is Lou Ann, Walker's vengeful ex-wife. Filmmakers had hoped to land a distribution deal that would allow the movie to be shown in theaters. But a deal never came through. Monks emphasizes that the film can still make plenty of money through rentals and DVD sales. But this isn't the ending anyone wanted. "It'll get seen," Monks said. "Just not in our preferred format."
Another straight-to-DVD release?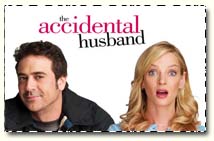 THE ACCIDENTAL HUSBAND has once more had its theatrical release postponed, which leads me to suspect that its final US release will be straight to DVD. After premiering in the UK on February 13, 2008, it was scheduled to hit US theaters on March 7th. That date was then moved to a summer release of August 22nd. That fell through and so did the next date of September 5th! Obviously, the film's distribution company has lost confidence and rightly so. Film critic Derek Malcolm of the Evening Standard wrote, "Words almost fail me after watching this terrible romantic comedy from Griffin Dunne which is perilously described as a 'sort of Carole Lombard screwball comedy. Would that it were.... Thurman plays the so-called comedy for all it is worth and sometimes considerably more, as if 'Pulp Fiction' and Tarantino were but distant and happier memories. Morgan looks like a bit of boring rough trade to me. Sam Shepard, Isabella Rossellini and Lindsay Sloane are also in the cast but are left floundering as the clichés mount." The London Paper called it "a film that skitters between slapstick, farce and more traditional romantic comedy. Sadly, as Thurman dithers between her two suitors, her decisions become ever more baffling. Even her sparky performance fails to fire the rather soggy finale."

Anthony Quinn of The Independent wrote, "A plot of insufferable silliness contrives to keep the lovers on tenterhooks and the audience in a permanent cringe, none of it helped by Thurman's thoroughly phony performance. Firth looks comparatively sincere. Just one laugh would have been something, but writer Sikowitz could not oblige us even that."
Stella Papamichael of the BBC wrote, "Only Sam Shepard conveys a modicum of sincerity playing Dr Lloyd's quietly concerned father. Between the leads the dialogue flows without any snap or sass and Thurman resorts to falling over and repeatedly bumping her head to get a laugh. It's a futile effort. With such a half-hearted script and Griffin Dunne's casual direction, these attempts to inject screwball energy end up feeling more like desperate cries for help. The prognosis: a total emotional block."

And finally (wish I had better news, folks), Matthew Turner of View London described the film as an "unmitigated disaster from start to finish" while Rich Cline of Shadows on the Wall described it as a "hodge-podge of random story elements that seem to emerge from the land that logic forgot, including a Bollywood segment." He continues, "Running gags start and stop at random, and their pay-offs are abandoned for a shockingly silly-slushy climax, followed by an even worse coda. In the end, the film is just a huge waste of slick production values and an otherwise talented cast."
Sam among stellar cast in BROTHERS

It has just come to my attention that Sam is among the cast of Jim Sheridan's latest film, BROTHERS, starring Tobey Maguire, Jake Gyllenhaal and Natalie Portman. It was shot in New Mexico (Sam is obviously enamoured with this state!) around Sante Fe, Los Alamos, Las Vegas, Abiquiu and Glorieta from November 27, 2007 to January 30, 2008. It's a remake of the Danish wartime drama "Brodre", which was released in 2004 and starred Ulrich Thomsen, Nikolaj Lie Kaas and Connie Nielsen. Sheridan said he had been very moved by that film when he first saw it, intrigued by the themes of intense love and lethal jealousy between two polar-opposite brothers. Maguire plays a careery military man, who's also a responsible and hard-wired husband/father, who's captured during a skirmish in Afghanistan. Gyllenhaal plays his younger, irresponsible substance-abusing brother, who is left to take care of his sister-in-law and children. Writer David Benioff has penned the screenplay working off the original script from the film's writer/director Susanne Bier. The film, financed by Relativity Media, will be distributed by MGM and presently has a December 4, 2008 premiere date.

Sheridan discussed transposing a Danish drama for an American audience admitting it could be risky. "You can't just microwave something. You can't just reheat it. There are rules that apply to American cinema that don't apply to other forms of cinema. In a Danish film, people can get drunk with impunity. They can leave their kids at home unattended while they go pick up their brother in the bar. In an American movie, you're not allowed. Americans are different and the rules are different. So, all the time I'm consciously working within a framework of American storytelling."

An anonymous viewer who had the chance to see a pre-screening shared their thoughts, "Jake and Portman were sweet; Sam Shepard adds a small but interesting motivation, but Tobey is the revelation." The score for the film, which featured an award-winning score by Swedish composer Johan Söderqvist, will be written by none other than Thomas Newman, who has several Oscar nominations under his belt. Think "American Beauty" and "The Shawshank Redemption".
Upcoming Shepard productions
Curse of the Starving Class - Curious Theatre Company, Denver, CO: September 6 - October 18, 2008

True West - The Bay Theatre, Annapolis, MD: October 3 - November 8, 2008

True West - Maskers Waterfront Theater, Belfast, Ireland: October 9-19, 2008

Fool for Love - University of Southern Maine in Gorham: October 3-12, 2008

Buried Child - NAC English Theatre Company, Ottawa: January 6-24, 2009

True West - Playwrights Theatre - Madison, NJ: February 26-March 22, 2009

True West - Olympic Theatre, Sequim, WA: April 17, 18, 19, 24, 25, 26, 2009

True West - South London Theatre, London, England: May 19-23, 2009
July 30, 2008
Irish premiere of new Shepard play

The Abbey Theatre of Dublin has announced the date of the world premiere of Sam's new play, AGES OF THE MOON. It will be presented at The Peacock (dedicated primarily to new plays and contemporary classic drama) on Tuesday, March 3, 2009, and will run through Saturday, April 4. Previews will begin on February 24 and booking will start Tuesday, August 5. Written specially for leading Irish actors Seán McGinley and Stephen Rea and directed by Jimmy Fay, "Age of the Moon" is a gruffly poignant and darkly funny play. The synopsis reads - "Byron and Ames are old friends, re-united by mutual desperation. Over bourbon on ice, they sit, reflect and bicker until fifty years of love, friendship and rivalry are put to the test at the barrel of a gun." Rumor has it that the play will eventually come to New York. The Abbey has previously staged "Fool for Love", "True West" and "Kicking a Dead Horse."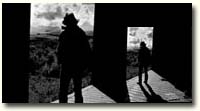 Mac Conghail, who has run the Abbey since 2005, had originally planned to ask Sam to present a series, one play a year. Instead, the playwright offered to write a play for actor Stephen Rea, which turned out to be "Kicking a Dead Horse". This will actually be the third Shepard/Rea collaboration. Thirty-four years ago, Sam wrote "Geography of a Horse Dreamer" for Rea and directed him in it at London's Royal Court Theatre. In an article called "Dublin Your Fun", Gwen Orel of Time Out New York discusses the Irish connection and global theater. She says Mac Conghail believes it's not so much that the work itself is going global, but rather it's that conversations between artists are happening on a global level. During a discussion sponsored by The Paris Review at Joe's Pub in June, Sam explained, "Cultures have to do with people's sense of humor. The Irish really listen - they love language."
Shepard & Beckett

The U.S. premiere of KICKING A DEAD HORSE opened at Off-Broadway's Public Theater on July 14 and continues through August 10. The play will then move to London's Almeida Theatre for a 16-performance run from September 5-20 with an official opening on September 10. The reviews (at the above link) mostly indicate a reverence for Rea's one-man performance, but a growing disappointment in the playwright's failure to use fresh language and ideas to highlight his dismay at America's downward trajectory. We'll have to wait until the spring to see if AGES OF THE MOON covers familiar territory as well.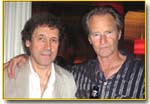 In a post-show discussion on July 22nd, Stephen Rea spoke about Sam's obsession with another Sam - Samuel Beckett. Back many moons ago when the playwright was in high school, he read "Waiting for Godot", an experience that he admits transformed him. "His mind, it's awesome," is how Sam descrbes Beckett. "I don't want to keep beating a dead horse, but Beckett turned my head around about thinking about theater. It doesn't have to be realistic, it doesn't have to be buried in this cause and effect, it doesn't have to be… dull."
Clearly, many reviewers mentioned the Irish writer and how "Horse" is reminiscent of Beckett's darkly comic absurdist tone. Charles Isherwood of the NY Times, writes, "Mr. Shepard, like most playwrights of the latter half of the 20th century, is an admirer of another playwriting Sam, the great Beckett. In its barren but suggestive landscape, its gallows humor and the defeating near-futility of Hobart's quest, 'Horse' feels like a conscious homage to Beckett. The setting recalls the wastelands of 'Waiting for Godot' and 'Happy Days,' those masterly portraits of end-of-days despair laced with mordant comedy. As in those plays, the passage of time lurches and stalls erratically in 'Horse,' as dusk falls with a flick of a light switch. Perhaps it is significant, too, that Mr. Shepard chose an Irish actor to create the role of Hobart, and the Abbey Theater of Dublin, co-presenter of the play here, to stage the world premiere."
Screenwriter Award

The Austin Film Festival (AFF) has announced that Sam will receive a Distinguished Screenwriter Award during October's festival. He will be honored at the AFF Award Luncheon on Saturday, October 18th, at the Austin Club. AFF co-founder and executive director Barbara Morgan heaps praise with "Sam Shepard has changed the landscape of American film and stage with his work as a playwright, screenwriter and actor. His work represents the spirit of the Distinguished Screenwriter Award and we are thrilled to honor him." This photo has been chosen by the AFF for its release statement.
FELON coming to DVD
Prison drama FELON had a limited release in LA and NY this month, but you'll be able to rent it very soon at your local Blockbuster. Look for it on DVD and Blu-Ray on August 12th. Region 2 fans will have to wait until September 15th.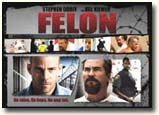 The film is based on the true story of California's Corcoran prison a decade ago. Writer-director Ric Roman Waugh has taken the story and turned it into a terrifying suburban dad's nightmare. Convicted after defending his home and family, Wade Porter (Stephen Dorff) ends up in a violent prison, literally fighting for his life. His only ally is cellmate and lifer John Smith, played by Val Kilmer. According to Ronnie Scheib of Variety, among the thespians is "a wonderfully weary Sam Shepard as a sympathetic ex-warden." Filming took place last fall at the New Mexico State Penitentiary near Sante Fe. If you click on the photo below, you can watch a short scene between Sam and Val Kilmer.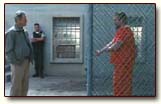 Another New Mexico film
Sam was back in Sante Fe this summer filming RUN FOR HER LIFE, directed by Baltasar Kormákur. This is the second English-language film for the Icelandic director, whose cast includes Diane Kruger, Dermot Mulroney, Rosanna Arquette, Jordi Molla and Vincent Perez. The shooting schedule ran from June 15 to July 26.
The drama thriller, penned by Christian Escario and John Chaflin, centers on a set of parents (Mulroney & Kruger) who travel to Mexico to get a lung transplant for their dying eight-year-old daughter. After agreeing to the operation, they are faced with an ethical dilemma when they discover that the organs aren't taken from willing donors. To complicate matters, the father is a successful D.A. on the path to political office. Arquette stars as the consulting pediatrician, Perez as a mysterious doctor, Molla as a corrupt police officer and Sam as a district attorney.