NEWS: September 2017
September 29, 2017
"Grief is bizarre territory because there's no predicting how long it'll take to get over certain things. You just don't know how long it's going to resound in your life. Or, after it's apparently stopped resounding, when it'll come up again. It's extremely personal. That's why I could never understand this thing of grief 'counseling' or grieving 'clinics.' That doesn't make any sense to me at all. Why would you wanna be counseled in your grief? It's too private."
...Sam Shepard, November 2000
* * * * *
This fall Midwestern State University in Wichita Falls, Texas, will stage THE GOD OF HELL at their Fain Fine Arts Theatre. Performances are scheduled for November 16-19, 2017. The play was written in part as a response to the events of September 11, 2001, and has been described by Shepard as "a take-off on Republican fascism."
September 26, 2017
Here is more information regarding NY's La MaMa tribute to Sam Shepard scheduled for October 7 at 3 pm. To make a reservation, visit this link.
Coffeehouse Chronicles #143: Sam Shepard
Ellen Stewart Theatre | 66 E 4th Street; 2nd Floor
Saturday at 3PM
Free Admission; Suggested Donation
2 hours
Moderator: Jean-Claude van Itallie
Panelists: Jean Claude Van Itallie, Daniel Aukin, Joyce Aaron Funk, Anne Militello, Charles Mingus, Evangeline Morphos, Angelina Fiordellisi & Sandy Rogers
Performances by: Joyce Aaron Funk, Cary Gant, Mike Gorman, Thomas Keith, Harry Mann, Wayne Maugans, Peter Stampfel, Leslie Silva, Amy Rox Suratt & Clea Rivera
* * * * *
Since February of 2011, the city of Lexington, Kentucky has hosted a festival in honor of Kentucky-born actor Harry Dean Stanton. In honor of their profound bond and in remembrance of Sam who made his home in Kentucky, HDS Fest will host a tribute to Sam by screening "Paris, Texas" at the Kentucky Theatre at 1 pm on September 29 and at 7 pm on October 1 and "Fool for Love" at the Farish Theater at 1 pm on September 30.
Here's a photo of Harry and Sam at the Sundance screening of "Paris, Texas" on January 27, 2006.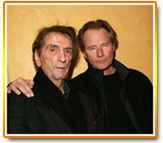 * * * * *
Angelica Houston, Vanity Fair:
On the Emmys: "I was thinking today of all the people who were omitted from the In Memoriam. I thought that was pretty shocking. No Glenne Headly. No Sam Shepard. No Harry Dean Stanton. No Jerry Perenchio. What were they thinking?!"
Jim Windolf, NY Times:
"With the exception of those who went on aerial raids to make their living, no one else pulled off a bomber jacket quite so persuasively as Mr. Shepard did in his breakthrough film role as the pilot Chuck Yeager in 'The Right Stuff.'"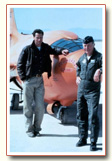 David Krakauer, President of the Santa Fe Institute:
Some of my last conversations with Sam were about Carl Dreyer's "The Passion of Joan of Arc". I could not decide whom Sam loved more, Renée Falconetti or Antonin Artaud. He was fascinated by the expressive power of silent film and the possibility of resting one's gaze on a face for a very long time—a countenance primordial, sensitive, and invulnerable.

I guess that is how I and many others looked at Sam.
September 24, 2017
LA's Bootleg Theater Presents "A Tribute to Sam Shepard" on Monday, October 2 at 8 pm. Tickets are $24 and are limited. Padua Playwrights invites you to join in a heartfelt tribute to the brilliant Sam Shepard. In an evening full of music, readings and remarks, renowned performers and creators of theatre come together to celebrate Sam's profound body of work, under the direction of Darrell Larson.
* * * * *
Vogue, July 31, 2017:

With news that the actor and Pulitzer-winning playwright has died at 73, Patti Smith's description of him in "Just Kids" seems more poetic now than ever... She thought him "rugged, smart, and intuitive" with an "infectious laugh." Smith and Shepard met in their twenties, long before he became the reluctant star of such films as "Days of Heaven" and "The Right Stuff", but she immediately saw him as the embodiment of the American West. "In my mind, he was the fellow with the cowboy mouth," she writes.

Whether the term referenced Bob Dylan's 1966 song "Sad-Eyed Lady of the Lowlands," or Smith dreamed it up all on her own, "Cowboy Mouth" became the title of a 1971 play Smith and Shepard co-wrote, reportedly by passing one typewriter back and forth. It's more than an apt account of one of the actor's most striking features. His rugged, brooding grimace was softened only by the charming though equally wicked gleam in his midnight blue eyes. The often toothpick-accessorized pout, which was slightly downturned at the corners, lent his face a knowing, if melancholic quality. Clint Eastwood's 1976 outlaw Josey Wales had similar chops, and Paul Newman's Luke Jackson in "Cool Hand Luke" (1967) also memorably employed a similar mug as a rebel hero. The difference is that Shepard's expression honed during his early years as a stable hand, fruit picker, and sheep shearer was no pose.
September 23, 2017
David Fox, Philly Magazine:
In Red Orchid's dazzlingly odd production, the great Sam Shepard lives on. Two things you'll know from the first minutes of SIMPATICO - you are very much in a land that can only belong to Sam Shepard; and the McCarter/Red Orchid production's director, Dado, knows how to put this darkly funny, tonally complex world on the stage.

All of this is great news for me, since Sam's my jam. I've loved his work since I discovered it as a student living in suburban Southern California, a vast wasteland he understands as no one else does. Most of Simpatico is set there—and to a native, at least, the litany of place names toll like a mournful bell. Here is where America has gone to die. That's certainly a familiar Shepard theme, and much of Simpatico, written in 1994, recalls some of his earlier, better-known plays...

Shepard died a couple of months ago, but I can't bring myself to accept it. Sam, we will miss you dearly. But with plays and productions like this, you will always be with us.
* * * * *
Liz Cook, The Pitch:
KCAT's (Kansas City Actors Theatre) A LIE OF THE MIND is a fitting, wounding elegy for Sam Shepard. KCAT selected the three-act play for its seaon before Shepard's death in July. But it's hard not to read this production - sensuously acted and staged with languid indulgent images by director Cinnamon Schultz - as a eulogy in performance form... Shepard isn't subtle. KCAT's production isn't, either. But that, we sense, is the whole point. Shepard's feat was sketching American life in all of its bold and brash and maximalist mess. The resulting play is something both innocent and violent, a wounded animal rolling to expose its throat.
Performances continues through October 1 at Kansas City Actors Theatre, City Stage at Union Station.
* * * * *
Camille Thoman's psycho-thriller NEVER HERE had its European premiere at Oldenburg International Film Festival last week. Vertical Entertainment is planning a U.S. release on October 20 with a pay TV launch to follow on Starz in early 2018. Mireille Enos plays Miranda Fall and Sam has the role of Paul Stark, her art dealer and secret lover. In his review, Stephen Holden of The Hollywood Reporter writes that Sam is "reliably classy" and "still wolfishly handsome" at almost 70 years old.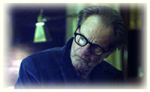 FOR THE RECORD, SAM'S LAST FILM WAS "IN DUBIOUS BATTLE", FILMED IN THE SPRING OF 2015. "NEVER HERE" WAS FILMED TWO YEARS EARLIER IN THE FALL OF 2013.
September 21, 2017
"I had tremendous luck at a very early age. I don't know how that happens - I mean, the Pulitzer, I was like 36. It was one thing after another, the accumulation of awards. It intimidated me. You go through that conflict of wondering whether you're worth it. You start questioning the work. You just have to battle those things in yourself." ...Sam Shepard (2013)

* * * * *
The Imago Theatre in Portland, Oregon will be staging SAVAGE/LOVE in 2018. Ten performers will explore provocative musings on love with drama, dance, humor, physical theatre and song. There will be three performances at 7:30 pm on February 26, March 3 and March 10.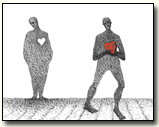 The play was written by Sam and Joseph Chaikin, and according to most sources, it was first performed in 1979 at the Public Theatre in New York. However, in a NY Times article by Carol Lawson, dated October 31, 1979, she indicates that the play, along with "Tongues", was performed that summer at the Eureka Theatre Festival in California. It's not a conventional play as it has no narrative or concrete plot, but instead it presents a feast of images, poetry, and sound that creates an intimate and immersive experience. I want to share one of their poems, a very beautiful one.
First Moment

The first moment
I saw you in the post office
You saw me
And I didn't know

The first moment
I saw you
I knew I could love you
If you could love me

You had sort of a flavor
The way you looked
And you looked at me
And I didn't know if you saw me
And there wasn't any question to ask

I was standing with some papers
I started shuffling the papers
But I didn't know what order to put them in
But I figured I wanted to do it in such a way
That it looked like I had some purpose

But I really just wanted to look at your eyes all the time

And you said
Look at me with your eyes
Look at me with your eyes

In that first moment
Your face burned into my dream
And right away I had this feeling
Maybe you're lost
Until now

Maybe I'm lost
Until now

And I thought
Maybe I'm just making this up

But your eyes
Looked like they were saying
Look at me more

I would shuffle the papers
Look at you
My breathing changed

Then I felt something dissolve
I felt there might be a danger
That anything could happen in the next moment
Maybe you would turn away from me

Or you could say
Let's go together
Forever

September 20, 2017
Fresno State University Theatre has some chutzpah tackling a play like A PARTICLE OF DREAD (Oedipus Variations). They have decided it will be their first show of the 2017-2018 season. This production, dedicated in Shepard's memory, will run from September 29 through October 7 in the Dennis and Cheryl Woods Theatre on campus.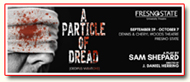 "I am absolutely honored to be directing the final play of one of America's finest playwrights," said Director J. Daniel Herring. "Sam Shepard's legacy will live on in his unique style of storytelling, complex characters and vibrant language."
The play fared better in Northern Ireland when it debuted at the Derry Playhouse because it received poor reviews from New Yorkers when it was staged a year later at the Signature Theatre in the fall of 2014. Bewitched, bothered and bewildered comes to mind... Besides those two productions, I know of no other. With so many other options in Shepard's archive of plays, I'm surprised anyone would choose such a difficult and obscure play written at the end of his life. It might be an exciting work to perform but shouldn't the audience be taken into consideration?
September 18, 2017
Daily Mail:
"Carrie Fisher, Mary Tyler Moore, Jerry Lewis and other stars that died this past year were honored during the 2017 Emmy Awards. Viola Davis came out mid-ceremony to introduce the heartfelt tribute at the Microsoft Theater in downtown Los Angeles on Sunday night. However, there were noteworthy performers that didn't make the cut - such as Sam Shepard, Charlie Murphy, and Dick Gregory."
Deadline.com:
"Emmys In Memoriam Segment Honors 'Walking Dead' Stuntman, Omits Sam Shepard & Harry Dean Stanton
Among those who didn't make the 'In Memoriam' cut were Sam Shepard, most recently seen on television in Netflix's 'Bloodline'".
Globalnews.ca:
"Every year, it seems that someone is missing from the list of celebrities honored for their contributions to the industry. Among the 'forgotten' this year... ...Sam Shepard, who passed away in late July. There was plenty of time to include the stars in the montage, which led the audience to believe they were either forgotten or purposely left out."
* * * * *
Illinois State University has announced that The School of Theatre and Dance's upcoming show will be performed with a special purpose. "A Lie of the Mind" will run September 27 through October 1 in the Center for the Performing Arts in honor of its playwright Sam Shepard,
Play director Lori Adams says, "I love him as a playwright so much because he writes about families. There are always father and son dysfunctions and violence and not everybody writes about that. There's something about the fabric of your immediate family and your lives and how they intertwine and he is brilliant in [connecting] all of that."
September 15, 2017
Last night Patti Smith celebrated her late husband's birthday in Central Park with their children and her band. She said, "Most of these songs I wrote for Fred, with Fred or about Fred." And that was true for "Pissing in a River" but she dedicated that song last night to Sam Shepard. I wondered why she chose that song and possibly found this explanation. This is an excerpt from Dave Thompson's book: "Dancing Barefoot: The Patti Smith Story":
"The song is a declaration of togetherness, forever-ness, that would develop from that initial encounter [with Fred], squeezed through the prism of uncertainly, fear and insecurity that so often accompanies the first months of a relationship... If a part of Patti's unconscious mind looked back at her time with Sam and wondered whether she was stepping back into that same sad circus, nobody would have been surprised. Which is perhaps why, in "Pissing in a River", she crafted lyrics that are a prayer to insecurity in its most painful guise."

My bowels are empty, excreting your soul
What more can I give you? Baby I don't know
What more can I give you to make this thing grow?
Don't turn your back now, I'm talking to you
September 14, 2017
UK's Eye for Film has reported a film tribute called "True West: Sam Shepard on Film" in November at the Brooklyn Academy of Music (BAM). The 11-film tribute, sponsored by The Wall Street Journal, runs from November 3 through November 9 at the Academy's Rose Cinemas.
The following films will be shown:
Don't Come Knocking
Paris, Texas
The Right Stuff
Frances
Resurrection
Days of Heaven
Fool for Love
Far North
Zabriskie Point
Me and My Brother
Tongues video performed by Joseph Chaikin
* * * * *
Mark Schumann, The Redding Pilot:
"I will never forget when I first saw Sam Shepard's play Buried Child on stage. The year was 1979, the evening was cold, the small theater in the West Village was drafty, and the stage was well heated. Using perfectly crafted words, this young playwright captured the essence of the anger people feel when institutions let them down. And he won the Pulitzer Prize."

"Over the next 38 years, in addition to writing more plays, Shepard appeared in more than 60 movie roles on screen and television. But he rarely played the lead. Instead he was that reliable supporting player who adds texture and meaning to any story. In each Shepard performance, his eyes reach through the screen to make him impossible to forget, no matter how brief the role."
Here's a scene from The Pelican Brief with actor John Heard, who passed away just six days before Sam. I love their bantering back and forth. Great dialogue.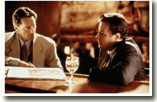 * * * * *
Rebecca Weaver, Silver Leaf Films:
"In 2006 I had a good amount of people telling me that, yeah, being a writer and an actor sounds great, but you really won't be able to do either one very well if you're doing both. You have to choose. And here was Sam Shepard, a master of both forms. And I do mean a master actor. He's very possibly my favorite. Because you don't see any seams. Think about the movies you've seen him in: He just seems like a guy hanging out with a bunch of actors around him. He seems like part of the scenery, like he was always there. He was jaw droppingly naturalistic. We don't appreciate the talent and the incredible relaxation in a person it takes to just be there, to just hang out after 'action.' And he had it. It can't be taught. Refined certainly, but not taught, I don't think."
* * * * *
David Sims, The Atlantic:

"Shepard was a consistent presence in Hollywood, lending gravitas, his rugged looks, and a wonderful, gravelly voice to countless roles, some of them perfunctory (he played a lot of military men) and others delightfully unconventional. In another era, he might have been Gary Cooper reincarnated, a steely symbol of American grit, but Shepard could never resist the darker sides of those myths, fleshing them out in the many plays, films, and novels he wrote over the years."
Military man? Yup, here he is in Stealth, Black Hawk Down, Brothers and One Kill.
September 11, 2017
Robert W. Butler, Kansas City Star:
"For most of us a night at the theater means being entertained and, perhaps, uplifted. A Sam Shepard play means subjecting yourself to the unknown, the dangerous. His is an outlaw's voice, one that evoked powerful, unconventional and even frightening emotions. Watching a Sam Shepard play is like grabbing a rattlesnake by the tail and twisting and jerking for the next two hours to stay clear of its fangs... Wait a minute . . . Sam Shepard wrote plays? Well, yes. Long before his rugged good looks made him a popular movie actor, Shepard was negotiating the outer limits of the American theater. Most of us know him for the films."
If you're looking for a Sam Shepard play in Kansas City, check out the H&R Block City Stage Theater in Union Station. "A Lie of the Mind" will play September 13 through October 1.

Written in the mid-80s, this dark and disturbing drama was written about how two families deal with domestic abuse. According to the National Coalition Against Domestic Violence, one in every four women will experience domestic violence in her lifetime and more than 1.3 million women are assaulted by an intimate partner each year. Did Sam write this play to raise awareness of this issue as a service to the community? Of course not. It was far too raw and personal. Interesting that at one time, his daughter Hannah worked for a domestic violence organization.
Cinnamon Schultz, who's directing the Kansas City production, believes that this is Shepard's most personal play, the one that most closely reflects his own background.

She comments, "In his plays he often wrote about alcoholic fathers. He had one. And Shepard admitted that he'd had troubles with alcohol. The character of Jake is loosely based on that. Shepard was never known to abuse women, but a lot of Jake's character and obsessions reflect the man who wrote him."
* * * * *
Whether it was meant to be a tribute or not, author John Winters points out that during the end credits of Episode 10, Season 3 of Netflix's BLOODLINE, you can hear Sam strumming on his ukelele singing "You are My Sunshine." It appears to be an audio takeout from Season 1 when Sam performed during a party.

September 9, 2017
From Monica Castillo, NY Times:

THREE REASONS TO WATCH "DAYS OF HEAVEN"

The Magic-Hour Cinematography:
Capturing the Magic Hour, the narrow sliver of time just around sunrise and sunset, is a difficult task for filmmakers. They're limited in how much time they can film before the light becomes too bright or too dark. When they succeed, as Malick and the cinematographer Nestor Almendros do here, the effect is impressionistic: Characters appear softer in the faded light; scenes are warmer from the reddish tone sun's rays; objects or extras can be backlit against the purple and pastel skies to enhance the depths of the colorful natural landscape.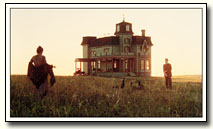 The Shaggy Narration:
Linda's raspy voice-over is our guide to this faraway time and place. Her words feel homespun and unpretentious as she comments, philosophizes and free-associates. She talks like a street urchin, full of slang and rambling observations — an innocent in the tradition of Huck Finn, who's open and imaginative but just world-weary enough to sense when something doesn't add up.

The Reserved Performances:
There are no giant declarations of love or lengthy fight scenes in "Days of Heaven". Even murder in this movie is elliptical and unsentimental. Bill and Abby's true feelings for each other are kept hidden from onlookers, including Linda, who narrates the film. Although she knows about their plan to lure the farmer into marrying Abby, Linda doesn't quite understand their unspoken frustrations as their plot proceeds. She sympathizes with the sickly farmer, whose looks of deep longing are some of the most devastating in movie history. There's suspicion, doubt and a sense of betrayal behind the farmer's eyes as he watches Bill and Abby get closer than a brother and sister ought to be. Shepard, who died in July at 73, gives a largely silent performance, but it's a profoundly moving one.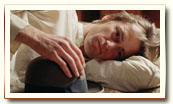 * * * * *
Henry Vermillion, Atensionsanmiguel.org:

"When I first saw Sam Shepard's play True West, I felt that this writer was a kindred soul; obviously, he was from the Southwest, as I was. I was surprised to learn that, in fect, he was born in Fort Sheridan, Illinois. His feeling for the empty spaces and the quirky people of the West and the heartland - railroad men riding cowcatchers, men shooting tin cans with 22s, stoic or raging alcoholics, Mexican cowboys, strong women - came from his early days of growing up. He put these people into plays and stories: 'Moving, drolly funny, spare, cleanly poetic, and always surprising,' as one critic wrote."

* * * * *
Peter Travers, Rolling Stone:
"He felt much more comfortable crawling into the skin of lived-in characters, such as the army commander in Black Hawk Down, the outlaw in The Assassination of Jesse James by the Coward Robert Ford, the grizzled father figure in Mud. They were men who'd also be at home in a Shepard play. Still, the Shepard screen performance that resonates most with me is his haunted cowboy in Robert Altman's 1985 film version of Fool for Love, acting for the first time in a film he wrote and making it clear that "there's not a movie in this town that can match the story I can tell.'"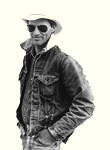 September 6, 2017
From the Santa Fe Reporter:
Jeremy Sabloff, president of the Santa Fe Institute from 2009 to 2015, says Shepard was a perfect fit as a Miller Scholar, a position created to welcome creative types onto Cowan Campus for "both their complementary and orthogonal perspectives."

At the institute, Shepard talked to his colleagues about writing and acting. "He was so low-key," Sabloff says. "Given the common perception of famous actors and writers, Sam was not full of himself."

Further considering Shepard's personality, Sabloff recalls watching Blackthorn in 2011, in which Shepard played a renamed version of American train robber Butch Cassidy. "He's on this horse and he doesn't say a lot, but you get this great force of determination," Sabloff says. "It captured the essence of Sam."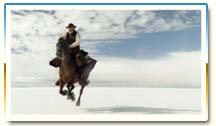 * * * * *
There's a wonderful 1968 video clip from "Rowan & Martin's Laugh-In" in which Sam plays drums with the Holy Modal Rounders. The band includes Peter Stampfel, Steve Weber, Richard Tyler and John Wesley Annis. They're introduced by Ruth Buzzi, who cavorts around them as they play, "Right String But the Wrong Yo Yo". The video is poor quality but it's still a fun watch at this link.
* * * * *
From Marin Independent Journal:

Shepard moved to Mill Valley in 1974 and lived there till about 1982. Former Tamalpais High School drama teacher Michele Swanson remembered how he generously donated his time, working with students at playwriting workshops and festivals for several years.

"He was very gracious about working with young writers," she said. "He wasn't interested in the trappings of a festival, but the conversation between him and a group of writers was always sincere. He loved to talk about writing, the process, the words. And he was the same way about the stage. It was the energy and excitement that he loved. And he was completely mysterious as well."

In the mid to late '70s, Shepard's reputation in Marin was as a reclusive figure who scrupulously avoided doing interviews or publicity. Marin Independent Journal columnist Beth Ashley once described him as "a phantom presence on the streets of Mill Valley."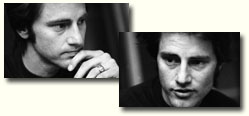 September 4, 2017
Griefing over a celebrity's death:
"The complex mechanisms by which we understand and are affected by the deaths of public figures will likely continue to develop and intensify as digital proximity cultivates increased feelings of connection and identification with beloved celebrities" ...Luke Ottenhof, Vice.com
* * * * *
The Castro Theatre in San Francisco will present a double feature with two of Sam's films on Tuesday, September 12. FOOL FOR LOVE will be shown at 7:00 and PARIS, TEXAS at 9:00.
* * * * *
In a 2016 New York Times Q&A, Sam was asked if he felt he had achieved something substantial in his career.
"Yes and no. If you include the short stories and all the other books and you mash them up with some plays and stuff, then, yes, I've come at least close to what I'm shooting for. In one individual piece, I'd say no. There are certainly some plays I like better than others, but none that measure up."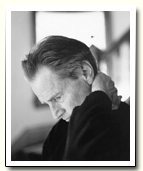 * * * * *
This is an excerpt from a story written about five years ago by blogger Elizabeth May and it's posted here to bring a smile to your day. It's called "Standoff with Sam Shepard at Ten Thousand Waves".

On a recent trip to Santa Fe, I took my mother to Ten Thousand Waves, a gorgeous, serene Japanese spa located on Hyde Park road. I first read about the spa when I was a college student... So, when twenty years later I finally treated myself to a soak and massage at Ten Thousand Waves, the first person I saw was Sam Shepard. Swaggering out of the men's room, his right-eye-squint so characteristic his eye was practically shut, he stood like a cowboy in a Buddhist temple... Standing before me, still in his tracks, as the employee was trying to orient us to the spa, Mr. Shepard gave me a look, with his good eye, like a bandit scrutinizing his victim before drawing his gun. A look that made me feel like I'd robbed the train and gotten away with it. Like I was Jane Fonda in Cat Ballou.

Ruffling his hand through his spiky gray hair, he walked away and the moment was gone with the wind.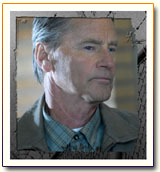 Thank goodness for hindsight and blogs because later of course, I wished I'd been cleverer. Wished I'd said something as smart and witty as the dialogue in his fiction. Something like, "You're not leaving so soon are you? We just got here." Or flattery along the lines of how inspiring and influential his plays, short stories and films have been to me, but how corny and cliché. Maybe a simple, "Konichiwa." Or I could have been gutsy, given him a wink, and lassoed him with, "Whadaya say we take a Xanax and go shoot some starlings?"
September 1, 2017
Chicago's acclaimed A Red Orchid Theatre is visiting New Jersey and bringing its well-received production of Sam Shepard's SIMPATICO with it. The play tells the tale of the underworld of thoroughbred racing, complete with secrets and blackmail.
The show will run from September 8 to October 15 at McCarter Theatre in Princeton and includes much of the production's original cast and crew, including 2017 Oscar nominee Michael Shannon. It is directed by A Red Orchid's Dado.

"It is a stunning personal loss to all of us who knew him and a devastating loss for the theater that the great Sam Shepard has died," said Emily Mann, McCarter's artistic director. "One of the most important playwrights of his generation, Sam Shepard shaped the American theater from the moment his plays appeared on our stages — and in so many theaters across the globe — in the late 1960s. We dedicate our opening play of the season, Sam's 'Simpatico' featuring A Red Orchid Theatre, to his memory. In this way, he lives on."
* * * * *
The Off-Off-Broadway theatre La MaMa has announced that they will pay tribute to our prolific playwright on Saturday, October 7.
La MaMa will celebrate Shepard's life and career with live and video tributes, and the presentation of rare footage and photos in the Ellen Stewart Theatre. The event will kick off at 3 pm.

"Sam Shepard and Ellen Stewart pioneered a new era of art-making that changed theatre forever," commented Mia Yoo, La MaMa's current artistic director, in a press statement. "[He] has a special place at La MaMa. He helped shape La MaMa's legacy. Our founder Stewart gave him free rein to fully explore his potential."
La MaMa will also present readings of Shepard's early plays in January 2018 in The Ellen Stewart Theatre. Slated to direct are Estelle Parsons, Neil LaBute, Scott Wittman, and Joel Zwick. For more information on the theatre's upcoming programming, visit LaMaMa.org.
Back in 2011 when he was about to become the first recipient of La MaMa's new Annual Ellen Stewart Award, he fondly recalled the founder of the East Village theater. He said, "Ellen was a generous woman in every respect. She was a New Orleans Creole, so distinctly herself in every way, the way she spoke, the way she dressed. She would just let people come and stay at the old LaMaMa down on Second Avenue... Ellen was so great. I could bring her any old thing I'd written on the back of an envelope and she'd say 'Let's do it Baby!'... By tremendous luck, I just happened to end up in the right place."