NEWS: October 2017
October 31, 2017
October 30, 2017
Remembering Sam Shepard on Screen from IndieWire
Cold in July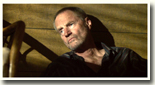 "The rare thriller to let an older actor take center stage, Jim Mickle's stylish mystery provided Shepard with a terrific late period showcase for his capacity to exude a range of fragile emotions festering beneath a stone-faced surface. His character's bloody heroics in the finale give Clint Eastwood in 'Gran Torino' a run for his money, and it's basically the ideal career capper for an artist who excelled (both as actor and playwright) at exploring the contradictory emotions of a dysfunctional family." ...Eric Kohn, IndieWire:
The Assassination of Jesse James by the Coward Robert Ford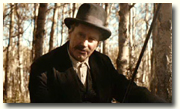 "Upon meeting the coward of the title, Shepard's Frank James — older brother to Jesse and co-leader of the James gang — expresses his distaste immediately: "I don't know what it is about you, but the more you talk, the more you give me the willies." That line comes 10 minutes into a two-and-a-half-hour movie that culminates in Frank's younger brother being murdered. Shepard wasn't the star of 'Jesse James'; he wasn't the star of most of the movies in which he appeared. But he was always a compelling presence on the periphery, adding eloquence and grit to whatever role he inhabited. You couldn't help remembering that Shepard was a playwright whenever you saw him onscreen — not because there was anything theatrical or stately about his performances, but because his nonpareil mastery of language was evident in every word he spoke, whether it be a warning, a lamentation, or both." ...Michael Nordine, IndieWire
Bloodline

"Played by Sam Shepard, this patriarchal figure shouldered more baggage than anyone could be expected to emote in the few episodes featuring Robert. He was a walking contradiction: happy and carefree while harboring long-buried pain. But Shepard, a master of conveying oceans of information with just a drop of dialogue, provided the poised father figure with an aura of accessibility. Described as 'an old hippie,' Robert sat there on the beach, staring at the ocean or strumming his ukulele, and it was easy to understand why a town would adore him, even as his children feared him. Shepard knew what Robert's want for fun was masking, but he also knew better than to pull down that mask too far. Shamed fathers don't do that, not when the family name is at stake." ...Ben Travers, IndieWire
Here's an interesting piece of artwork by Damien Bastelica featuring a poster for the Bloodline series.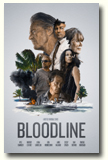 October 27, 2017
On November 21st of 2013, the Foyle Film Festival in Londonderry screened "Paris, Texas" and hosted a Q&A with Sam following the movie. Here's a photo from that evening.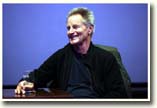 This year the Foyle Film Festival will pay tribute to Sam on November 19th with a screening of Terrence Malick's "Days of Heaven" followed by a reading of some of Sam's short stories. The readings will be done by Stephen Rea and Judith Roddy, who both starred in the Londonderry and NY productions of "A Particle of Dread".
October 25, 2017
Barbara Hoffert, Library Journal:
When Sam Shepard died on July 27, it was impossible to believe that we would hear no more of that wise, astringent voice. Granting us respite, this December Knopf will release his final work of fiction, Spy of the First Person, which he finished just before his death and which is dedicated to his three children. At its tersely beautiful heart is an unnamed narrator, an older man actively dredging up memories but increasingly stilled by the ravages of a disease that leaves him dependent on caretakers—a disease that sounds like the amyotrophic lateral sclerosis that took Shepard's life. Look for an LJ Xpress review this week.
* * * * *
Bloodline co-star Norbert Leo Butz talks about what it was like to work with Sam on the Netflix series: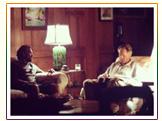 "I consider it one of the greatest privileges in my life. I can't overstate how important he was to me as an actor studying theatre and acting. 'Buried Child' was the play I did in college that made me want to be an actor. It changed my life. He was hugely important to me. When I showed up on set to work with him, I was so overwhelmed with hero worship. As we worked through that first season, I got to know him a little bit and I just loved working with him. He was such a great actor, so honest and in the moment. I think Sam and I were the only people in that cast, at least in the first season, that had come from theatre, so I felt privileged to sit and talk with him about the work and actors we respected, productions we'd seen. Whenever I talked to him, I wanted it to last forever."
* * * * *
FOR THE RECORD, SAM'S LAST FILM WAS "IN DUBIOUS BATTLE", FILMED IN THE SPRING OF 2015. "NEVER HERE" WAS FILMED TWO YEARS EARLIER IN THE FALL OF 2013.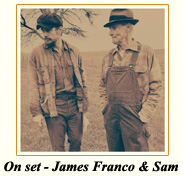 * * * * *
Some of Sam's favorites at 56 years old: (Nothing about family)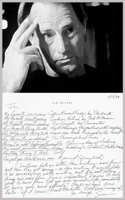 October 22, 2017
This photo shows a tribute to Sam in a Hawaiian shop window. I rather like the prayer candles.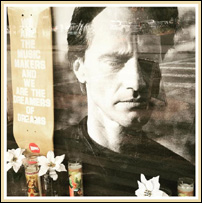 We are the music makers,
And we are the dreamers of dreams,
Wandering by lone sea-breakers,
And sitting by desolate streams;
World-losers and world-forsakers,
On whom the pale moon gleams:
Yet we are the movers and shakers
Of the world for ever, it seems.
- O'Shaughnessy
* * * * *
Back in 2009, Sam signed up for an EPIX series called "Tough Trade" about a three-generational Nashville music family with a penchant for drink, debauchery and divorce. The pilot was shot with Sam as patriarch Linwood Tucker. Unfortunately, due to a multitude of problems, the series was pulled and never aired. Great shot of a country western musician!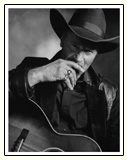 October 19, 2017
Michael Phillips, Chicago Tribune:
As a screen actor, every space Shepard occupied seemed confined, somehow. His hardscrabble charisma wasn't so much intense as withholding, in a concentrated, compelling way. He was a concealer, and working with an astonishing range of directors his best performances folded effortlessly into the movie around him, whether he was playing a vaguely defined loner boyfriend or a gruff military authority figure.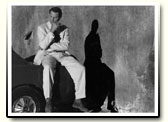 In early films, "Days of Heaven" in particular, in repose he looked like a movie star, two doors down from Robert Redford, but a reluctant one, a little more angry and wary behind the eyes. His actor's equipment had the peculiar advantage of a particular and unexpected vocal timbre, higher and raspier than you'd guess. In person he'd chuckle in short, staccato bursts, and when he did he sounded fleetingly like the wastrel spiritual nephew of Gabby Hayes or Walter Brennan."
John Wilkins, KQED Arts:
Sam Shepard was a great playwright whose plays are a product not of the times, or institutions, but of a vision. And visions are rare. They don't come because we want them to, or because there's a grant for them, or because we create the proper organization. They come because some people feel the world with more intensity, and follow the stars before them to wherever they might lead. And in turn, we follow them with an equal intensity, and suffer a real loss when they're no longer around to show the way.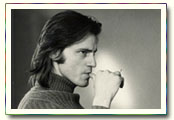 * * * * *
As reported last month, the Bootleg Theatre in LA held a memorial tribute to Sam on Monday, October 2. In attendance were both of Sam's sisters. Roxanne shared how she learned of her brother's success as a writer and how it caught her off guard to discover how highly regarded he was by her peers. Beth Ruscio and Leon Martell read a scene from "The God of Hell" and John Densmore and Alan Mandell followed up with an extract of "Tongues".
October 18, 2017
A short novel by Sam called "Spy of the First Person" will be published posthumously by Knopf on December 5. It's a small book with 96 pages, measuring 4.5 x 7 inches.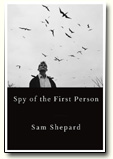 The novel, which was completed shortly before his death, follows the life of an unnamed male narrator who retraces his life as he undergoes treatment for a medical treatment that renders him dependent on his loved ones. The parallels are fairly easy to draw to the author himself. His longtime editor, LuAnn Walther, told People magazine that Sam had privately lived with the disease for a couple years.
According to several sources, Sam began work on his last novel in 2016, despite the physical limitations brought on by ALS. The first drafts were written by hand, as he was no longer able to use a typewriter, and he edited and arranged them himself. When handwriting became impossible, he used a tape recorder to record sections, which were transcribed by his sisters, Roxanne and Sandy, and his daughter, Hannah, who then printed the pages for him to read. He spoke his edits. When recording became too difficult, Sam dictated the rest of the story. His friend Patti Smith worked with him during the final months of his life to edit and arrange the pieces into a final manuscript. Sam read through the entire project with Hannah on July 20 and gave her his final edits a week before he died.
Overview:
"In searing, beautiful prose, Sam Shepard's extraordinary narrative leaps off the page with its immediacy and power. It tells in a brilliant braid of voices the story of an unnamed narrator who traces, before our rapt eyes, his memories of work, adventure, and travel as he undergoes medical tests and treatments for a condition that is rendering him more and more dependent on the loved ones who are caring for him. The narrator's memories and preoccupations often echo those of our current moment—for here are stories of immigration and community, inclusion and exclusion, suspicion and trust. But at the book's core, and his, is family—his relationships with those he loved, and with the natural world around him. Vivid, haunting, and deeply moving, Spy of the First Person takes us from the sculpted gardens of a renowned clinic in Arizona to the blue waters surrounding Alcatraz, from a New Mexico border town to a condemned building on New York City's Avenue C. It is an unflinching expression of the vulnerabilities that makes us human—and an unbound celebration of family and life."
October 17, 2017
Tony nominee and four-time Oscar nominee Ethan Hawke is set to direct and star in a benefit reading of Sam's play, THE LATE HENRY MOSS, for the New Group. The play originally premiered at San Francisco's Magic Theatre in 2000 with Sean Penn, Nick Nolte and Woody Harrelson.
The reading will take place November 6 at 7 PM at the Lucille Lortel Theatre in NYC. The cast will be completed by Keith Carradine, Vincent D'Onofrio, Alessandro Nivola, and Yul Vazquez.

Hawke previously starred in the play's Off-Broadway production at the Signature Theatre in 2001. The actor worked extensively with Sam on both stage and screen.
* * * * *
A photograph of Sam is being auctioned off at Paddle8. It was taken by famous photographer Annie Leibovitz and is called "Sam Shepard and His Horse, 1984". Bidding starts at $4,000.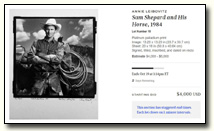 * * * * *
The Austin Film Festival will honor Sam on October 27th with a screening of Raggedy Man. [If you blink, you might miss Sam in this film] It will be presented at 6:15 in the Hideout Theatre by William Wittliff, who wrote the film's screenplay. He is also the same Wittliff who founded the Southwest Writers Collection at Texas State University, where much of Sam's papers are archived.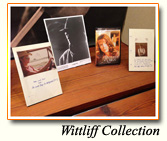 October 15, 2017
Kevin Reynolds, The 405:

When Sam Shepard sadly passed away in July of this year, the world lost one of its greatest playwrights. A master stager of the American myth and the man responsible for classics such as True West and Buried Child but one who by the end of his career had developed into an equally masterful character actor. An actor who probably had the looks to be a traditional leading man, but chose instead to pursue smaller roles and work with some of cinemas greatest directors.

In Terrence Malick's sophomore picture, DAYS OF HEAVEN, a poetic narration meets a visual elegance that's rarely been matched since. Set in the panhandles of the early 20th century, Malick creates a 'magic hour' fable, with all the footage being captured just before dusk and entirely in natural light.

Shepard had only appeared in small roles up until being cast as the enigmatic Farmer. A ghost still encased in human form and isolated in his house at the top of the land, Shepard - the eternal cowboy at heart - makes for perfect casting. Indeed, he haunts the first third of the movie leaving most of the limited narrative movement to Richard Gere and Brooke Adams. Gere is a brash macho man, standing in direct comparison to Shepard's passive presence. When they finally come together, they represent the passing over of an era.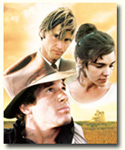 When Gere's wife - Adams - attracts the eye of the farmer, so begins a poetic battle of jealousy. Shepard as playwright stands in for any accusations of an underwritten character, with the narration doing all the heavy lifting and gives us the first indication of what his cinematic work will be like: iconic in tone and of small gestures.
* * * * *
Ed Harris talks about Sam on NPR:
It wasn't macho masculinity. It wasn't stupid masculinity. I think he was pretty true to himself and carved out a way to be in the world that made sense to him, you know. He wasn't trying to prove anything to anybody.

When we were doing "The Right Stuff," you know, we'd go out and drink a bit. And Sam was a pretty good drinker. One night - we got in the elevator one time. I was pretty drunk. And he says, "Ed, you don't know how to drink." And he was probably right because I used to just try to get obliterated. And Sam always maintained a certain verticalness, if I may (laughter).
[During the "Buried Child" revival in NY last year] That's when I realized something was going on. And he told me he'd been diagnosed with ALS. And, you know, he kept it pretty quiet, but he was starting to suffer back then from it. So it's - you know, it happened pretty quick for him. But I'm glad he's at peace. I think he was probably ready to go.
October 13, 2017
On September 20th I posted news of a new production of A PARTICLE OF DREAD (Oedipus Variations) at Fresno State University. The play ran from September 29 through October 7 at their theatre and I made mention of its history of negative reviews. Donald Munroe, who covers the art scene in the Fresno area, wrote that the play "is something of a bewildering experience." and concluded the following in his review - "In the end, I couldn't connect either intellectually or emotionally with 'A Particle of Dread.' In Shepard's deconstruction of the nature of tragedy, he skimps on one of its key elements: catharsis. At one point Duong's character, in an aside to the audience as she speculates on the point of sitting in the theater watching tragedy unfold, speculates 'What's in it for us?' In the case of Shepard's final play, I couldn't really think of a good answer."
I guess I was accurate when I wrote about being "bewildered" and that "it might be an exciting work to perform but shouldn't the audience be taken into consideration?"
* * * * *
Don Chiasson, The New Yorker [10/7/17] on an article about Joni Mitchell:
In "Coyote," a song about her fling with Sam Shepard, Mitchell describes his roving eye: "He's staring a hole in his scrambled eggs / He picks up my scent on his fingers / While he's watching the waitresses' legs." The detail is crude and adolescent, but it's also very sexy, and Mitchell sings those lines to sound like a boast. Prowess is prowess."
* * * * *
Hillel Italie, The Associated Press:
The handsome, taciturn Shepard was shaped by the frontier life he mourned and critiqued and by the revolutionary changes of the post-World War II era that helped upend it. He looked like an heir to Gary Cooper and other stars of Hollywood Westerns, but he was an artist for a rebellious and challenging time...
In Shepard's 1982 book "Motel Chronicles," he said that he felt like he never had a home. That feeling, he later, acknowledged, always remained.

"I basically live out of my truck," Shepard said in 2011. "I feel more at home in my truck than just about anywhere, which is a sad thing to say. But it's true."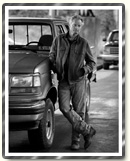 October 11, 2017
Here are a few excerpts from an article about Sam being an icon of the American West by writer, photographer and filmmaker Paul Joyce. It was published in the London online magazine, The Arburturian.

"We met at Sundance in 1993 when he was presenting, somewhat reluctantly, a western he had directed, Silent Tongue. He did not speak of it with much enthusiasm although it boasted a fine cast and was handsome to look at. He gave the impression that no one else wanted the job of actually making it, so he did it himself. The main motive seemed to be the presence of horses in what seemed like every shot and at that time it looked as if horses had become more reliable companions to him in life than human beings..."

"In bars in those days it was all about alcohol and nicotine and he was truly great at both. Sam was a real smoker, and I do mean real; he drew deeply on what I assume was pure Virginian tobacco (I wish I could remember the brand) and could consume a pack in a good drinking session..."

"Now I know who he reminded me of, his great hero and namesake, Sam Beckett. Both were taciturn to the point of rudeness, both great drinkers and smokers, both hugely embarrassed by their burgeoning reputations, both unable or unwilling to talk about their work, both standing tall with fine heads of hair and silently boasting unequalled knowledge of world literatures and both constantly curious about the foibles and weaknesses of human nature..."
Paul Joyce was at Sundance with a film crew directing a documentary about Independent American Cinema and Sam agreed to contribute. Joyce states, "He was wearing a baseball cap which I thrice asked him to remove and he did thrice refuse."
Is anyone surprised?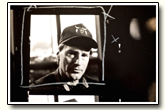 * * * * *
TRUE WEST, one of Sam's best known efforts, examines the relationship of two brothers. Heads up, Ontario fans. It will be staged in Windsor on October 13, 14, 19, 20 and 21 at 8:00 PM by Post Productions at 628 Monmouth Road, Winsdsor, Ontario. Tickets are $20 in advance or at the door.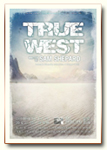 October 9, 2017
On Saturday afternoon NY's LaMaMa held their tribute for Sam at the Ellen Stewart Theatre. The master of ceremonies was Jean-Claude van Itallie. He quoted early appreciations from the Village Voice and Newsweek that praised the young playwright for plays that were "a form of exorcism, magical, that grapple with the demonic forces of the American landscape". Van Itallie drew knowing laughter when he added, "I don't want to give an image that Sam was doing this intellectually or that it was a dry, intellectual scene down here in the Sixties. It wasn't. It was playful. It was erotic. Many of us playwrights were gay. Sam was stunningly not gay."
Film clips were shown from the 1998 documentary, "Stalking Himself" and Sam's sister Sandy Rogers performed "Why Wyoming", one of the songs she wrote for the film soundtrack of "Fool for Love". She said Sam loved it, because "why" was her brother's favorite word.

Thomas Keith, a La Mama intern back in the Sixties, read Sam's account of his first year in New York and Joyce Aaron Funk, Sam's girlfriend and an actress, recalled the early days. Two current actors, Wayne Maugans and Leslie Silva, also performed a scene from "Chicago".

Artist Charles Mingus III, a friend from high school and later roommate of Sam's, had a somewhat more raw recollection of their on-again, off-again friendship and collaborations. And Anne Militello, who was manning lights for rock shows in San Francisco when Sam was in residence at that city's Magic Theater, recalled being drawn into his circle.
* * * * *
I recently watched a documentary on the life of actor Gregory Peck. When asked what he wanted to be most remembered for, he answered, "A good husband, father and grandfather." Wow!
October 8, 2017
Here are some excerpts from the True West magazine article called "Solitary, Singular Sam Shepard" mentioned in the 10/6 update:
His understated, natural style recalled actor Gary Cooper—both were movie-star handsome and exuded effortless self-confidence and masculinity.

Whether in a lead or supporting role, his presence in a Western lent it authenticity. He was endearing as Pea-Eye Parker in the 1995 sequel to Lonesome Dove, Streets of Laredo. That same year, he played Tarnell, cowhand buddy to Tommy Lee Jones's Hewey Calloway in the Jones written-directed feature The Good Old Boys. Five years later, Shepard played the sympathetic lawyer in All the Pretty Horses.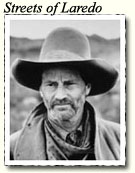 In 2006, in the Western Action-Comedy Bandidas, Shepard played Mr. Buck, a retired bank robber coaching two ladies, played by Penélope Cruz and Salma Hayek, in his former trade.

The frontier West even inspired Shepard and wife O-Lan Jones to name their son Jesse after outlaw Jesse James in 1970. Shepard went on to play Jesse James's brother Frank in 2007's under-appreciated The Assassination of Jesse James by the Coward Robert Ford. Though at 64, Shepard was 25 years older than the real-life Frank, his performance was excellent. His sober distrust of Ford made him easily the smartest guy in the bunkhouse.

In the 1999 Fantasy Western Purgatory, Shepard is the gunless lawman in the town of Refuge, a waiting place for deceased Westerners whose final destination is not yet determined. His character may be called Sheriff Forrest, but he died holding aces and eights.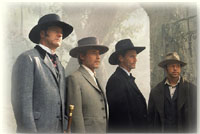 His final Western lead was in 2011's Blackthorn. Living in Bolivia, where the movie was filmed, James Blackthorn (Shepard) is actually Butch Cassidy, who survived the shoot-out that killed his partner. Now an old man, he decides to head home, with the assistance of a young robber.
"Sam's voice was very singular. It was very distinctive, like all great writers," recalls Tracy Letts [August: Osage County playwright]. "And he synthesized a lot of different elements—European avant-garde, Rock 'n' Roll, cowboy movies, poetry and a working-class sensibility. He synthesized all of that, and when it came out in his writing, it was such a new and exciting and individual and true voice."

The voice will live on.
* * * * *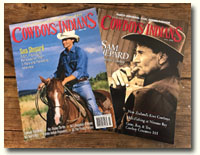 Look for more tributes in the November/December 2017 issue of Cowboys & Indians out on newsstands October 17.
October 6, 2017
True West magazine: "The late playwright Sam Shepard is well known to Western fans for the laconic cowboy figures he played on the big screen. Frank James in The Assassination of Jesse James by the Coward Robert Ford. Butch Cassidy in Blackthorn. Wild Bill Hickok in Purgatory. Pea Eye in Streets of Laredo. He came by it naturally. Shepard was cowboying in California in his teens. He competed in rodeo many times over the years. He even compared it to his primary job, saying rodeo has more real drama than a hundred plays."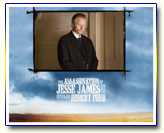 The November 2017 issue of True West magazine has Sam on the cover with a publicity photo from the Jesse James film.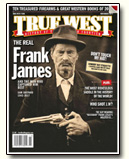 * * * * *
I can't say I like this drawing by artist Macy Allen, but I do like the way the words surround his face.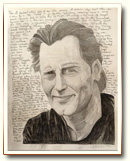 October 3, 2017
According to an interview with The Hollywood Reporter back in August, director Philip Kaufman knew casting the right actor to play Yeager would be crucial to the success of his 1987 film, "The Right Stuff". He and his wife Rose had attended a poetry reading that Sam was doing at the Intersection Theatre in San Francisco. Pointing to Sam, Rose told her husband, "That's your guy."
Kaufman says, "Even though Sam was this tall, gangly guy who looked nothing like Yeager, he had that quality, a certain truth, a sort of cowboy feeling. It was a good starting point for a story about a guy named Yeager and astronauts and test pilots, but also about a quality called 'the right stuff.'"
Evidently, Sam didn't want to do the role at first thinking he wasn't right for it but he eventually bought into it and the rest is history!
Kaufman says, "Sam was born with the gift of a golden ear. He had perfect pitch in some ways. Most of the lines in the script passed his test, but occasionally he would bend a line, give it some other rhythm or would just throw in a line. When he's picking up Barbara Hershey in the bar — we don't know yet she's his wife — Sam threw in, 'I'm half jackrabbit,' just perfect for somebody hopping through the desert."
He confesses, "Just thinking about Sam, I've been saying that guy you're writing about in the obituaries is not Sam. That's a guy who died. Sam's still there. He's now like that ghostly figure of his own father who's inside the characters in his plays because he lived a life of such intensity. His voice got inside of me. And that makes him still alive for me."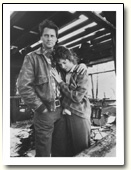 October 1, 2017
After Sam passed away on July 27, Patti Smith was ready on August 1 to have her remembrance called "My Buddy" published by The New Yorker. At that time there was not a word from his family. This week she again expresses her grief and still no words of remembrance by his family.
Patti told WGBH News: "It is still very hard for me to talk about Sam. It is so difficult for me to reconcile the fact that he is not here on earth among us. I always feel his presence. When I first met him, I always felt protected by him, artistically provoked by him, we read books together all through our life even at the very end of his life. He was just a wonderful man, a wonderful friend. I could talk about him forever, but I also in a certain way can hardly talk about him because it is so hard to imagine that he is not here. But he handled the end of his life just like he always handled everything — very stoically, very bravely, and also handsome, always handsome."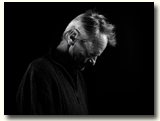 Updated: Patti Smith took to the stage at the Back Bay Events Center in Boston on September 28. During the evening, she recalled her lifelong friendship with Sam. While not quite ready to talk about him extensively, she reminisced for a moment about their endless phone conversations on books, and his funny habit of always keeping a Samuel Beckett play nearby for comfort. For Sam, she picked up her guitar and strummed the song "Beneath The Southern Cross," whispering at its conclusion, "farewell, Sam."