December 23, 2021
Since Sam's play HEARTLESS opened at the Signature Theatre in NYC, I know of no other staging except at the Armory Theatre in Seattle in 2018. Known for its characters "stranded somewhere between abstraction and realism", the play lacked a coherent storyline and received mostly negative reviews. However, a theater in New Britain, CT called "Hole in the Wall" is taking a leap of fath and will be presenting it next month.

The show opens on January 14th and will run for three weekends on Saturdays and Sundays at 8pm, with one 2pm matinee on Sunday, January 23rd. Tickets are available now at www.hitw.org for $25 ($20 for students and seniors) and the traditional Pay-What-You-Can Weekend on Friday, January 21st to the Sunday matinee.
September 12, 2021
I'm always on the lookout for creative Shepard images in any medium. The following piece is digital art from Odile Banse. I can't make up my mind whether I like it or not. Perhaps too dark and moody.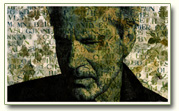 June 23, 2021
I just came across this rare photo of Sam when he did a Q&A at the University of Minnesota's Rarig Center on May 23, 1996. At the time he was living in Stillwater.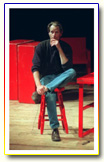 In a write-up of the event in the local newspaper, he expounded on New York's theater scene in his often ornery manner.
"Rent," the current toast of New York theater, lost its reason for being the moment it appeared on the cover of Newsweek. He has little use for Broadway, where a revival of his play "Buried Child," which won the Pulitzer Prize in 1979, is running to rave reviews. It is the first time a Shepard play has appeared on Broadway, which has more to do with director Gary Sinise's massive production than with Shepard's desire to see his name in lights.

"It's a tourist deal," he said, dressed in a dark-blue sweatshirt, a casual vest and faded blue jeans. " 'Cats' on one side of the street, 'Phantom' on the other. There's nothing wrong with that. But I don't see where my plays fit."
Sam lived with Jessica in Stillwater for nine years. His choice to relocate to Stillwater was mostly because Jessica felt it important to raise their children close to the area she grew up in. She purchased the former bed and breakfast for $415,000 in 1994, made massive renovations and eventually sold it in 2008 for $1.825 million. You can check out this page for photos and more information on their home.
* * * * *
Here are some more 1996 photos of Sam preparing for his play "Chicago" at the Joseph Papp Public Theater in NYC.
June 21, 2021
On October 28, 2019, a book was published titled "Before Easter After" written by legendary rock photographer Lynn Goldsmith and punk rock's poet laureate Patti Smith. The expansive collection documents Patti's career in the 70s, which includes "Easter", the third studio album by the Patti Smith Group, which was released in 1978 and is regarded as the group's commercial breakthrough, owing to the success of the single "Because the Night". The tome features hundreds of unseen photographs with Patti writing the introduction as well as the poetry and lyrics. It is available for purchase for $700. Limited to just 1,300, each copy is signed and numbered by both authors.
The book opens with a poem about Patti written by Sam. Lynn asked him, unbeknownst to Patti, to write something in response to a photograph she had taken of Patti in 1977. "Patti wasn't aware when I did that, because I thought it would be a nice surprise for her," Lynn explains. "I really felt that Sam got her in a way that maybe I'm not deep enough to. The connection that they had, and Sam's ability to poetically verbalize it, I felt would ring true for other people."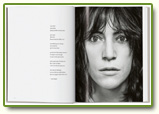 * * * * *
Following Sam's death in 2017, the husband-wife team of Charles Shyer and Nancy Meyers celebrated the 30th anniversary of their film "Baby Boom" paying particular homage to two members of their cast who had died - Sam and Harold Ramis ("Ghostbusters"). Shyer directed, Meyers produced and together they wrote the screenplay.
"Both Sam and Harold were highly accomplished writers, so they understood the process in a way that perhaps they wouldn't have, if they'd been only actors," Shyer said. "Plus, their parts seemed to fit them like a glove. It's very sad that they are no longer with us. But we're so proud to have had them in our movie."

"Harold and Sam were warm, kind guys who inherently understood what we needed and understood they were there to serve the film," said Meyers. "It's always a relief and a pleasure to work with actors who are also writers or directors, but these two were extremely special talents and I'm honored to have known and worked with them both."
In his role, Sam plays a country veterinarian named Jeff Cooper who woos a city gal (Keaton's character) from the Big Apple when she moves to Vermont with a 14-month-old baby daughter inherited from a long-lost cousin. This photo is sooooo sweet!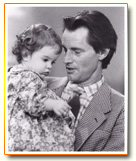 I'm not into rom-coms but occasionally I'll make an exception so I will admit that "Baby Boom" was a refreshing non-Woody Allen film for actress Diane Keaton and a vehicle for Sam to show his sensitive romantic side. When Sam spoke about working with Diane, he commented, "I had so much fun doing that movie... We have an extraordinary bond. She's this fantastic combination of brilliance in comedy and intelligence."
While several sources indicate that Sam showed an interest in becoming a veterinarian himself, it seems highly implausible considering he chose to study agriculture at California's Mount Antonio Junior College after graduating from high school. It's hard to imagine our playwright sinking his teeth into biology, chemistry and physics.
And speaking of non-Woody Allen films, among my favorite Keaton films are "Mrs. Soffel" (1984) and "Looking for Mr. Goodbar" (1977). That's not to say I don't find Diane hilarious when she's doing her usual schtick but it does start to become annoying 30, 40 and 50 years later. One last comment - she was SO miscast in the "Godfather" trilogy.
June 18, 2021
Back in 2013, Sam's play "A Particle of Dread" premiered in Northern Ireland at The Derry Playhouse. On learning of the death of Sam in 2017, CEO Niall Mccaughan told the press he felt fortunate that the American playwright had participated in their Field Day writing a play for the event. He continued, "He was a true gentleman; everyone liked him and he took Derry to his heart. Originally when he came to The Playhouse, he was to stay only a week, but ended up staying nearly two months! He was a likeable man, and I have to say that I was a bit star struck when I first met him. At the world premiere of his play, I had to give up my seat to Edna O'Brien. On my second attempt the following night, I again had to give up my seat, this time to Neil Jordan and ended up heading to our theatre bar to chat to our staff. Here I was surprised to find Sam on his own and I ended up spending a lovely night chatting about life in general."
During his stay in Derry, Sam also met up with Irish novelist and dramatist Dave Duggan as seen in the photo below.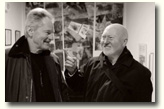 * * * * *
Sam & Jessica Flashback -
At the 58th Academy Awards at Dorothy Chandler Pavillion in LA on March 24, 1986. You know he hated these Hollywood events.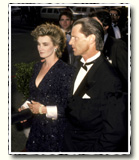 June 16, 2021
When "Kicking a Dead Horse" opened at the Public Theater in NYC in the summer of 2008, Stephen Rea delivered a dramatic monologue in the 80-minute play. However, there is a very brief moment when a second character appears. She's called Young Woman, who wafts spirit-like out of the grave in a gold-hued slip and a cowboy hat.

She's played by Eliza Piszel who was familiar with Sam's plays, appreciating his powerful women, barbed-wire poetry and primal passions. She told the press he cast her over 40-odd auditionees because of her ethereality, and she trusted the playwright so much, in fact, she would have played the Young Woman naked, his original idea. Not surprising!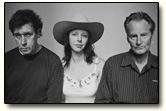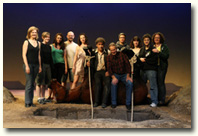 * * * * *
The Black Box Performing Arts Center in Englewood, NJ will honor Sam's work this summer in The Sam Shepard Play Festival, which will feature five of his plays. The festival info reads, "Embrace the style, rhythms, and landscape of Shepard's absurdist vision of the American West replete with cowboys, gunslingers, swamp-beasts, sultry lovers, seedy hotel rooms, space freaks, and a major dose of rock'n'roll!"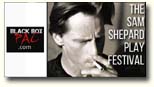 General admission tickets are $20 and can be purchased at www.BlackBoxPAC.com. All performances are at 8 pm.
6/18-20: Fool for Love, Cowboys #2 & The Holy Ghostly

6/25-27: The Unseen Hand, Back Bog Beast Bait & Cowboys #2

7/8: Fool for Love, Cowboys #2 & The Holy Ghostly
7/9: The Unseen Hand, Back Bog Beast Bait & Cowboys #2
7/10: Fool for Love, Cowboys #2 & The Holy Ghostly
7/11: The Unseen Hand, Back Bog Beast Bait & Cowboys #2
* * * * *
The Cloverdale Performing Arts Center in Cloverdale, CA will present "The God of Hell" this summer. Show dates are July 17th, 24th, & 31st at 7:30pm and July 18th, 25th, and August 1st at 2pm. Ticket info is available at www.cloverdaleperformingarts.com.
* * * * *
In the August 9, 2017 edition of Closer Weekly, actress Sally Kirkland, who had worked with Sam in the 1970 film "Brand X", opened up about her first encounter with Sam - "I said to him, 'I know you're an incredible writer, but you should be an actor because you have such charisma.' And he said, 'No, I don't want to be an actor.' and I said, 'But I don't think you have a choice.'"

June 14, 2021
Hobo is an art and culture magazine based in Vancouver and Paris founded in 2002. It is mostly known for in-depth interviews of artists, and is often associated with the West and a reportage style of photography that expresses the beauty of natural landscapes. Paying tribute to Sam following his death, Issue #20 - Winter 2017/2018 - was published.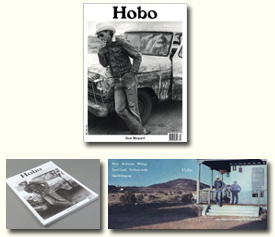 * * * * *
Thirty-five years ago "Crimes of the Heart" was released as a film adaptation of Beth Henley's play, which had won the Pulitzer Prize for drama in 1981. Just two years before Sam had taken home the same prize for his "Buried Child". The leads in "Crimes" were the three Magrath sisters played by three Oscar-winning actresses - Sissy Spacek, Diane Keaton and Jessica Lange. What a powerhouse trio! Sam, David Carpenter and Tess Harper rounded out the cast.
Though critics praised the film for its screenplay and performances, it was a box office disappointment. However, it earned three Oscar nominations - one for Beth's screenplay, one for Sissy Spacek for Best Actress and one for Tess Harper for Best Supporting Actress. In an interview, Tess recalled, "If the people who see this film enjoy it anywhere near the way we enjoyed making it, it will be a tremendous success. I've never been on a set full of such camaraderie, enjoyment of each other, and regard for each other. It was a joy to go to work every morning. It was almost like being back in the dorm in college.'' Tess would go on to work with Sam again when she was cast in his "Far North" film two years later.
Interesting that both Sissy and Sam had their breakthrough roles in a Terrence Malick film and the pair enjoyed a 40-year friendship starring together in several projects - two feature films, one TV film and two TV mini-series. The photo below shows them in a press interview for the Netflix series "Bloodline" in 2015.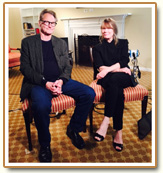 This was the third film for Sam to unite with Jessica on screen, previously working with her on "Frances" and "Country". These were the early years when they were mad about each other before the cracks in their relationship began to create ugly fissures. I love this photo and their body language. It screams "The Way We Were".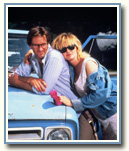 June 10, 2021
Back in September 2006 Sam graced the cover of L'Uomo Vogue magazine. Sorry I can't offer the Italian article that goes with these photos.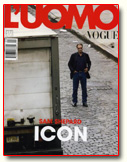 * * * * *
On April 9, 2012 Patti Smith and Sam performed at a benefit gig at Abbey Theatre in Dublin. At that time I had posted a review by the Irish Times. The program for the evening, which is now being sold, can be seen below.

The following description of the evening was included with the sale information.
"It was an evening of music, readings and anecdotes. Patti sang a new song she wrote in memory of Amy Winehouse. Sam played some Country and Western/ Bluegrass tunes with two local Irish musicians they had met the night before in the Cobblestone Pub in the Smithfield Quarter. Patti dedicated a song to Wim Wenders, the German Director of 'Paris Texas' the screenplay of which Sam wrote. Wim was present at the gig. Patti also dedicated a song to her friend Johnny Depp's son Jack whose birthday it was that day. Johnny was also present. Sam's daughter Hannah Jane played the cello and sang a song in the Irish national language!! The music continued later back at the Cobblestone Pub until the small hours."
June 8, 2021
Included in Sam's illustrious career were ten films credited with his work as a screenwriter. Unfortunately, some of these films didn't fare as well as his stage work. Each of the digests below have been summarized from an article by journalist Shaurya Thapa. They have been ranked according to the IMDB.
10. Simpatico (1999)
Based on Shepard's play of the same name, the film is described as a crime drama starring Nick Nolte, Sharon Stone, and Jeff Bridges. Despite the star-studded ensemble and the play's acclaim, it turned out to be a critical and financial failure.
9. Far North (1988)
The film, which marked Sam's directorial debut, is a family drama revolving around an accident that reunites a dysfunctional family. It opened to mixed reviews with most of the praise directed towards Jessica Lange's acting. Additionally, the film also marked one of the earliest on-screen appearances of Patricia Arquette.
8. Silent Tongue (1994)
On the surface, this film might look like a conventional Western but River Phoenix's Talbot Rowe is not the quintessential cowboy. Rather, he's a man grieving the death of his wife as her spirit continues to haunt him. The Western marked Sam's sophomoric effort as a director and received a modest response. As is a common theme with most of his works, he yet again added a healthy dose of family drama to explore the protagonist's flawed relationship with his father (Richard Harris).
7. Curse of the Starving Class (1995)
Another play adaptation, the film deals with the trauma of a drunk farmer's (James Woods) family as they struggle to come out of poverty. Actually Sam was just credited as the story writer while Bruce Beresford wrote the adapted screenplay.
6. Fool for Love (1985)
Based on Sam's play of the same name, the Robert Altman film starred the playwright himself along with Kim Basinger. The pair play two former lovers who meet in a motel room in the middle of a desert. Though not matching the status of the Pulitzer-nominated play, the film still fared decently among viewers with its dialogue-driven drama and melodramatic romance.
5. Me and My Brother (1968)
Perhaps the most significant aspect of this film is that it marked the screen debut of Christopher Walken, while also serving as Sam's first vehicle as a screenwriter. The chief motive of this cinematic project, directed by Robert Frank, is to understand the stigmas and societal biases that are directed towards people with mental illnesses.
4. Don't Come Knocking (1985)
Nearly two decades after director Wim Wenders and Sam wrote the successful "Paris, Texas", the pair collaborated once more for another road drama. Sam plays a washed-out Western movie star whose life is filled with loneliness but when he discovers that he might have fathered a child, he decides to set out and find this child. Despite the similarities between the two films, "Don't Come Knocking" could not replicate the iconic status of their first collaboration. Yet, it's a heartwarming drama that perfectly showcases Sam's skills both as an actor and as a writer.
3. Renaldo and Clara (1978)
This film is an amusing experimental project directed and co-written by legendary folk-rocker Bob Dylan. The film is divided into interviews, concert footage, and dramatic vignettes that were written by Dylan and Shepard. Most of it was recorded during their time together on the 1975 Rolling Thunder Revue Tour.
2. Zabriskie Point (1970)
Set in the context of the American counterculture movement that began emerging in the late 1960s. Sam and director Michelangelo Antonioni helmed a five-member team to author the screenplay. The film aims to explore civil unrest from the perspectives of two young strangers who fall in love while wandering around the titular natural landmark. Even though it was heavily panned by critics and audiences alike, its reputation has improved over the years with aficionados of counterculture media regarding it as a cult film.
1. Paris, Texas (1984)
German auteur Wim Wenders' landmark film is an exploration of human loneliness and familial relationships as protagonist Travis Henderson (Harry Dean Stanton) recollects a phase of his life. He finds himself walking on a deserted path with no memory of what he was doing in the first place. As he reunites with his brother and son, he sets out on a road trip to track down his missing wife (Natassja Kinski). The result is a memorably unconventional road film, heavily tragicomic in tone. Co-authored by Sam and Lewis Minor Carson, it earned a Best Screenplay nomination at the BAFTAs.
June 4, 2021
Langley, Washington - Whidbey Island Center for the Arts will present Sam Shepard's award-winning "Curse of the Starving Class" June 11-26, 2021. The play, a perfect balance of dark comedy and biting satire, is about a family searching for security, escape, and the American Dream. Director Deana Duncan says, "Shepard created a poetic reality from a deep 'aloneness;' an aloneness and isolation we now know more than ever. His messages are as relevant today as when he wrote them. Maybe more so."
Old Saybrook, CT - Drama Works Theatre Company will present "Ages of the Moon", a gruff, affecting and funny play. Two old friends are reunited by mutual desperation and as they sip their bourbon, they reflect and bicker until 50 years of love, friendship and rivalry are put to the test. Performance dates are June 25, 26, 27 and July 2 and 3.
May 22, 2021
U.S. distributor Screen Media has acquired international rights to a substantial part of the Moonstone Entertainment library. The 10-year exclusive deal will include one of Sam's romantic films - "The Only Thrill" (1997) with Diane Keaton. Sam admitted, "I like the way the relationships are drawn - the subtlety of it. Genuine love stories without sentimentality and gushing are difficult to find." And I agree.
* * * * *
From Patti Smith's online notebook, dated May 20, 2021:
"In early spring of 1971 I was staying with Sam Shepard at the Chelsea Hotel. One rainy Sunday I awoke from a dream about Bob Dylan with remnants of a little poem lingering in my head. Sam was still sleeping so I got up and wrote it down. When he awoke Sam told me he had a long, complicated dream where he and Bob were racing through a Texas ghost town on motorcycles while being chased by a pack of wild dogs. Amazed that we had dreamed similar dreams, I entitled my poem Dog Dream. Both Sam and I admired Dylan's work, even calling the play we were writing together Cowboy Mouth, a phrase borrowed from Blonde on Blonde."
"In 1975, Bob was looking for a writer to collaborate with for a film he was envisioning called Renaldo and Clara. Sam was an accomplished playwright and had written the script for the film Zabriskie Point for Michelangelo Antonioni, so I suggested him. Bob called him up, and after some discussion Sam took the job. Sam toured awhile with Rolling Thunder, cowriting the script and the song Brownsville Girl with Bob, then went his own way, true to his independent spirit. Below is a photograph taken by Ken Regan, only hours before the Rolling Thunder Review started rolling. When I look at the picture now, it makes me smile, seeing me and Sam with the fellow who once invaded our dreams, along with a few dogs, on a sultry morning at the Chelsea Hotel."
April 23, 2021
A little known fact has come to surface. How many know that the title of one of Sam's best known plays - "True West" (1980) has a tie to a famous magazine? Of course, that magazine is True West and Sam actually had to get their permission to use that title for his play. This fact was written up in this month's edition of the magazine.
* * * * *
Now posted at youtube.com is an offbeat one-act play called "True Dylan". It's based on an actual interview that Sam conducted with his friend and fellow musician Bob Dylan for Esquire Magazine in 1987. It focuses mainly on Dylan's early days in New York, his meeting with Woody Guthrie, his musical influences, what constitutes 'truth', and the greatness of James Dean.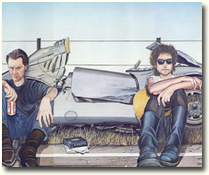 Sam's quote about Dylan – "Myth is a powerful medium because it talks to the emotions and not to the head. It moves us into an area of mystery. Some myths are poisonous to believe in, but others have the capacity for changing something inside us, even if it's only for a minute or two. Dylan creates a mythic atmosphere out of the land around us. The land we walk on every day and never see until someone shows it to us."
* * * * *
Another Shepard sketch - not sure what the strange eye means...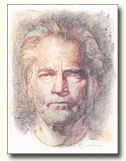 March 18, 2021
Wonderful homages posted at Barnes & Noble:

"The greatest American playwright of his generation...the most inventive in language and revolutionary in craft, [he] is the writer whose work most accurately maps the interior and exterior landscapes of his society." ...New York Magazine

"If plays were put in time capsules, future generations would get a sharp-toothed profile of life in the U.S. in the past decade and a half from the works of Sam Shepard." ...Time

"One of the most gifted writers ever to work on the American stage." ...Marsha Norman, Pulitzer prizewinning author of 'Night, Mother.

"One of our best and most challenging playwrights...his plays are a form of exorcism: magical, sometimes surreal rituals that grapple with the demonic forces in the American landscape." ...Newsweek

"His plays are stunning in their originality, defiant and inscrutable." ...Esquire
February 27, 2021
It's been more than 3 1/2 years since Sam Shepard left the living world of ours and no one has even hinted at where his body or his ashes have been laid. Was his body delivered to a funeral home or crematorium? Such a silence. Even in death, Sam desired privacy and denied his fame. No matter where his 'remains remain', his spirit abides in all his screen work, plays and stories. I continue to discover new remembrances written back in the summer of 2017 at the time of his death. Today I'll share an excerpt from Dan Reidy of Men's Journal:
It only takes a glance to see that he packed several lifetimes into one, all of them cloaked in the mystery that comes with tight-lippedness and a penchant in his stories for mixing fiction with autobiographical detail. He liked the road. He knew the highways of the West as well as a long-haul trucker, and his stop-off points were no less obscure... Shepard's characters are ghosts made flesh, cowboys out of time. Restless, they move through towns whose names seem to tell stories of their own: Winnemucca, Nevada; Papantla, Mexico.

* * * * *
An apt description of Sam's writing:
"Had Sam Shepard been a boxer, he may well have favored removing the gloves. His writing has a rawness seldom matched in drama, so words become weapons that open wounds old and new, while his characters are bruised and scarred by each other and by the bleak business of being alive."
* * * * *
And today's gift to Shepard fans is this beautiful Timothy White portrait.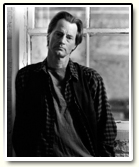 February 11, 2021
In the February 1992 issue of Rolling Stone, writer David Breskin described an interview with Robert Altman, who directed the film FOOL FOR LOVE, based on Sam's play. Here's an excerpt: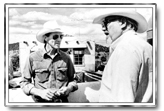 Breskin: When you did "Fool for Love", you said you didn't care if it was the worst film ever made, you were going to do it for the opportunity to work with Sam Shepard on a play he wrote, and have him in it.

Altman; [Resigned.] Yeah, I said that. The idea of me making a film with the author of a play, and the author playing a part, to me was irresistible. And because I was in such a catbird's seat. And I thought it would be fun.
Breskin: Cheerfully perverse.

Altman: Yeah, perverse and fun. It turned out to be not much fun at all.

Breskin: You and Shepard had a tough time.

Altman; No, I didn't have too tough a time, and he didn't have a tough time. Any tough times we had, we gave ourselves. But I didn't like him very much and he, I'm sure, didn't like me. He just wasn't a very nice person during that time.

Breskin: And that's why it was no fun?

Altman: Yeah. He wasn't nice. He was very self-oriented. Kim Basinger was just terrific, I'm crazy about her. And Sam, I think, is very, very good in that picture. As good as I wanted him to be.
Breskin: How did he end up feeling about the picture?

Altman: Oh, he would never say. I'm sure he hated it. We'd show the dailies, and he could come in whenever he got up — we'd work all night — and we'd look at the dailies in the morning. He'd come in late in the afternoon and we'd run the dailies for him and he'd only look at the dailies that he was in. And of course, all the flashback stuff, all the storytelling illustrations that I did, he, to this day — he says he never saw the picture, and he probably hasn't — he didn't know what I was doing, nor did he care, that I was showing something different than what the characters were telling. And that, to me, that time warp in that picture, is what made that film so good. I think that was a terrific film, I really liked that film. I liked the structure of it, I liked the performances in it, I just liked the picture very much. The bizarreness of it. But Sam just wasn't very likable. I don't know why.
Sources say that Sam was never that eager to have his play adapted to the big screen nor star in it. He believed Ed Harris, who originated the role of 'Eddie' at the Magic Theatre in San Francisco, was a better choice. Altman wanted to cast Jessica Lange as 'May' but she was pregnant at the time so the role went to Basinger. And a major disappointment for Sam was that he believed he would be part of the editing process, which never happened, so he was definitely not a happy camper.
In the September 1988 issue of Interview magazine, he explains further - "I felt very uncomfortable. I was not having a good time. I didn't get off on that (laughs). First of all, this was a situation I tried to avoid for a long, long time - acting in my own stuff - because I always felt it was silly and pretentious. You know: acted and written by and all that crap. Appearing in! Jesus... I didn't feel comfortable with that at all... I liked Altman's stuff up to a certain point. And I was fooled into believing that he was going to have integrity in this thing. Later on, I just felt he kind of shined me on. That surprised me. I just felt like he blasted through the thing and didn't give it everything he told me he was going to give... I'm never going to get into a situation where I have somebody else breathing down my neck. It's just not worth it - no matter how much money they say they're going to give you. I was very lucky on 'Far North' to get final cut and full artistic freedom."
Photographs for Interview by Herb Ritts -
"Fool for Love" did become more of a family affair when Sam's sister Sandy Rogers was asked to participate in the soundtrack. She recalls, "Sam called one day in April and said he'd like me to write some songs for the movie version of his play. He had begun production in Santa Fe and had played an old tape for Robert Altman of me singing - a tape that he'd been carrying around for

years - some of my very first songs... I went immediately to the basement apartment to write songs for the movie and got those off to Sam in three days. Sam called back right away and said he loved them... He would submit them to Altman. Altman loved those - and wanted more, wanted to see if I could do the whole soundtrack." In the end, Sandy performed eight of her songs. However, her "Let's Ride" became the title song and "Fool for Love' didn't even make the album though it appears on the soundtrack for "Reservoir Dogs".
I rather like the film's Italian poster -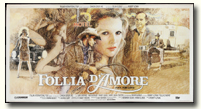 February 6, 2021
Though Sam was no longer living with partner Jessica Lange in 2009, he admits he did give her some Valentine's Day gifts the following year - "Two really good bottles of wine. Really good ones. Oh, and a tape measure. Because she was putting up a painting." A new gallery has now been posted featuring the famous pair photographed by Bruce Weber in two Vanity Fair issues - October 1984 and April 2006.
* * * * *
While Sam was in Paris with Patti Smith during the spring of 2011, he attended the Ines De La Fressange Auction Breakfast at Cafe de la Paix on May 24th. The proceeds of the event went to Mecenat Chirurgie Cardiaque Enfants du Monde, a charity that allows children suffering from heart malformations to come to France and receive operations when they cannot be treated in their home countries. These photos show Sam chatting with Ines - French model, aristocrat, style icon, fashion designer and perfumer. [Have never understood those sunglasses]
February 1, 2021
The November 1988 edition of Esquire magazine featured Sam on the cover with an article by Jennifer Allen, who in later years admitted, 'I wrote a piece about Sam Shepard for Esquire. I pretended to be interested in his work but I really wanted to know about Jessica Lange."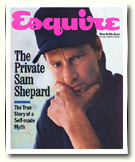 The photo shoot for the magazine was done by Bruce Weber but not all the photos were published in Esquire. The following is the introduction by Jennifer Allen:
He still has the tattoo on his left hand, the one he got from a Mexican gypsy while whacked out under Patti Smith's spell. She got a lightning bolt; he got a hawk moon because he was born under a skinny November moon. It is a dark, pencil-thin arc on the back of his hand, and seeing it is a jolt, like looking at an artifact, a reminder that the forty-five-year-old man in a freshly pressed white shirt has lived several lifetimes.
Once he lived in New York, the crazy, druggie downtown boy genius who convulsively wrote his plays one after the other, almost as if he had to be rid of them, to jettison them. Once he moved into the Chelsea Hotel with Smith and, legend has it, wrote with her the screaming sad play "Cowboy Mouth" in two nights by pushing a typewriter back and forth across a table.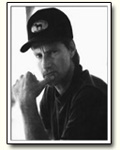 For some years now, he has sworn off cities with a vengeance, taken to badmouthing the Sixties and the plays he wrote then. He is a family man with three children - a son by his first marriage, two small children by Jessica Lange - a movie actor, one of the leading playwrights of his generation, a screenwriter, a director of his own plays and now of his own movies.

He lives on a farm twenty minutes outside a small city in Virginia. He agrees to meet at a local inn of his choosing. He is recognized the moment he enters, people whisper in his wake. The face is bony, sharp, sharper with age. He has a pronounced widow's peak, straight hair falling down on either side and stopping abruptly, as if it has been chopped by blunt scissors. His eyes are blue, almond-shaped, his teeth are not good. When he speaks, he often tucks in his chin just slightly, as if he would rather swallow the words than say them. He has a soft voice with a slight twang; he drops his g's and pronounces his name "Sam Shepurd". He smiles often.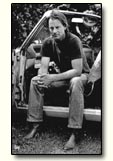 January 30, 2021
El Europeo magazine, published in Madrid years ago, featured a familiar pair on its cover in its July/August 1989 edition. However, the original Bruce Weber portrait has been horizontally flipped.

When Sam was living in New Mexico in 1984, fashion photographer Bruce Weber did a photo shoot with Sam and actress Jessica Lange. One of these days I will post those photos. Weber, famous for his stunning black & white portraits, photographed Sam through the years for several other major publications. The following photo should look familiar because it's the one I use at the top of this page. This is the May/June 1994 issue of Arena magazine.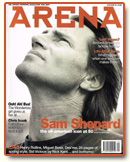 January 21, 2021
In 2018 a Croatian translation of Sam's final book, SPY OF THE FIRST PERSON, was published by Antipod with the translation done by Martina Klasić. The book is called UHODA. In the last year of his life, as the degenerative disease ALS made his muscles progressively useless, Sam finished this book about a man suffering from a similar but unnamed illness. An unidentified first-person narrator looks across the street at a strange man in a rocking chair on the porch. It soon becomes clear that they are the same person, a man observing himself from the outside, his failing body so alien that he doesn't recognize it as his own.
Uhoda means "care" and I suppose that references all the loving care his family provided for him in his final weeks. According to his sisters, when Sam was unable to hold a pen, he spoke into a voice-activated recorder. When he could no longer hold the recorder, he dictated to his daughter Hannah or his sisters Roxanne and Sandy, who did the transcription and read the notes back to him. Roxanne indicated, "Sometimes he wanted to dictate things at night before going to sleep. I kept a notebook close so that he could just ask to write something down and it could be dictated on the spot." Sandy said, "He's a writer so he needed to write every day to be himself, and that was our mission, to help him be as close to normal as possible." And Hannah added, "The line between fact and fiction in his own work was always very ambiguous to Sam, I believe. Many things blended together for him."
Toward the end of the book Sam mentions his sons Jesse and Walker - "The thing I remember most is being more or less helpless and the strength of my sons. A man pushed by his sons in a wheelchair from a crowded restaurant to a street with nobody on it. A man sitting on shaggy wool with a Navajo blanket across his knees."
In this Croatian edition, the following two artistic illustrations represent the beginning and end of the story. The photo of Sam was taken from a January 2016 photo shoot for The New York Times.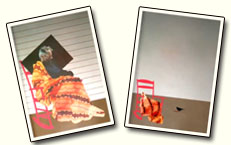 January 19, 2021
Earlier this month Sam's daughter Hannah was caught by the paparazzi walking in Manhattan's West Village on a cold day.
Since her father's death, Hannah has worked as an archival producer on three documentaries that focus on racism and justice. The Women in Media web site gave the following biography:

Hannah Shepard studied writing at Sarah Lawrence College and received master's degrees from the National University of Ireland and Fordham, where she was a teaching fellow and a Loomie Prize winner. Engaging with history, the arts, and social justice, Hannah is drawn to projects that cross boundaries. She has worked as a researcher, educator, and script reader with institutions including the New York Public Library for the Performing Arts, the Museum of the City of New York, The Public Theater and the Louie B. Nunn Center for Oral History. As an archival researcher and producer, Hannah has worked with filmmakers including Rebecca Miller, Nancy Buirski, and Catherine Gund. In 2019 she was nominated for the FOCAL Jane Mercer Researcher of the Year Award. Her fiction has been published by W.W. Norton, Fiction Southeast, and Spout Press.
Fordham's Loomie Prize was awarded to Hannah for her paper, "Vanished in Plain Sight: Scots-Irish Presbyterians in Wisconsin, 1830-1890". Her paper argues that Ulster Presbyterians brought their unique brand of political and religious radicalism, with its roots in their Irish experience, with them to Wisconsin, influencing the early character of a state which has been known equally for its progressivism and its evangelicalism in the nineteenth and twentieth centuries.
It appears that those excellent writing skills are in the Shepard genes!
* * * * *
I came across this art board print of Sam by illustrator Paul Cemmick. I don't see much resemblance except for his hair. The shirt says "Days of Heaven" but the background shows him as Chuck Yeager coming out of the flames. Personally, I don't think it blends very well.