Posters
Synopsis
TRUE WEST is a character study that examines the relationship between Austin, a screenwriter, and his older brother Lee. It is set in the kitchen of their mother's home 40 miles east of Los Angeles. Austin is house-sitting while their mother is in Alaska, and there he is confronted by his brother, who proceeds to bully his way into staying at the house and using Austin's car. In addition, the screenplay which Austin is pitching to his connection in Hollywood somehow gets taken over by the pushy con-man tactics of Lee, and the brothers find themselves forced to cooperate in the creation of a story that will make or break both their lives. In the process, the conflict between the brothers creates a heated situation in which their roles as successful family man and nomadic drifter are somehow reversed, and each man finds himself admitting that he had somehow always wished he were in the other's shoes.
Sam Shepard:
"I wanted to write a play about double nature, one that wouldn't be symbolic or metaphorical or any of that stuff. I just wanted to give a taste of what it feels like to be two-sided. It's a real thing, double nature. I think we're split in a much more devastating way than psychology can ever reveal. It's not so cute. Not some little thing we can get over. It's something we've got to live with."
Performance History
True West was first performed at the Magic Theatre in San Francisco, where Shepard was the resident playwright. It had its world premiere there on July 10, 1980. It was directed by Robert Woodruff and featured Peter Coyote (Austin) and Jim Haynie (Lee).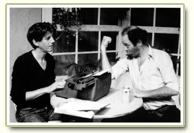 Sam at the Magic in 1980 just before the world premiere of his play.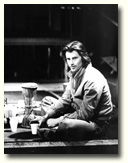 On December 23, 1980, it opened Off-Broadway at Joseph Papp's Public Theater in New York City. It starred Tommy Lee Jones (Austin) and Peter Boyle (Lee) and once again directed by Robert Woodruff. It closed on January 11, 1981.

It was produced by the Steppenwolf Theatre Company in 1982 with Gary Sinise (who also directed the production) and John Malkovich playing the leads. With Shepard's approval, this production transferred to Off-Broadway, where it opened at the Cherry Lane Theatre in October 1982, closing on August 4, 1984 after 762 performances, During that run, the leads were taken over by Bruce Lyons, James Belushi, Gary Cole, Tim Matheson, Erik Estrada, Dennis Quaid and Randy Quaid.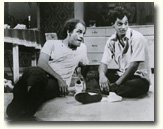 On March 2, 2000, a Broadway revival opened at the Circle on the Square Theatre featuring Philip Seymour Hoffman and John C. Reilly, who alternated playing the lead roles. This critically acclaimed production earned Tony Award nominations for Best Actor for both Hoffman and Reilly, Best Director, and Best play.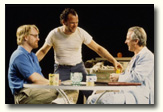 Hoffman and Reilly left the production on June 18 and were replaced with Josh Brolin and Elias Koteas. Their last performance was on July 29, 2000.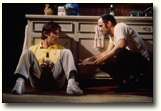 Broadway's Roundabout Theatre staged a production directed by James Macdonald with Ethan Hawke and Paul Dano. Previews began on December 27, 2018 and the play closed on March 17, 2019.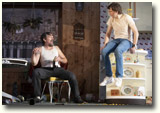 Aired on Television
The staged production featuring Sinise and Malkovich aired on the PBS series "American Playhouse" in January 1984. [photo of videotape]

The same production was shown on July 8, 1998 on PBS's "Great Performances".
Bruce Willis and Chad Smith starred in a filmed version of the play, which was aired on Showtime on August12, 2002. The play, directed by Gary Halvorson, was filmed in front of a live audience in 2001 at the Company of Fools' Liberty Theatre in Hailey, Idaho.

Published
Reviews
"'True West' has ... arguably become Shepard's signature piece, the leanest, most pointed of his full-length works." ...David Krasner, A Companion to Twentieth Century American Drama.

"Shepard's masterwork.... It tells us a truth, as glimpsed by a 37-year- old genius." ...NY Post
"'True West' still rings true and stands as the greatest American drama since 'Long Day's Journey into Night.''' ...Graham Hillard, National Review

"It's clear, funny, naturalistic. It's also opaque, terrifying, surrealistic. If that sounds contradictory, you're on to one aspect of Shepard's winning genius; the ability to make you think you're watching one thing while at the same time he's presenting another." ...San Francisco Chronicle

"A rambunctious and spontaneous tale about sibling rivalry… the seductiveness of Hollywood and with the battle between art and business. Lee and Austin are fraternal opposites… Lee is a scurvy desert rat, Austin a hot shot intellectual screenwriter. An exhilarating confluence of writing, acting and staging... 'True West' is acted for its reality even when the events are surreal." ...NY Times (1982)

"It's as funny as it is serious, as entertaining as it is profound" ...New York Stage Review

"A quintessentially American play about two brothers caught up in a cycle of hostility and violence, and desperate to gauge their manhood by the barometers of both myths, and of each other." ...Theatre critic Deborah Klugman

"The irony behind the title of Sam Shepard's ''True West' is both delicious and tragic. There is no true west, and even if there were, it is not a place of discovery and re-invention. In his 1980 play, Shepard seemingly celebrates the mythology of the Hollywood western only to subvert it. He does so by investing two brothers with the ability to dream the American dream only to pull the rug out from under them." ...Ed Seigel, Boston Globe

"To truly appreciate the play's brilliance, one has to be acquainted with the late Shepard, who made his name as one of the great American playwrights of the last century, penning pieces filled to the brim with weirdness, introspection, and wit. Shepard's fascination with the multifarious nature of the human personality is quite evident in his mid-career plays, among which 'True West' is his tour de force.
...Sophie Aanerud, University of Washington

"Shepard's 'True West' suggests so many interesting postmodern elements. With a departure from conventional norms of character, dialogue and narrative; the elements of pastiche, subjective irony, and savage humor have become hallmarks of most of his works." ...Abdol Hossein Joodaki

"Shepard had a vision that was rooted in the myth of the American West. That vision is reflected in 'True West' that stands among a group of critically revered works intriguingly balanced between realism and surrealism." ...Calvin Wilson, St. Louis Post-Dispatch

"'True West' isn't just a combustive slam dance of warring brothers. It also animates the psychic struggle of self and shadow self, and it makes vivid the unbridgeable split in the American West mythos between unfettered individualism and mainstream success, wide open space and subdivided wilderness. The play is inconclusive. It offers no healing of such divisions, no integration. It just lays out its contradictions with high-voltage dramatic force. It rocks, and reverbs." ...Misha Berson, Seattle Times theater critic