After a woman is attacked outside of her apartment, a series of increasingly disturbing events leads an artist, who follows and photographs strangers, to suspect that someone out there is actually watching her. As she encroaches on her suspected intruder (Visnjic), her agent and cop/lover begin to think she is taking things too far with her personal investigation. Events spiral out of control and boundaries bleed between real and imaginary...crime and art...the watcher and watched. ​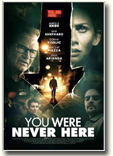 Jeannette Catsoulis, NY Times:
More experimental art project than fully-formed movie, Never Here might snag some attention for providing Sam Shepard with an all-too-brief screen role. Otherwise, this narrative feature debut from Camille Thoman is mostly a frustrating jumble of surreal puzzle pieces that audiences will likely be uninterested in solving.

Not that a solution even seems possible. Apparently aiming for an open-ended psychological thriller, Ms. Thoman focuses so fiercely on atmosphere that her narrative isn't just opaque, it's a confounding collision of signifiers and symbols. At their center is Miranda (Mireille Enos), an unraveling New York City artist whose work involves invading the privacy of strangers...

Ms. Enos is a credibly fraying voyeur, all anxious looks and nervous starts, but "Never Here" is too emotionally antiseptic to engage. That leaves all the heavy lifting to Sebastian Wintero's moody, nocturnal cinematography, perfectly paired with James Lavino's dissonant original score. As Miranda prowls the indigo city streets, bathed in ominous whispers and sharp jabs of neon, you might momentarily forget that the movie around her is a tiny bit bananas.