Produced by Edward Albee's Playwrights Unit at Village South Theater, NY - November 23, 1964.
Revived: Triple bill at Cherry Lane Theater, NY - February 10, 1965: directed by Charles Gyns with Harvey Keitel and Joyce Aaron.
Richard F. Shepard, NY Times, 2/11/65:
["Up to Thursday"] centered on a young man lying in bed under an American flag and four handsome, very young people sitting on straight-back chairs. The examination of drama not being altogether a police case, it is not necessary to pin down motive. The author draws brightness from the banalities of conversation. Some of his devices are theater of the absurd à la Abbott and Costello, but he cuts deeper. He delineates the initial shyness of a relationship and the unreserved candor of an intimacy. In so doing, he uses vulgarities to establish his franchise as a freeborn playwright, but no matter, he demonstrates stagecraft.
The title comes from Sam's reaction to being drafted and feeling a deadline on freedom. He explains, "The play is a series of reactions that become combustible, but I really don't consider it a 'play' at all." He was also quoted as saying this play was "a bad exercise in absurdity". [Note the Cherry Theater sign in this 1965 photo]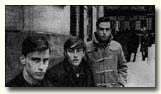 The manuscript is held at the Howard Gotlieb Archival Research Center at Boston University.
The 1965 revived play featured Harvey Keitel's stage debut.