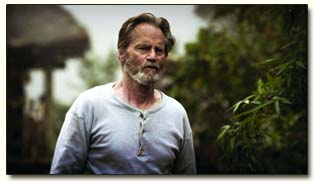 In "Blackthorn", a beautiful western shot in the exotic high country of Bolivia, Sam Shepard plays an old outlaw in hiding. A famous old outlaw, long believed dead. James Blackthorn, he calls himself, though his real name is Butch Cassidy.

Yes, as in Butch Cassidy and the Sundance Kid.

Was Shepard, the playwright/musician/director/fiction writer/actor, at all wary of taking on a character immortalized in one of the biggest box-office hits of the late '60s?

"No, I thought it was always a good idea, because of the script," he says. "It was so great. Plus the fact that they were going to shoot in Bolivia interested me. The original "Butch Cassidy and the Sundance Kid" never influenced me, or got in the way of this thing, because I thought it was entirely its own animal. I wasn't bothered at all by following in the footsteps of anything.

"The funny thing is, somebody asked me who I was playing in the movie, and I told them: Butch Cassidy. And they said you don't look anything at all like Paul Newman."

Shepard, on the phone from New York, laughs.

"Yeah, then I understood that the character is totally separate from the actor."

Among his castmates in Blackthorn is Stephen Rea, the Irish actor, playing a grizzled Pinkerton agent who's long been on Blackthorn's trail. Shepard and Rea have known each other since the '70s.

"Stephen is one of my oldest friends," Shepard says. "We did a lot of theater together. We've done two plays at the Abbey Theatre that I wrote and directed him in. But this is the first time I've ever acted with him - and his character goes through this crazy transformation."

Shepard, of course, is also good friends with Patti Smith, the poet-turned-rocker (and prize-winning memoirist). They, too, have known each other since the 1970s, and Shepard is playing on two songs on the album Smith's currently recording.

Asked whether he's ever conscious - or self-conscious - about all the different fields he's plowing, Shepard says no, not really.

"Mostly, it feels seamless," he explains, "because I've always connected it to theater. Now and then it feels weird, because there are so many different parts to what I'm doing. But typically, they all feel like parts of the same creature.

"You have to honor the form that you're addressing, but hopefully you don't see the stitches."