Sam Shepard reflects on violence and dads in his life and work.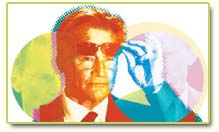 When I call his cell, Sam Shepard is in Utah, shooting the film Darling Companion. It's a fitting locale for the Pulitzer Prize–winning playwright-actor whose persona and plays (Buried Child, True West, Curse of the Starving Class) have been bound with the rural West. He lives on a working farm in Kentucky, where, he says, "I ride horses, make coffee and sit around and write." Born in suburban Fort Sheridan, Shepard, one of the most dominant influences in American theater, last week turned 67, the same age as his father when he died (that thought "comes and goes," Shepard says simply). On Saturday 13, he accepts the 2010 Chicago Tribune Literary Prize as part of the Chicago Humanities Festival.

Any thoughts on what you'll say at the career-achievement ceremony?
Um, no, I'm not a speech maker, so that's gonna be a problem, yeah. [Laughs] I would just as soon not make a speech. It's an honor, of course.

In his review of your latest play, Ages of the Moon, Ben Brantley wrote that, in your universe, "it's hard to be close to someone without wanting to kill that person and occasionally acting on the instinct."
[Laughs] Did he say that? I was unaware of that. Well, there is a barbarism and bloodlust and primitivism in a lot of the stuff. There's a savageness in us that is far more interesting than the sophisticated.

How do you account for that barbarism—where's it come from?
America. Being raised in America. Everything that constitutes what we call America—its collapse and its terror and, yeah, the raggedness of it.

Much has been said about that thread of violence in your work in terms of your father's influence, his violence and his alcoholism. John Lahr wrote that for you and your characters, "there is no escaping the father." You agree with that?
Yeah, I do. We see our father in ourselves, we see our son in ourselves. It's an old story.

You speak about a general we, a general father. What about you and your own father and how that dynamic played out in your work?
The reason I was writing him was not to re-inhabit my father, make him come back to life. It was the notion of the father as the figure beyond one's own father. The more you talk about it personally, the more you take away from the impact of [plays like] Buried Child. It's not intended to have a realistic basis.

But why does that figure capture your imagination?
'Cause it was the biggest influence of my life.

So it was personal then.
Yeah. The personal becomes general.

Did your father ever see your plays?
He sat through a production of Buried Child in Santa Fe. He charged into the play and sat down and started yelling at the actors. They kicked him out, and then they realized he was my father and they let him back in. And he started the same thing over again. [Laughs]

Did he ever ask about your work?
No, no, no, no. I remember him calling me after I won the Pulitzer Prize, and he said it would be remiss not to congratulate me. But beyond that, he didn't say anything, no.

"Remiss not to congratulate you"?
[Laughs] Yeah.

You share with your dad a history with alcohol, which came into the news last year when you were stopped for speeding under the influence—
I wasn't speeding. I was just drunk. In fact, I was under the speed limit. It was the day after New Year's, and the cops were staked out, and they saw me come out of a bar and get into my car. They stopped me, like, a block later. It was in Normal, Illinois. [Laughs] I was visiting a couple of buddies.

Has drinking been part of your creative process?
Oh, it's impossible to write on alcohol. Writing to me is a sober activity.

So now you must be more prolific—you've stopped drinking since the arrest. Was that the turning point?
It was one of many.

Since your career as a screen actor took off in the '80s, you've written fewer plays. Is there a link between acting more and writing less?
No. By my midthirties, I'd written dozens of plays. I had no idea where I was going, and I just plunged in. That becomes less interesting the more you find out about the form. And it requires more time. So writing less plays didn't have anything to do with my career as an actor. The [movie] I'm in right now, I've been on hold for five days, so I'm stuck in a motel on Interstate 15, writing my ass off. [Laughs]
Outtakes:
In the e-mail informing me that Sam Shepard had agreed to an interview, his publicist told me to give the writer-actor a call. No date or time scheduled down to the exact minute—which is almost always the case when interviewing notable figures such as the Pulitzer-winning playwright. Just: "Please contact him directly on his cell." So I called Shepard to schedule a time for the interview. He asked, "Can you do it now?" Um, no, actually; can we set up a time? He demurred: "I'm no good at future dates." Just call back some time, he said. So, some time later, I did. "Do you have time now?" I asked. "Yeah, I suppose I do," he said. Here are a few moments from our conversation that didn't make it into this week's published Q&A.

When asked which playwrights working today does he like, Shepard said, "I like the Irish the best. I think the Irish are doing the most interesting stuff. There's a bunch of them who are heads and shoulders above us in terms of modern writers." What'd he think of a recent work that's drawn comparisons to his own, Steppenwolf's production of Tracy Letts's August: Osage County? "I thought it was an interesting melodrama," Shepard said. "That company is always great to watch. The actors are always astounding." He called Steppenwolf's 1995 production of Buried Child, which Gary Sinise directed, and which helped solidify the Chicago company's national reputation, "the best production of that play that I've ever seen."

After speaking with Shepard about fathers and alcohol, given his famously tumultuous relationship with both, I mentioned that, speaking of fathers, it often seems like when the artist-parent dynamic is discussed, it's often from the viewpoint of the artist as the kid. How did that dynamic change once Shepard himself became a father? "Well," he said, "it's a revelation to see yourself becoming the father, and it's also a revelation—the repetition of things that occurs without you being able to help it, without you knowing it. You see your father in many aspects that you thought you wouldn't experience."

Could he give an example of what he meant by "aspects"?

"No," he said.

"Why is that?" I asked.

"I don't want to."